White chocolate eggnog fudge has the great taste of your favorite holiday beverage. Its the perfect holiday candy that everyone loves!
Pin this creamy eggnog fudge for later!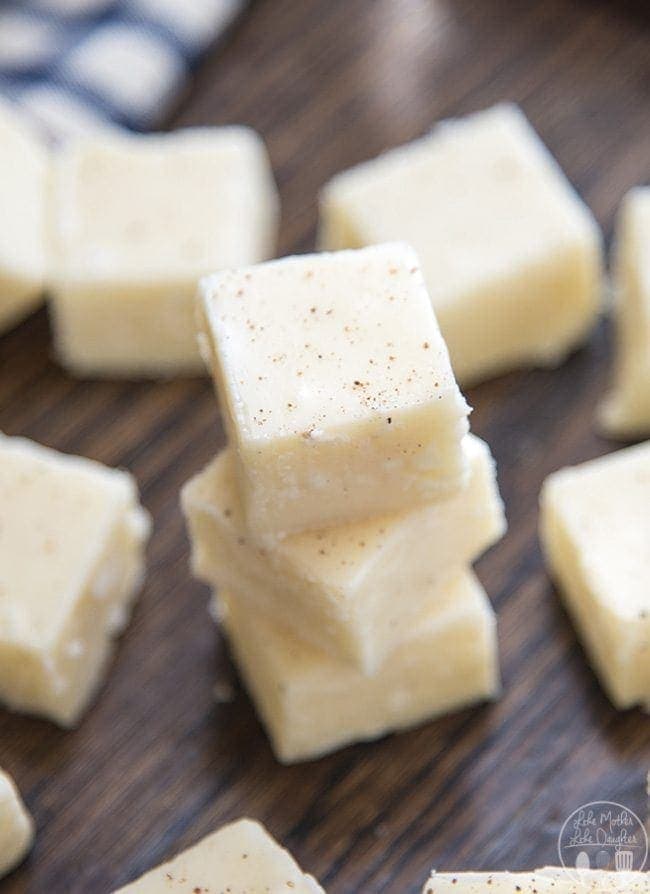 As soon as eggnog season comes around I have to grab a carton or two. I love eggnog. And this eggnog fudge is no exception. Now, I'll be honest though, I usually only have a glass or two a year and I thin my eggnog a little with some milk added to it so it will be a little less rich and thick.
This white chocolate eggnog fudge is perfection! Its not too heavy on the eggnog flavor, but just the perfect combination of eggnog and white chocolate. Its a delicious creamy fudge and I think even non eggnog fans will love this sweet treat.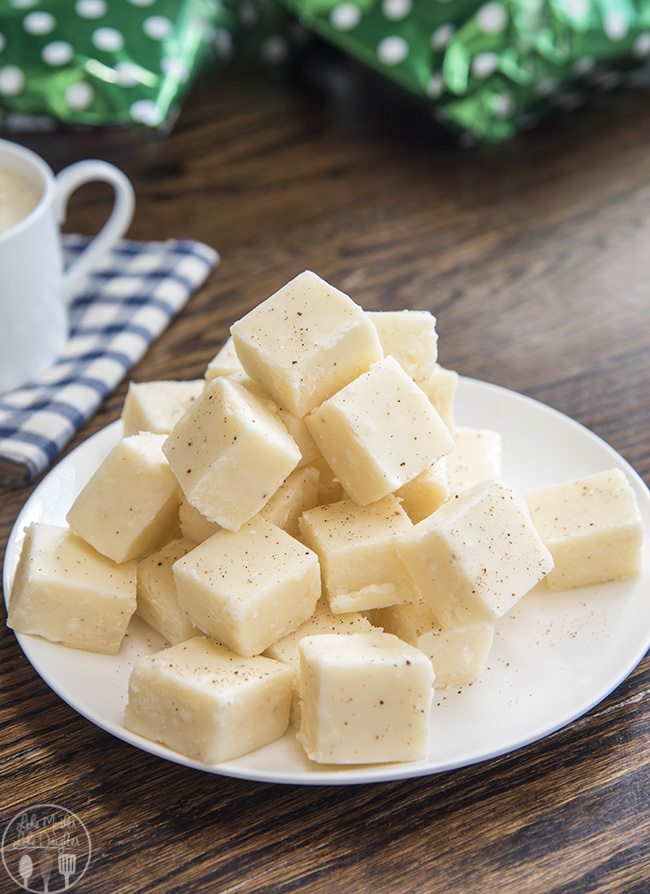 This fudge starts the same as my favorite fudge recipes with 1/4 cup of butter, 7oz marshmallow creme, and 1 and 1/2 cups of sugar. But then, instead of evaporated milk I used eggnog – and I upped the amount from 3/4 cup to 1 cup to increase the flavor just a tad. And instead of chocolate chips I used white chocolate chips so they weren't too overpowering for the eggnog flavor. Add in a little nutmeg and sprinkle some more on top of the fudge when its done to give this fudge the perfect pretty look and great taste. (I've never used rum extract, but you could substitute the vanilla extract for rum extract if desired).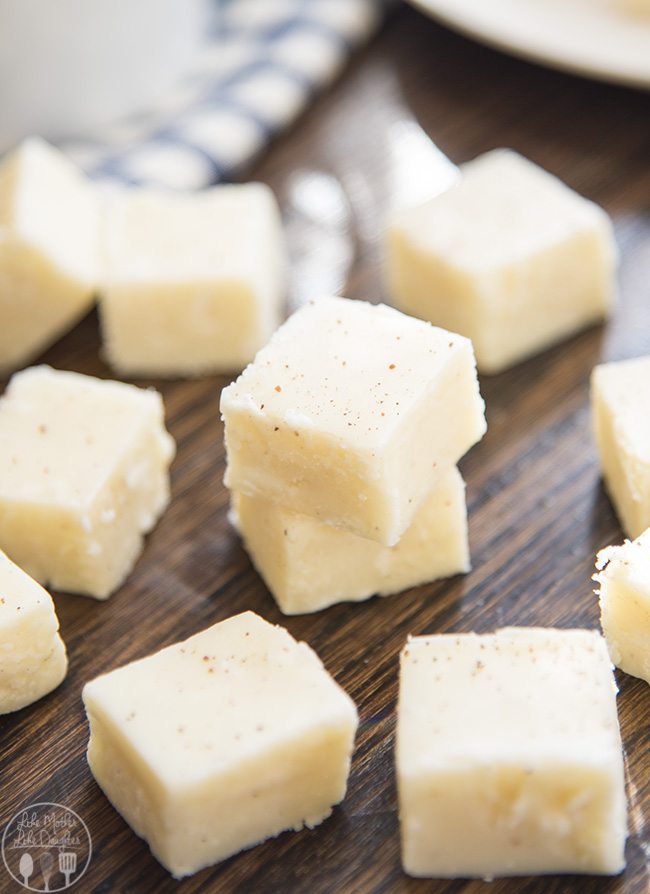 Another great thing about this fudge is you don't need a candy thermometer. I've made fudges with this base (with just a few twists for years – try my peanut butter smores fudge, swirled fudge, or turtle fudge which are all made in the same way) and never had a batch of fudge go bad. Perfectly creamy, no grittiness, only a few minutes on the stove top, greatness. Perfect fudge every time and this eggnog fudge is no exception.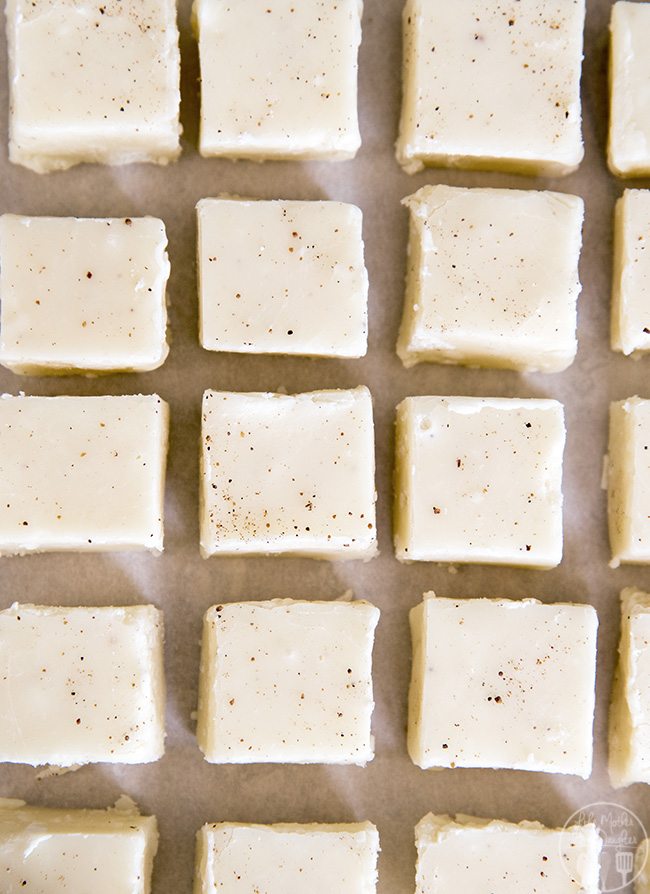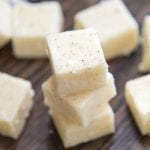 Eggnog Fudge
White chocolate eggnog fudge has the great taste of your favorite holiday beverage. Its the perfect holiday candy that everyone loves!
Ingredients
1/4

cup

butter

1

cup

eggnog

7

oz

marshmallow crème

1 1/2

cups

sugar

1/4

tsp

salt

3

cups

white chocolate

1

tsp

vanilla extract

1/4

tsp

ground nutmeg

(plus more sprinkled on top)
Instructions
Line a 9x9in or 7x11in baking dish with waxed paper (cut so that there is only excess on two opposite sides, to lift the cooled fudge from the pan, but not all sides or else corners will be bumpy)

Combine your marshmallow creme, sugar, eggnog, butter and salt in a large sauce pan over medium heat.

Bring to a heavy boil stirring regularly. Once mixture is boiling, set a timer for 5 minutes and stir constantly. Cook an additional 2-3 minutes if you at sea level.**

Remove from heat.

Add white chocolate chips, vanilla extract and nutmeg to the mixture.

Stir fudge until completely smooth.

Pour fudge into you prepared baking dish.

Sprinkle top of fudge with additional ground nutmeg.

Place in fridge to chill for at least 2 hours before slicing and serving.
Recipe Notes
** For good fudge every time you should use a candy thermometer. At sea level the fudge should reach about 235 to set, if you are at a higher altitude it will be done at a lower temperature because water boils at a lower temperature as well. You are welcome to use a candy thermometer to check the timing of the recipe. If you want to be most accurate boil water and see what temperature your thermometer reads, it should boil at 212 at sea level. Subtract 1 degree on the fudge temperature for every degree lower that your water boils at.