These adorable Frankenstein brownies start with a brownie mix and end with a cute and delicious mint brownie that looks like Frankenstein's monster! Perfect for Halloween!
You know me and my love for brownies, I knew that with Halloween coming up I had to make some sort of Halloween brownies, and thus these Frankenstein brownies were born.
Pin these cute Frankenstein Brownies for Later!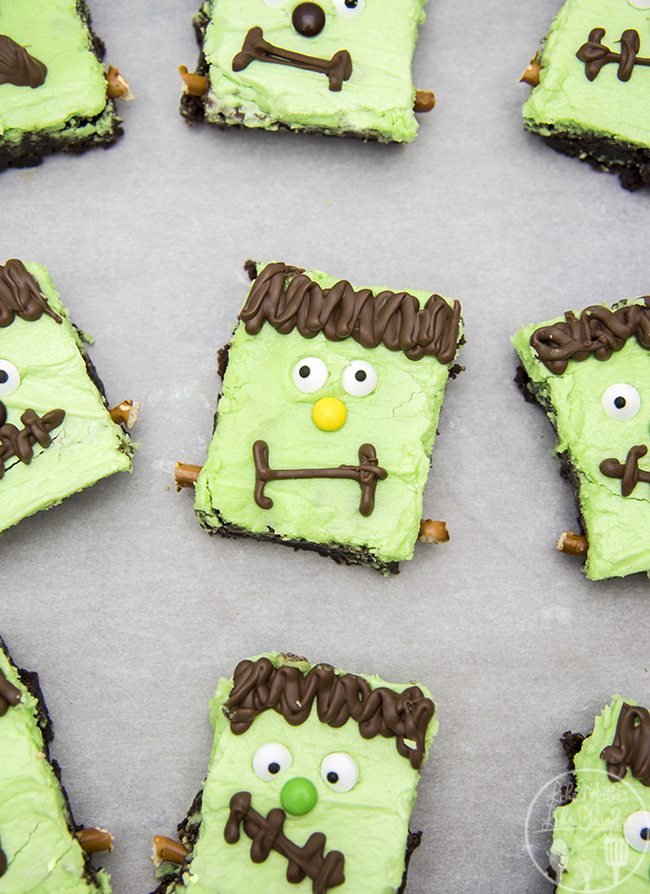 I made these brownies easy with a box mix for the brownie base, but you can use your favorite brownie recipe too. I made the frosting for the brownies mint, because I felt like that went well with the green Frankenstein coloring, but you're welcome to leave the mint extract out and replace it with vanilla for a simple buttercream frosting, or you can even use a canned vanilla frosting to make them even easier.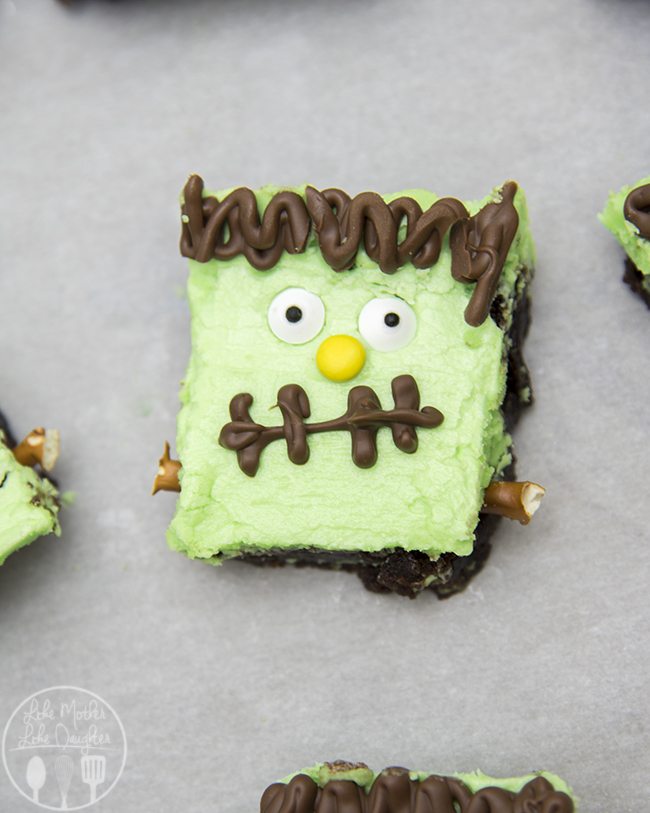 Then after the frosting is set you'll stick the candy eyes in, mini chocolate candies for the noses, and drizzle over the top with chocolate for his hair and mouth. You can leave little scars with the chocolate too if you want. And then stick the sides of each brownie with 2 pieces of pretzel sticks for his neck cogs. And voila, Frankenstein's monster was born.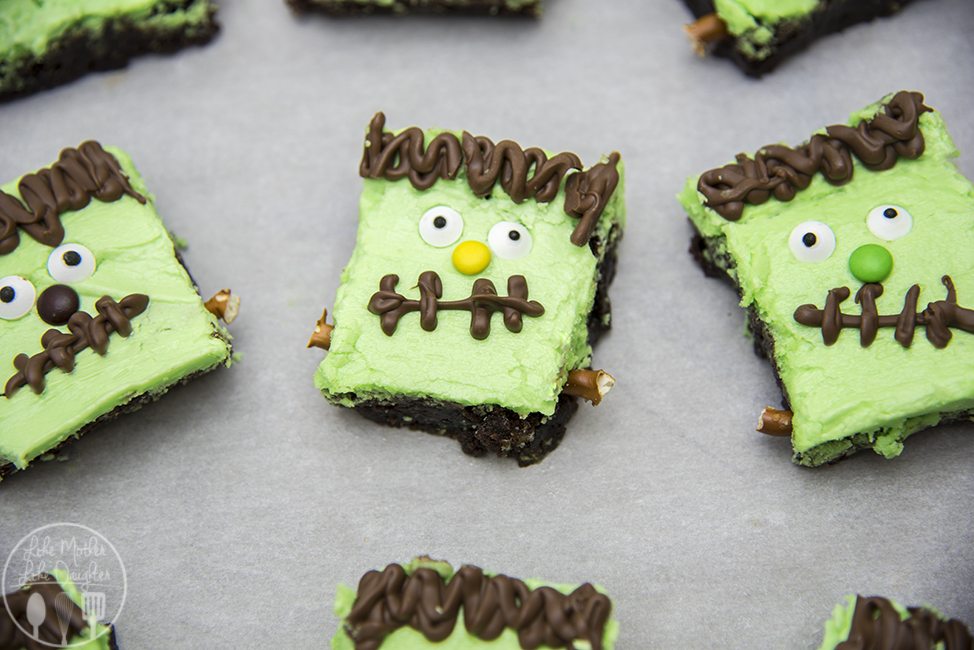 Now it doesn't get much easier than these cute treats. They'll be perfect for your Halloween party or celebration!

Frankenstein Brownies
Ingredients
1 box brownie mix
eggs, oil and water as called for on the box
For the Mint Frosting:
½ cup butter (1 stick), softened
2½ cups powdered sugar
2 TBS milk
1 tsp peppermint extract
5+ drops green food coloring
For the Face:
½ cup chocolate chips
candy eyes
mini m&ms
pretzel sticks
Instructions
Preheat oven, prepare brownie mix and bake brownies in a 9x13 pan according to package directions. Allow brownies to cool completely.
In a medium sized bowl, beat your softened butter until smooth, about 2 minutes.
Add your powdered sugar, milk, peppermint extract and food coloring and bet on high for 1 to 2 minutes. (Add a little more powdered sugar or milk if needed for the a smooth spreadable texture)
Spread frosting evenly over the top of cooled brownies. Allow frosting to set.
Cut brownies into 15 to 18 pieces and remove from pan.
Melt chocolate chips in the microwave for about 1 minute and stir till smooth.
Put melted chocolate in a ziplock bag and snip the corner off.
Drizzle chocolate over each brownie piece to make hair and mouth.
Stick 2 candy eyes on and 1 m&m for the face.
Stick 2 pretzel stick pieces (break them in half!) into the sides of each brownie at the very bottom.
Enjoy.