Although it might not seem like it here on the blog, Nate and I have been trying to be healthier this month – with our mostly sugar free month and we've also started exercising. Another way I've figured out that I am a lot healthier is when I meal plan. Even though we still eat lots of carbs and cheese with some of our meals, its a lot healthier for us because that way we aren't eating out, or frozen meals 3 nights (or more!) a week. So at the beginning of the month, I meal planned – and this honey lime salmon is one of the meals I decided on.
Pin this honey lime salmon for later!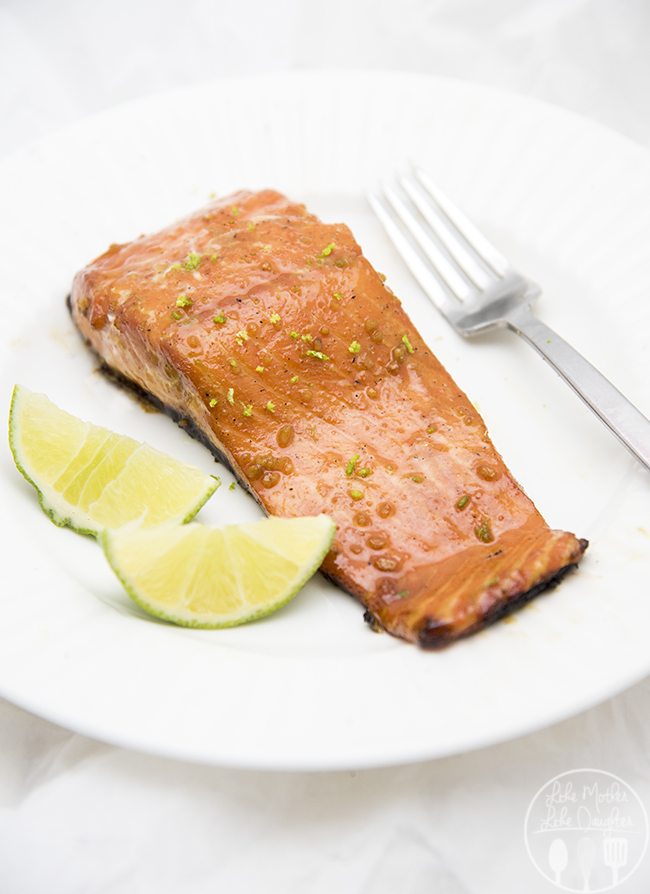 I got the idea for a honey lime salmon here and decided to alter the marinade I used for my honey lime chicken to work for this salmon. And it turned out perfectly.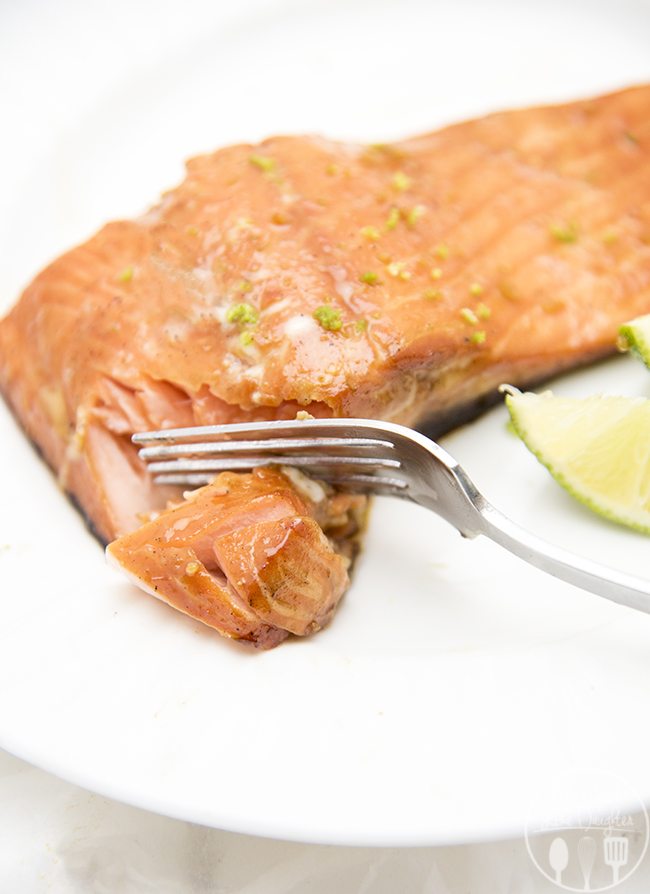 I let Nate cook the salmon, because he's the seafood expert around here and I'm still newer to enjoying it. He grilled the salmon on a cedar plank, which I totally recommend, but you can cook with a cedar plank in your oven too.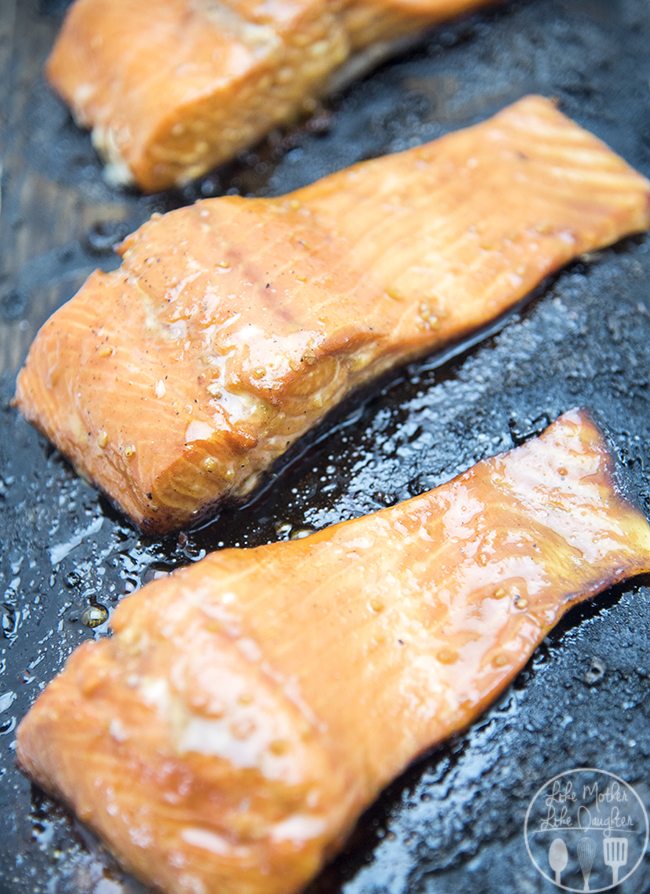 So basically, you'll combine some lime juice, honey, teriyaki sauce, garlic and olive oil in a small bowl to make a marinade. Marinate your salmon for at least an hour, the longer the better, and then cook it up. This sauce is perfectly sweet, flavorful and so delicious. The salmon turns out so tender and flaky. Its perfection, really.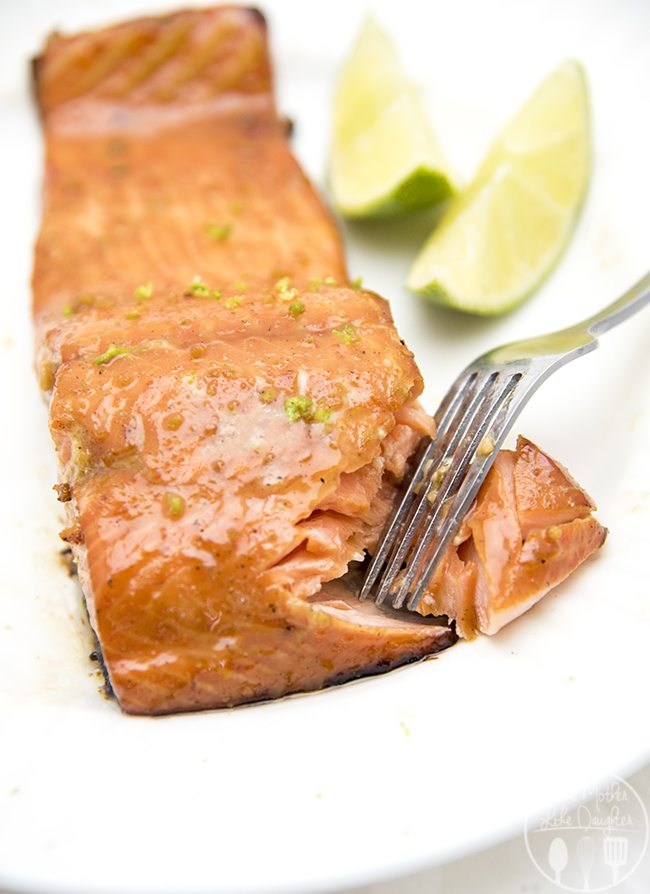 Honey Lime Salmon
Ingredients
4-6 salmon fillets
¼ cup honey
¼ cup lime juice (juice from about 1 lime)
zest of ½ lime
6 TBS yoshidas or other teriyaki sauce
2 TBS olive oil
1 TBS garlic
Instructions
Combine your honey, lime juice, lime zest, teriyaki sauce, olive oil and garlic in a small bowl. Stir till smooth.
Place your salmon in a container or ziplock bag and pour half to ⅔ of the sauce over the salmon and cover and place in your fridge for 1 hour, or longer.
Preheat your oven or grill to about 400 degrees.
Soak your cedarplank in water while oven is preheating.
Place salmon skin side down onto your cedar plank and place cedar plank on grill or in the oven.
Bake for 12-15 minutes until the salmon is cooked through.
If grilling, use extra marinade to coat salmon 1 or 2 times throughout the cooking process.
Serve immediately.
And now we have a KitchenAid Giveaway for you to help celebrate Cupcake Diaries 5th birthday!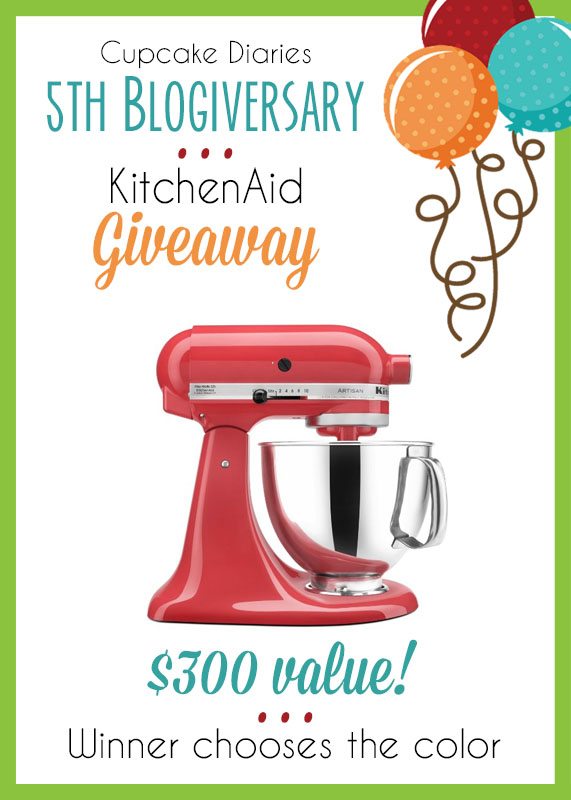 And the giveaway is sponsored by these wonderful bloggers!!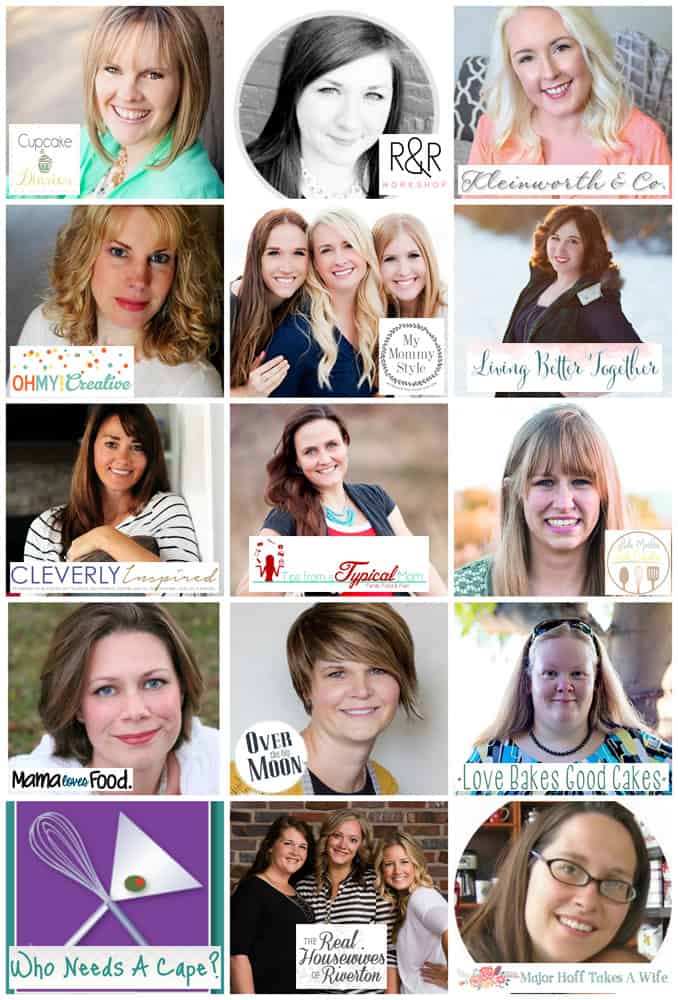 Cupcake Diaries | R&R Workshop | Kleinworth & Co. | Oh My! Creative | My Mommy Style | Living Better Together | Cleverly Inspired | Tips from a Typical Mom | Like Mother Like Daughter | Mama Loves Food | Over the Big Moon | Love Bakes Good Cakes | Who Needs a Cape? | The Real Housewives of Riverton | Major Hoff Takes a Wife