Homemade hot chocolate mix is the perfect way to have a warm cup of hot cocoa, or great layered in a jar for a cute gift!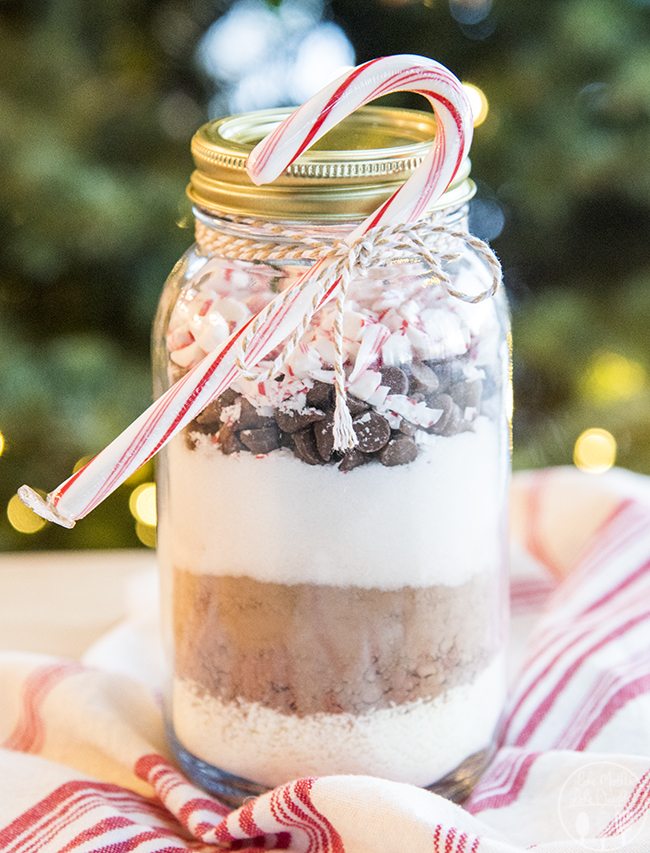 A big mug of hot chocolate is just what I need on a cold day! And this past week has been no exception for lots of cold days (and lots of snow!) and a few mugs of hot cocoa to go along with them.
Pin this Homemade Hot Chocolate Mix for later.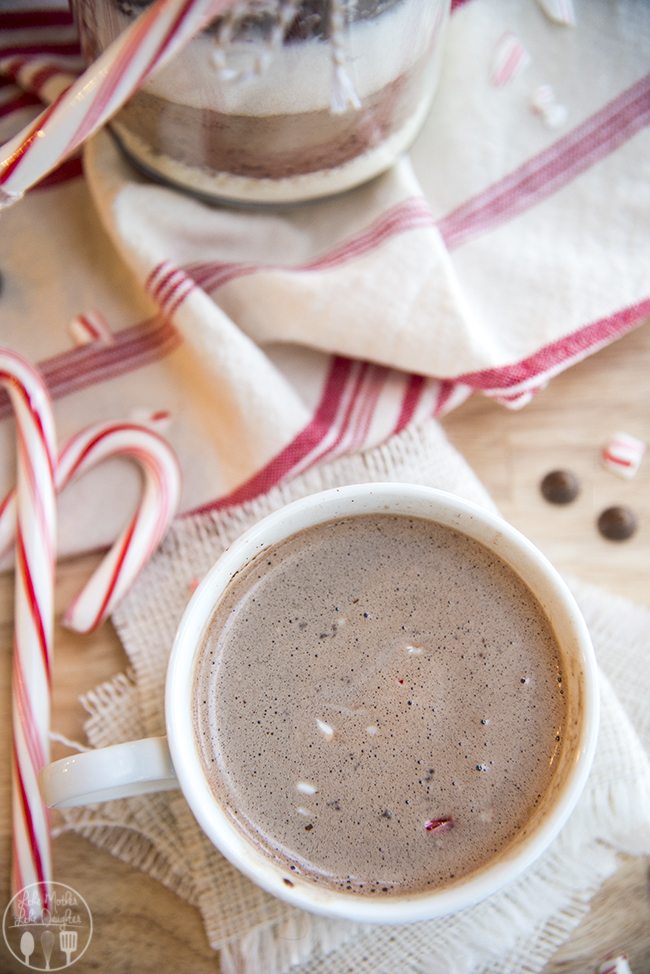 I've never made my own hot chocolate mix, so I figured it was about time to try and it turned out delicious. Its a simple mix with just THREE ingredients, and then you can add a couple fun additions to add a fun flavor to the mix!
All you need for this homemade hot chocolate mix is powdered/dry milk, baking cocoa powder, and sugar.
I also added a few dark chocolate chips and crushed up candy canes to my mix because I like my hot chocolate rich, extra chocolatey and definitely with peppermint too.
This mix is perfect layered in a jar, (quart jars are perfect for this amount! Or you can cut the recipe in half, or fourths to make smaller jars for smaller gifts, perfect for coworkers or friends) and then closed up, tied with a bow and given as a gift to neighbors! I topped mine off in the jar with the chocolate chips and crushed up candy cane to make the jar extra pretty!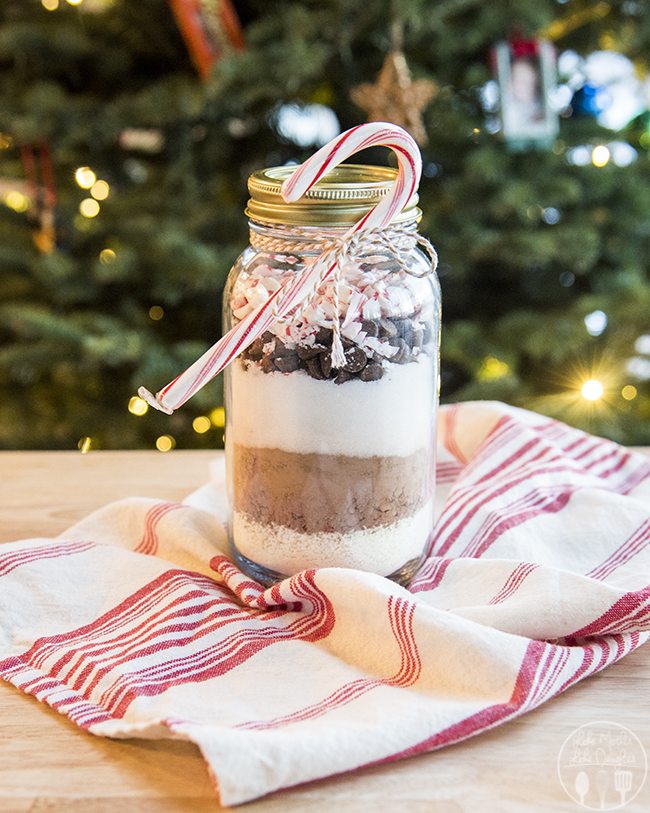 Some other delicious and cute additions to the jars could be mini marshmallows, peanut butter cups, other chocolate chip varieties. You can play around with it. Up to one cup of additions should fit on top of your mix in the quart jar.
Add a note to the jars that says "Stir the mix together in a large bowl. For each serving combine 1 cup of hot water or milk with 1/3 cup hot chocolate mix and stir together."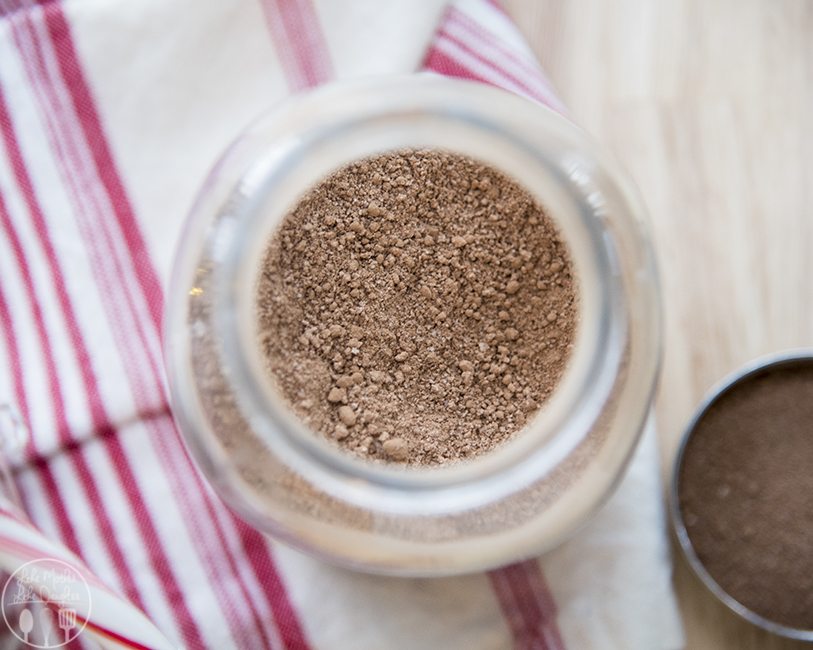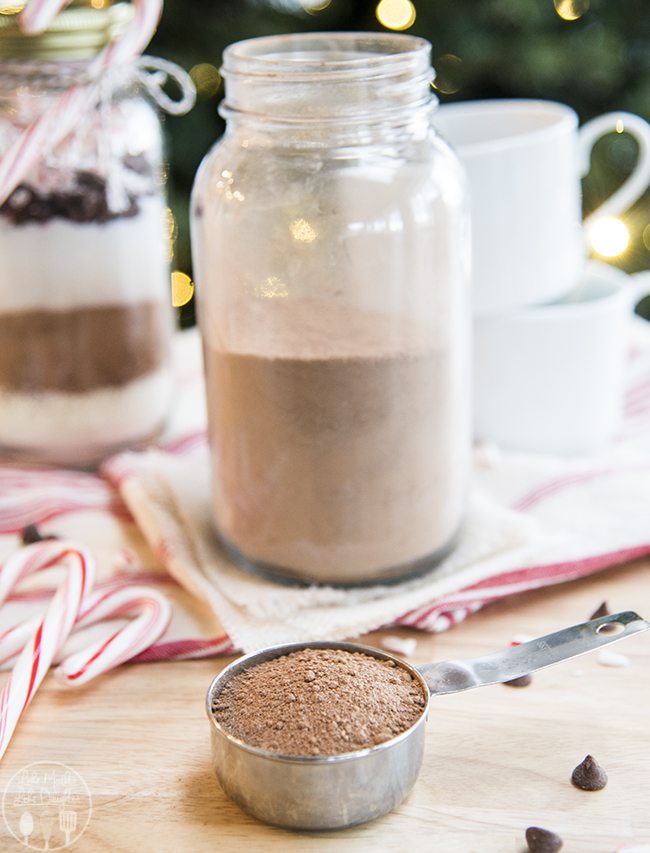 What's your favorite type of hot chocolate?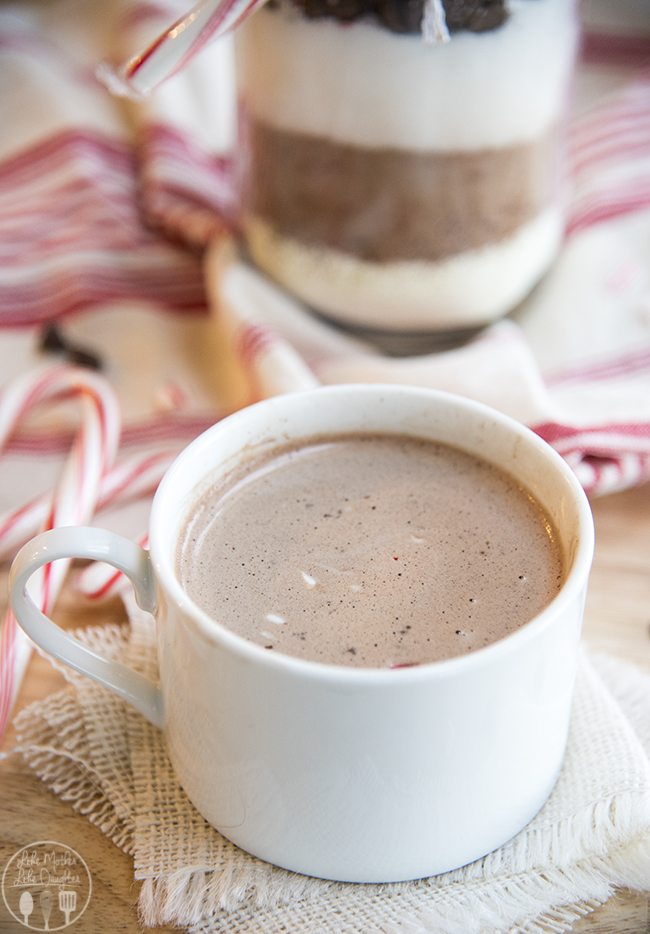 Hot Chocolate Mix
Ingredients
1 cup powdered milk
1 cup cocoa powder
1 cup Sugar

Optional Mix Ins: (Add up to 1 cup total)
½ cup chocolate chips,
½ cup mini marshmallow
½ cup crushed candy canes
½ cup chopped peanut butter cups
Instructions
Combine powdered milk, cocoa powder and Splenda in a large bowl. Stir to combine.
To serve, combine 1 cup of hot water or milk and ⅓ cup of hot chocolate mix.
To layer hot chocolate in a jar:
Pour powdered milk into a large 1 qt jar with a funnel.
Pour cocoa powder into jar on top of powdered milk.
Pour Splenda on top of cocoa.
Top Splenda with optional mix ins.
Seal and label.
Notes
Sugar can be substituted for Splenda® No Calorie Sweetner to cut the calories a little bit.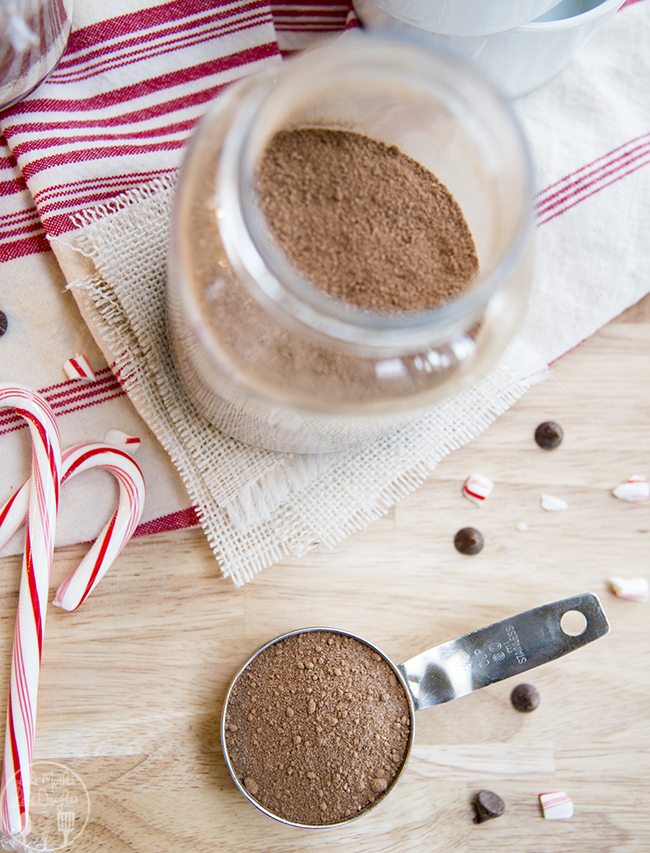 This recipe was originally made with SPLENDA® No Calorie Sweetener. SPLENDA® has the sweet taste of sugar with fewer calories, so you can make smarter choices and feel better about the choices you're making. SPLENDA® Sweetener Products can be used almost anywhere sugar is used, including cooking and baking. Find more recipes, tips, tricks and more at SweetSwaps.com.
I was selected for this opportunity as a member of Clever Girls and the content and opinions expressed here are all my own.