I shared these lemon sugar cookie bars a few weeks back on Becky's blog Love To Be In the Kitchen because Becky is taking a little time off of blogging to spend time with her newest addition, a sweet baby girl. But the important part of this post is these lemon sugar cookie bars.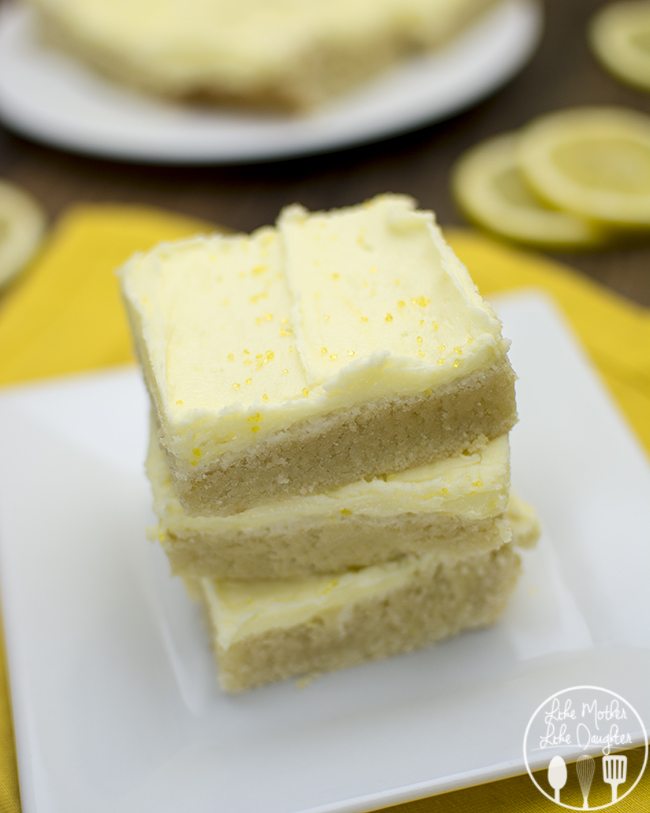 I've already shared two sugar cookie bars with you plain old sugar cookie bars and chocolate mint sugar cookie bars and these lemon sugar cookie bars are a a perfect addition to the collection. I've fallen head over heals in love with sugar cookie bars – they've got the delicious taste of sugar cookie, in easy and quick to make bar form. And these lemon sugar cookie bars are no exception. These cookie bars have the perfect refreshing lemony taste in both the cookie dough and the frosting. The tart lemon is the perfect contrast to the sweet cookie and sweet frosting and these bars aren't one you'll want to miss!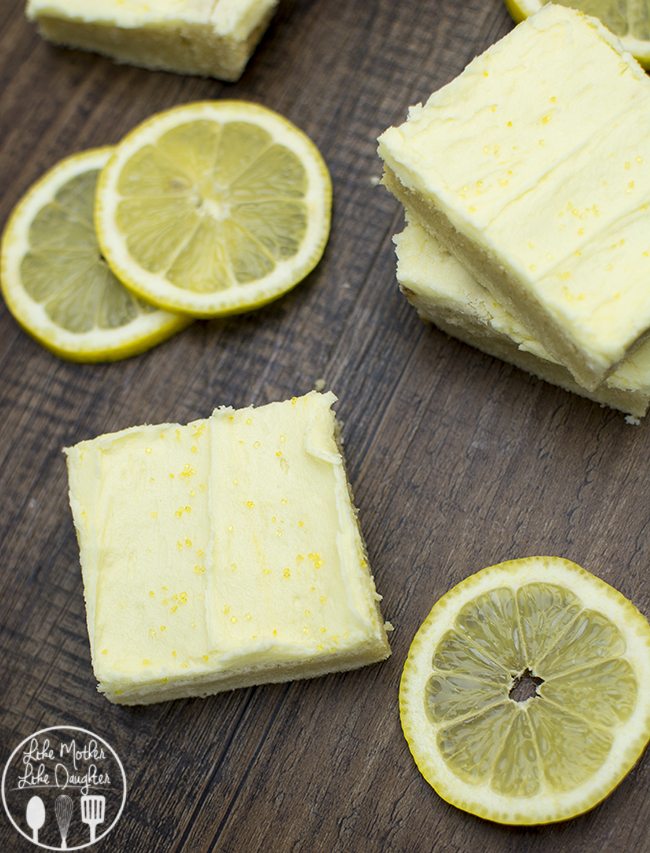 These are the perfect spring or summer time dessert. And they would be the perfect treat for a summer party or potluck!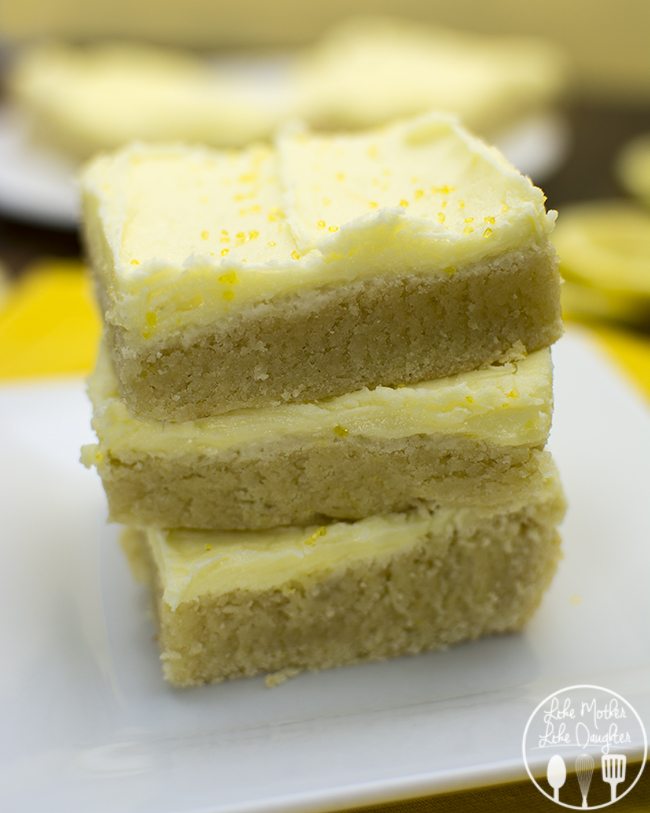 Lemon Sugar Cookie Bars
Ingredients
2½ cups all purpose flour
½ tsp baking powder
½ tsp salt
½ TBS lemon zest
½ cup unsalted butter, softened
1 cup sugar
1 large egg
1 TBS sour cream
1 tsp vanilla extract
1 TBS lemon juice
For The Lemon Frosting:
5 TBS unsalted butter, softened
2 TBS lemon juice
1 TBS lemon zest
1 TBS milk
1 TBS vanilla
4 cups powdered sugar
2 drops yellow food coloring
Instructions
Preheat your oven to 375 degrees.
In a medium sized bowl, combine your flour, baking powder, salt and lemon zest. Set bowl aside.
In a large mixing bowl, cream together your butter and sugar for about 3 minutes until light and fluffy.
Add in your egg, sour cream, lemon juice, and vanilla and mix till combined.
Slowly add in your flour mixture while stirring until everything is combined.
Press the batter into a greased 9x13 dish and spread it out evenly with your hands or a rubber spatula.
Bake your sugar cookie bars for 15-17 minutes or until the edges have just started to turn golden.
Allow cookie bars to cool completely.
Mix all your ingredients together for your frosting until creamy. Add more powdered sugar or milk if needed for the texture.
Spread your frosting evenly over your cooled cookie bars.
Cut into squares and serve.
If you like these lemon sugar cookie bars, I think you'll like these other recipes too: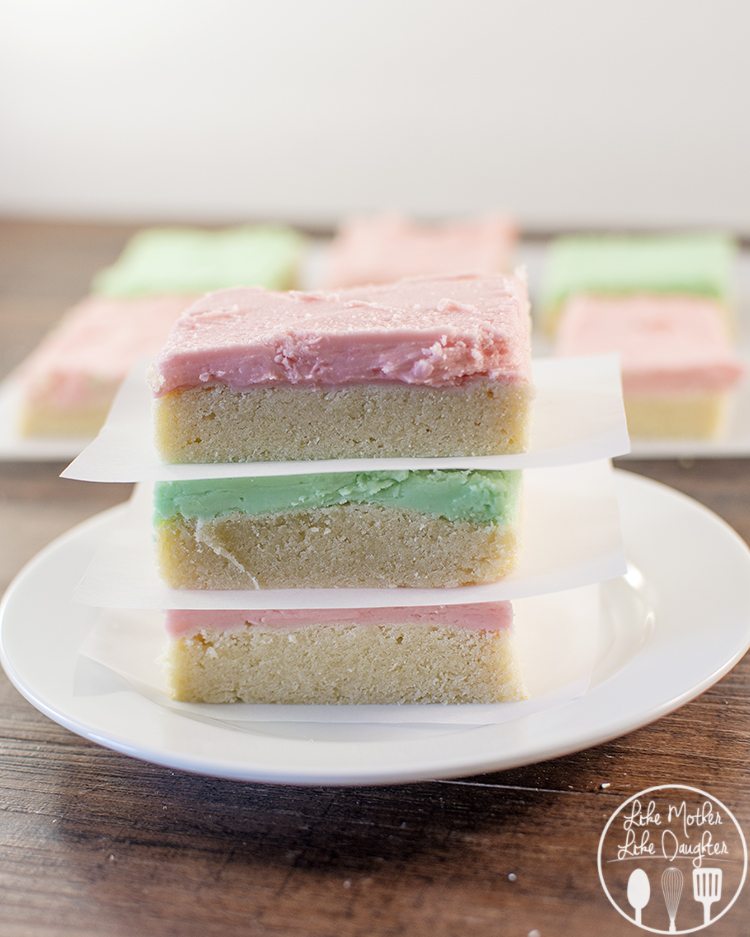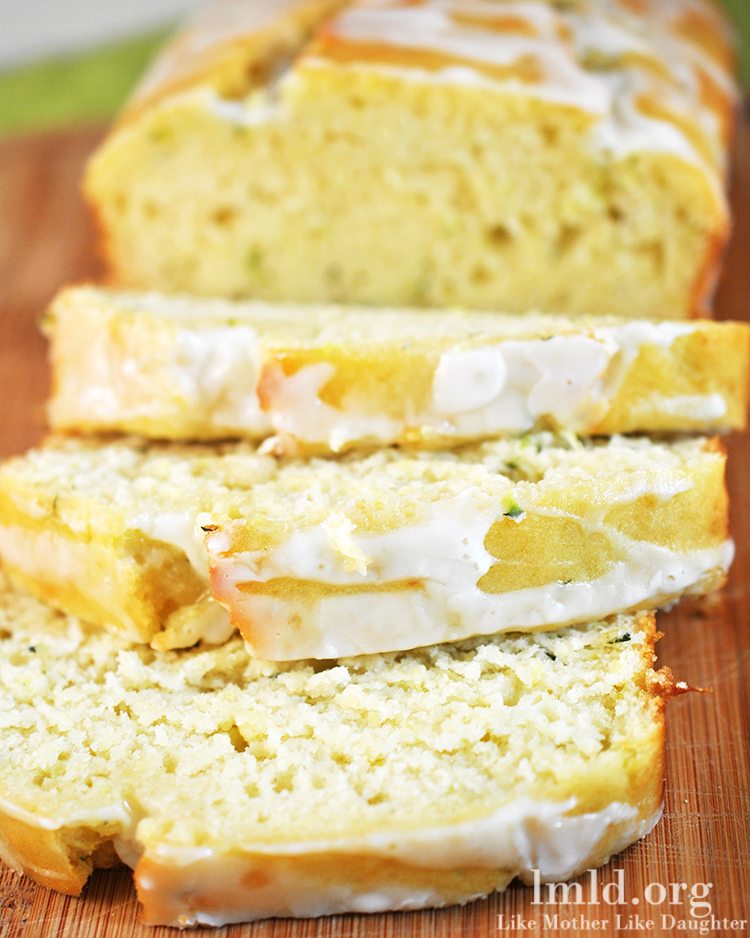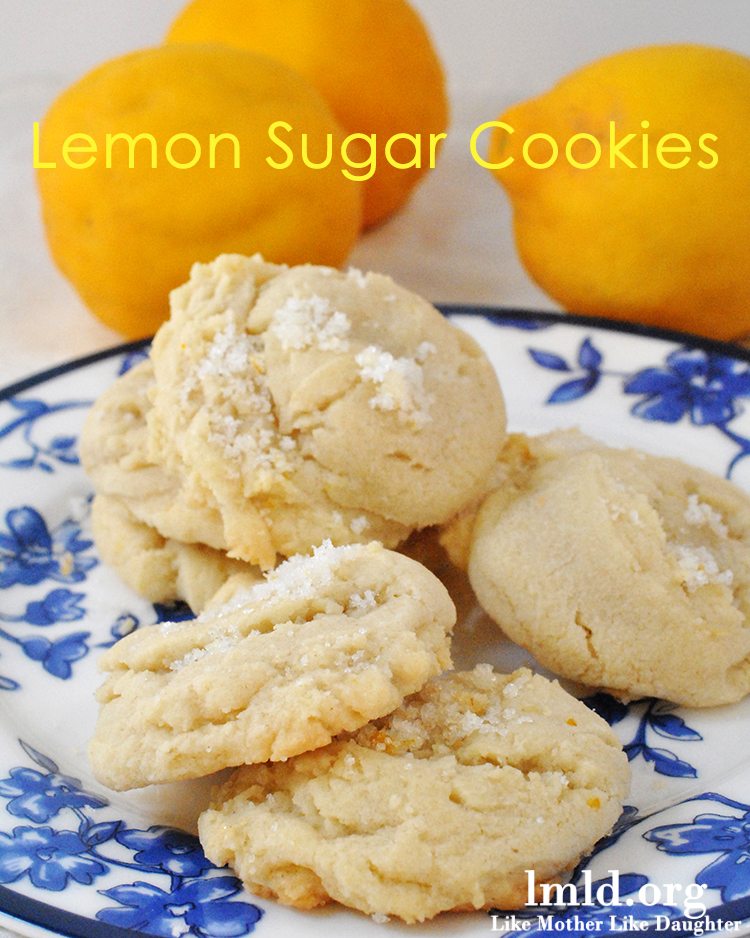 And be sure to visit us on Facebook – Pinterest – Twitter – and Instagram!
And thanks for having me Becky! Good luck with your little one, she's adorable!!