My friend Peggy shared this macadamia nut crusted tilapia recipe with me a few weeks ago and I have been waiting for the right moment to make it.  If I had know it was going to be this good I probably would have made it then and several times since.  I don't think I would have ever thought of using macadamia nuts in a breaded topping before but now I know better.  I am just wondering what else I can make with this macadamia nut topping.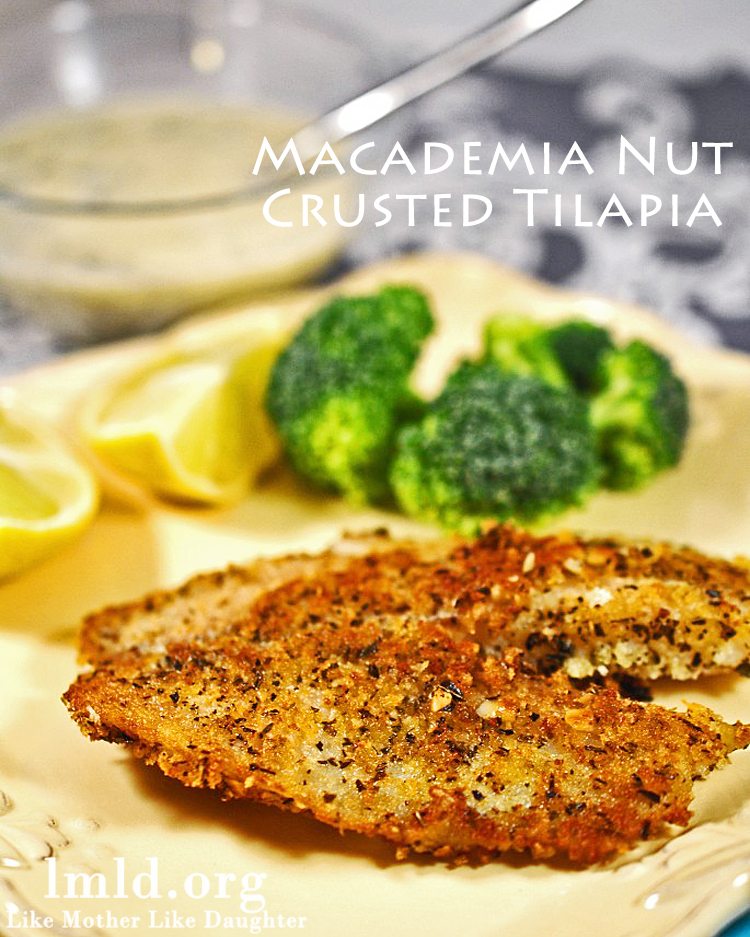 Is it possible you don't think you like fish? feel free to use this topping on chicken.  Although tilapia has a very mild fish flavor and with the macadamia nut crust and all the herbs I am not sure you would even notice it was fish. We topped the macadamia nut crusted tilapia with a lemon herb butter sauce that was quite decadent, so good that both Craig and I ended up pouring the sauce over our steamed broccoli too.
Once you have assembled your ingredients the whole meal comes together quite quickly.  Don't let the list of ingredients hold you back.
Macadamia Nut Crusted Tilapia
Ingredients
2 fillets tilapia
½ cup panko bread crumbs
¼ cup finely chopped unsalted macadamia nuts
¼ cup finely shredded Parmesan cheese
1½ tsp dried crushed basil leaves
1 tsp granulated garlic
¼ tsp thyme
2 to 3 Tbs olive oil
kosher salt to taste
white pepper to taste
Instructions
In a flat bowl (one large enough to bread your fillets in) put your panko crumbs, macadamia nuts, Parmesan cheese, basil, garlic, and thyme
Mix and shake around so everything is thoroughly mixed together
Pour olive oil in a skillet large enough to hold your fillets
Heat over medium low heat
Sprinkle your fillets with the kosher salt and white pepper to taste
Place your fillets in the flat bowl and press into the breading
Flip over and do the same for the other side until your fillets are completely covered
Lay your crusted fillets in the skillet and cook for about 4 minutes on each side until fish is cooked and opaque
Serve this lemon herb butter over the macadamia nut crusted tilapia and anything else you want.
Lemon Herb Butter Sauce
Ingredients
¼ cup finely chopped onion
1 Tbs finely clipped chives
1 Tbs dried crushed parsley
¼ cup white grape juice
¼ cup lemon juice
¼ cup heavy cream
½ cup butter (softened - and cut into cubes)
1 tsp lemon juice
½ tsp kosher salt
Instructions
In a small saucepan put your white grape juice, ¼ cup lemon juice, parsley, onion, and chives
Heat over medium heat until liquid is reduced to half to one-fourth what it was originally
Stir in cream and bring to a simmer for 2 minutes
Reduce temperature to low
Stir in butter just enough to melt it
Remove from heat
Add 1 tsp lemon juice and salt
Enjoy this cripsy macademia nut crusted tilapia for dinner!