This creamy macaroni salad is loaded full of fresh crunchy vegetables. Its the perfect summer side dish for a picnic or potluck!
Pin this macaroni salad for later!
I love macaroni salad. Its one of my favorite side dishes to eat, and until recently I'd never even made it before. It's one of those things I loved when people brought to a potluck, but I'll tell you a secret, I love buying it from the deli at our local grocery store too. Shh… don't tell 😉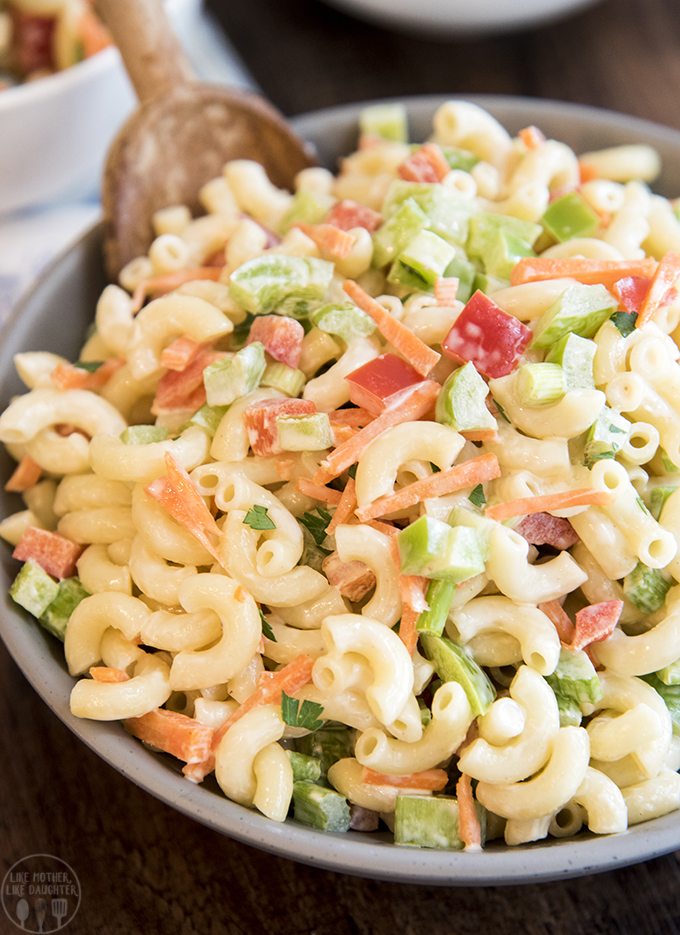 I love the creamy mayo sauce that coats all the noodles, mixed in with lots of crispy and crunchy fresh veggies. It doesn't get much better than that.
This macaroni salad is super easy to make, and it's kind of a make it to your taste type recipe, if you don't like celery, leave it out. If you want more salt, add it in – that kind of thing. But I'll tell you, it's delicious. And it's the perfect summer side dish. Especially if you're going to a picnic or a potluck.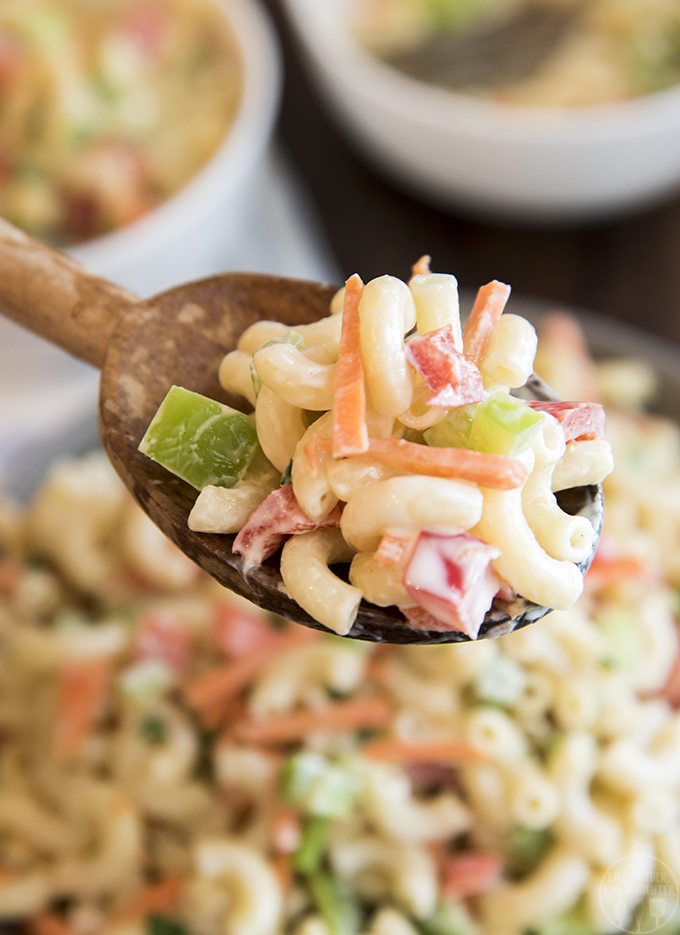 Today is international picnic day so I hope you celebrate by eating lunch or dinner outside. I'll do it with my son for lunch today, maybe something really fancy like peanut butter and jelly sandwiches – served up with a big side of this mac salad!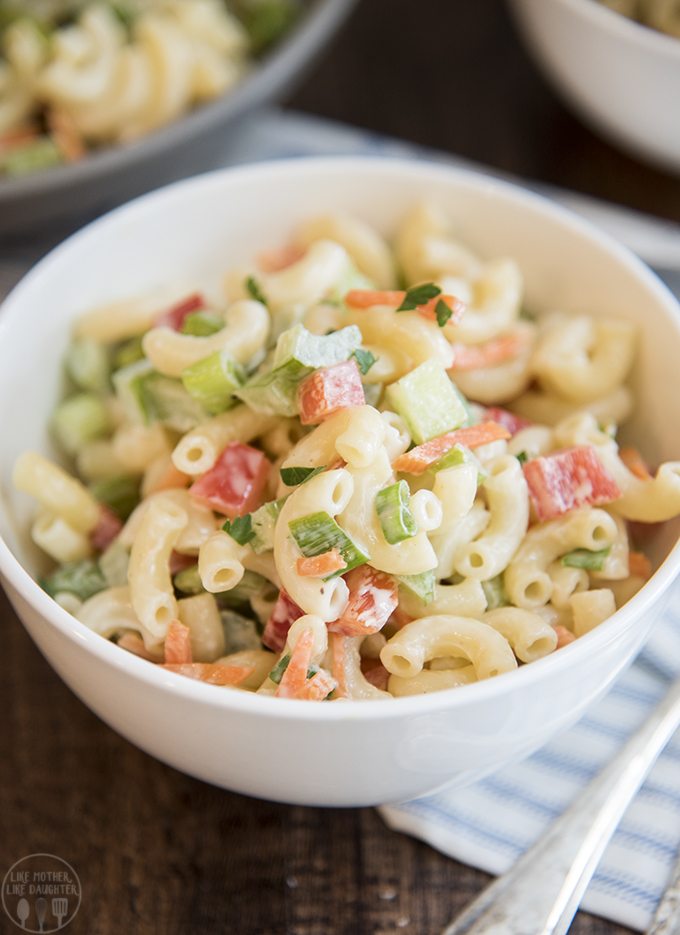 Macaroni Salad
Ingredients
2 cups uncooked macaroni noodles
½ cup diced red pepper
½ cup diced green pepper
½ cup diced celery
¼ diced green onion
½ cup julienned carrots
½ cup mayo
1 TBS apple cider vinegar
1 TBS sugar
1 tsp salt
½ tsp pepper
Instructions
Cook the macaroni until package directions. Drain and rinse the noodles and set aside.
Prepare all your vegetables while the noodles are cooking.
In a small bowl mix together the mayo, vinegar, sugar, salt, and pepper. Adjust the amounts according to your taste.
Place the noodles, vegetables in a bowl. Pour the dressing over the bowl (start with about ⅔ of it) and mix it all together. Add more dressing if needs be.
Cover completely and place in the fridge for 2-4 hours before serving.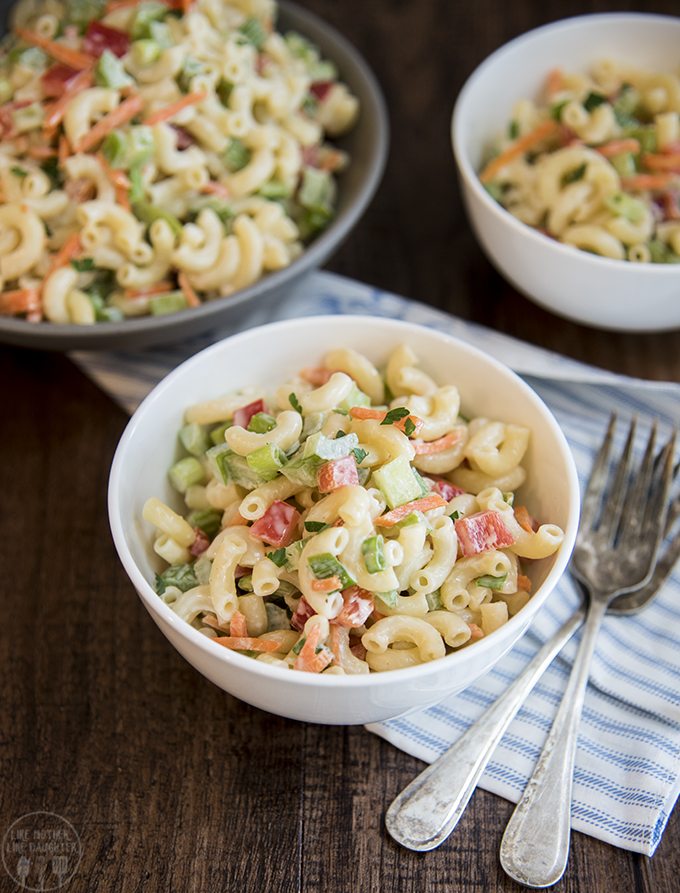 Here are more amazing recipes from my friends that would be perfect for your picnic today!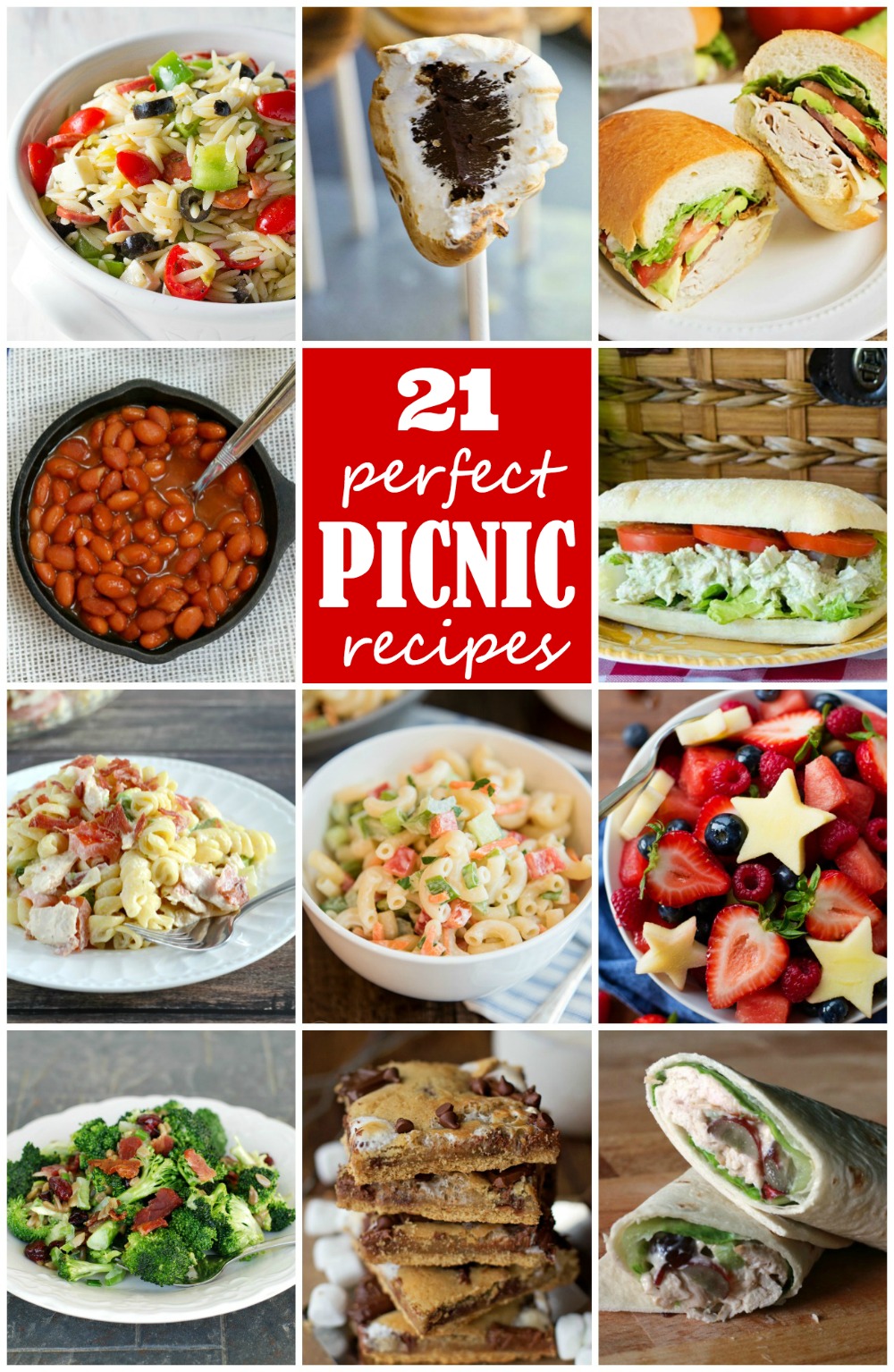 S'mores Truffle Pops on Ashlee Marie
Chicken Bacon Ranch Pasta Salad on Creations by Kara
Turkey Club Picnic Sandwiches on The Baker Upstairs
Red White and Blue Fruit Salad on Life Made Simple
Italian Orzo Pasta Salad on The Stay at Home Chef
BBQ Chicken Salad Wraps on Summer Scraps
Slow Cooker Savory Baked Beans on 365 Days of Slow Cooking
Pesto Chicken Salad Sandwiches on Real Mom Kitchen
Bear Cookies on Like Mother Like Daughter
Graham Cracker Smores Bars on Life Made Simple
Cheesecake Stuffed Strawberries on Like Mother Like Daughter
Cheese and Sausage Kolache on Ashlee Marie
Potato Salad on Creations by Kara
Creamy Broccoli Salad on Like Mother Like Daughter
Pressed Italian Picnic Sandwiches on The Stay at Home Chef
Chewy Oatmeal Chocolate Chip Bars on Real Mom Kitchen
Slow Cooker Pulled Pork on Like Mother Like Daughter
Buffalo Chicken Pasta Salad on Summer Scraps
Apple Pecan Chicken Salad Wraps on The Baker Upstairs
Strawberry Frosted Sugar Cookie Bars on Like Mother Like Daughter