These adorable mummy mini pizzas are so easy to make, and are a perfect dinner or lunch for the Halloween season! Great for kids and adults alike!
I love holiday inspired foods, but sometimes its harder to think of savory inspired recipe ideas. These mummy mini pizzas are the perfect Halloween dinner idea. They are easy to make, if you want you can have your kids help you make them, and they are so cute and delicious. I mean, who doesn't love pizza?!
Pin these Mummy Mini Pizzas for Later!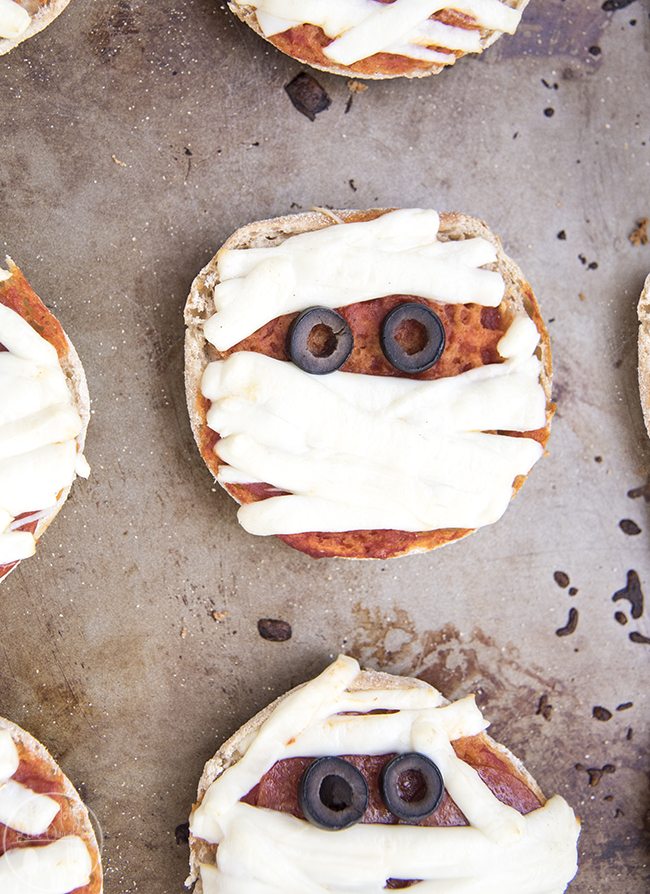 These mummy mini pizzas are easy to make. You'll use English muffins for the crust base, just cut them in half down the middle to open them up. Spread about a spoonful of pizza or marinara sauce onto each half. You can make a homemade sauce or just use any store bought canned sauce that you like. Then for the mummy bandages you'll use string cheese for your cheese on top. Separate your string cheese into pieces, by pulling it apart and layer the pieces all over the top of your English muffin in a criss cross pattern to create a mummy look. Place sliced olives for the eyes and pop in the oven to bake.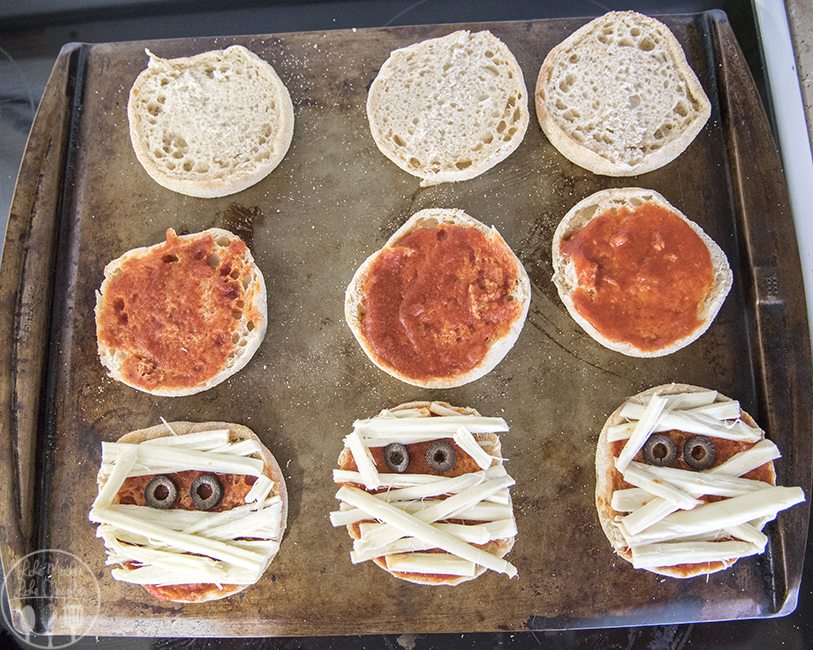 You can cook your mini pizzas longer than I did if you want the cheese to melt a little more, but you will lose the bandaged look the longer you cook them. I cooked mine for about 8-10 minutes.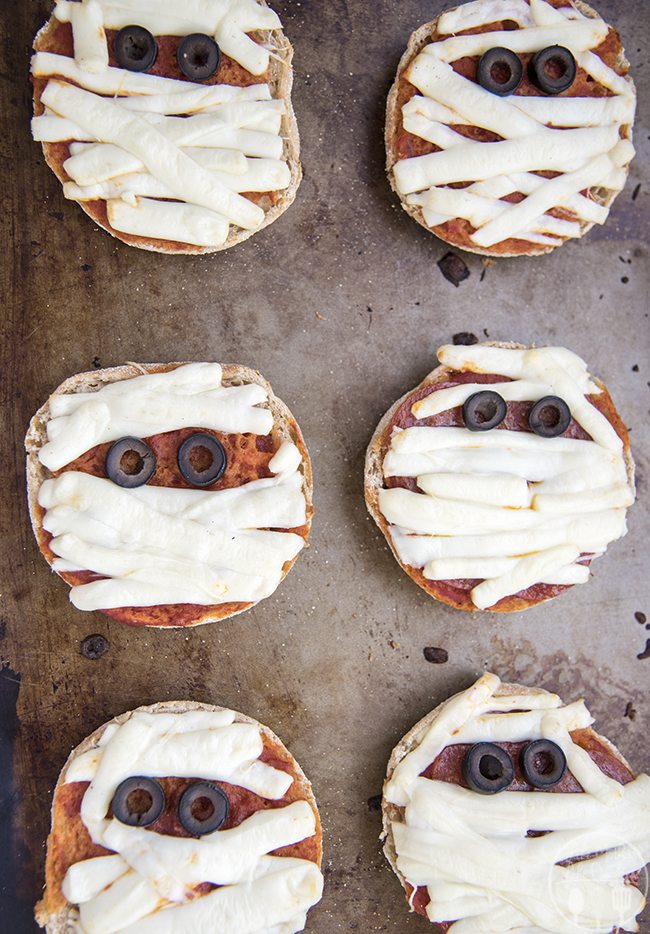 If you want toppings on your pizzas put them under the cheese, you won't want to use too many because you don't want them to be too bumpy, but something like pepperoni works great.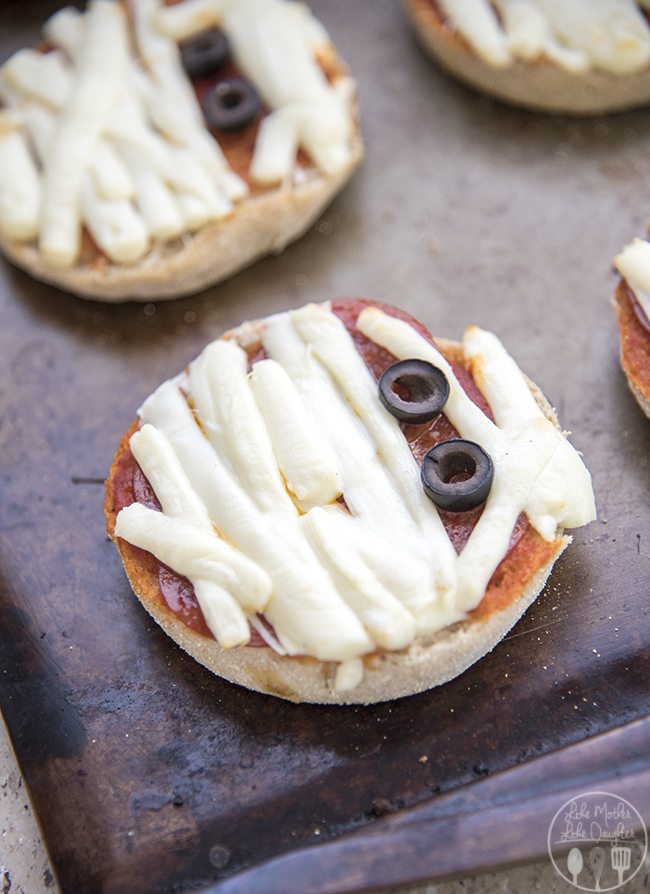 These are such a cute and fun Halloween meal. I just know your kids will love helping you spread the sauce, or layer the cheese onto the mummies.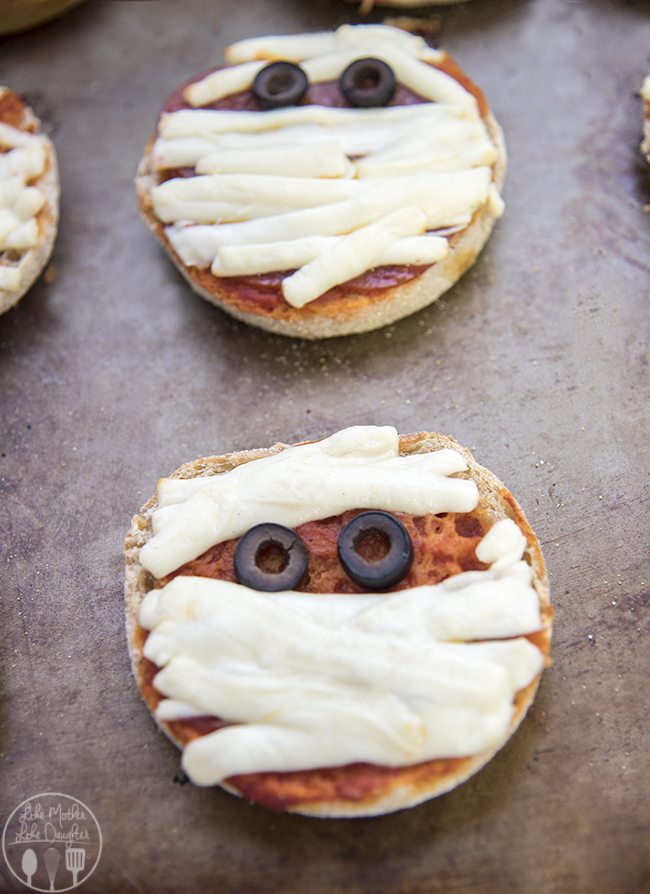 Mummy Mini Pizzas
Ingredients
English muffins
pizza/marinara sauce
mozzarella string cheese
black olives
other toppings like pepperoni, optional
Instructions
Preheat your oven to 450 degrees.
Cut each English muffin in half down the middle. Place onto a baking sheet.
Spread a spoonful of pizza sauce onto each English muffin half.
Place toppings like pepperoni or sausage onto the sauce.
Pull apart your string cheese and place criss cross over the English muffins to create the "bandaged" look. (I used about 1 string cheese per English muffin half.)
Place sliced olives onto your mummy to have his eyes peeking through.
Bake in oven for 8-10 minutes, until cheese is melted but still holds its shape.