Did you see my no bake cheesecake recipe over at Dessert Now, Dinner Later last month? In case you missed it, I wanted to share it again because its seriously a delicious recipe and so easy!
You all know I LOVE desserts, just look at my recipe index or my bucket list and see how many of my recipes are desserts compared to other things. One dessert I really love is cheesecake, but I hate how long most cheesecakes take to prepare, you have to mix everything, bake it, and then sometimes you have to let it sit all night before eating it. I am not a very patient person, so that is hard for me to do. In comes the no bake cheesecake. Although this recipe does have to chill for a couple hours in your freezer, its still fairly quick when it comes to cheesecakes, plus the prep work is like 2 steps and only a few ingredients. Now that is my kind of recipe. And I think you'll like it too. (I got this recipe from one of my wonderful cousins)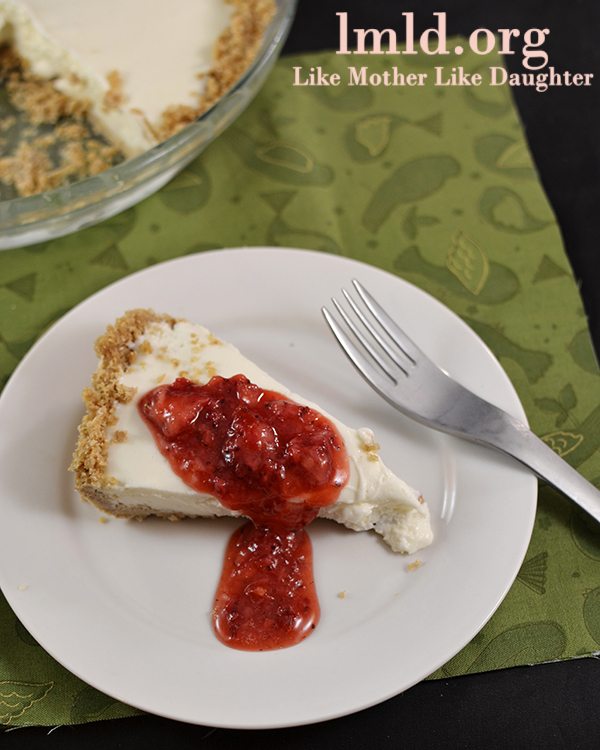 No Bake Cheesecake (with Strawberry Sauce)
Ingredients
8 oz cream cheese, softened
½ cup sugar
8 oz cool whip, thawed
1 Graham Cracker Crust (recipe below)
Strawberry Sauce, optional (recipe below)
**I used fat free cream cheese and cool whip and didn't have any problems.
Instructions
Mix together cream cheese and sugar until creamy and smooth.
Add cool whip and stir well to combine.
Pour mixture into graham cracker crust.
Put in your freezer for 2 hours to harden.
Enjoy with strawberry sauce on top. (recipe below)
Store in freezer to keep cheesecake from "melting a little".
Graham Cracker Crust
Ingredients
⅓ cup butter, melted
¼ cup sugar
7 graham crackers
Instructions
Using a food processor, pulse your graham crackers until they are fine crumbs.
Mix together graham cracker crumbs and sugar in a medium bowl.
Pour in butter and stir well to combine.
Pour crust into a 9 inch pie plate and press down evenly to cover the bottom and all sides.
Put in refrigerator until firm, about 15 minutes.
Strawberry Sauce
Ingredients
1 cup strawberries, chopped
2 TBS sugar
1 tsp lemon juice
Instructions
Mix strawberries, sugar and lemon juice together in a small bowl.
Smash strawberry pieces with a fork, or blend a little in a food processor until desired consistency.
With the warmer months coming on, this is a delicious, creamy and refreshing dessert and you won't have to turn your oven on, so you can still enjoy it in the hot months.