This is one time I can get behind eating like a bird. Ha ha. I say that because birds eat a lot of seeds and this nut and seed granola is full of seeds after seeds after seeds.  You have pumpkin seeds, flaxseeds, sesame seeds, and sunflower seeds. All seeds birds love too.  But you won't feel like you are eating bird food with this nut & seed granola, it is so much more flavorful than that.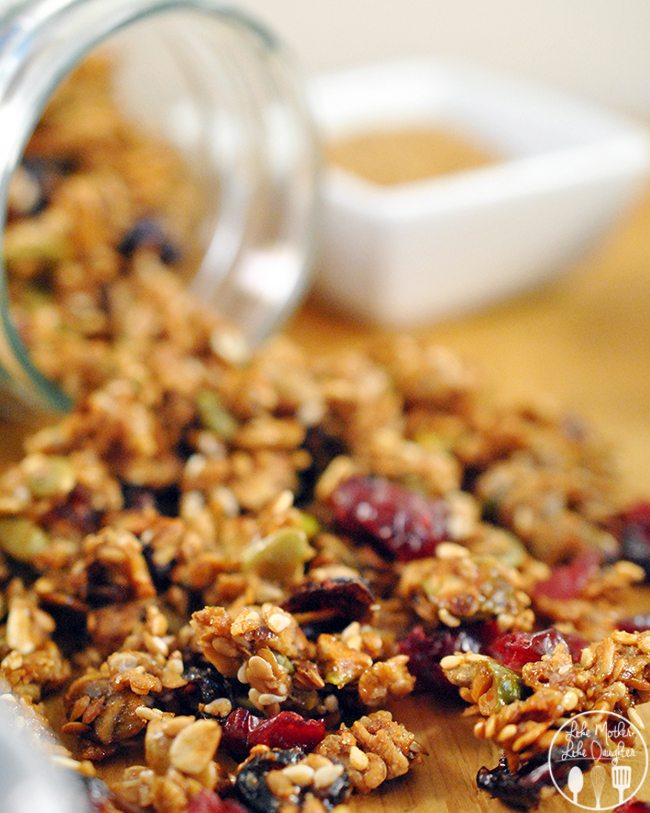 Although you might find yourself eating like a bird with the constant going for just 1 or 2 or 3 more handfuls to satisfy your taste buds, that's how good it is.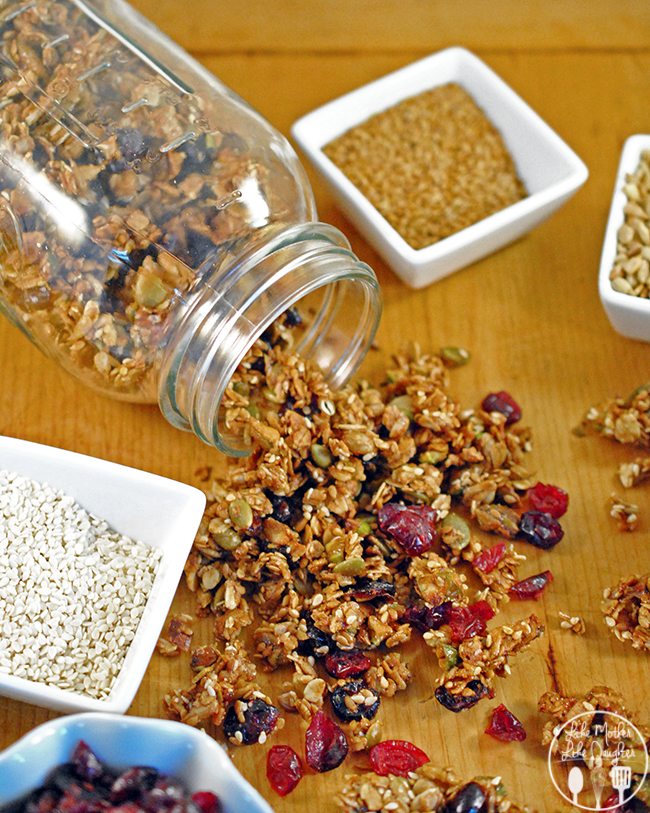 It probably is not a secret that I love to feed the birds too.  I currently have 5 active bird feeders in my backyard.  I can look out my kitchen window and savor the moments of the feeders busy with lots of birds.  My favorites are the little yellow finches, but I enjoy the chickadees, morning doves, sparrows, bluejays, plus so many more.  Lately a black crow has been visiting.  We also have 2 bird baths that are used regularly.  The coolest thing is we have a hawk that enjoys drinking from the birdbaths.  It is such a thrill when he comes in.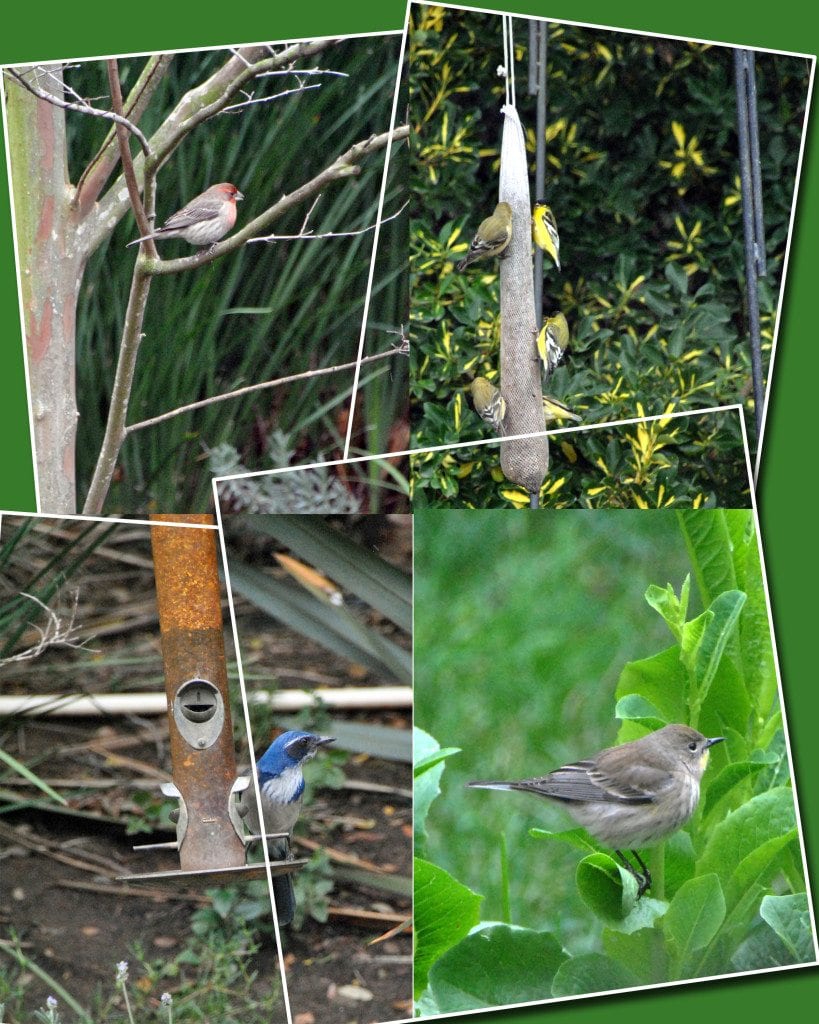 So get ready to make the best granola you probably will – nut & seed granola – and eat better than the birds.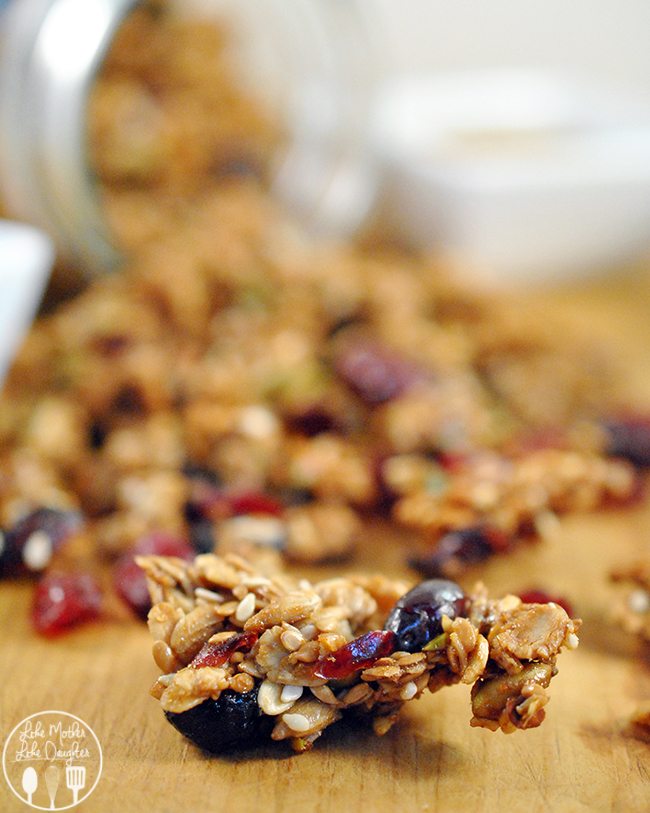 Nut & Seed Granola
Ingredients
1¼ cups old fashioned oats
½ cup chopped pistachios
½ cup pumpkin seeds (pepitas)
½ cup flaxseeds
½ cup cranraisins
½ cup brown sugar - packed
¼ cup white sesame seeds
¼ cup sunflower seeds
¼ cup honey
¼ cup olive oil
2 egg whites
1 tsp Kosher salt
Instructions
Preheat oven to 300 degrees
In a medium sized bowl add all your ingredients
Stir together until everything is combined well and well coated
Spread onto a rimmed baking sheet evenly and about ¼ inch thick
Bake for 35 minutes
Using a wide spatula turn everything over in large sections
Flatten and spread out evenly again
Bake for 10 more minutes
Remove pan from oven and place on cooling rack
Let cool completely
Scrape up nut and seed mixture into clusters
Store at room temperature up to 1 week
Enjoy this amazing nut and seed granola by the handful or with a big bowlful of yogurt!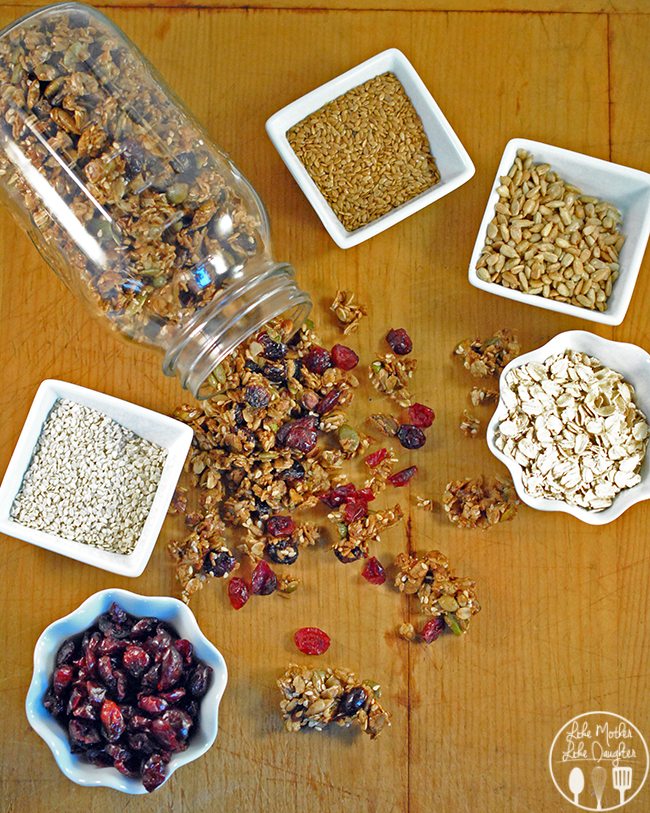 Do I have any other bird lovers out there?