**This is a Sponsored post written by me on behalf of National Peanut Board for SocialSpark. All opinions are 100% mine.
Did you guys know that September is Better Breakfast Month? Breakfast is such an important meal because not only does it give you energy to start your day, but it can help start your metabolism earlier and breakfast foods often contain important nutrients. Breakfast is even more important for kids and their growing bodies than it is for adults. I usually have a simple breakfast of cereal or toast with jam or peanut butter. But another breakfast that I love is granola. I love to eat it with milk or on top of some yogurt too. And I recently made my own peanut butter granola that is truly fabulous.
Peanut Butter for Breakfast is a great and simple addition because 90% of Americans pantries have a jar in their pantry, plus its plant based, has 8 grams of protein and has more than 30 essential nutrients and phytonutrients. Plus its easy to add to your breakfast, whether you're adding it into your morning smoothie or spreading it on top of your waffles. Or even enjoying it in this delicious peanut butter granola.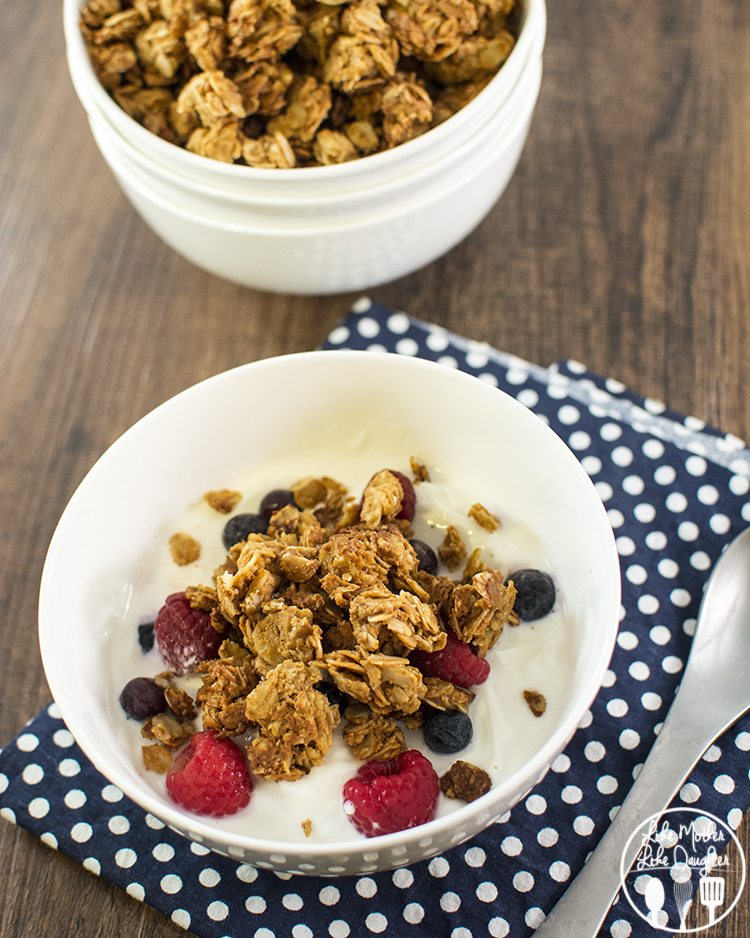 This granola is pretty nutritious too, I used maple syrup instead of sugar to sweeten it a little. And like I said before I love to eat it on top of a small bowl of yogurt with fruit or with a little milk.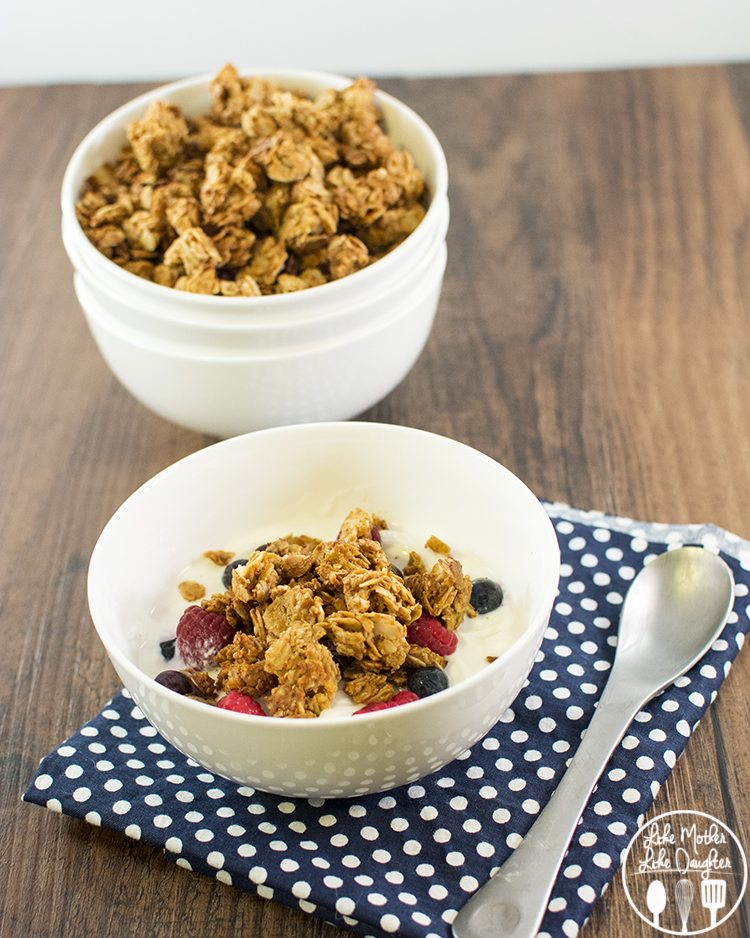 Peanut Butter Granola
Ingredients
6 TBS peanut butter
¼ cup maple syrup
1 TBS canola oil
¼ tsp salt
1 tsp vanilla
2 cups old fashioned oats
Instructions
Preheat your oven to 300 degrees.
In a small bowl, combine your peanut butter, maple syrup, and canola and microwave for 30 seconds.
Stir your salt and vanilla into your peanut butter mixture.
Pour your oats and your peanut butter mixture into a large bowl and stir to fully coat the granola.
Spread the granola onto a baking sheet lined with parchment paper and place in oven. Bake for about 20-25 minutes until golden brown, stirring once in the middle.
Enjoy this delicious peanut butter granola for a tasty and nutritious breakfast!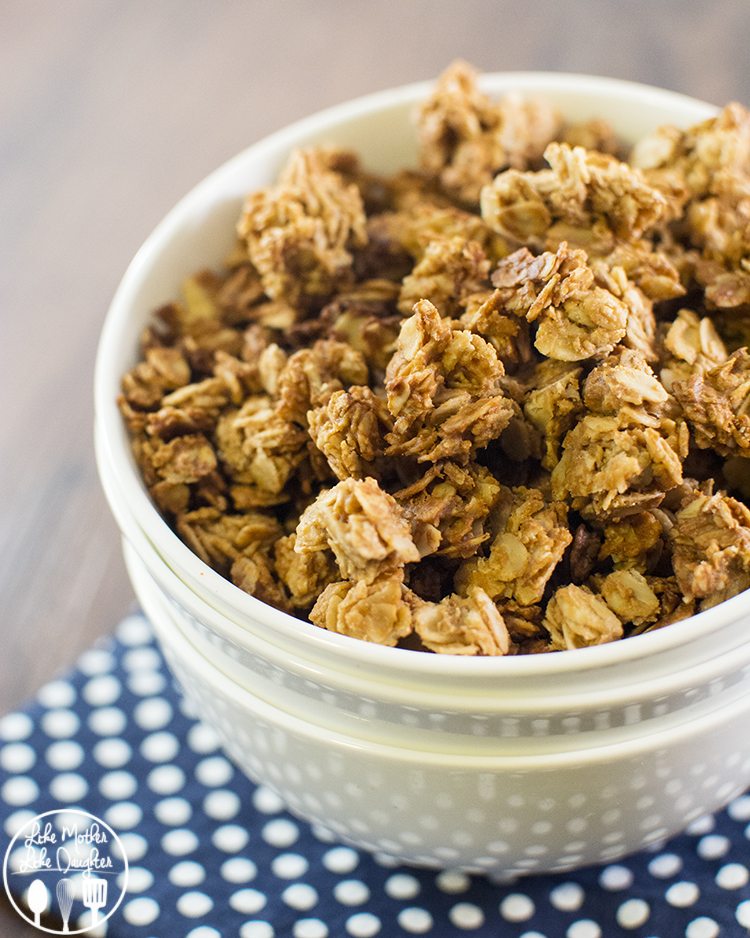 And thanks to the National Peanut Board we have a fun giveaway for you. One reader will win  a $25 Walmart Gift Card, a peanut butter coupon and a bag of peanuts! All you have to do is visit  www.PBforBreakfast.com and leave a comment telling me which of the breakfast recipes you want to try! Then for additional entries you can follow National Peanut Board on Pinterest and Twitter. And be sure to check out their Facebook page too and give them a like!
You might like these other recipes too: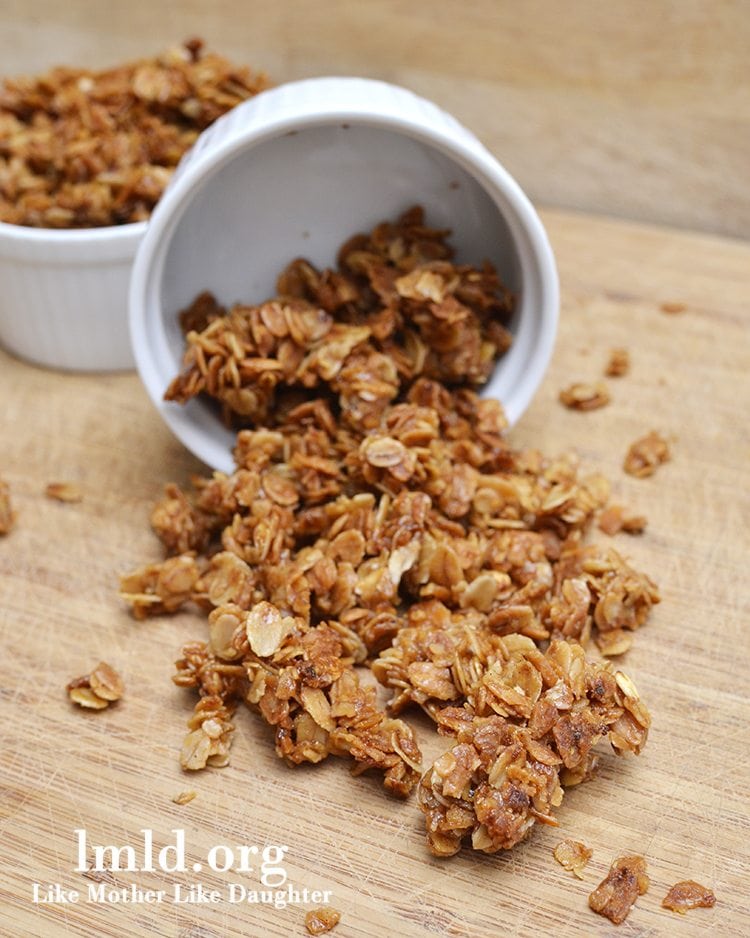 Peanut Butter and Honey Bunches of Oats Granola Bars