Once upon a time in a far away land, I had all the time in the world to wander the aisles and racks of my favorite stores.  I could window shop and dream to my heart's content, it was bliss.  This week I took the time to bask in that experience again but my wandering was in the condiment and pasta aisles of Target.  It was delightful.  Who would have thought I found it fun to shop among food.  But being a food blogger has brought out this side of me.
During my wanders this time I picked up a box of orecchiette pasta.  I had never cooked with orecchiette pasta before and thought I would try it out.  I think you will be happy with my choice because it brought about this creation of orecchiette with chicken sausage and asparagus. It is a yummy and colorful pasta dish.
Did you know orecchiette means "little ears"?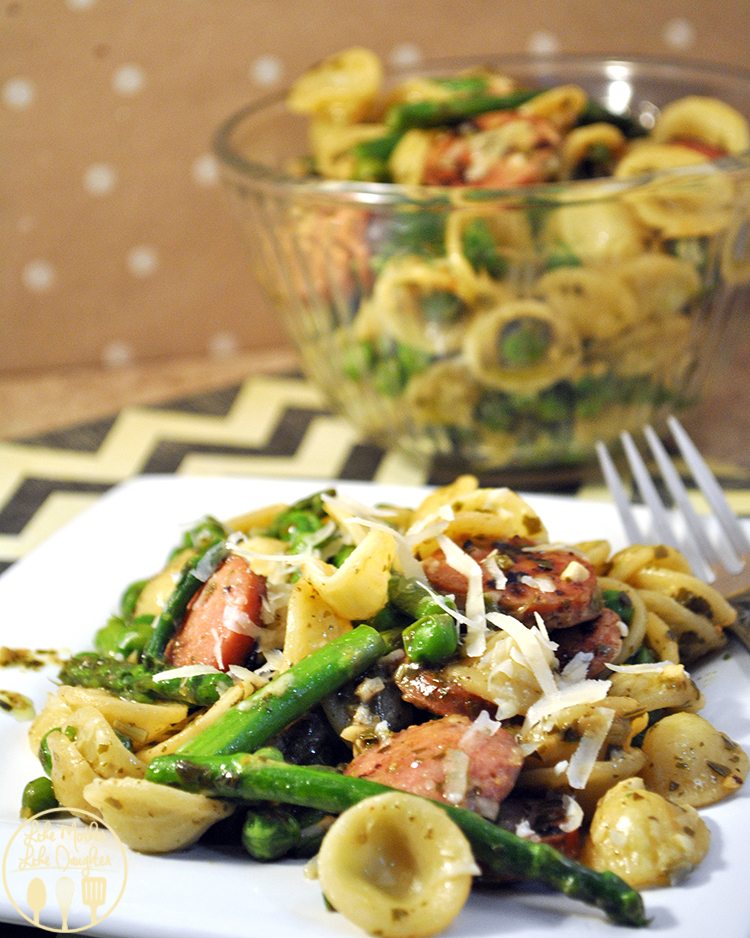 Is there another pasta you would like to see either Aimee or I try out for you?

Orecchiette with Chicken Sausage and Asparagus
Ingredients
6 oz of cooked pasta
2 chicken apple sausage (fully cooked - I used Aidells)
20 or so spears of asparagus (washed, trimmed, and broken into 2 inch pieces)
1 cup green peas (I used frozen peas, slightly thawed)
1 clove garlic (minced)
⅓ cup basil pesto
1 Tbs olive oil
½ cup grated Parmesan
Instructions
Cook the orecchiette pasta according to directions on the packaging
In a saute pan add the olive oil and warm over medium low heat
Saute your minced garlic in the olive oil
Slice your chicken sausage into ½ inch pieces and add to the olive oil and brown
Add your asparagus and peas to the garlic and sausage and saute into cooked throughout, just a few minutes
Drain your pasta
Add to the saute pan the pasta and basil pesto sauce, stir all together to coat everything with the basil pesto sauce
Mix in ¼ cup of the Parmesan cheese and let it melt and coat the pasta mixture
Remove from heat and just before serving sprinkle the remaining Parmesan cheese over your orecchiette pasta and chicken sausage
Enjoy this delicious pasta meal with orecchiette noodles!