This is a sponsored conversation written by me on behalf of Sargento®. The opinions and text are all mine own.  #ad #ChoppedAtHome #RealCheesePeople #contest
It is all about the EASE, right!?!  We are always looking for something that helps make your and my lifes easier, perhaps even quicker, more simplified but then there is the concern that we lose goodness or flavor in the process. This one pan cheesy chicken pasta fits the easiness bill, but with one exception there is no loss of delicious flavor or tasty goodness, not one single bit.  One pan cheesy chicken pasta is stuffed full of flavor especially thanks to Sargento® Chef Blends™ Shredded 6 Cheese Italian.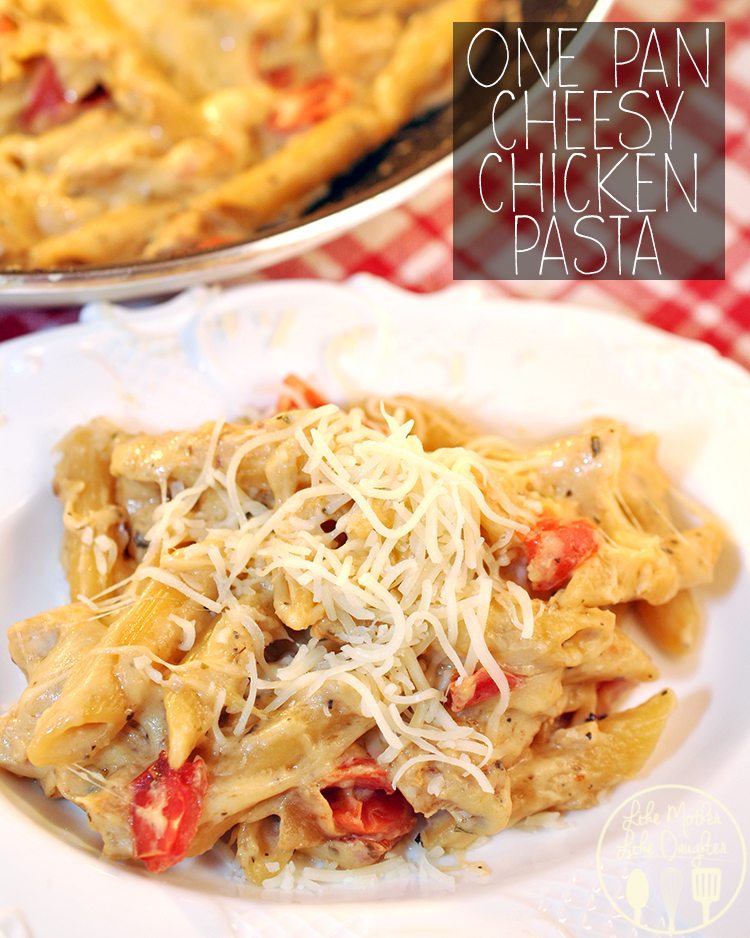 So where does the EASE come in? Well, have you prepared a one dish/pan meal before? This was my first but it will definitely not be my last.  I was afraid cooking a one pan meal would be hard – everything  is literally put together in one pan, even the pasta.  Not only does using one pan EASE the clean up process – literally only one pan to clean. One pan brings together all the flavors from start to finish.  The penne pasta soaked in the flavors of the onions, red peppers, garlic, chicken broth, and herbs all while becoming tender enough to eat.  I never realized that would happen by cooking them all together. Certainly the EASE of making your dinner as flavorful and delicious as possible.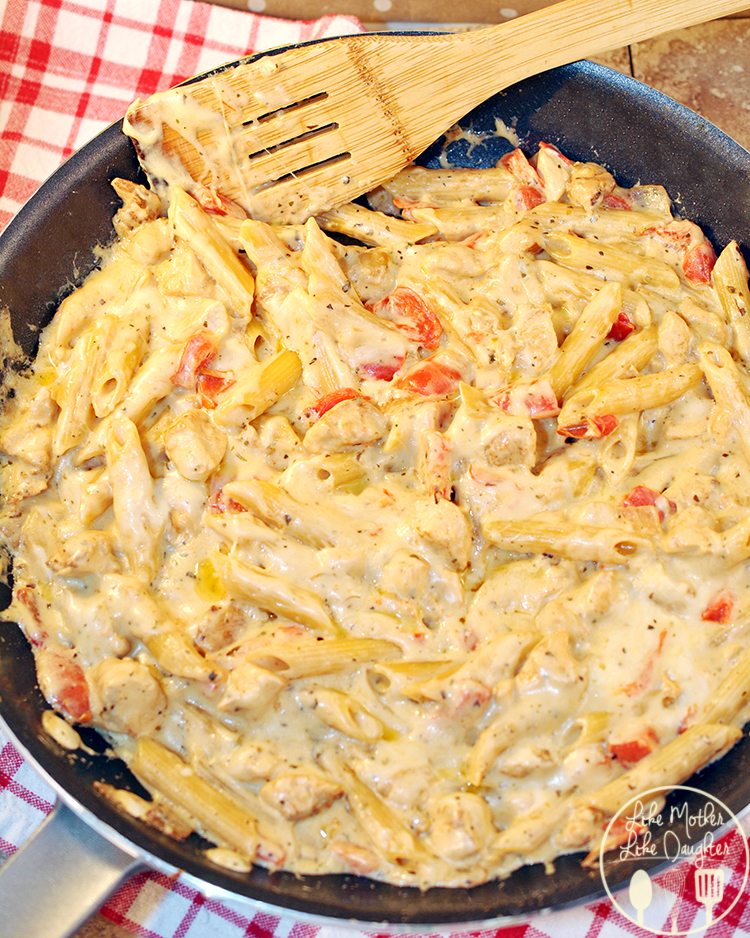 And then you have the wonderful, flavorful, shredded 6 Blend Italian Cheese from Sargento Cheese.   Six flavors of cheese – Mozzarella, Provolone, Parmesan, Fontina, Romano, and aged Asiago cheese, all together bring home your favorite Italian dishes.   Did I mention it is already shredded!!!!  Could you imagine trying to reproduce this EASE on your own; first you need to purchase 6 different cheeses and then shred all six.  Sargento Chef Blend Shredded 6 Italian Blend Cheese has taken care of this for you and the packaging can be re-sealed (more EASE).  I love that Sargento Cheese is REAL cheese, their shredded cheese comes for 100% cheese blocks and is packed with protein and flavor.  Another EASE, I don't have to buy a cow, milk it, and make my own cheese – from Sargento I am getting fresh delicious cheese that is ready to use when I am ready to cook.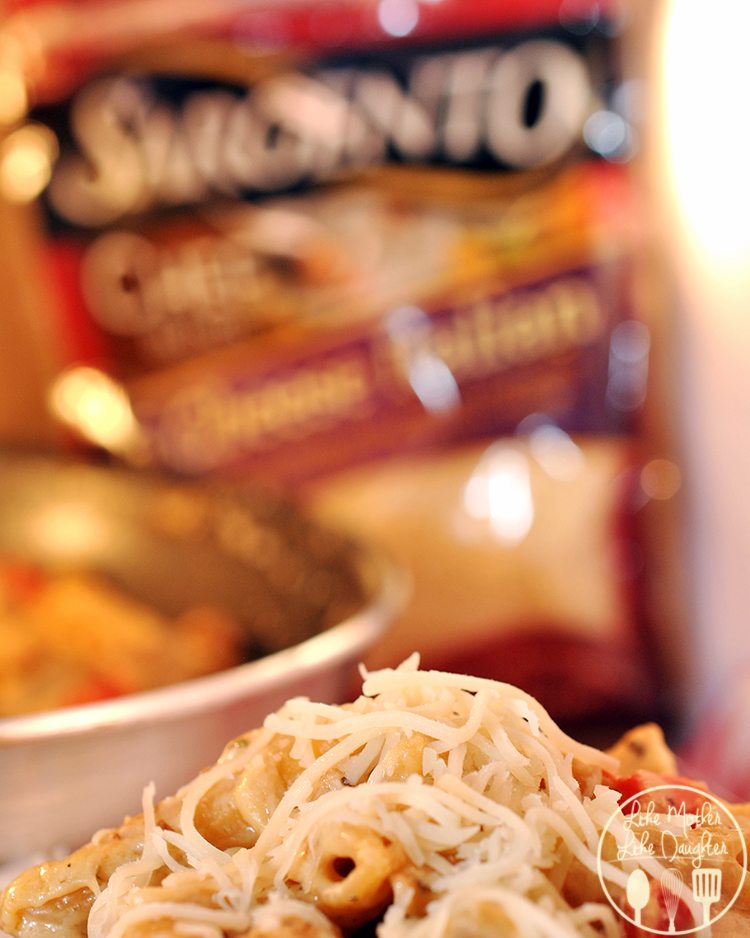 So let's get right into the EASE of cooking this tasty one pan cheesy chicken pasta.

One Pan Cheesy Chicken Pasta
Cuisine:
Chicken and Pasta
Ingredients
2 boneless skinless chicken breast - cut into bite size pieces
2 cups penne noodles
1¼ cups Sargento Chef Blend shredded 6 Cheese Italian - divided
2 TBS olive oil
½ cup diced yellow onion
1 red pepper, diced
3 cloves garlic, minced
1½ cups chicken broth
4 oz light cream cheese, room temperature
¾ cup of plain Greek nonfat yogurt
¾ tsp dried basil
¾ tsp dried oregano
1½ tsp salt, to taste
½ tsp pepper, to taste
Instructions
In a large saucepan over medium heat add 2 TBS olive oil.
Add the onion and saute for a few minutes until transparent, stirring occasionally.
Add the red pepper and saute for a minute or two, stirring 1 or 2 times.
Add the minced garlic and saute until lightly golden.
Add the chicken pieces and brown. Turning to brown on each side but don't cook the chicken thoroughly (that will happen while cooking the penne).
Add the chicken broth and then the penne noodles.
Add all the spices and stir in.
Bring to a boil and cook until penne is al dente (follow the instructions on the packaging). Stirring occasionally, put the lid on if necessary to not let it dry out.
Once the penne is al dente, lower the temperature and then add the Greek yogurt and cream cheese. Stir until all is mixed in and it makes a creamy sauce.
Finally add 1 cup of the Sargento Chef Blend shreeded 6 Cheese Italian, stir in and let melt.
Serve warm sprinkling the remaining ¼ cup of 6 Cheese Italian on top of your individual plates.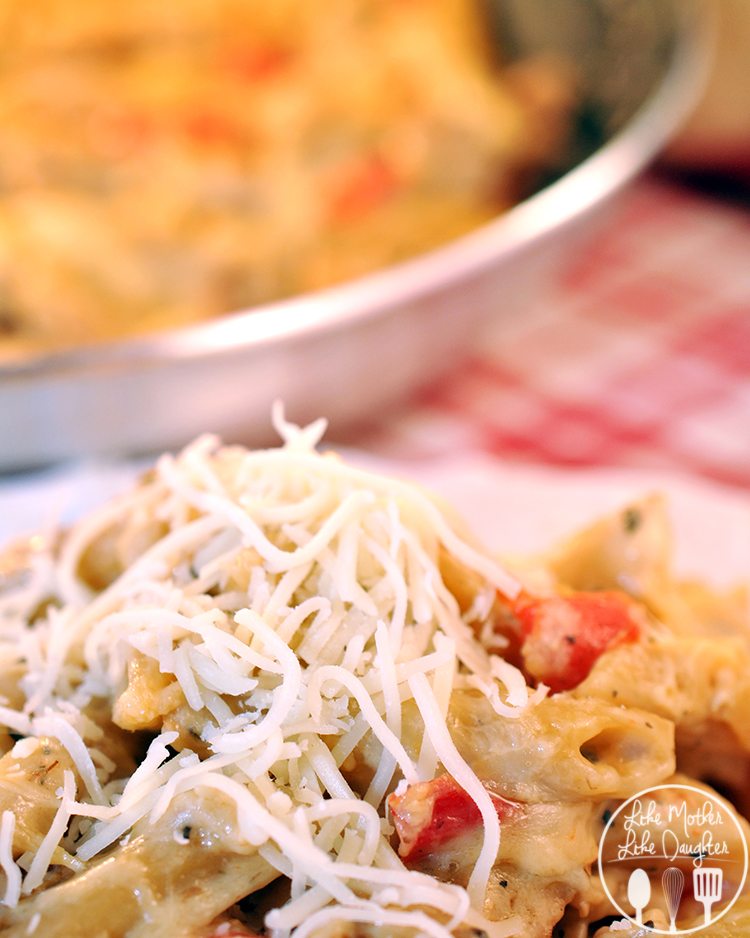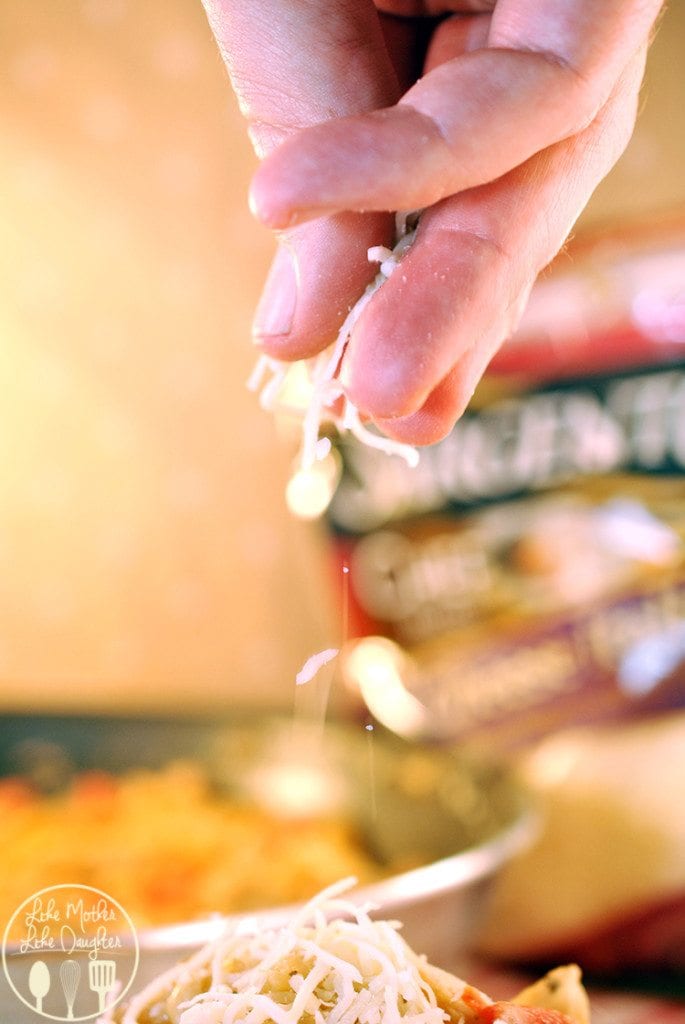 Sargento is sponsoring a Chopped At Home Challenge where you can create your own recipe using Sargento Chef Blend 6 Cheese Italian, boneless skinless chicken breast, red bell pepper, and Greek yogurt.  You could win $10,000, an appearance on Food Network, and a trip to New York.  Find all the information and contest rules here: Food Network Sargento Cheese Chopped at Home Contest
This was my very own chopped style recipe using these ingredients, and a few more.  I am excited for you to make your own.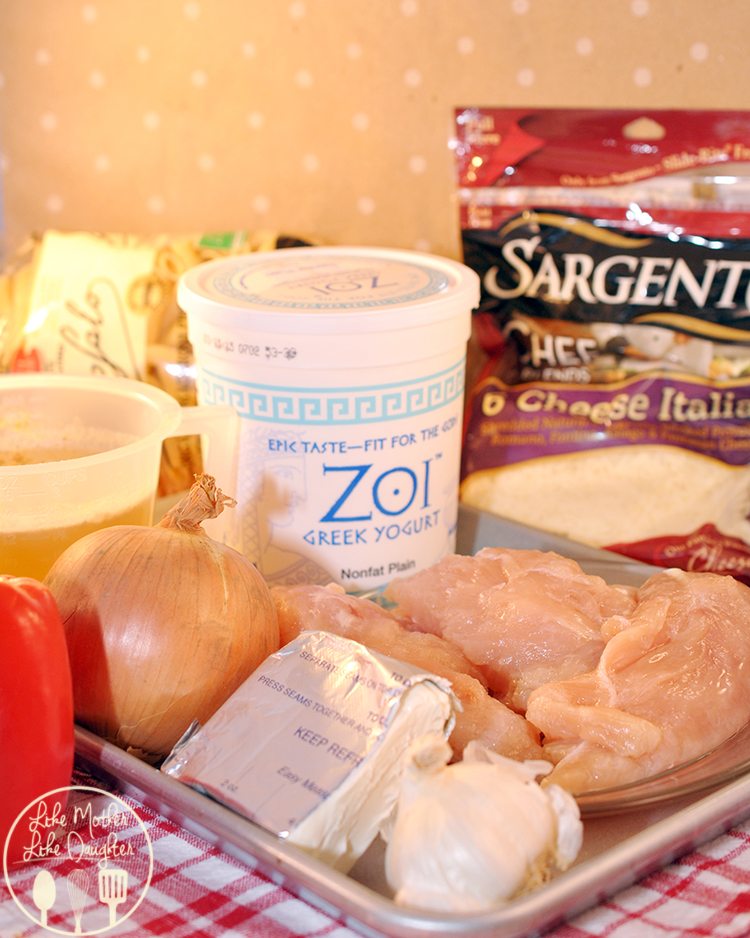 So it is all about the EASE and the CHEESE!  And don't miss out for a chance to win $10,000 with Food Network and Sargento Cheese Chopped at Home Contest.
What will you make using Sargento Chef Blend Cheese?
Available in 30 versatile varieties, unique blends and distinct cuts, Sargento Shredded Cheese is always cut from blocks of 100% real, natural cheese. For more inspiration, check out the Sargento Pinterest page or visit Sargento.com for more information. The Chopped at Home Challenge gives viewers a chance to create their best recipe using the selected basket ingredients, including Sargento Shredded Cheese, for a chance to win $10,000!
This is a sponsored conversation written by me on behalf of Sargento®. The opinions and text are all mine.