These peanut butter chocolate chip cookies have a scrumptious peanut butter cookie dough and are packed full of chocolate chips for the ultimate peanut butter and chocolate perfection!
Photo Update: 10/9/14
While Craig and I were back in Virgina we stopped at a Farmer's Market and purchased fresh fruits and vegetables and Grandma's Peanut Butter Chocolate Chip Oatmeal Cookies. We fell in love with the cookies. They weren't just peanut butter cookies with chocolate chips and oatmeal added. They were more like a chocolate chip cookie with peanut butter. I found this recipe on Jamie Cooks It Up and thought it was so close to the cookies from Virginia. Craig called them evil because they were wrecking his diet. You seriously can not just eat one they are the best cookies ever!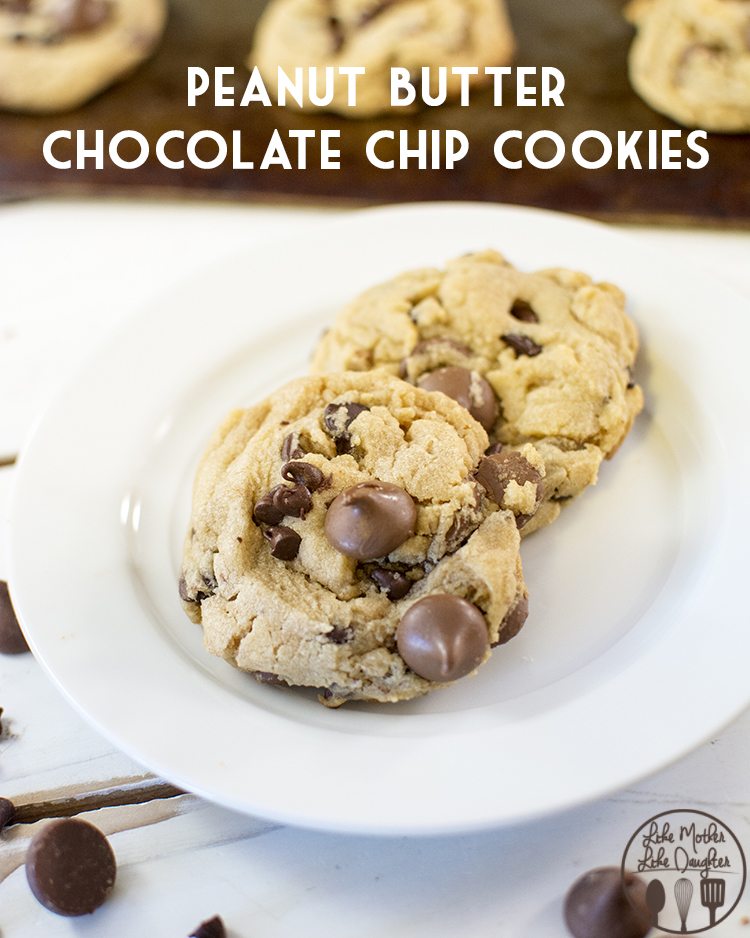 Two tricks I have learned since making these cookies multiple times, that I want to share with you. .  First – put your dough in the fridge for an hour or so and it makes the cookies keep their shape better.  Second, which is a duh why didn't I think of this before, if you don't want to bake all your cookies at once – freeze the dough.  This recipe makes a big batch of cookies, and although you can eat them all at once, if you want to save some for later, you can freeze the dough. And don't just freeze the dough in 1 big tub or bag, instead prepare your individual balls of cookie dough, fast freeze (which means placing them on a parchment lined cookie sheet covering the balls with foil) for an hour.  Take the frozen ball of cookie dough out and put in ziploc baggies for individual cookies to bake at a later time.  Just like the cookie dough you buy in the tubs but better because it is this delicious recipe. (And my favorite thing is actually to take out a frozen cookie dough ball and eat it for a quick dessert! Oops!)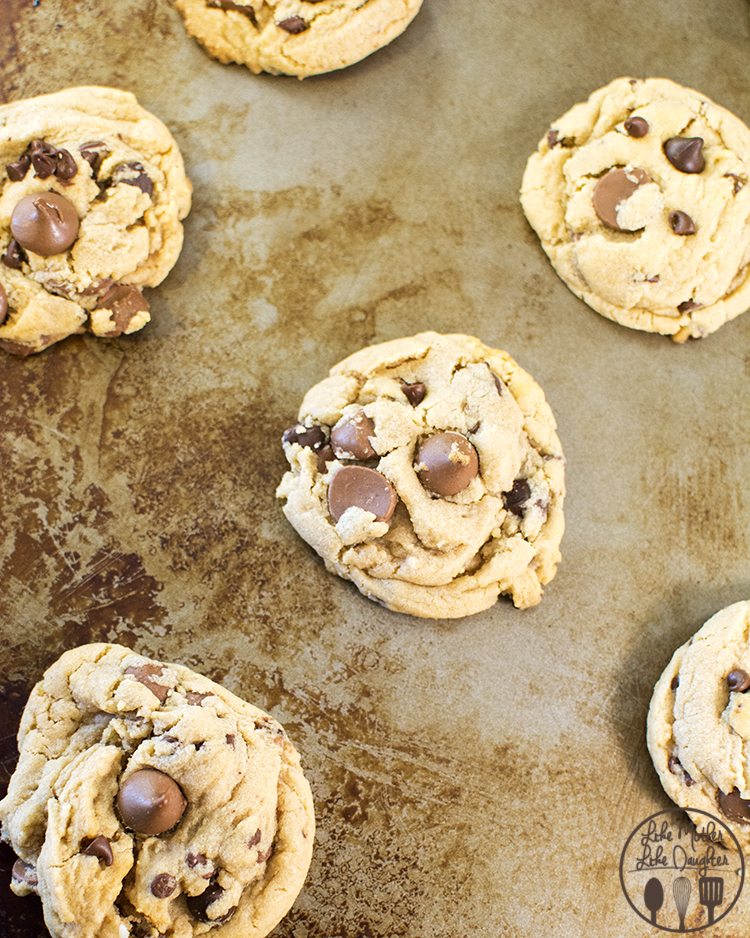 But seriously, these might just be the best cookies ever. If you love peanut butter and chocolate, you will love these. Guaranteed.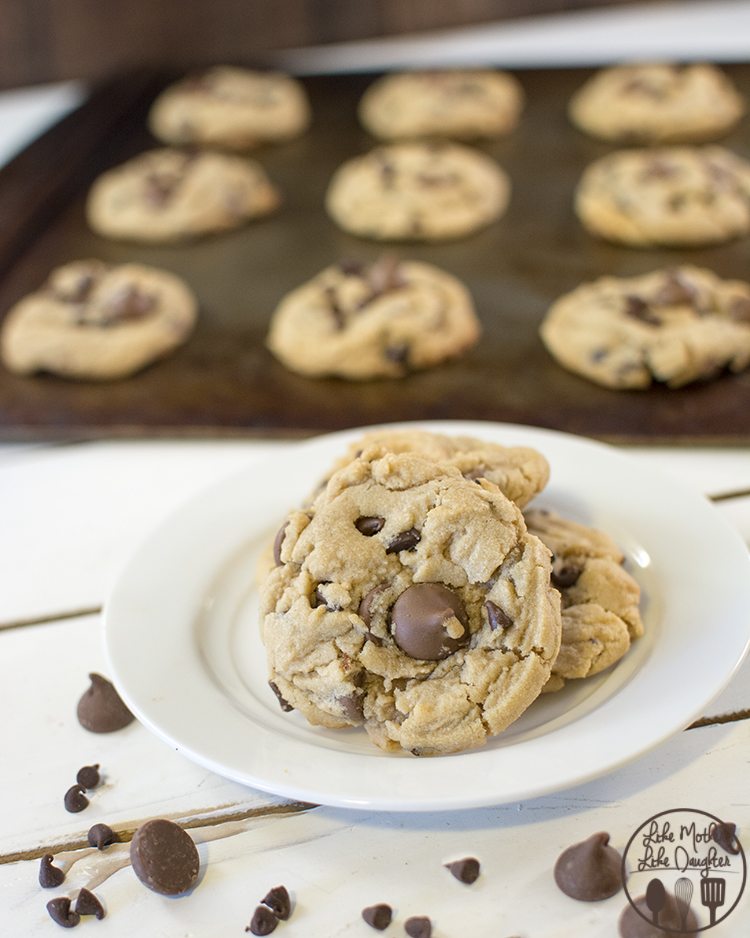 Peanut Butter Chocolate Chip Cookies
Ingredients
1 cup butter softened
1 cup peanut butter ( I used chunky)
1 cup sugar
1 cup brown sugar
2 eggs
2½ cups flour
1½ tsp baking soda
1 tsp baking powder
½ tsp salt
1 12 oz bag semi sweet chocolate chips
1 12 oz bag milk chocolate chips
Instructions
Make sure the butter is soft (sitting on the counter works best for this but I zapped my for about 30 seconds on power 4 in the microwave). Beat the butter and peanut butter together until it is well combined.
Add the sugars and eggs and beat for about 2 minutes or until the mixture is frothy.
Combine the dry ingredients in a separate bowl.
Add the dry ingredients to the butters, sugars, and eggs mixture, mix for about 1 minute, making sure it is well combined.
Stir in the chips just until well combined.
Place dough in fridge for an hour or up to overnight.
Preheat oven. Place dough on a large cookie sheet 4 across and4 long, in balls that are about 1½ inches.
Bake at 350 degrees for 8 minutes. Do not overbake, take them out of the oven just after they start to crack and let them finish cooking on the sheet as it cools down.
Enjoy the delicious combo of peanut butter and chocolate in these perfect cookies!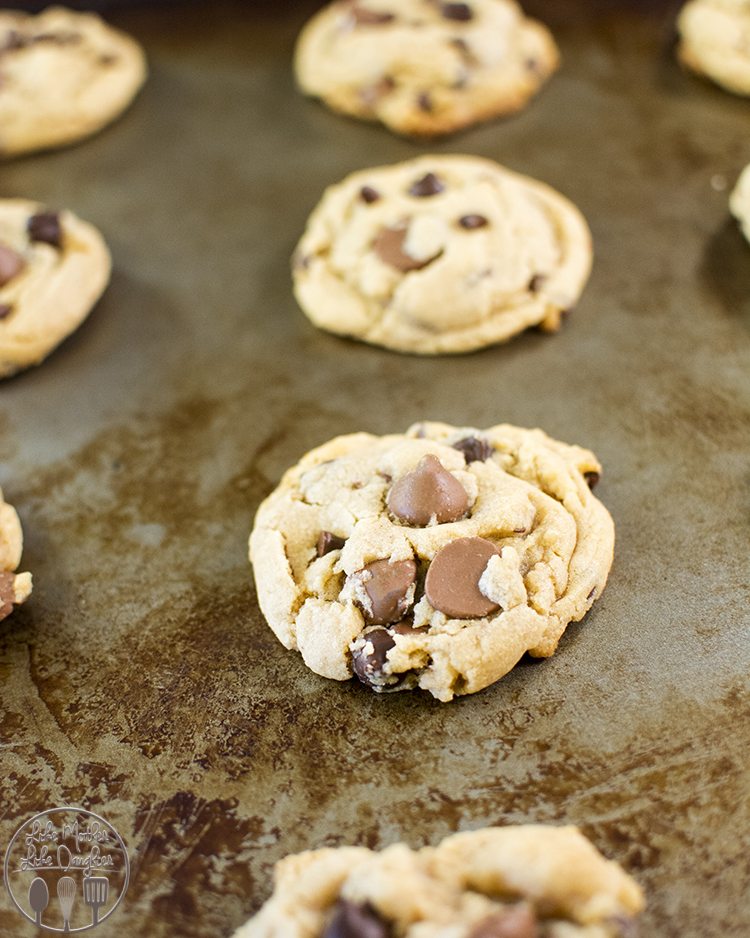 If you like these cookies, I think you'll like these desserts too!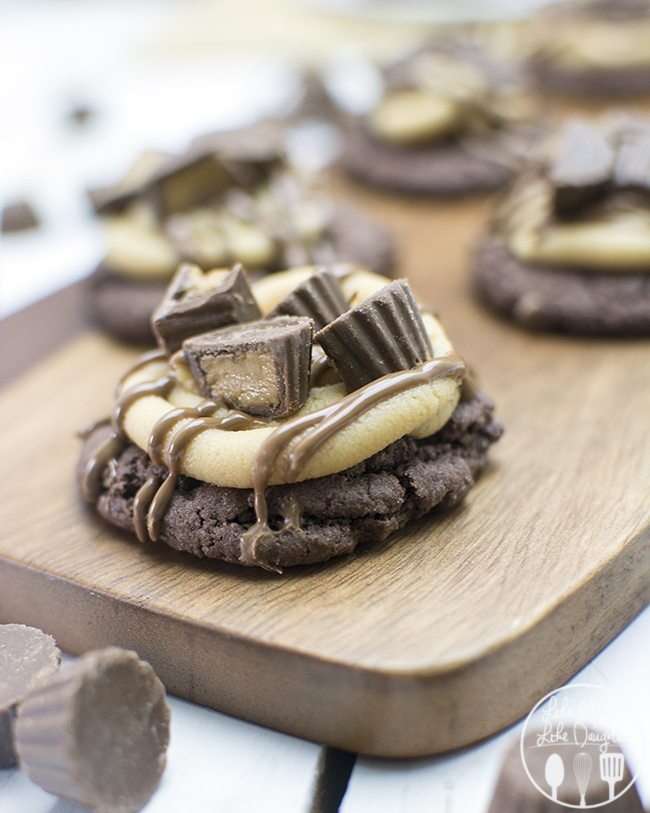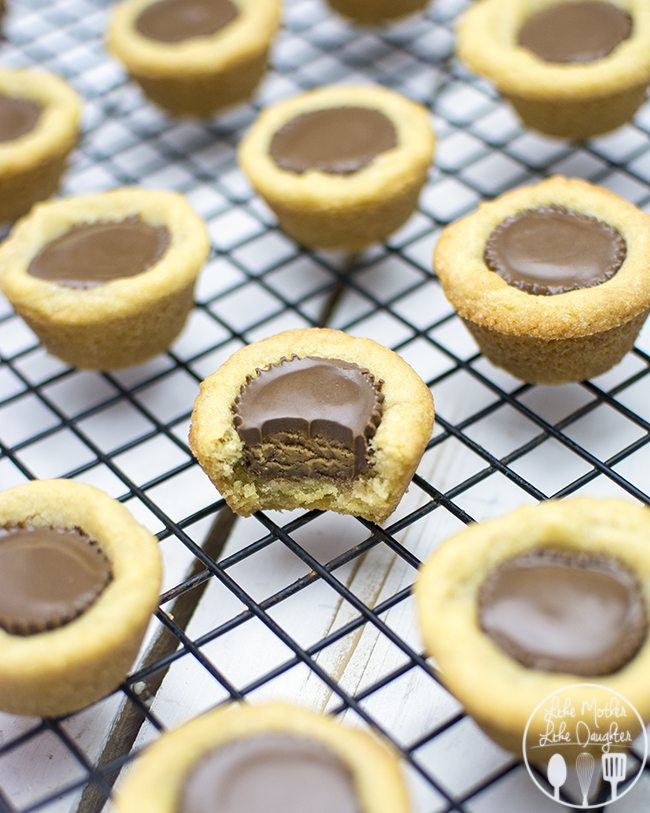 Chocolate and Peanut Butter Swirl Cookies