Piña colada smoothie is a perfect refreshing combination of pineapple and coconut that you can enjoy all day long.
Pin this delicious Piña Colada Smoothie for later.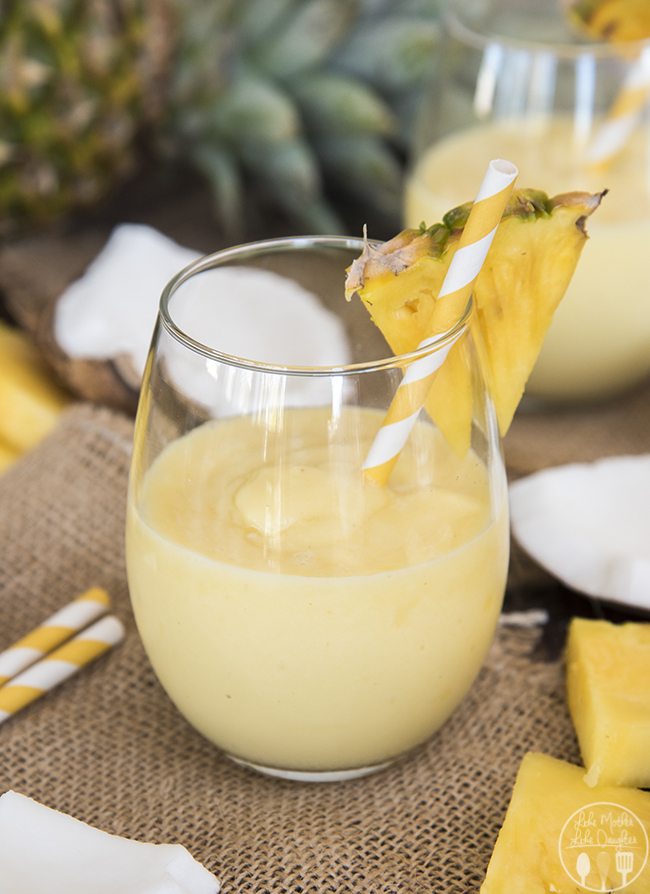 Photo Update: 4/20/16
Smoothies are so refreshing in the summertime (or anytime) and this Piña Colada Smoothie is no exception. But heck, I'd probably love to drink this smoothie all year round.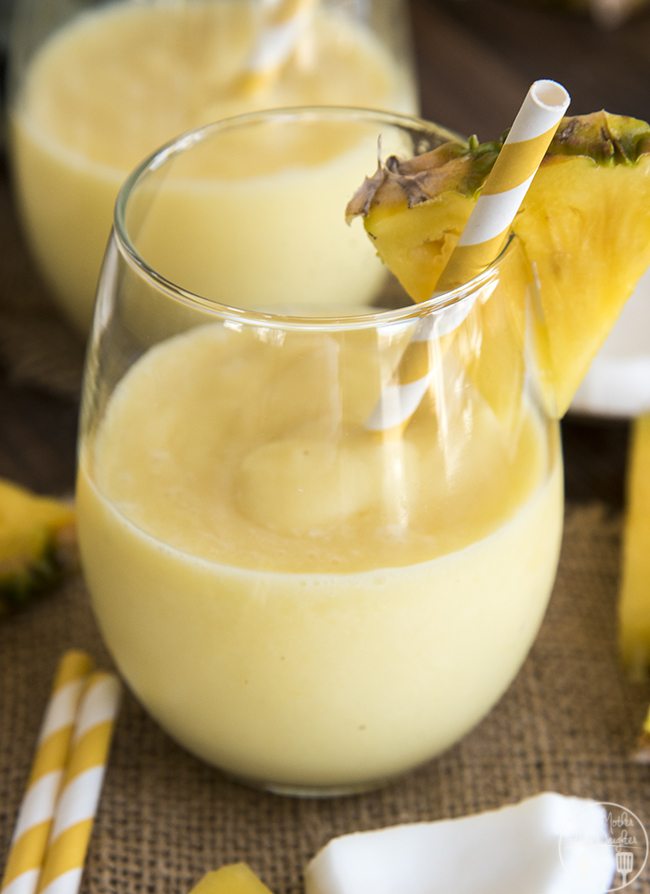 This smoothie combines the delicious flavors of pineapple and coconut in a cold and refreshing drink. This smoothie isn't as healthy as some of my other smoothie recipes, since its got some fat and lots of calories in the cream of coconut, but its just as delicious. Instead of drinking this for breakfast, its perfect for a refreshing drink throughout the day.
My version is virgin – alcohol free, since I don't drink alcohol. And its a thick smoothie with ice mixed in, not just a cold drink poured over ice.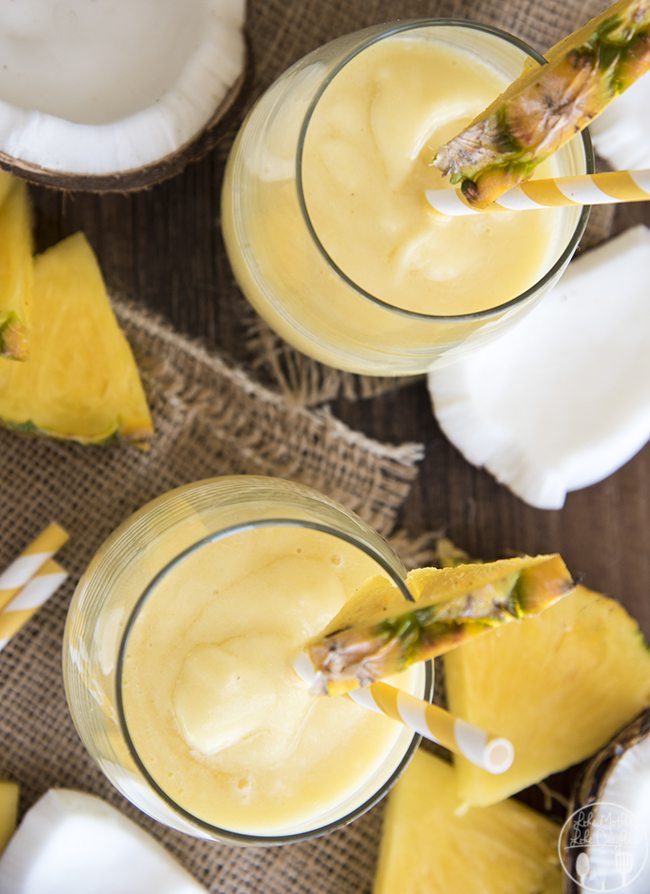 I've made this smoothie two different ways with frozen pineapple, or crushed pineapple. If you use frozen pineapple you'll need to add other liquid to help your blender out and thin out the drink. If you use crushed pineapple you'll need to add ice to thicken the smoothie.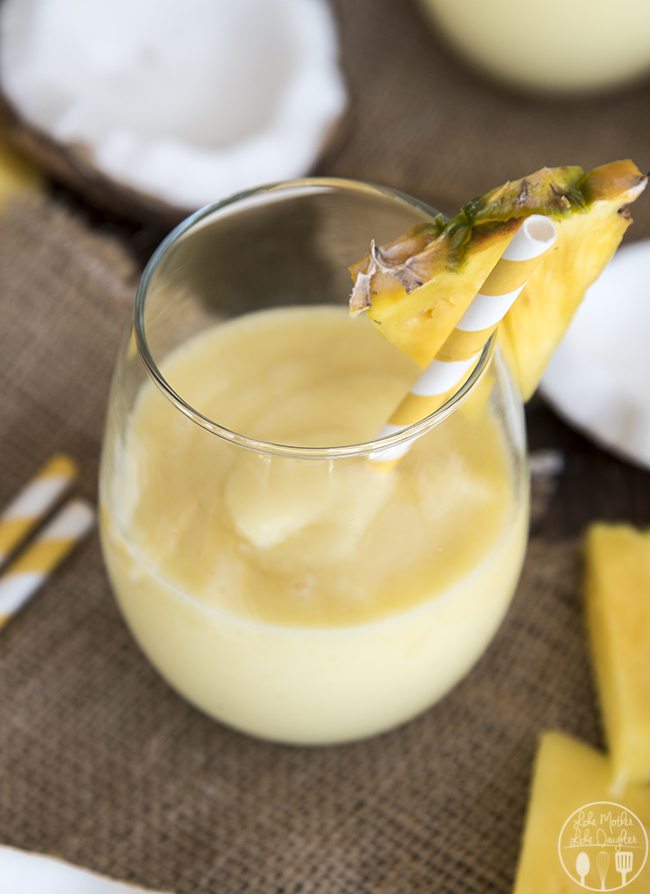 Below is the recipe using frozen pineapple as I like that version a little better. But if you want to make it with crushed pineapple instead you'll need 1/4 cup cream of coconut, 2/3 cup crushed pineapple, 1/4 cup vanilla yogurt and 2 cups ice.
Piña Colada Smoothie
Ingredients
¼ cup cream of coconut
½ - 1 cup liquid (I've used milk, or pineapple juice - coconut milk would work great too)
¼ cup vanilla yogurt
2 cups frozen pineapple
Instructions
Combine all your ingredients in a blender in the order listed.
Blend over high speed until all ingredients are combined.
Add more ice if you want your smoothie to be a little thicker, and more liquid if you want it thinner
Notes
For a higher power blender less liquid is fine, if your blender is lower powered you'll want to add at least the full cup of liquid to help it out.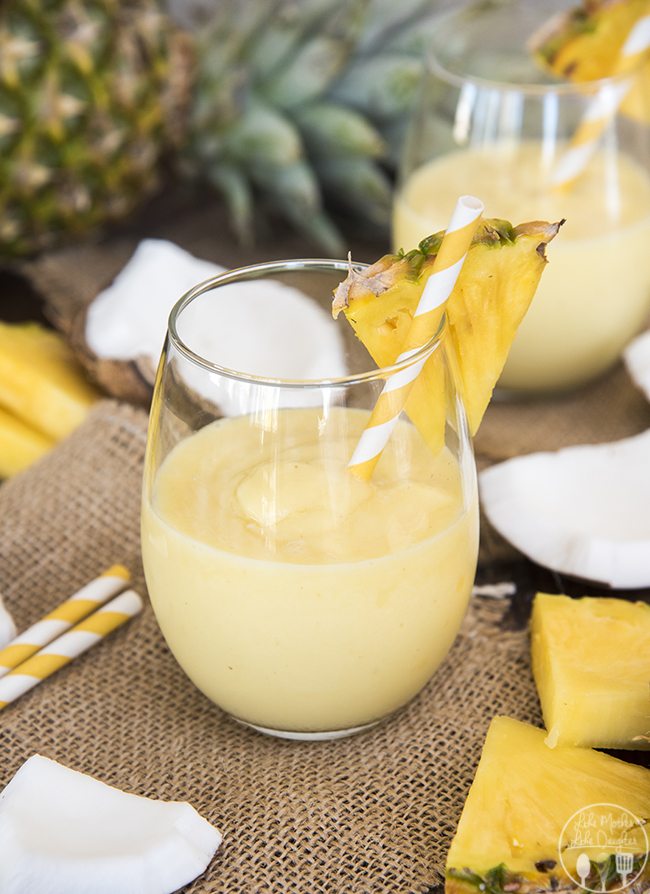 Enjoy this refreshing pineapple and coconut smoothie!
If you like this smoothie, you'll also love these:
Strawberry Pina Colada Smoothie