We have rosemary growing in our herb box in our garden. Rosemary, sage, oregano, basil, cilantro, chives and a few more. With a total of 12 different herbs that we are trying to grow. Trying being the key word here because for some reason we still haven't had any sprouts of mint come up, and some of the others are pretty few and far between. Our chives, thyme, oregano and sage all made it through the winter which is awesome. And some cilantro seeds fell to the ground last summer so we didn't have to plant any of those either.
I seriously love growing fresh herbs in our garden. Along with everything else we grow its so cool to be able to go outside and trim something off of a plant and then use it in your food to make your food taste even more delicious.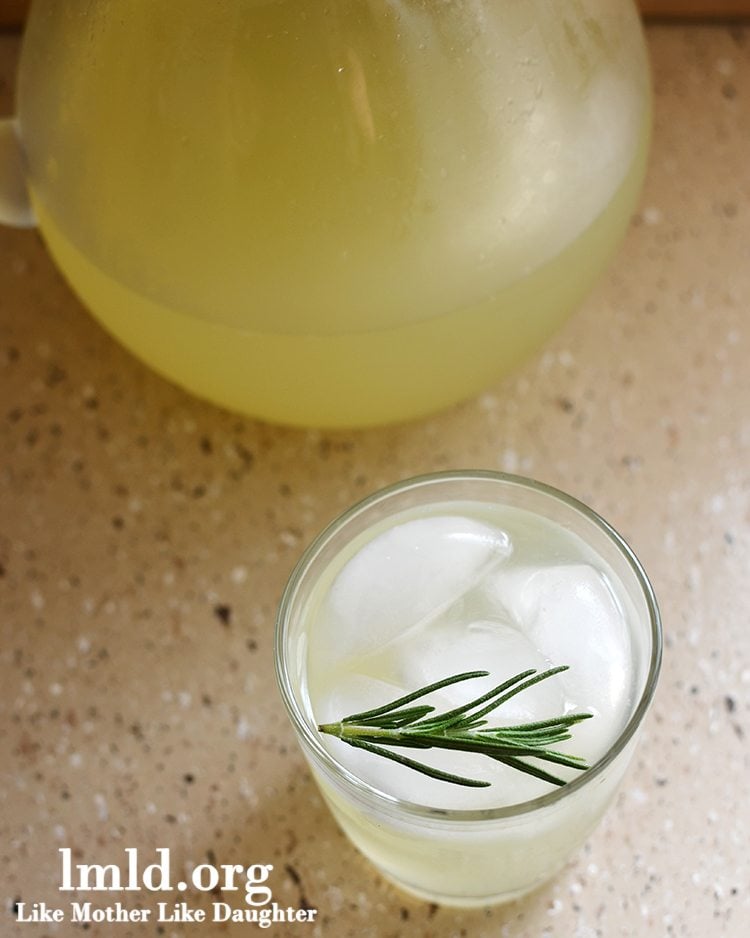 A few months ago at work event they made some rosemary lemonade. I remember loving it, and since we bought a huge bag of lemons from Costco a couple weeks ago (and remember everything from Costco is way larger than normal so these lemons are like double normal lemon size) we had a few (actually a lot) left even after making a couple things with them. Since we had rosemary in our garden, I remembered the rosemary lemonade I had tried and decided to make it.
I was not disappointed.
Inspired by this recipe from Group Recipes.
Rosemary Lemonade
1 cup fresh squeezed lemon juice
6 cups water, divided
1 cup sugar
3-4 sprigs rosemary
1. Put 1 cup sugar and 2 cups of water in a small pot. Bring to boil.
2. Chop up rosemary into small pieces.
3. Add rosemary to sugar water once, the sugar is dissolved.
4. Remove from heat and cover. Allow to cool to a room temperature for about 30 minutes.
5. Once cooled a little, strain syrup into a pitcher.
6. Add remaining 4 cups of water and 1 cup of lemon juice.
Enjoy over ice. 
This is such a refreshing drink. And the rosemary adds a slight sweet and unexpected flavor to the lemonade.