This amazing samoa popcorn has the same great flavors of Samoas cookies – homemade caramel popcorn packed full of toasted coconut, samoas cookies and all drizzled with chocolate. Perfection in every bite!
Pin this samoas popcorn for later.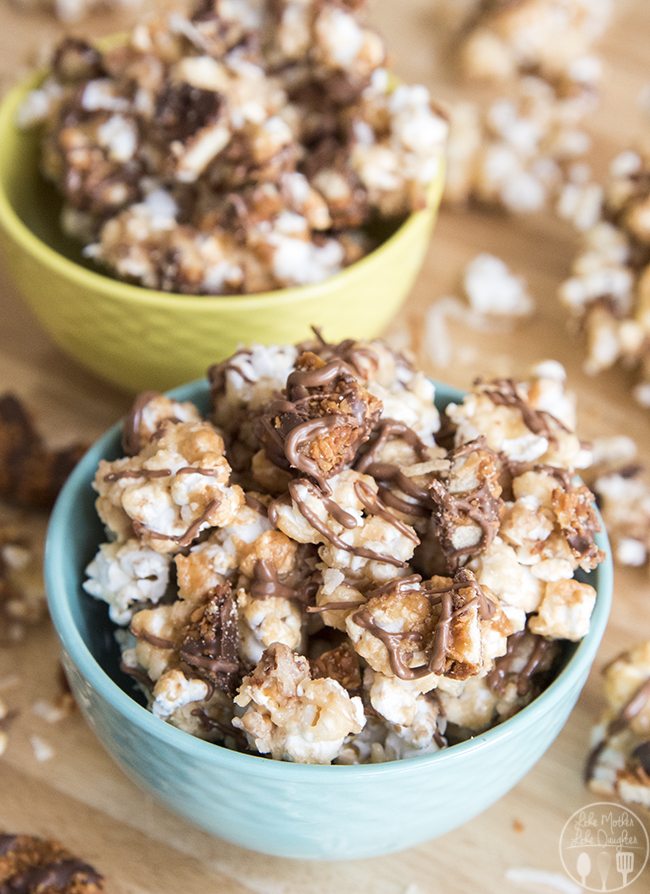 Have I told you how much I love girl scout Samoa Cookies? These amazing cookies combine shortbread, caramel, coconut and chocolate for a delicious cookie and those flavors come together perfectly in this samoas popcorn! (Plus I was a girl scout when I was little so cute – read more about that here plus my own homemade samoa cookie copycat!)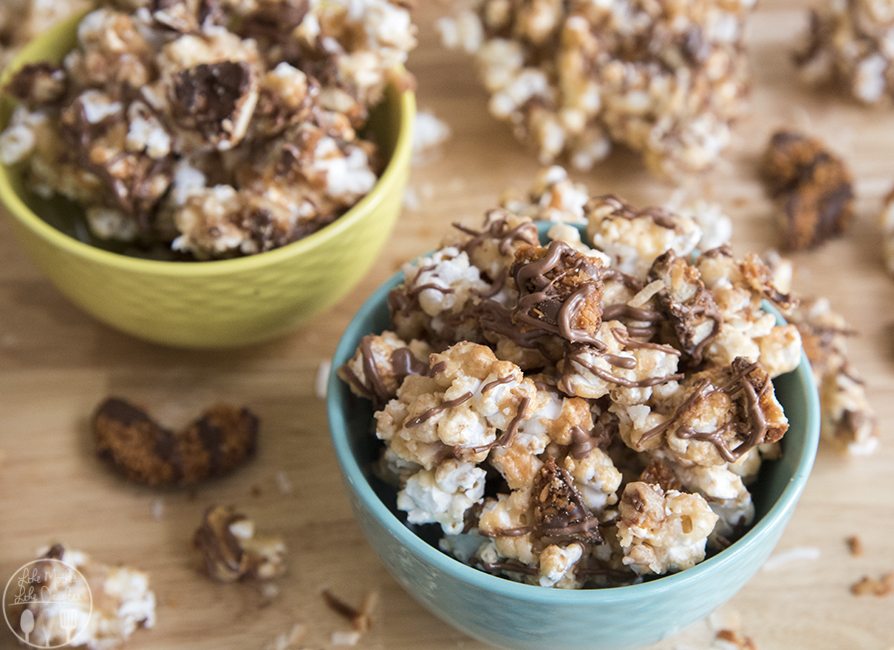 This popcorn is coated in a delicious homemade (microwavable!!) caramel, tossed together with toasted coconut and chopped up Samoa cookies (or Keebler Coconut Dreams) and drizzled with melted chocolate! It has the same great flavors as the cookies do, and is packed full of actual Samoas, so you get a delicious bite of crunchy cookie throughout.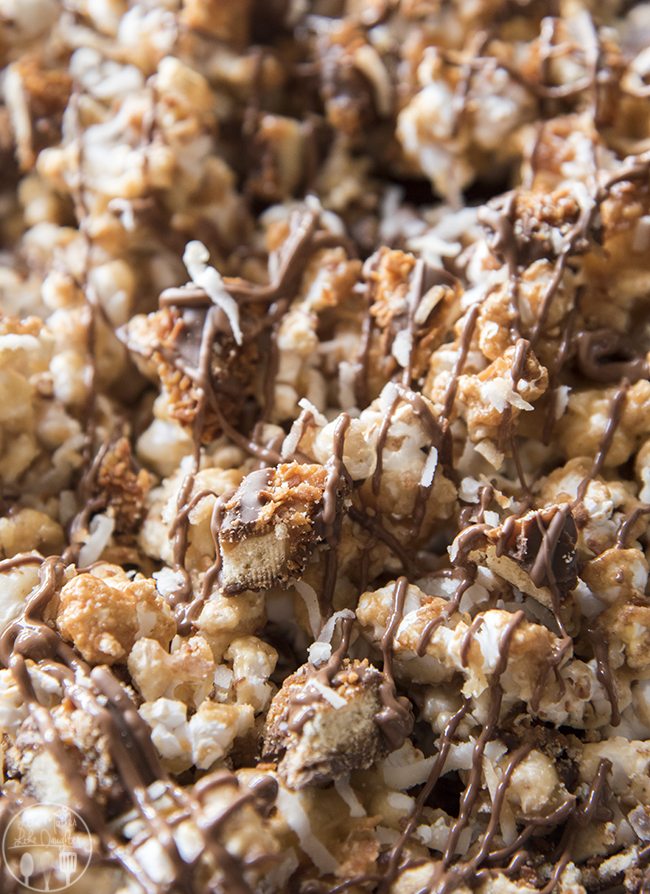 With this popcorn (and thanks to Keebler Coconut Dreams cookies) you can have the great taste of samoas cookies all year long! Plus this popcorn, is great for a snack or a dessert! Watching a movie, having friends over for a game night, or just craving a late night sweet? This delicious caramelly, coconutty, chocolatey popcorn is sure to satisfy your sweet tooth!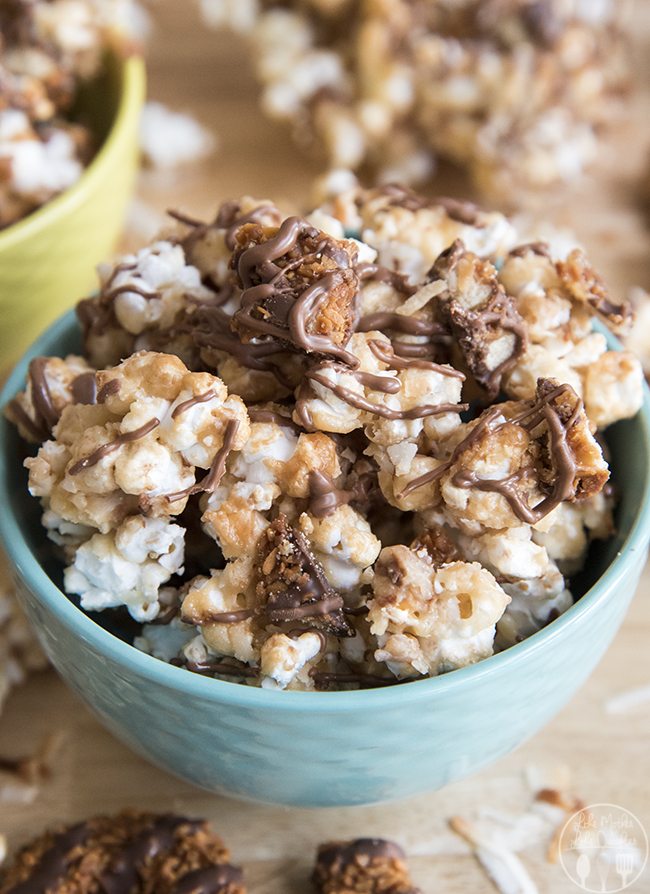 This popcorn uses the same microwave caramel popcorn recipe as my gooey caramel popcorn recipe. You'll use it to coat your air popped popcorn, toss it with shredded toasted coconut and chopped up Samoas cookies. Then if you want your popcorn nice and crispy you'll toast it in the oven for about 10 minutes to give it a nice crunch! Add a few more chopped up cookies and a little more toasted coconut for good measure and drizzle the top well with melted chocolate. Allow the chocolate to fully cool and harden before breaking the popcorn up into pieces and enjoying!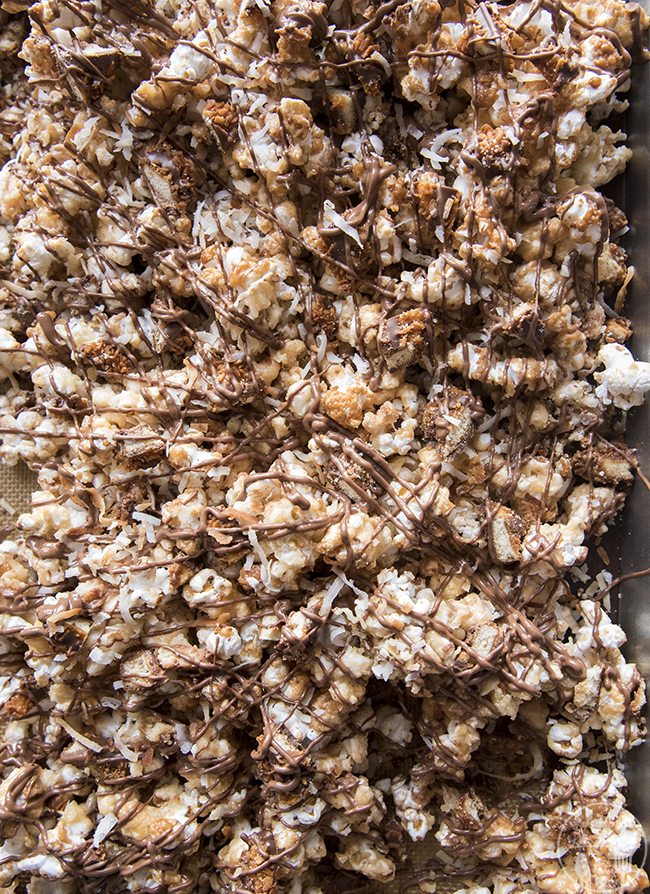 Here's the full scrumptious recipe!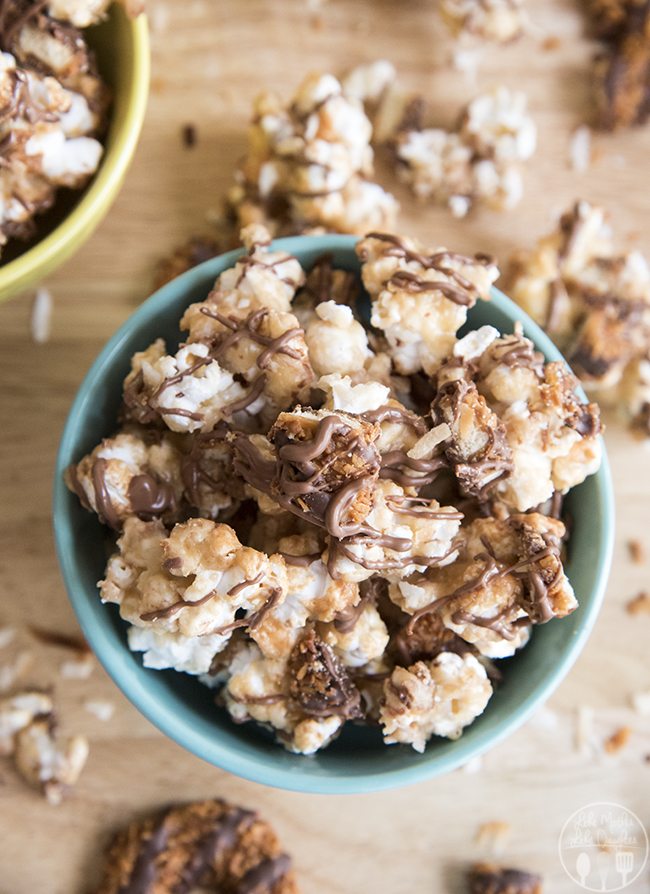 Samoas Popcorn
Ingredients
½ cup unpopped popcorn
2 cups toasted coconut
2 cups chopped Samoa cookies
⅓ cup chocolate chips
For the caramel:
½ cup butter (1 stick)
½ cup white sugar
½ cup brown sugar
½ cup sweetened condensed milk (1/2 can)
½ cup light corn syrup
1 tsp vanilla extract
½ tsp baking soda
Instructions
Preheat your oven to 300 degrees.
Pop your popcorn in an air popper or in the microwave. Set aside.
In a medium sized microwave safe bowl, combine your butter, white sugar, brown sugar, condensed milk and corn syrup.
Microwave for 2 minutes. Stir. Microwave for 2 minutes. Stir. Microwave for 2 minutes. Stir. (6 minutes total).
When caramel is done microwaving, add vanilla and baking soda. Stir.
Pour caramel over popped popcorn and stir to cover. Mix in 1 cup of your coconut and 1 cup of your chopped cookies.
Spread popcorn out on a cookie sheet.
Place cookie sheet in oven for 5 to 10 minutes (10 minutes will be crunchier).
Sprinkle additional coconut and cookies over popcorn.
Melt chocolate chips in your microwave for about 1 minute, until smooth.
Drizzle chocolate over the top of the popcorn.
Allow popcorn to sit to caramel is set and chocolate is hardened.
Break into pieces and enjoy!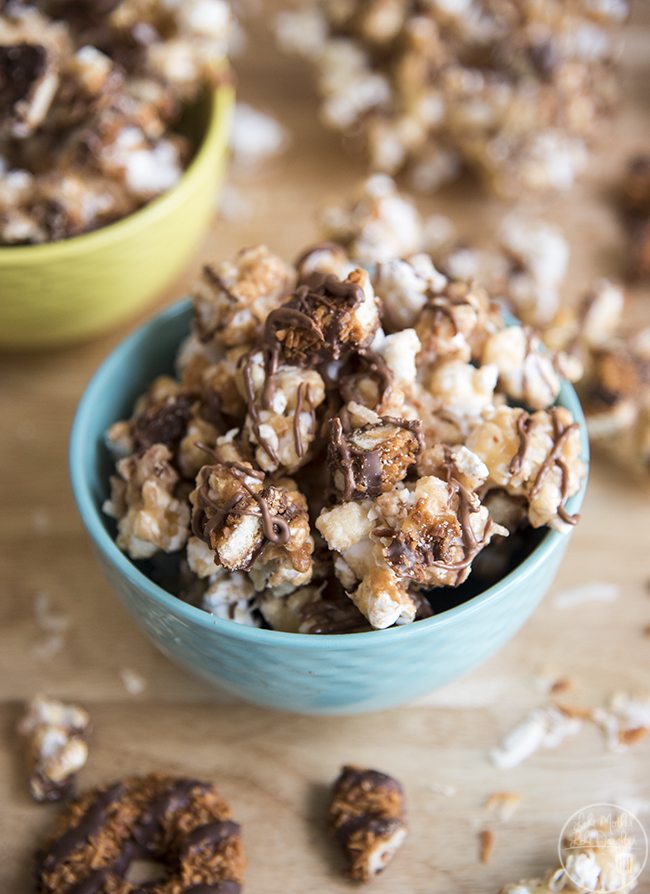 And did you know its national popcorn day?!! You better celebrate with this caramel, coconut, chocolate Samoa Popcorn!! Or one of these recipes from my blogging friends >>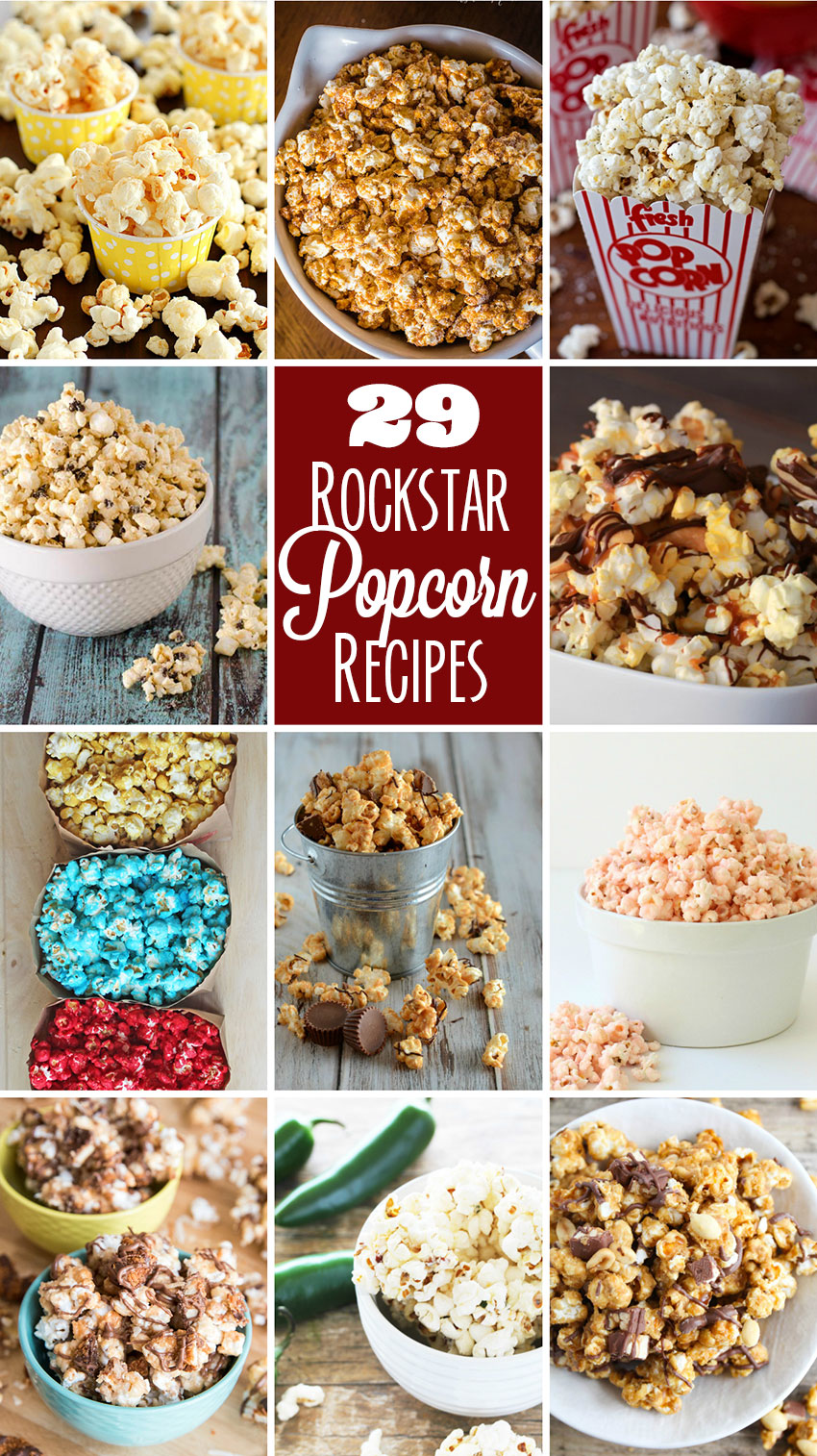 Churro Popcorn on Ashlee Marie
Peanut Butter Cup Popcorn on Creations by Kara
Avalanche Popcorn on Real Mom Kitchen
Pretty in Pink Popcorn on Butter with a Side of Bread
Jalapeno Popper Popcorn Balls on The Stay at Home Chef
Snickers Caramel Popcorn on The Baker Upstairs
Candy Flavored Sugar Popcorn on Jamie Cooks it Up!
Black Pepper Parmesan Popcorn on Life Made Simple
Easy Homemade Kettle Corn on Yummy Healthy Easy
Chocolate Caramel Crunch Popcorn on Summer Scraps
Zebra Caramel Popcorn on Like Mother Like Daughter
Movie Theater Popcorn Mix on Like Mother Like Daughter
Butterfinger Popcorn on Like Mother Like Daughter
Caramel Apple Pie Popcorn on Real Mom Kitchen
Peppermint Popcorn on Butter with a Side of Bread
Gourmet Cinnamon Roll Popcorn on Creations by Kara
Cake Batter Sprinkles Popcorn on Ashlee Marie
Crunchy Candy Bar Popcorn on Jamie Cooks it Up
M & Ms Caramel Popcorn on Summer Scraps
Frozen Popcorn Snowballs on Life Made Simple
Marshmallow Caramel Popcorn on Like Mother Like Daughter
Gooey Caramel Popcorn on Like Mother Like Daughter
Chocolate Popcorn on Butter with a Side of Bread
Cinnamon Bear Popcorn on Jamie Cooks it Up
Fall Snack Mix on Life Made Simple
Double Chocolate Sweet and Salty Party Mix on Summer Scraps
Peanut Butter Puppy Chow Popcorn on Ashlee Marie
Cinnamon Glazed Popcorn on Creations by Kara