If you haven't learned already, one of my favorite snacks is caramel popcorn. This zebra caramel corn is a little bit sweeter than what you might get from the store (especially cause its drizzled in chocolate!) because it has sweetened condensed milk in the caramel, but its baked up in the oven to give it that same great crunchy texture.
I got the idea for this popcorn from Popcornopolis's Zebra Popcorn, which is drizzled with white chocolate and chocolate and I knew I could easily repeat the same thing at home for a taste I loved even more. This popcorn is a great snack for a game night or movie night in (which we're doing a lot of with the cold weather these days!) and it makes a huge bowlful so its perfect for sharing too.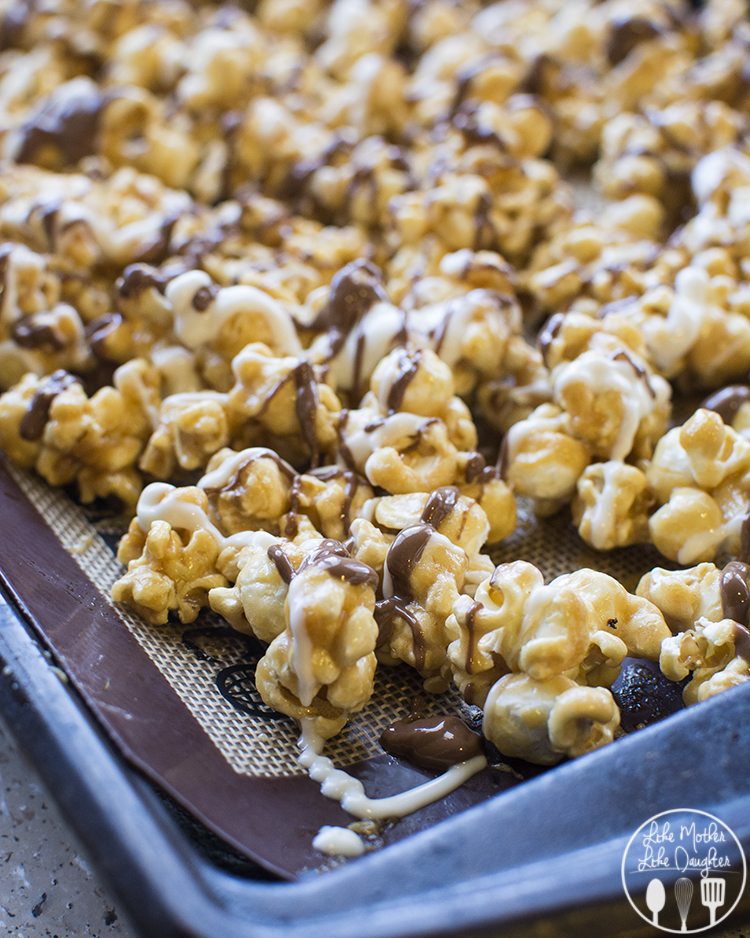 Zebra Caramel Popcorn
Ingredients
½ cup unpopped popcorn kernels
1¼ cup brown sugar
½ cup sweetened condensed milk
½ cup light corn syrup
½ cup butter (1 stick)
½ tsp salt
½ tsp baking soda
½ cup white chocolate chips
½ cup milk chocolate chips
2 tsp coconut oil, divided
Instructions
Preheat your oven to 200 degrees.
Pop your popcorn kernels using an air popper or microwave.
In a large microwavable bowl, put your brown sugar, condensed milk, corn syrup, butter and salt.
Microwave for 3 sets of 2 minutes, stirring in between each.
Add your baking soda and stir in.
Pour your caramel over your popped popcorn in a large bowl and mix it all together.
Pour your caramel popcorn onto two baking sheets lined with parchment paper and spread evenly.
Place in your preheated oven and bake for 1 hour, stirring every 15 minutes.
Remove from oven and allow to cool.
Place your white chocolate chips with 1 tsp coconut oil in a small microwavable bowl and your milk chocolate with 1 tsp coconut oil in another.
Using a spoon (or put each chocolate in a small ziplock and snip the corner with scissors) drizzle the chocolate over the top of all your popcorn in a striped fashion. Allow to harden.
Break into pieces and store in ziplock bags for up to 1 week.
Enjoy your delicious caramel chocolate treat for a tasty snack or dessert!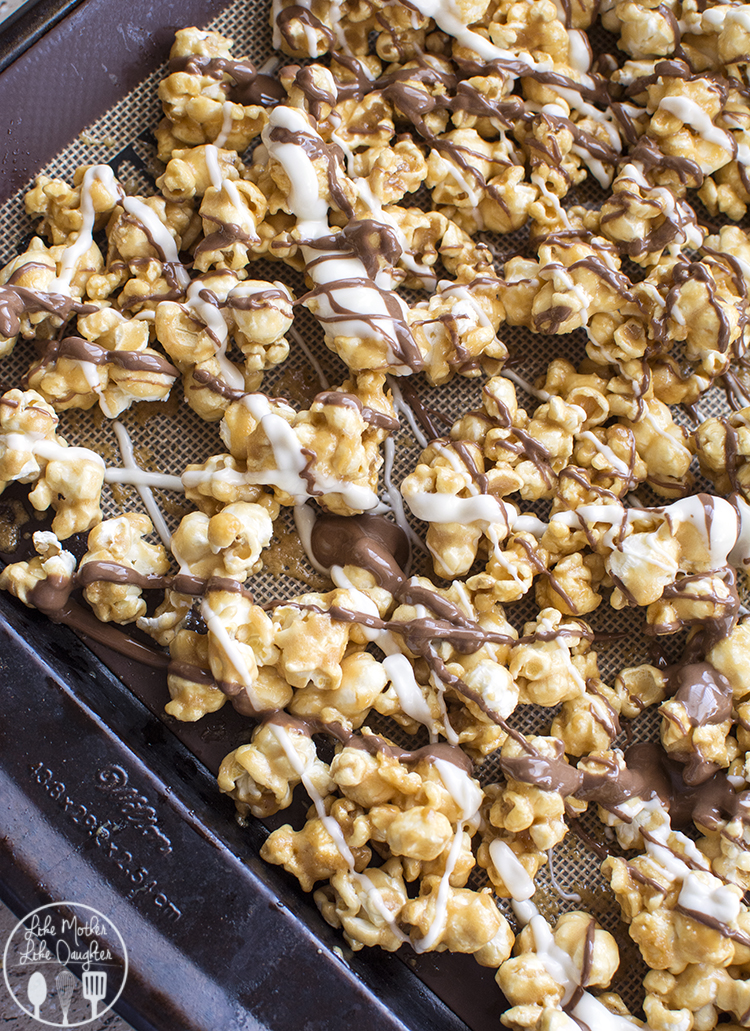 You might like these other popcorn varieties too: