**This shop has been compensated by Collective Bias, Inc. and its advertiser. All opinions are mine alone. #CollectiveBias #Treats4All
 You would think with how much I love candy that Halloween would be my favorite holiday, and I will admit it's definitely up there. You see, I am a candy girl, and I'm actually not too picky about it either. Of course I have my favorites, but if you're to offer me a piece of candy 9 times out of 10 I'll take it. Except if it's black licorice flavored of course – blech! In fact, when asked recently how to "make my day" I responded that one could bring me some candy, and it's totally true. A neighbor actually saw that answer and brought me candy a couple days later, it was awesome! Anyway,I love candy, but that's just one reason why I love Halloween. I actually love dressing up for Halloween too! The last couple years it's been so fun to have a husband to dress up with, and have costumes that go together. Last year I was a street sign that said "bump ahead" to announce our pregnancy and Nate was a construction worker, the year before Nate was a fisherman and I was a fly, and the year before Nate was an overstuffed suitcase and I was a tourist.  This year Colby is going to be a dinosaur, but I'm not too sure yet about Nate and I, maybe Flintstones.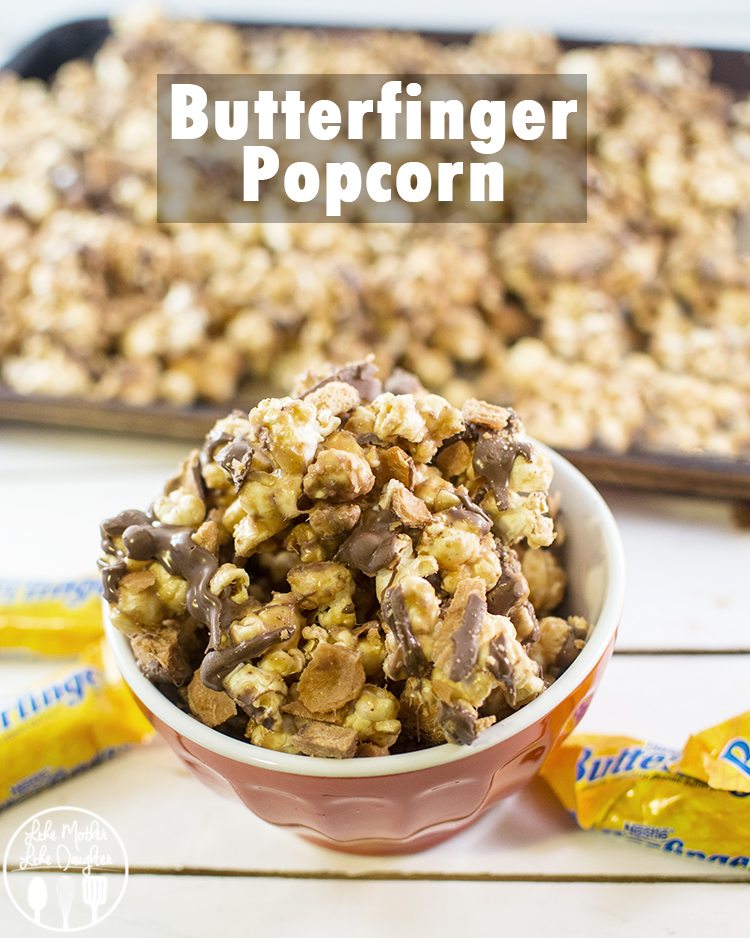 Anyway, for as much as I just love eating candy by the handful, I love using it in recipes too. And this Butterfingers popcorn is the perfect recipe just for that. I used marshmallows and peanut butter to make the popcorn nice and gooey and oh so delicious, added in lots of chopped up Butterfingers pieces, and drizzled some delicious chocolate on top.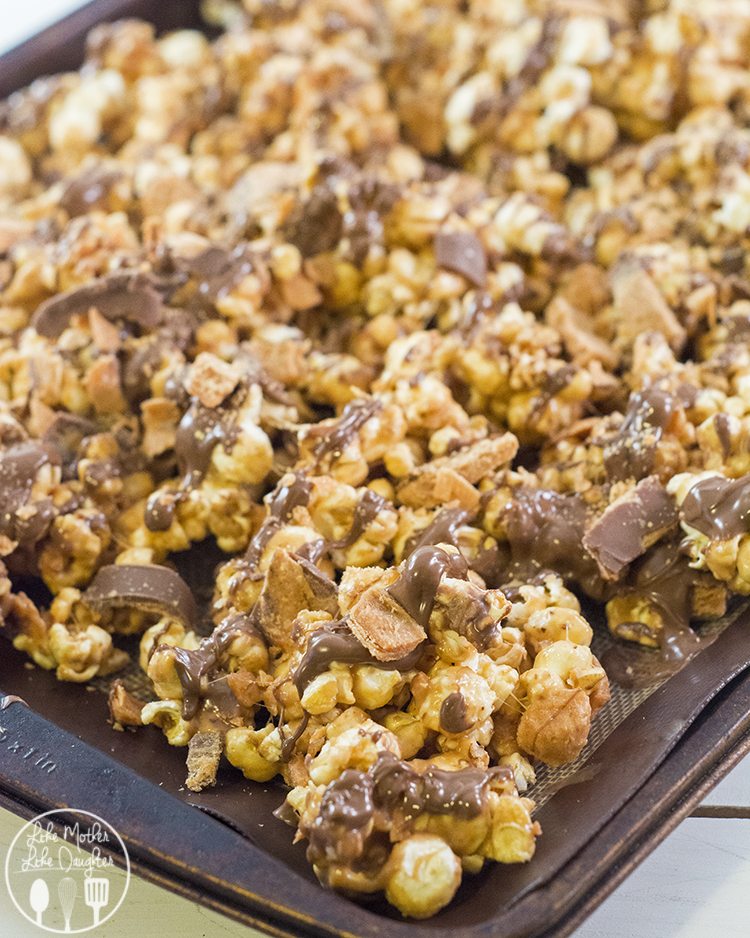 I grabbed some fun sized Butterfinger's from Walmart and along with some Tombstone pizza I know what I'll be eating on Halloween before the trick or treaters come by!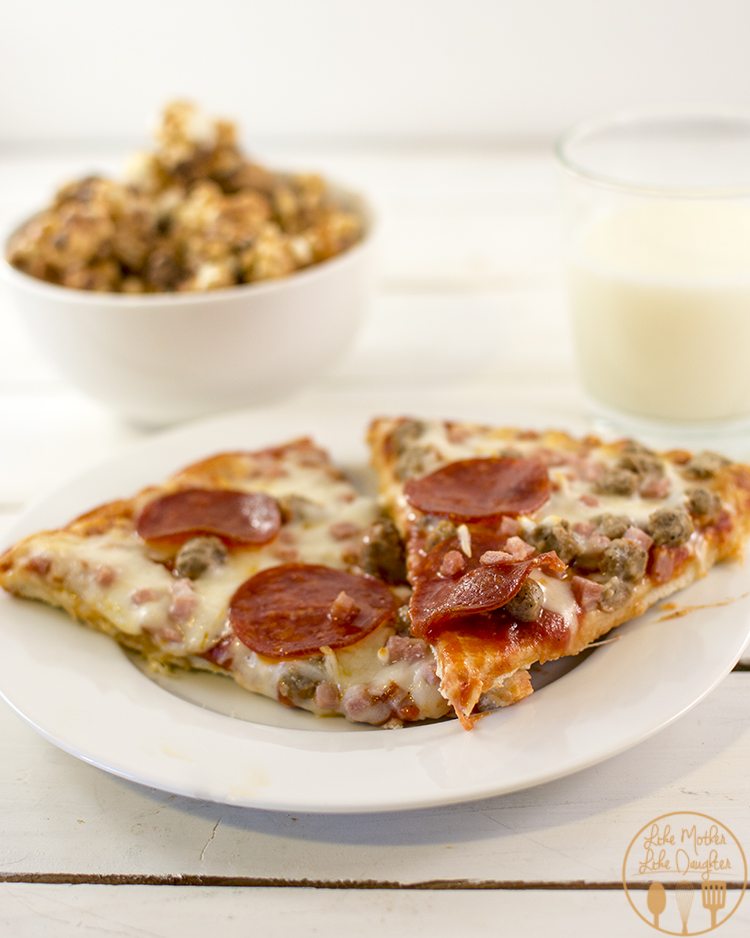 Butterfinger Popcorn
Ingredients
½ cup unpopped popcorn
¼ cup butter
4 cups mini marshmallows
½ cup creamy peanut butter
1½ cups chopped Butterfingers
½ cup chocolate chips
Instructions
Pop your popcorn.
In a large pot, melt your butter over medium high heat.
Add in your marshmallows and your peanut butter and stir often until melted and creamy.
Pour your peanut butter marshmallow mixture over your popcorn in a large bowl and stir to fully coat the popcorn.
Mix in about 1 cup of your chopped Butterfinger pieces.
Spread your popcorn onto a cookie sheet lined with parchment paper.
Melt your chocolate chips in the microwave for about 45 seconds and stir until creamy and chocolate chips are all melted.
Drizzle chocolate over the top of your popcorn.
Sprinkle remaining ½ cup of Butterfinger pieces over the top of your popcorn.
Allow to set until your chocolate is hardened.
Enjoy this delicious peanut buttery chocolatey Butterfinger popcorn for a delicious Halloween treat!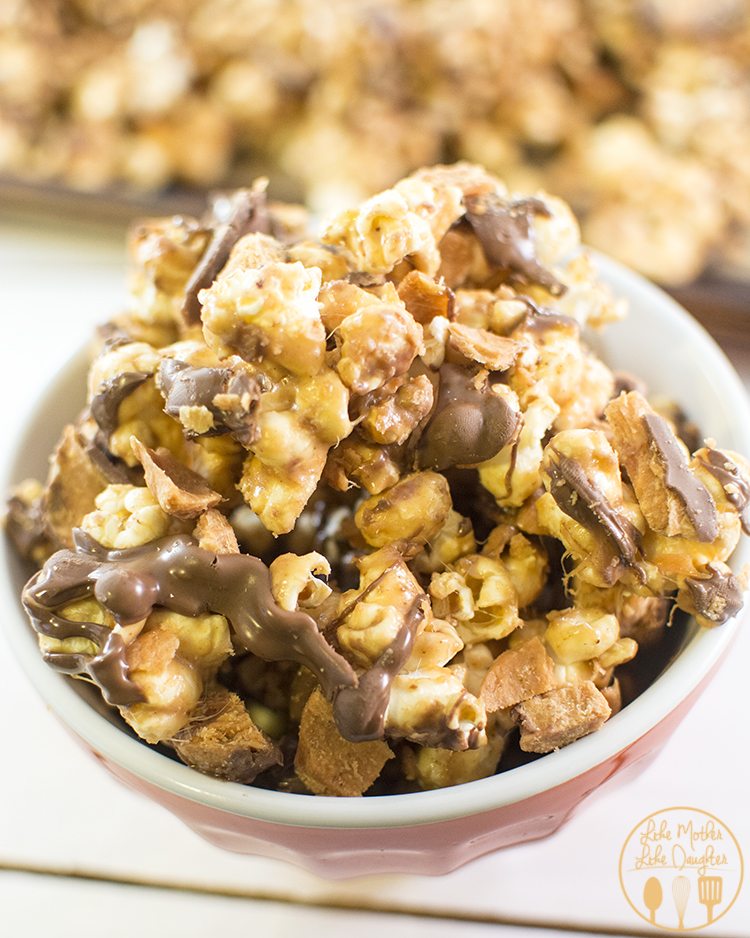 If you like this butterfinger candy popcorn, you might like these other popcorn varieties too: