**I created this delicious Shredded Beef Taco Salad as part of a sponsored for SocialStars. All opinions are my own. #CampbellsSauces
The great thing about taco salad is that its an easy meal to make and everyone loves it because everyone can make their own little salad on their plate and choose exactly what goes into it. For example, my husbands salad, ends up being a lot less salad and more like a taco, (sometimes even is a taco, tortilla and all) where I'm more likely to include the lettuce.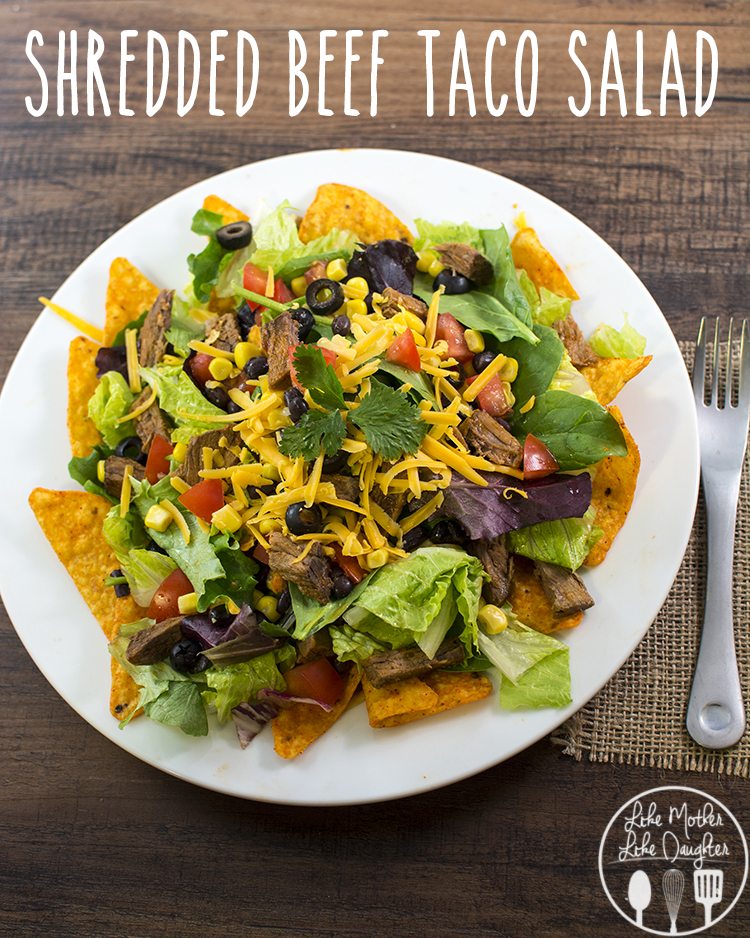 This shredded beef taco salad is extra easy to make because the beef is cooked in the slow cooker using Campbell's® Shredded Beef Taco Slow Cooker Sauce. My slow cooker is one of my favorite kitchen tools, but I forget to use it more often, when I do grab it out, I wish I used it every day because of how easy it is, and how much I love having a delicious meal ready at the end of the day with minimal work.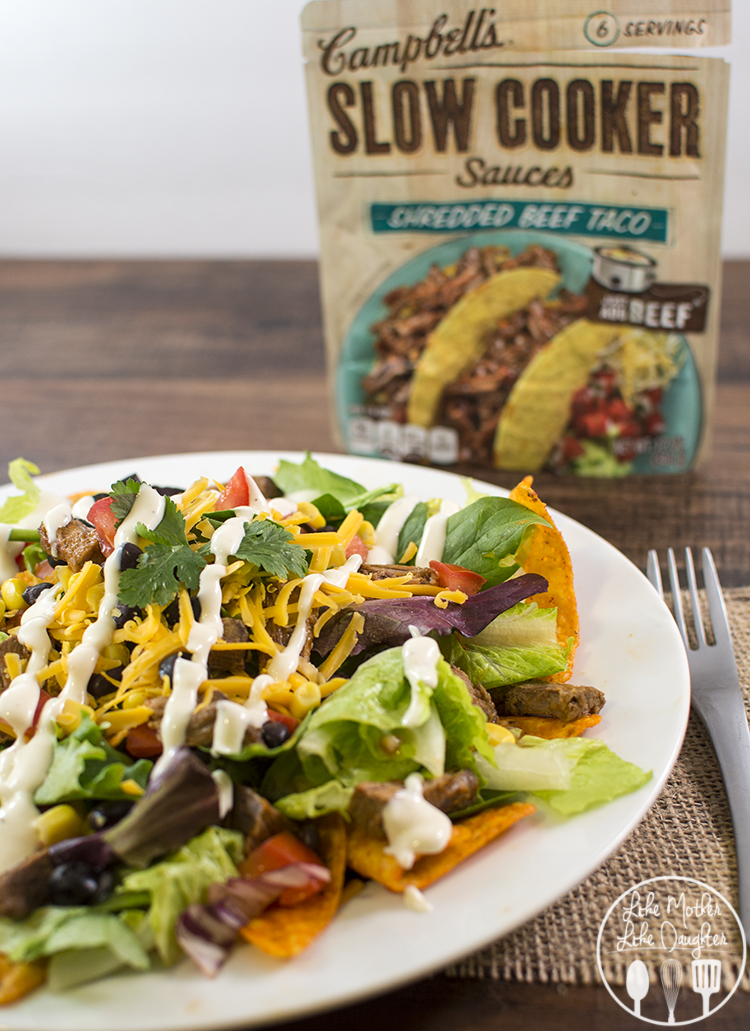 This taco salad is made by layering your choice of chips (tortilla, nacho cheese, ranch, etc), lettuce, and your shredded beef, then top it with your choice of toppings. Some good topping choices are corn, black beans, tomatoes, olives, avocado, cheese, and then topping it with sour cream, salsa or your choice of salad dressing. Like I said, this is the perfect meal for everyone because they can make it their own and make it their own way.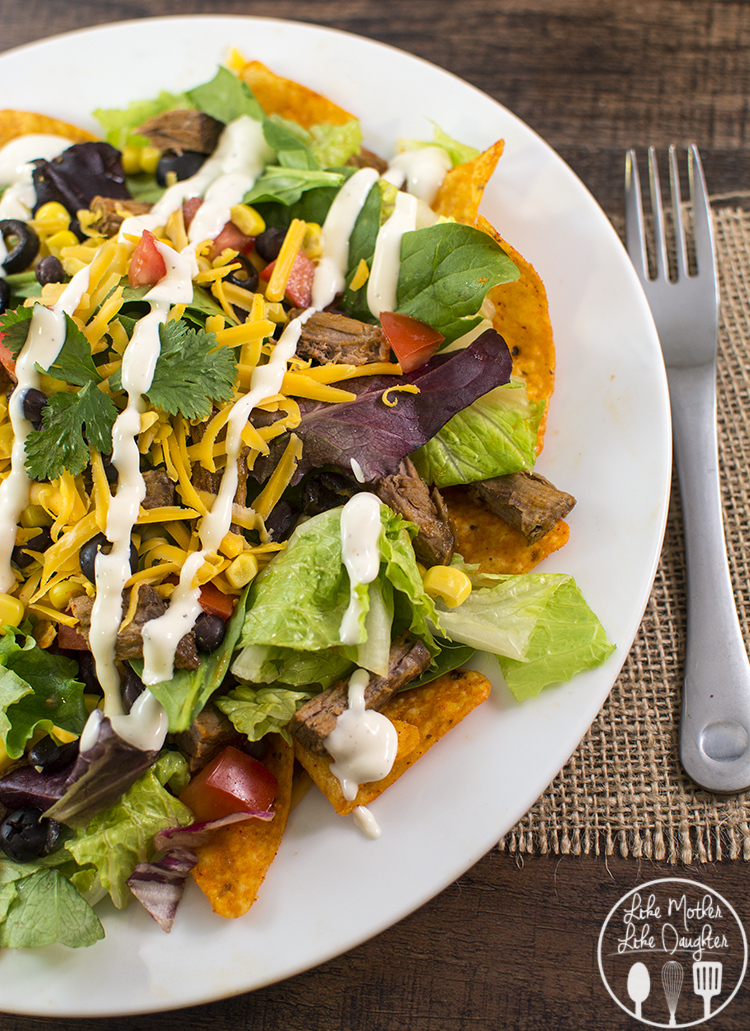 Shredded Beef Taco Salad
Ingredients
3 lb beef roast
1 packet Campbell's® Shredded Beef Taco Slow Cooker Sauce
cut lettuce
tortilla chips
Optional Toppings:
shredded cheese
sliced olives
diced tomatoes
diced avocado
canned corn
black beans
sour cream
salsa
salad dressing
Instructions
Place your beef roast in your slow cooker. Pour your Campbell's® Shredded Beef Taco Slow Cooker Sauce over the top of your roast.
Turn slow cooker on low and cook for 7-8 hours till roast is cooked through and tender.
Shred your roast using 2 forks.
Assemble your Salad:
Sprinkle a layer of tortilla chips on your plate.
Cover tortilla chips with lettuce.
Cover lettuce with shredded beef.
Top with your choice of toppings and your choice of dressings.
Enjoy this delicious shredded beef taco salad for a dinner the whole family will love!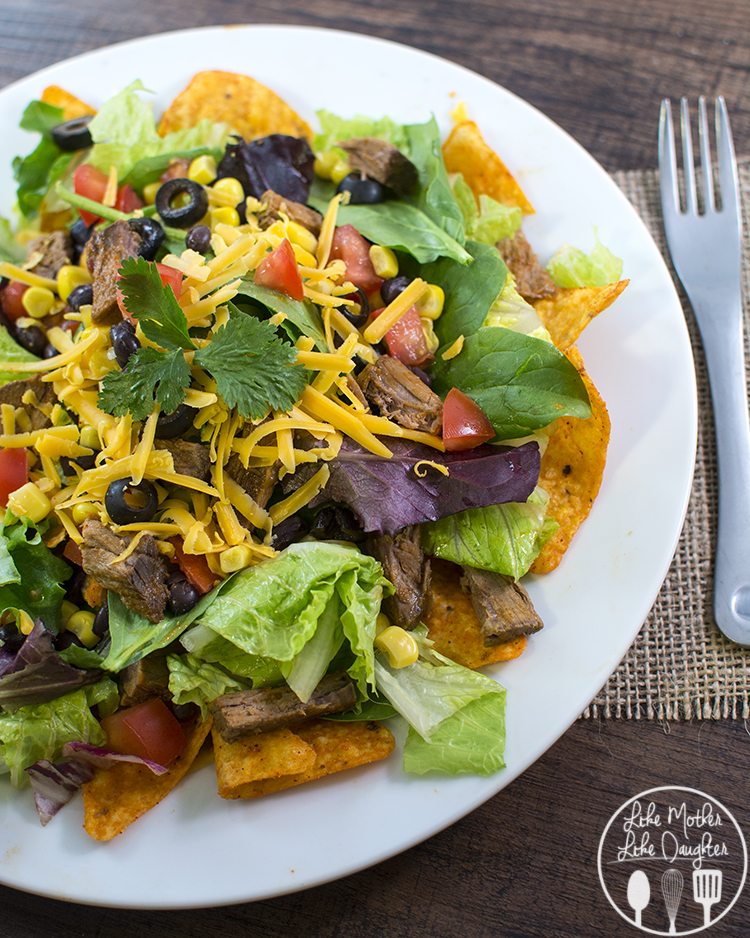 For more great recipes with Campbell's® sauces, check them out on
Facebook
, 
Twitter
, 
YouTube
 and 
Pinterest
.