These sugar cookie bars are so much better than traditional sugar cookies. They are rich, thick and so soft without any chilling, rolling, or cutting the dough. 
Last month I shared these amazing sugar cookie bars over at Somewhat Simple where I am a contributor. These sugar cookie bars might even be better than regular sugar cookies because they cut out the rolling and the cutting of the dough, and instead all you have to do is flatten the dough into a baking pan for a thick and soft and perfect sugar cookie bar.
Pin these Sugar Cookie Bars for Later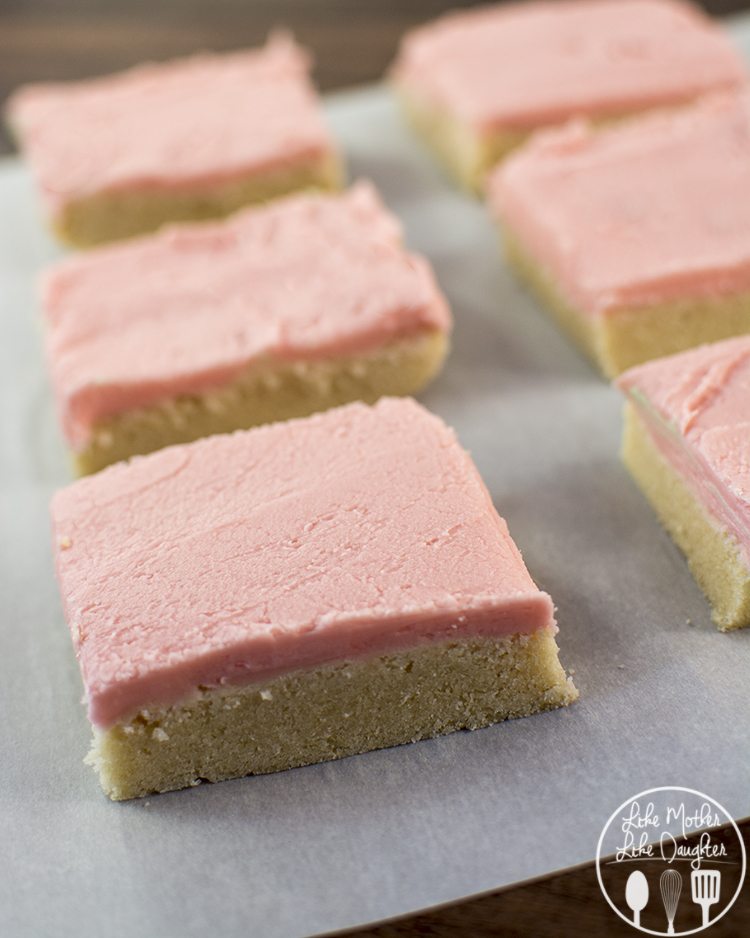 I topped these bars with my favorite sugar cookie frosting recipe, which I got from my mother in law and just edited the amounts a little bit to get the perfect amount to top these bars with a thick, layer of sweet buttery vanilla frosting.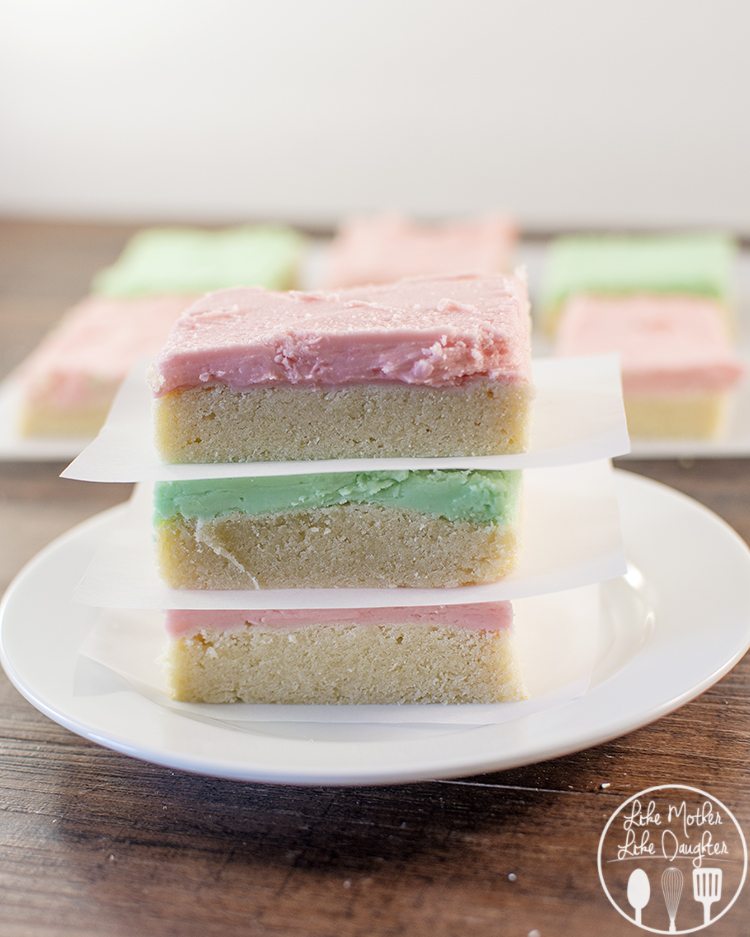 Another great thing about these sugar cookie bars is that they can be decorated for any occasion. They're easy enough just to make them for an afternoon treat, but they're also delicious and cute enough for a holiday or special occasion. You'll just add a little food coloring to the frosting. I added 2 drops of green, to half the frosting and 2 drops of pink to half the frosting to make these perfect spring sugar cookie bars. But you could do red and blue for fourth of July, orange for Halloween, red and green for Christmas, etc. And don't forget you're welcome to top them with sprinkles too – because who doesn't love sprinkles?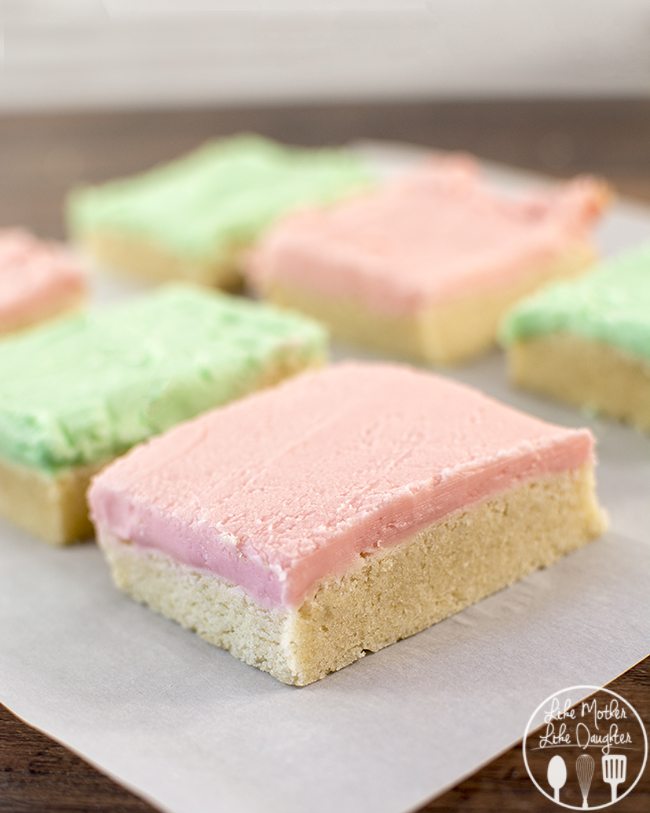 These bars are very sweet and rich, so don't use all the frosting, or cut the pieces into bite size if they might be too much for you. But personally,  I think you'll love them!
This post contains affiliate links.
Sugar Cookie Bars
Ingredients
2½ cups flour
½ tsp baking powder
½ tsp salt
½ cup unsalted butter, softened
1 cup sugar
1 large egg
2 TBS sour cream
1 tsp vanilla extract
For The Frosting:
5 TBS butter, softened
3 TBS milk
2 tsp - 3 tsp (1 TBS) vanilla
4 cups powdered sugar
3-5 drops food coloring
Instructions
Preheat your oven to 375 degrees.
In a medium sized bowl, combine your flour, baking powder and salt. Set aside.
In a large mixing bowl, cream together your butter and sugar for about 3 minutes until light and fluffy.
Add in your egg, sour cream and vanilla and mix till combined.
Slowly add in your flour mixture while stirring until everything is combined. (The dough will be crumbly)
Press the batter into a greased 9×13 baking dish and spread it out evenly with your hands or a rubber spatula.
Bake for 15-17 minutes or until edges just barely start to turn golden.
Allow to cool completely.
Mix together all your ingredients for your frosting until creamy.
Add in desired amount of food coloring.
Spread frosting evenly over cooled cookie bars.
Cut into squares and serve.
Things you might need for this recipe:
Enjoy these simple sugar cookie bars!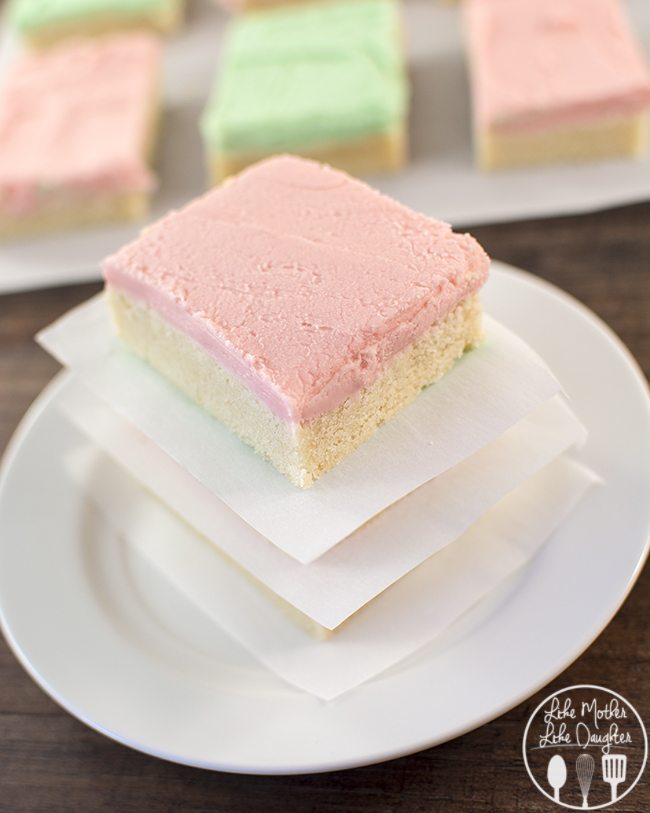 For more delicious sugar cookie and sugar cookie bar recipes, try these:
Strawberry Frosted Sugar Cookie Bars