This beef roast is the best, with only a few ingredients its cooked to perfection in the slow cooker for several hours! Its perfectly tender, falls apart and is so great served with potatoes, carrots and onions on the side! 
One of the best comfort food meals in the world is a pot roast. A tender and fall aparty roast cooked all day in the slow cooker with carrots and potatoes, is serious perfection! This three envelope roast is so easy to make, with literally only seven ingredients (8 if you count water) and its the ultimate roast.
Pin this three envelope roast for later!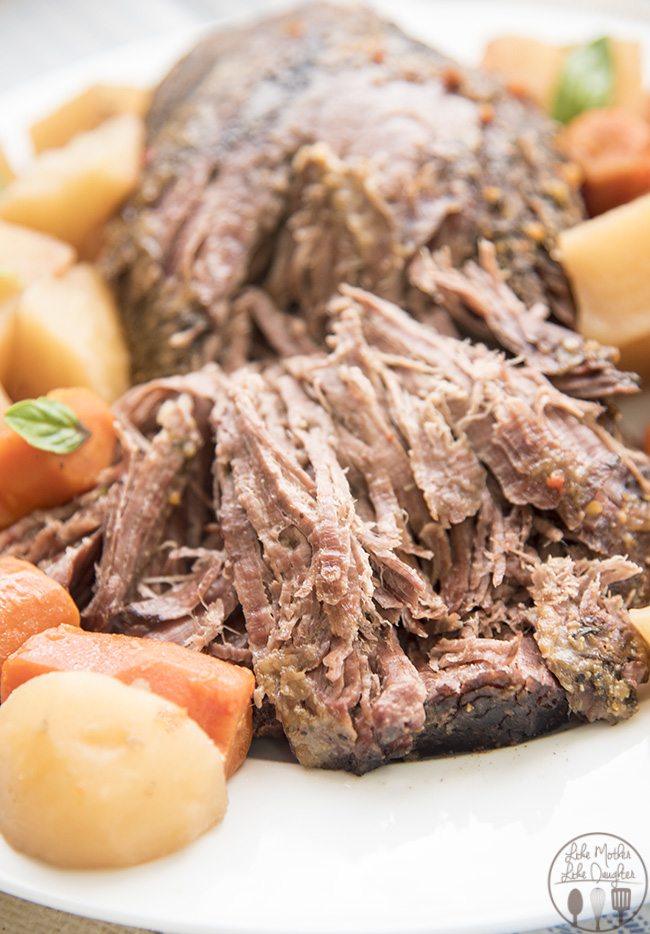 This three envelope roast got its name because for the seasoning you use three envelopes (or packets) or seasoning, first you'll use one 0.87oz envelope of McCormick's brown gravy mix, one 1.0 oz envelope of Hidden Valley Ranch Dip Mix, and one 0.7 oz envelope of Italian Salad Dressing Mix. Mix those three all together with 2 cups of warm water. Set aside for a minute. Peel and chop some carrots and potatoes into about an inch to an inch and a half sized pieces. About 2 1/2 to 3 cups of each, which was about 6 large carrots and 4 medium sized potatoes for me. Chop up about 1/2 of a large onion into the same sized pieces. Place your carrots, potatoes and onion in your slow cooker, top the vegetables with a 2-3 pound beef roast and pour your seasoning mixture over the top of everything. Cook on slow for 7-8 hours, or on high for 4-5 hours.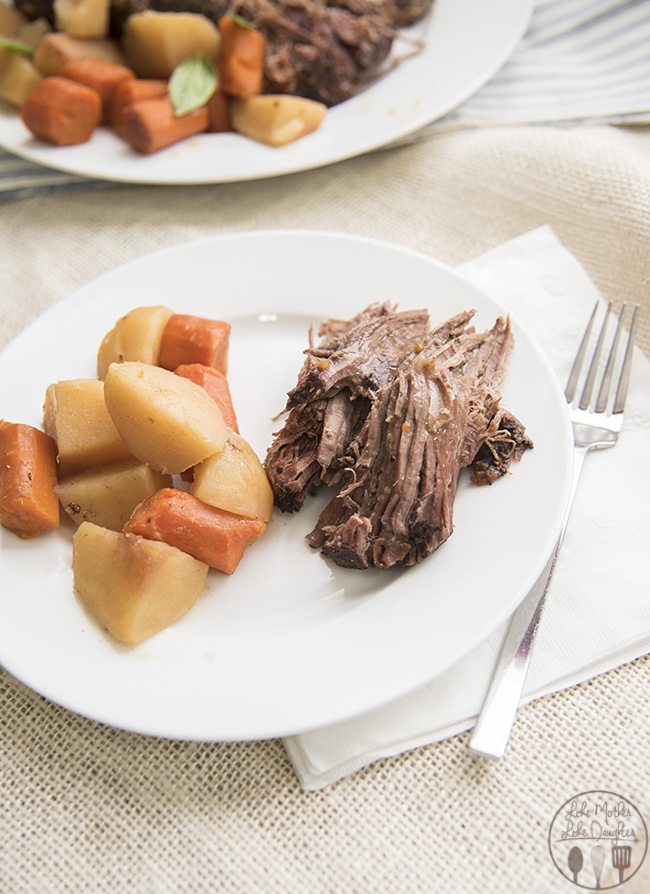 The best way to get a tender roast, that pulls apart nicely is by using a chuck roast, or another roast with a good amount of fat marbled throughout. You can remove the fat when its done, but this will keep the roast nice and tender. I also recommend cooking your roast on low instead of high, but if you're in a rush you can make it work either way.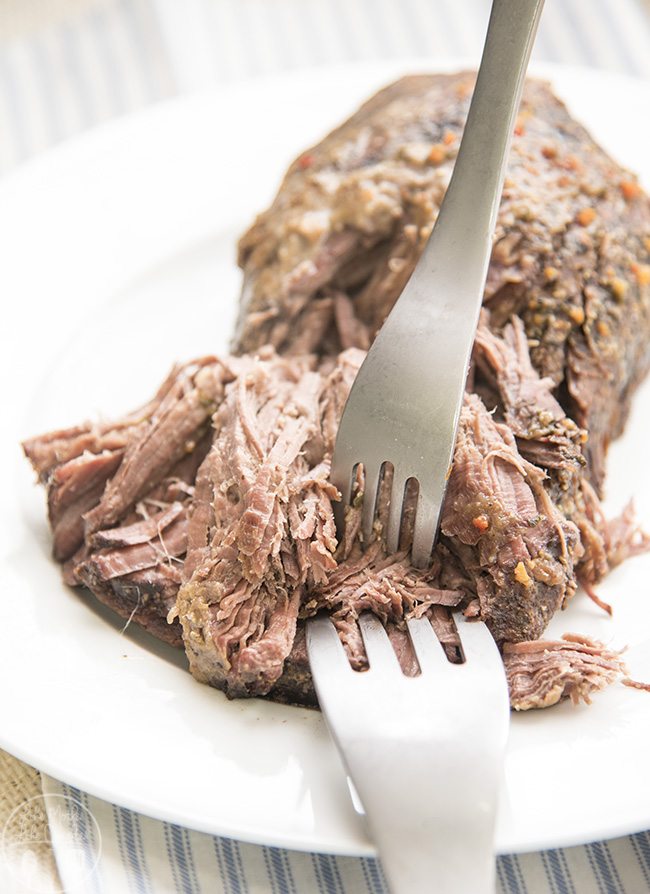 I love cooking a roast in the slow cooker for an easy meal, and a great way to have a delicious and hearty meal without any hassle and with the ability to leave the roast cooking, and go about my business for several hours and come back to the best smelling kitchen in the world.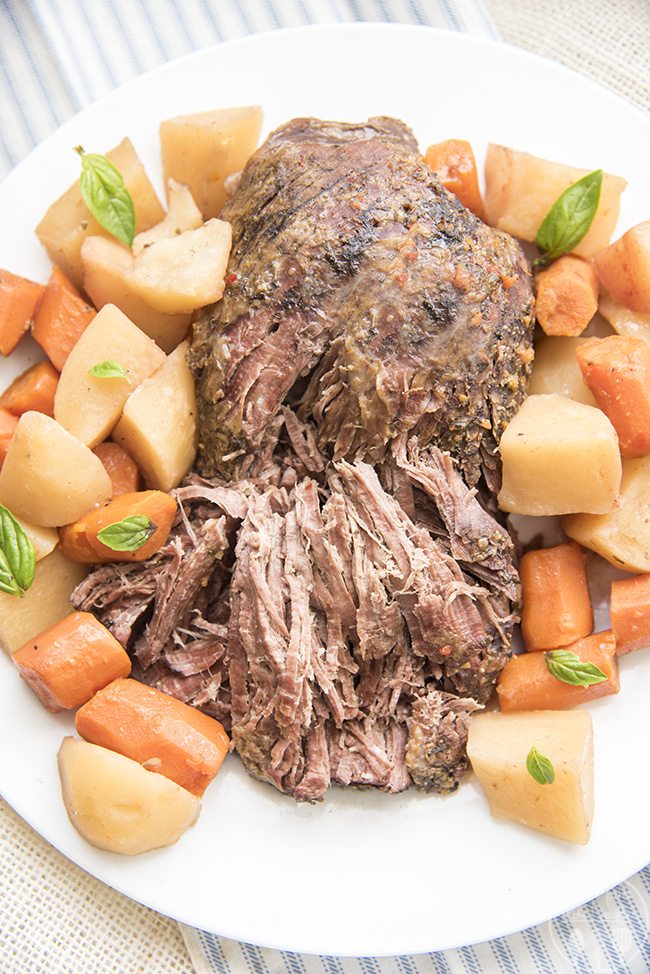 We have had family stay over for the last few days, visiting from Utah and this was the perfect way to get us all to eat dinner together. No one can resist a hot and delicious homemade meal, but especially a delicious roast like this.
Of course we had to have a big stack of Vanity Fair® Napkins along with our meal, especially for wiping off the baby who thinks he needs to feed himself, no matter how much food he gets on his face, clothes and everywhere else.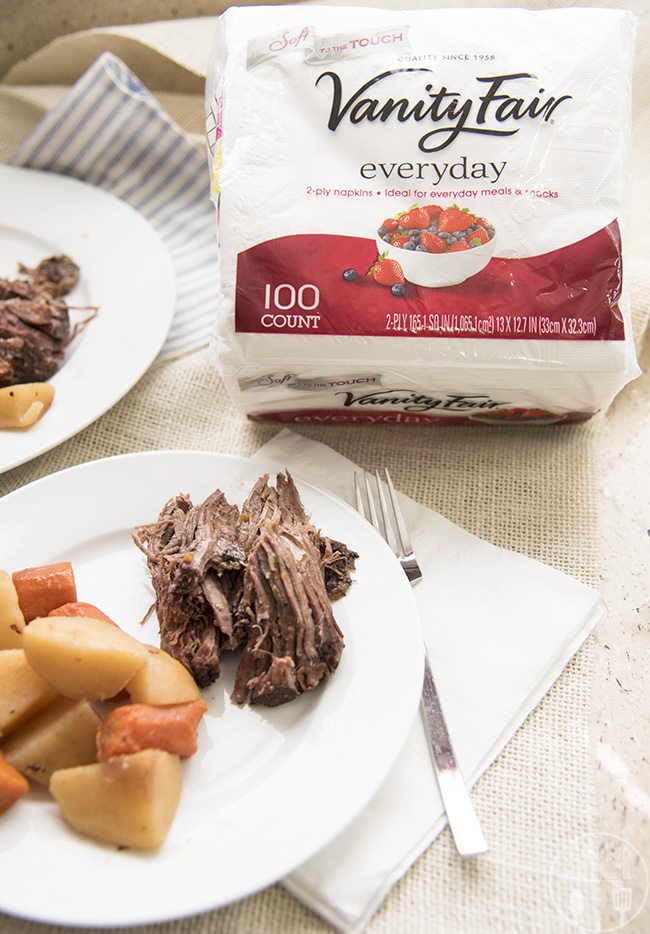 Three Envelope Roast
Ingredients
2½ - 3 cups chopped and peeled potatoes (1 - 1½ inches in size, about 4 potatoes)
2½ - 3 cups chopped and peeled carrots (1½ - 2 inches in size, about 6 carrots)
1 cup chopped yellow onion (about ½ onion)
1 0.87oz McCormick Brown Gravy Mix
1 1.0 oz Hidden Valley Ranch Mix
1 0.7 oz Italian Dressing Mix
2 cups warm water
2-3 lb beef chuck roast
Instructions
Prepare your potatoes and carrots and spread them in the bottom of your slow cooker.
Combine your gravy mix, ranch mix, italian dressing mix and warm water in a medium sized bowl. Stir together completely.
Place your roast on top of your vegetables and pour your seasoning water mix over the top of everything.
Cook in your slow cooker on low for 7-8 hours or on high for 4-5 hours.
(You can make a gravy with your leftover juices, by boiling them, add about 2 TBS of flour or cornstarch to 2 TBS of cold water and stir together, add mixture to the drippings and cook till thickened, stirring constantly.)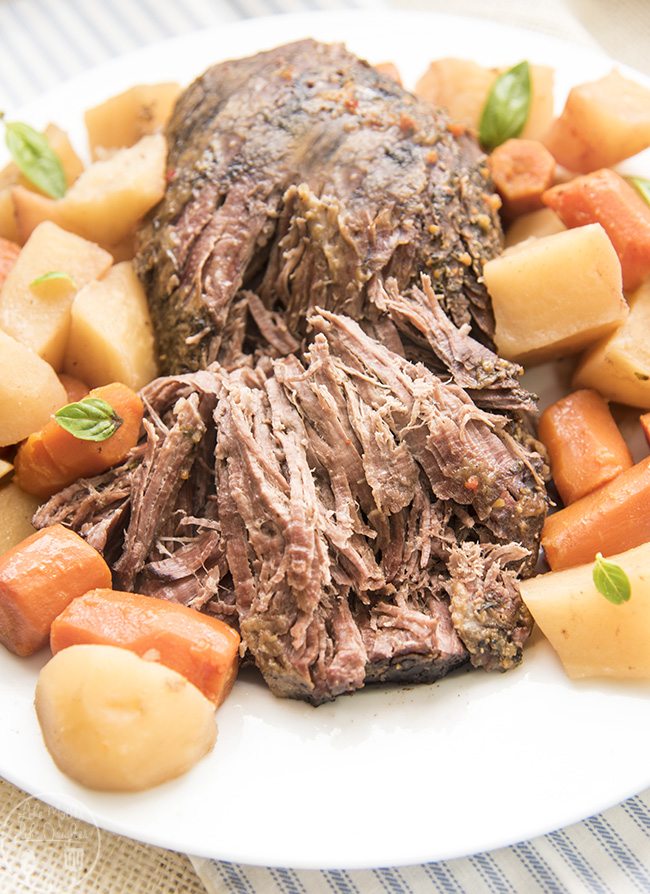 I'm joining the Vanity Fair® Napkins Take Back the Table Campaign to make a pledge to eat one more meal a week together around the table as a family. Its so important to take this time to enjoy a meal together as a family, to not only eat a good hearty meal, like this roast, but with how busy our days our to spend that short amount of time together, just with each other. Nate and I have decided to put our phones away during these meals, so we can focus on each other, Colby and not on what else is going on in the world.
How are you going to Take Back the Table?
I took the pledge to #takebackthetable to show how important it is to spend more time with family at meal time.
This is a sponsored conversation written by me on behalf of Vanity Fair® Napkins. The opinions and text are all mine.