I am so excited to share with you this Triple Berry Rhubarb Slab Pie.  I am excited to share it with you because it is deliciously sweet, and made from my homegrown rhubarb; but I am mostly excited to share it with you because I FINALLY made a wonderful, homemade flaky pie crust.  I have avoided making pie crusts, basically ALWAYS.  I will bake an occasional pie but purchase the crust, usually using a refrigerated premade crust.  Since discovering this recipe and following the instructions to a T, (is it T or t or tee?) I can claim that I can make pie crust.  I am probably even willing to make one again someday.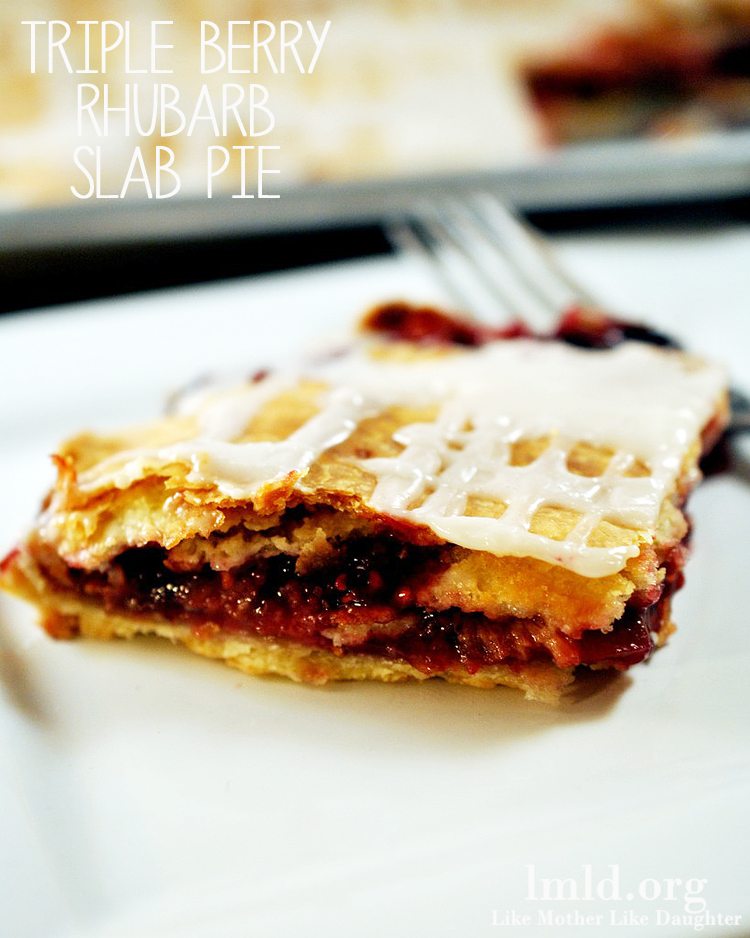 A slab pie is a pastry baked on a jelly roll pan, assembled like a pie, but served liked a bar cookie.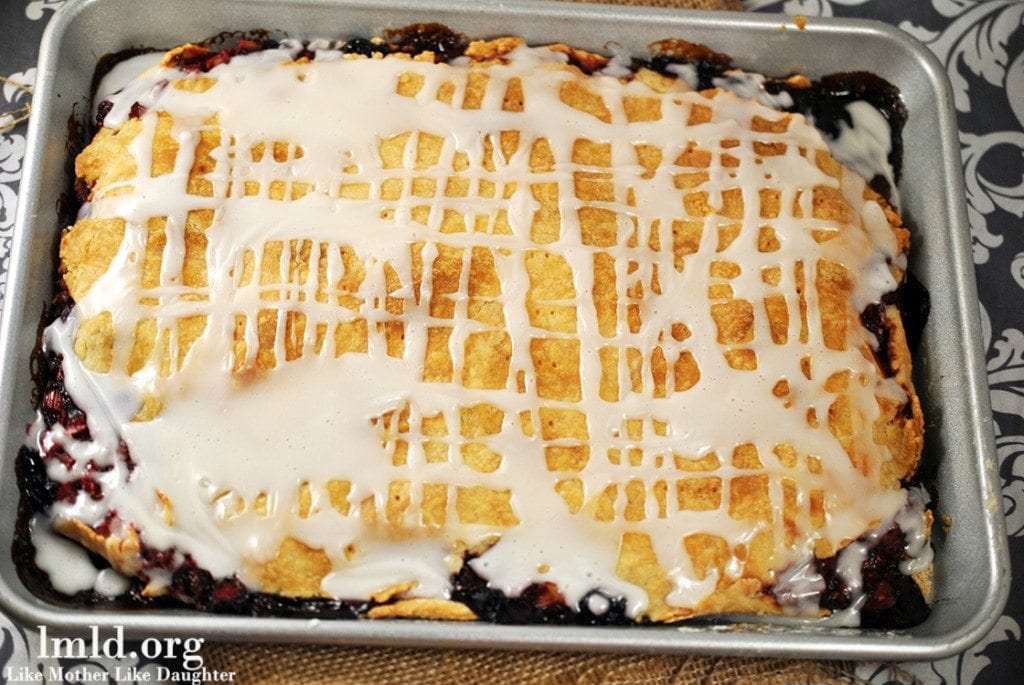 I made the triple berry rhubarb slab pie with my go to frozen berries from Costco (blackberries, raspberries, and blueberries) and rhubarb that is growing right in my own backyard.  I diced the rhubarb quite small (1/2 inch size pieces) to bake quickly and they are almost lost among the berries, I think I would make it with more rhubarb next time.  I also think this would be delicious as an apple rhubarb slab pie or an apple slab pie.  Maybe next fall when are apples are ripe?!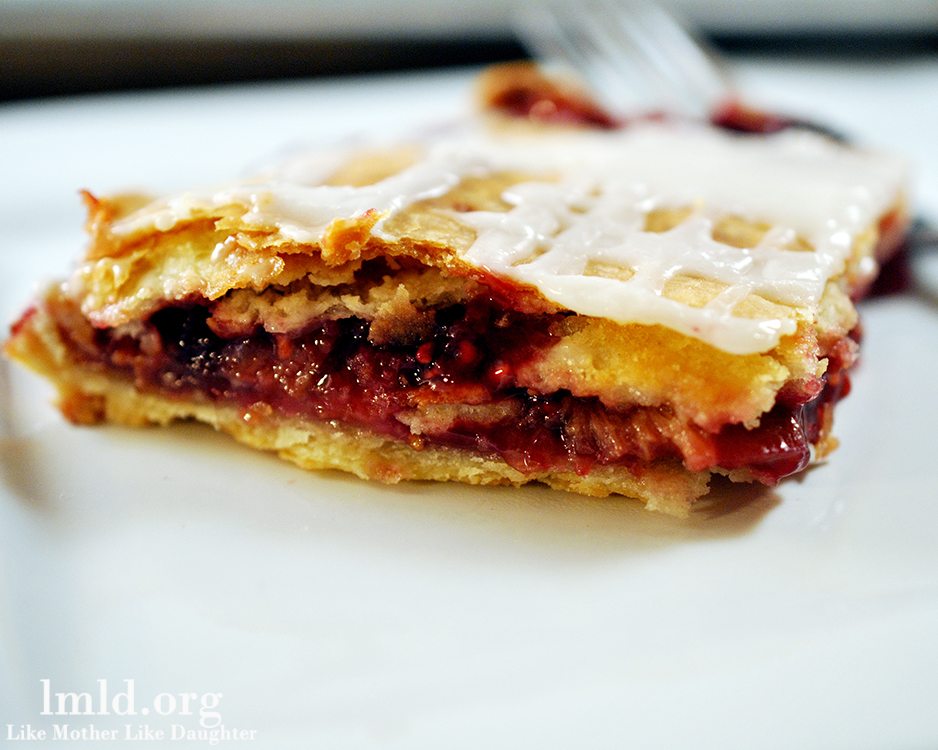 Triple Berry Rhubarb Slab Pie
Ingredients
1⅝ cup all purpose flour
½ cup butter (slightly soften, cut into small pieces)
½ tsp salt
3 oz half and half (plus a little extra as needed)
1 egg yolk
1½ cups rhubarb (diced)
2½ cups frozen triple berry (blackberries, raspberries, and blueberries)(slightly thawed)
1 cup sugar
3 Tbs corn starch
juice from half a lemon
ICING
2 cups powdered sugar
2 to 3 Tbs milk
½ tsp vanilla extract
1 tsp almond extract
Instructions
In a large bowl, combine flour and salt
Cut in the butter with a fork until it is crumbly
Whisk the half & half and yolk together
One Tbs at a time gradually add the half & half and yolk to the flour mixture tossing it with your fork until if forms a ball (do this ever so gentle)
Add a little more half & half as needed to form a ball
Divide your dough in half and wrap each half in plastic wrap
Refrigerate for 1 hour to chill dough to make it easier to roll out
In the meantime, in another large bowl put your diced rhubarb and frozen berries, mix together
Sprinkle your corn starch over the top of the berry mixture and stir in
Squeeze your lemon juice over the berry mixture and stir in
Add your sugar to the berry mixture and stir in
After 1 hour remove your dough from the fridge
Now preheat your oven to 375 degrees
Place wax paper down on your counter with a slightly damp dishrag underneath (this holds your paper in place)
Sprinkle the wax paper slightly with flour
Put one dough ball onto the paper and roll to fit your 11 x 8 jelly roll pan using a rolling pin (you are rolling to a thickness about ¼ inch)
Using your rolling pin wrap the dough around the pin gently to lift onto the jelly roll pan and unroll the dough
Stretch your dough gently to the edges and up the sides of your pan as needed
Spoon and spread your berry/rhubarb mixture over the top of the pastry dough
Roll out your 2nd dough ball as you did the first and lay over the top of the berry mixture
Pinch the edges together with a fork (my 2nd layer did not quite fit the bottom but it all worked out)
Using a fork pierce all over your top pasty layer
Bake at 375 degrees for 35 to 40 minutes until your slab pie is browned and finished baking
ICING
In a small bowl add your powdered sugar
Adding 1 TBS at a time, add your milk, stirring in between until it is glazing consistency
Add your vanilla and almond extract, stirring in
When your slab pie has cooled for about 10 minutes, glaze with a spoon by drizzling back and forth your icing
Enjoy this delicious berry and rhubard slab pie as a summery dessert!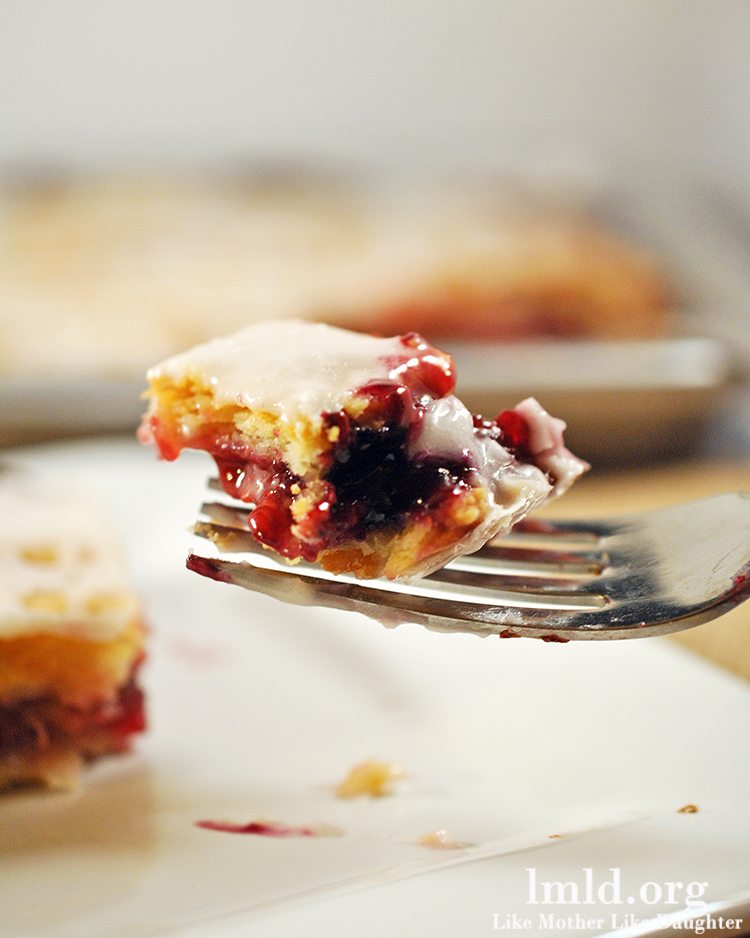 It doesn't matter if your fruit is fresh or frozen, a cooking tip if using frozen fruit is to measure it before it thaws.  Thaw rhubarb before using and drain off the extra liquid.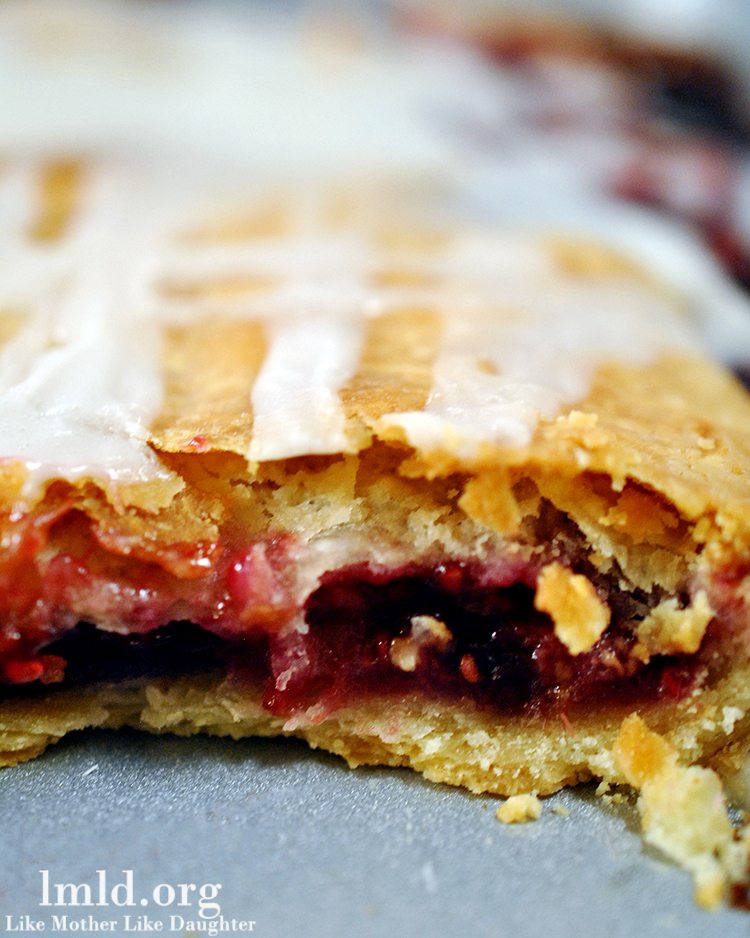 Adapted from and inspired by Taste of Home Raspberry-Rhubarb Slab Pie