Arancini is an authentic Sicilian cuisine – a ragu stuffed rice ball dipped in bread crumbs and fried.  Make these and your friends will believe you just became an Italian.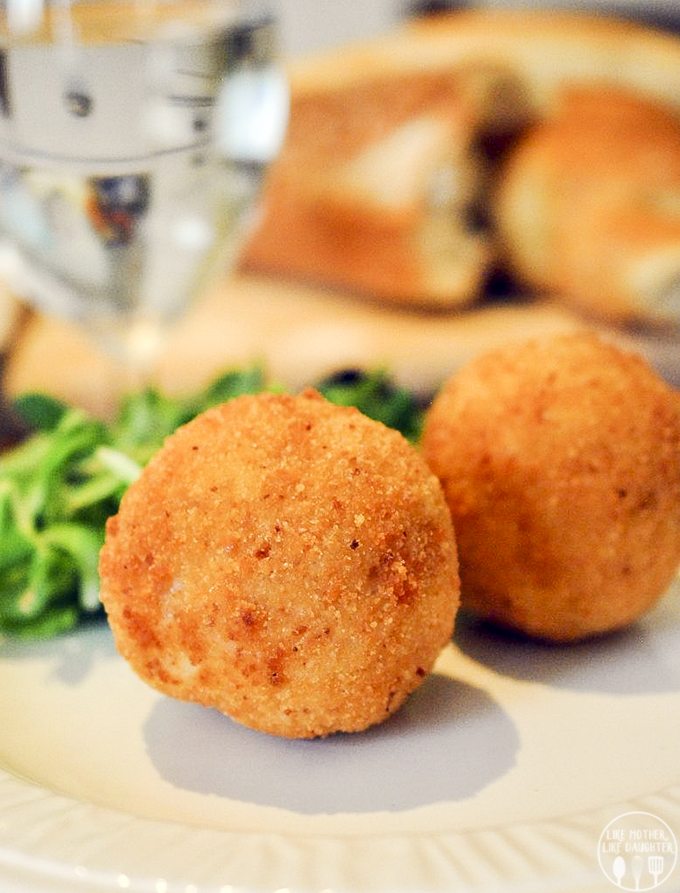 Hi friends, mom half checking in with a delicious Italian dish I have grown to love!
One of the first Italy dishes I ate here was arancini or arancine if you are from Palermo, Italy. Arancini is a stuffed rice ball. It can be stuffed with ragu, a combination of ground beef and tomato sauce, or with cheese and mozzarella, or there are even sweet versions stuffed with chocolate or Nutella and sprinkled with sugar (whoa, I need to figure that one out.) I have enjoyed arancini from the very first bite and was thrilled when one of my first new friends here agreed to teach me how to make these.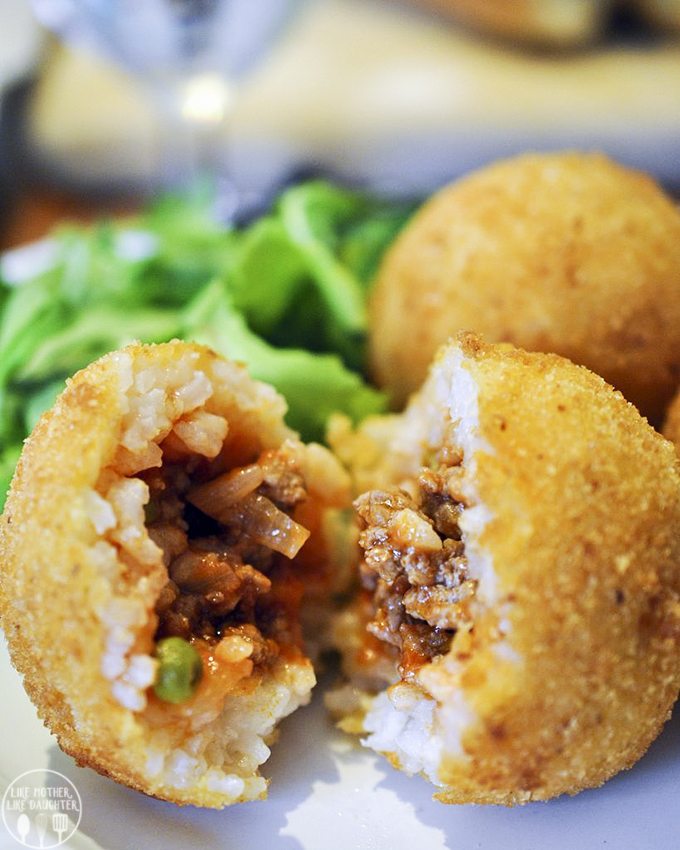 Floriana, instantly became my friend for two reasons – 1) she is super sweet and kind and 2) she speaks English. Since finding someone besides Craig to talk to can be a challenge in Italy I may have immediately latched onto her. I know, I know, I need to learn to speak Italian and I may be bit by bit, and step by step. But in the meantime…..I am learning to cook a few Italian dishes and eating a lot of Italian food, especially gelato. Lots and lots of gelato.
Arancini pronounced ah-rahn-che-knee; is Sicilian cuisine. Since I am on the island of Sicily – which is beautiful by the way – I definitely need to learn Sicilian cuisine. Arancini are considered little Sicilian suns and named after the orange – arancia – because of their shape and color. You can also find cone shaped arancini but that seems a bit more tricky to shape.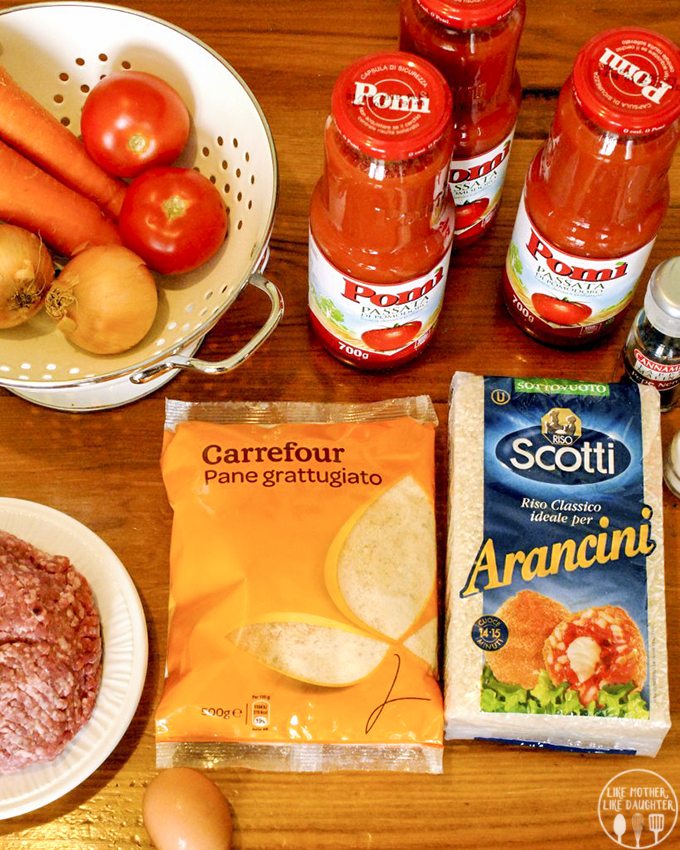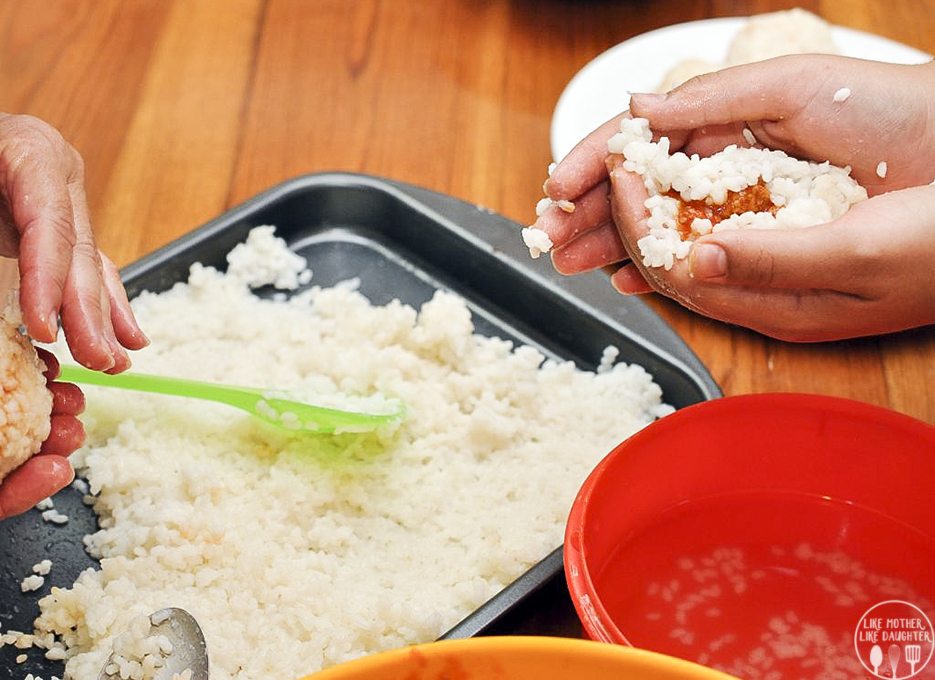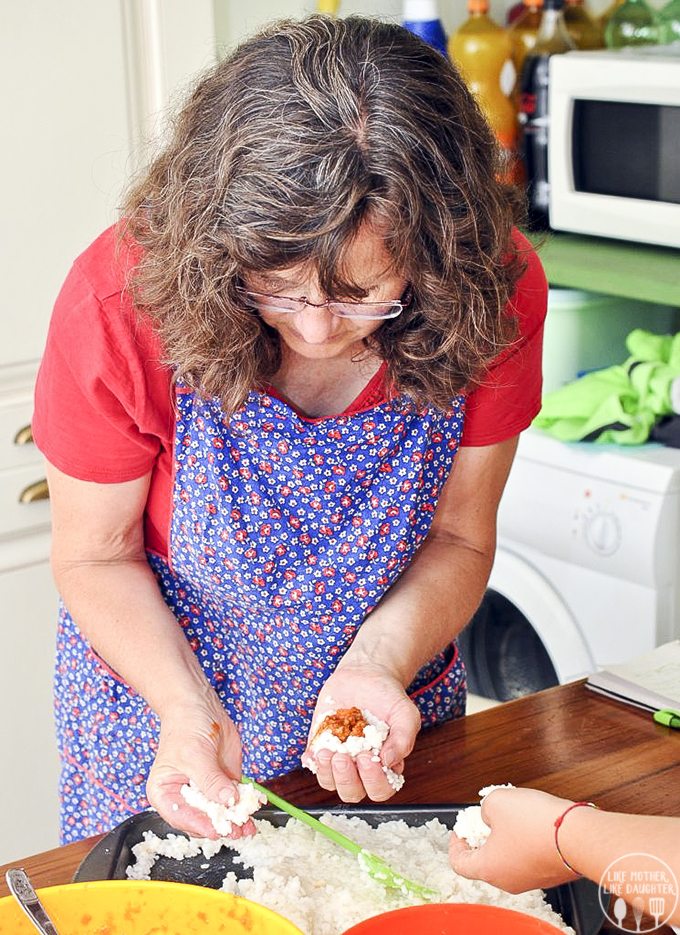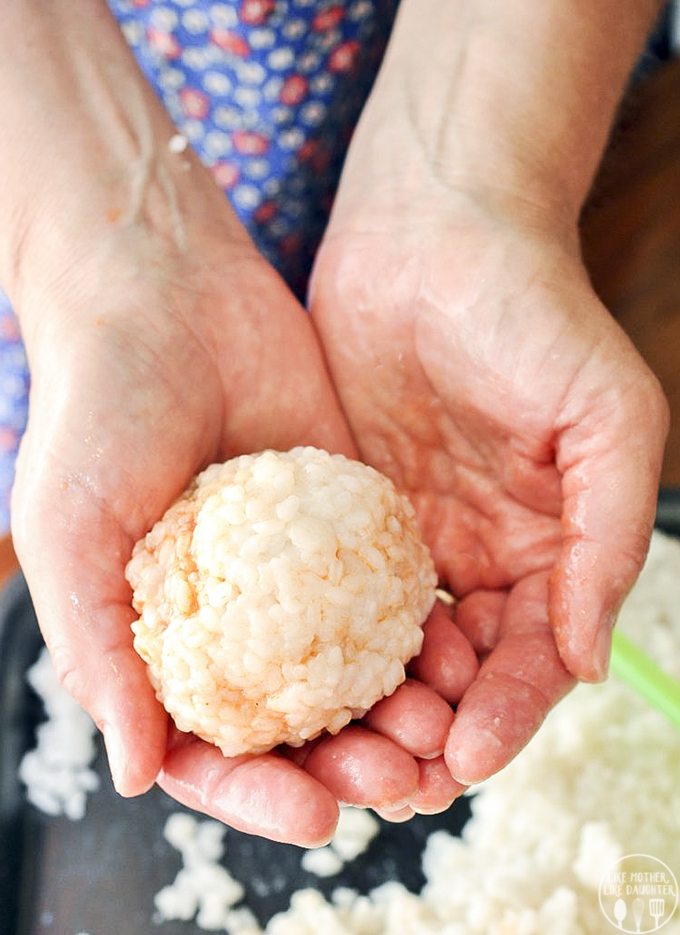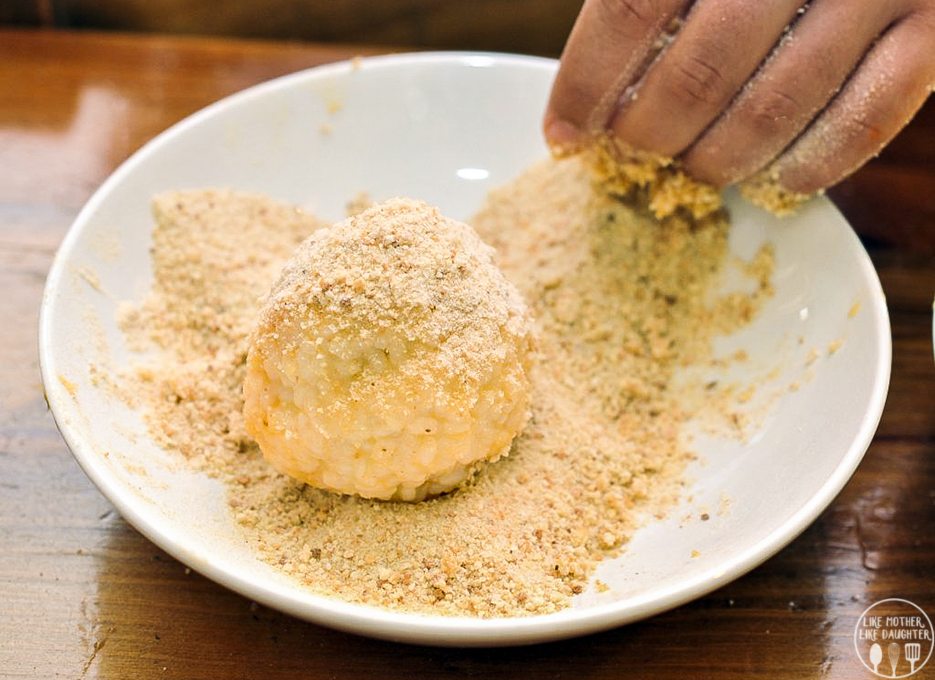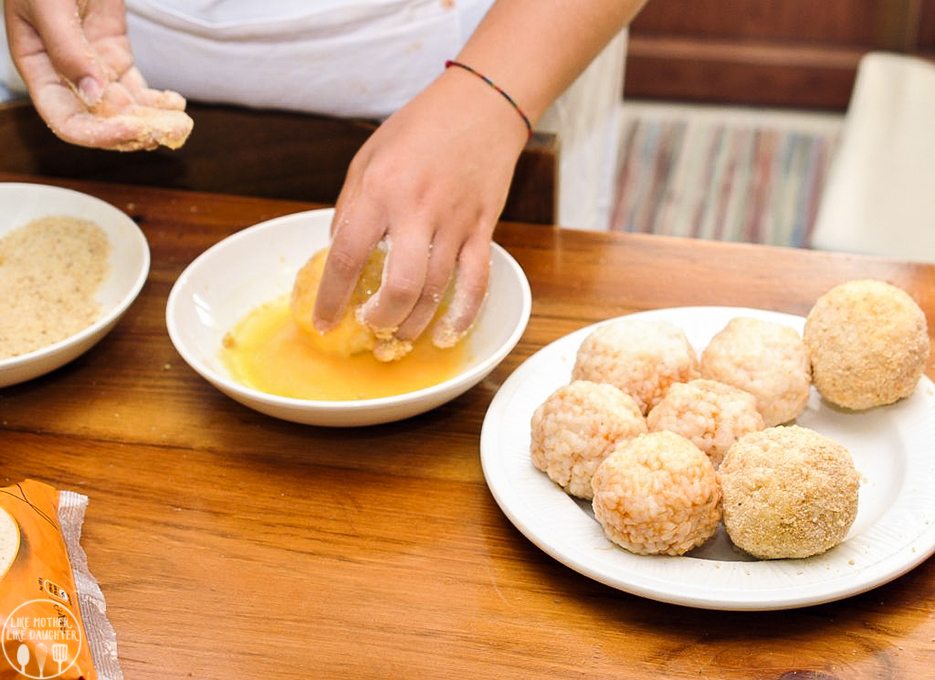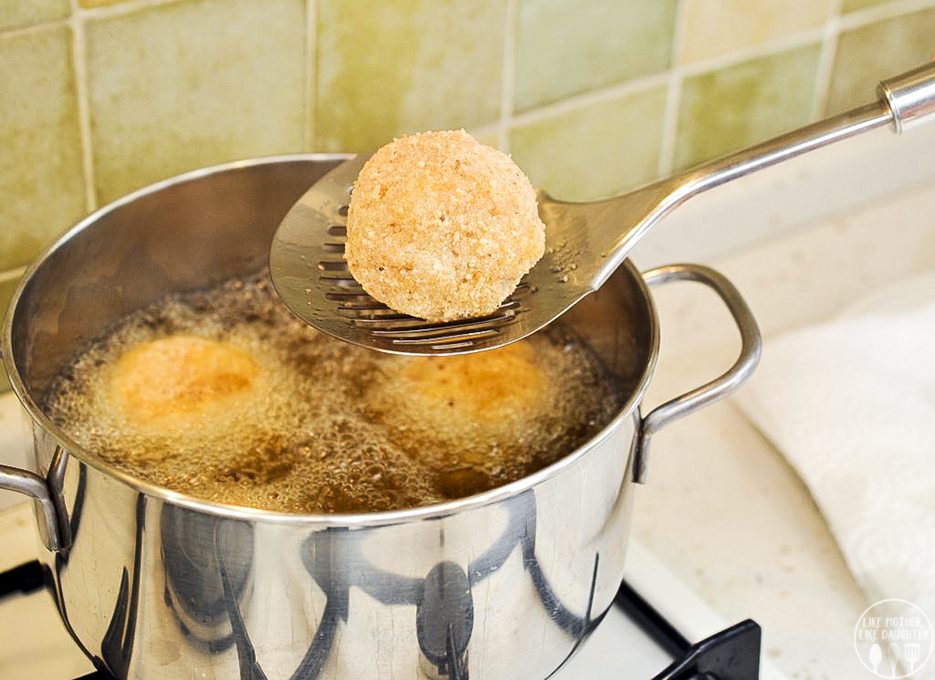 And if you feel like shaping a ball of rice around the ragu seems too difficult, another version is to take a scoop of rice shape it into a ball, make a hole with your thumb, fill with your ragu sauce, and close with more rice. Or Floriana even said you could mix the rice and ragu together and then shape into balls. You decide what works for you, but I believe if I can roll a ball around the ragu you can too.
I hope you enjoy this tradition Sicilian dish of arancini. Make some during the 2nd week of September and celebrate the Arancino Festival, eating arancini all day long. I plan to.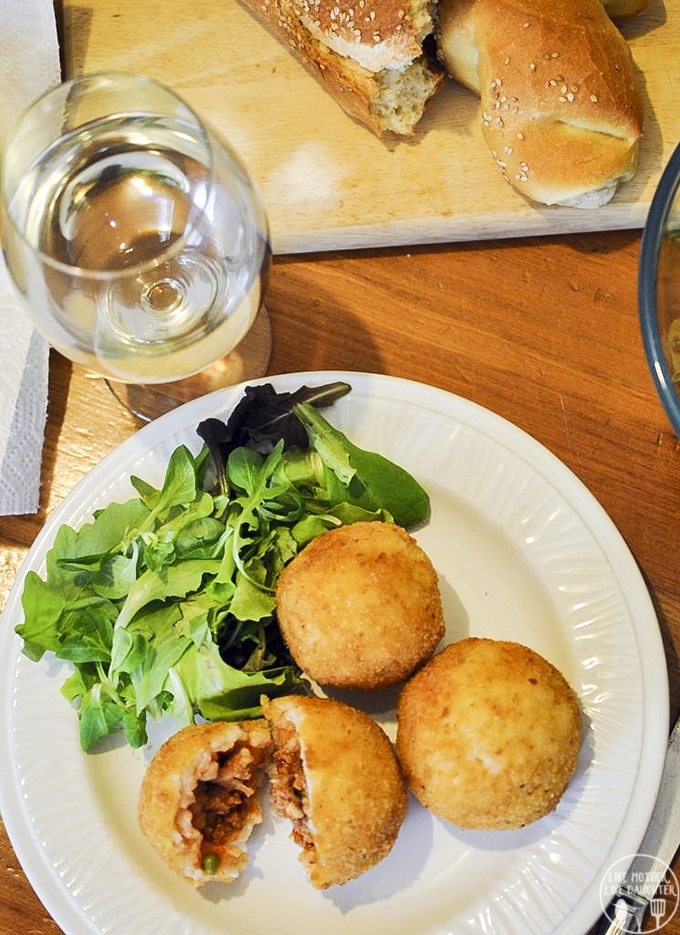 Oh and one more thing, the most important word I have learned in Italian: Mangiamo – let's eat!
Arancini
Ingredients
2 ½ cups short white grain rice – arancini rice if you can find it (this rice is sticky when cooked)
6 cups water
½ lb ground beef
½ cup diced yellow onion
½ cup diced carrot
1 cup frozen green peas
3 cups tomato sauce
2 TBS salt - divided
1 tsp pepper – to taste
1 TBS white sugar
2 eggs
1 to 2 cups fine breadcrumbs
¼ cup olive oil – enough to cover the onion and carrot
3 to 4 cups vegetable oil for frying
1 bowl of water
Instructions
Bring the 6 cups of water to boil in a large pot
Stir in rice and salt, lower the temperature slightly, cook until rice is tender and soaks up all or most of the water; about 20 minutes
Drain rice if needed, spread out on a cooking sheet to cool the rice
In a large sauce pan add the olive oil, saute the diced onions and carrots until golden – add more olive oil if needed to cover the onions and carrots
Brown the ground beef with the onions and carrots
Add the tomato sauce, ½ to 1 TBS salt (to taste), 1 tsp of pepper (to taste), and sugar
Simmer until thicken, about 20 to 30 minutes – the sauce needs to not be runny because it will be placed inside the rice balls
Add the green peas and let simmer an additional 5 minutes
Remove sauce from heat and let cool to touch
In a small bowl, whisk the 2 eggs until completely combined
In another small bowl add the fine breadcrumbs
Wet your hands in the bowl of water to prevent rice from sticking
Take about ¼ cup of rice and spread over your hand to make a layer of rice sticky together
Scoop about 2 TBS of ragu – tomato sauce and ground beef – in the middle of the rice
Work the rice into a ball to surround the ragu, make sure there are no openings – they should be about 2 inches in diameter
Continue to form all the stuffed rice balls, wetting hands slightly between each rice ball as needed
Dip a rice ball in the egg, swirling around to cover
Dip the rice ball in the breadcrumbs and cover completely with breadcrumbs, place on another cooking sheet
Repeat until all stuffed rice balls are covered with breadcrumbs
In a wide diameter pot, add the vegetable oil – you want to be able to fry 3 to 4 rice balls at a time
Once the oil is to a temperature ready for frying, place 3 to 4 rice balls into the oil
Let fry for a minute or two until golden brown, turning to brown all sides
Remove using a slotted spoon or spatula and lay on paper towel to drain
Continue until all arancini are fried
Save
Save