Snickers rice krispie treats are traditional marshmallow rice krispie treats made even better. Topped with salty peanuts, gooey caramel and a rich layer of chocolate. They're perfectly sweet, salty and so delicious!
Pin these Snickers Rice Krispie Treats for Later!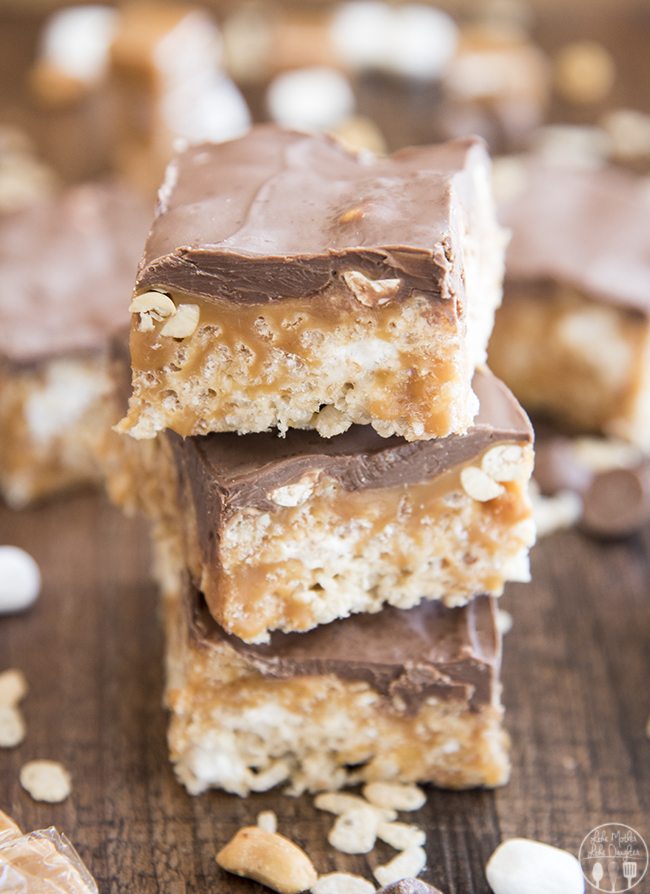 It's always hard for me to choose a favorite candy bar, but I will tell you that Snickers bars are one of my favorites. I recently tried a new bar that they came out with called Snickers Crisper which adds crunchy crisp rice cereal to the traditional Snickers bar and afterwards I knew I had to try making a Snickers Rice Krispie Treat. And let me tell you it was a GOOD decision.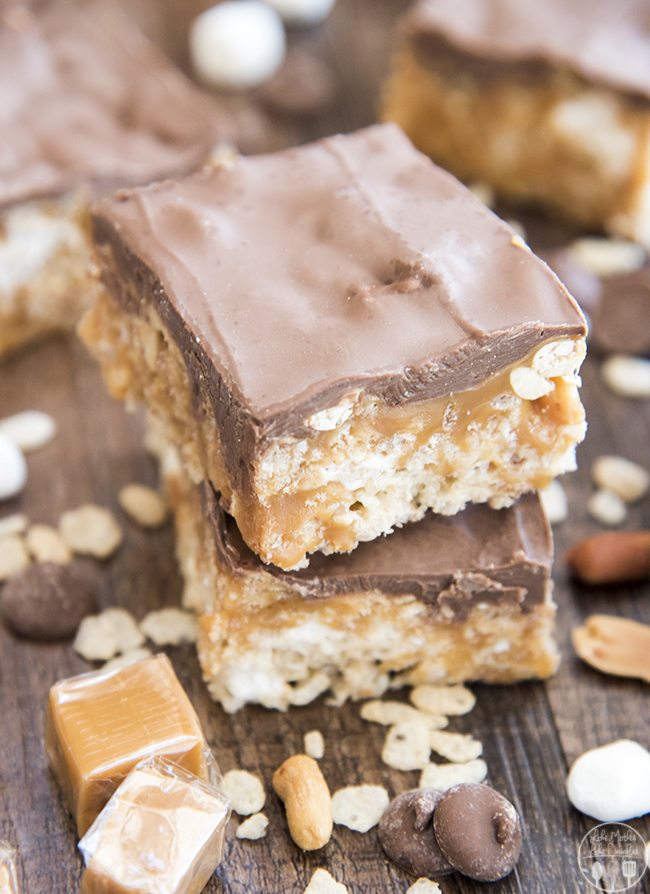 These snickers rice krispie treats start like traditional rice krispies treats, which means butter, marshmallows and crisp rice cereal – so that's a good start right? You'll spread a bunch of peanuts all over the top. Then top the rice krispie treats with melted caramel. The caramel creates a nice layer as well as going down into the rice krispie treats and making the whole bar a gooey caramelly treat. Then lastly you'll spread melted chocolate all over the top of the whole thing. That's it.
It only takes about 15 minutes of work, but you do have to wait a couple hours until the chocolate hardens to enjoy the delicious bars.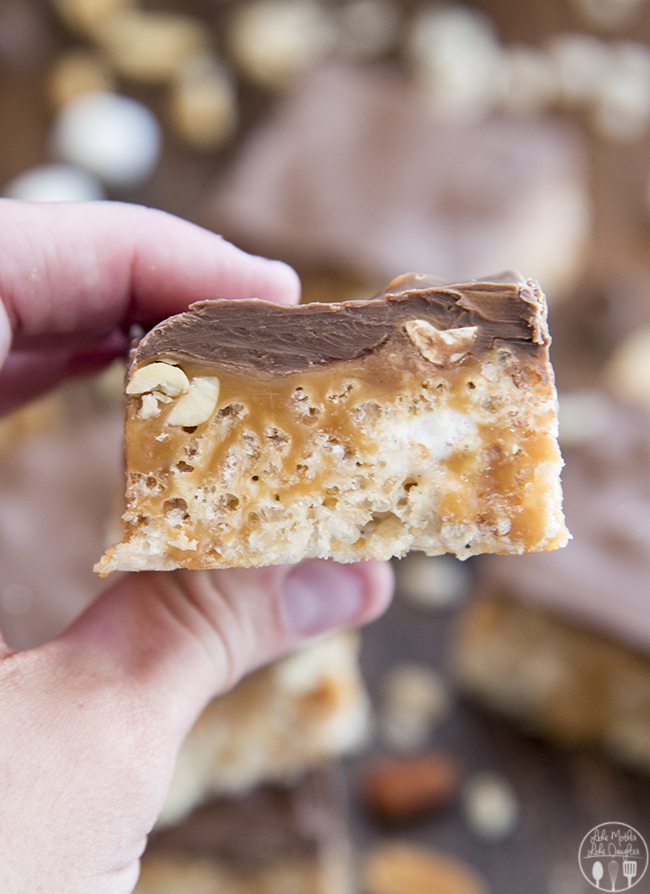 But what could be better than crunchy marshmallowey rice krispie treats with caramel peanuts and chocolate. Seriously these bars are a dream come true. They're the perfect combination of all things good, with a lot of sweet, a little salty from the peanuts. A littly crunchy, and a little soft and gooey. And caramel, chocolate, peanuts and marshmallows are just a combo that is meant to be I tell ya.
How to make rice krispie treats?
To make the best rice krispie treats you'll need crisp rice cereal, marshmallows and butter. To get the perfectly soft and chewy rice krispie treats you'll need to follow a couple tips:
Keep the stovetop temperature low. Melt the butter and marshmallows low and slow. Cook until the marshmallows are just  melted.
Don't skimp on the marshmallows. I love adding a little extra in when I'm mixing the cereal in. (Also don't use old marshmallows they will have less moisture!)
Don't press the mixture down too hard in the pan.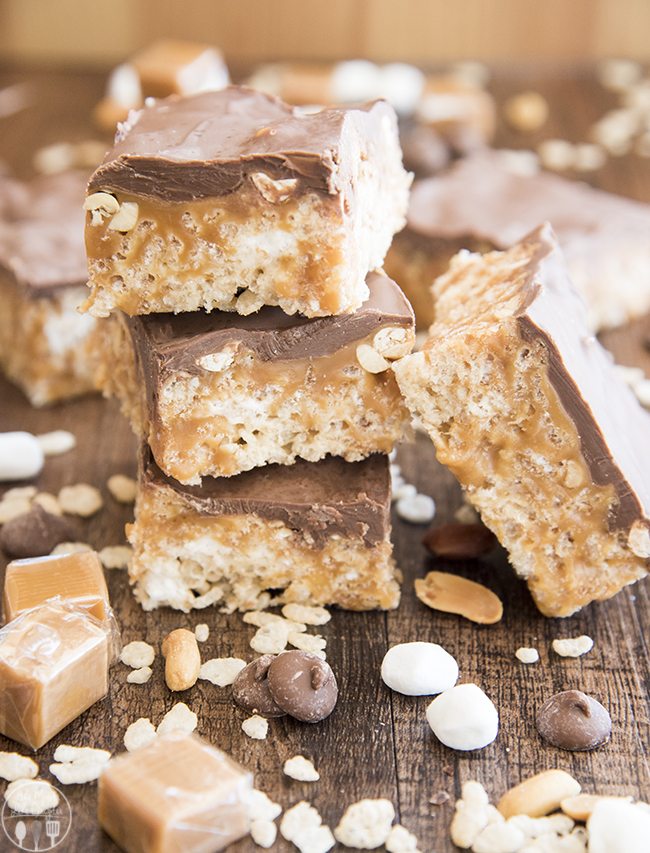 Looking for more rice krispie treats recipes?
This post contains affiliate links. This means if you click on the link and make a purchase, I will get a very small percentage in commission. There is no extra cost to you. I only link to products I use or own. Your help in supporting us and our blog is appreciated. 

Snickers Rice Krispie Treats
Ingredients
¼ cup butter
5 cups mini marshmallows
5½ cups rice krispie cereal
½ cup salted peanuts
16 oz (1½ 11oz bags) caramels, unwrapped
3 TBS heavy cream
2 cups chocolate chips
Instructions
Melt your butter or margarine over medium low heat in a large sauce pan.
Add in marshmallows, and stir together till marshmallows are completely melted.
Pour in your rice krispie cereal and stir together till cereal is completely coated.
Pour cereal into a 9x13 in pan and press down evenly. (Don't squish too much!)
Sprinkle peanuts evenly over the top of the rice krispie treats.
In a medium sized sauce pan combine caramels and heavy cream over medium heat.
Stir until caramel is melted and smooth.
Pour caramel evenly over the top of rice krispie treats.
Melt chocolate chips in the microwave in 30 second increments (for about 90 seconds total), stirring after each until smooth.
Pour chocolate over the caramel layer and spread evenly.
Let chocolate set completely and cut.
MAKE THESE DELICIOUS SNICKERS RICE KRISPIE TREATS WITH THE HELP OF THESE  KITCHEN TOOLS AND INGREDIENTS:
Bars are rich so they are great cut even smaller than photos show if desired.