This perfectly moist and delicious banana cake is topped with an amazing peanut butter frosting and chocolate ganache. This cake is sure to be a hit!
Save this amazing banana cake for later!
As you know, Colby turned two a couple weeks ago. We had a birthday party for him, with some friends and family and I decided to do a Curious George theme, since like many other two year old, Colby is obsessed with Curious George (and Toy Story of course). Now, I'm no party planner, so the party was fairly simple. But with a Curious George themed party I figured you need to have banana themed food, so I made a banana cake.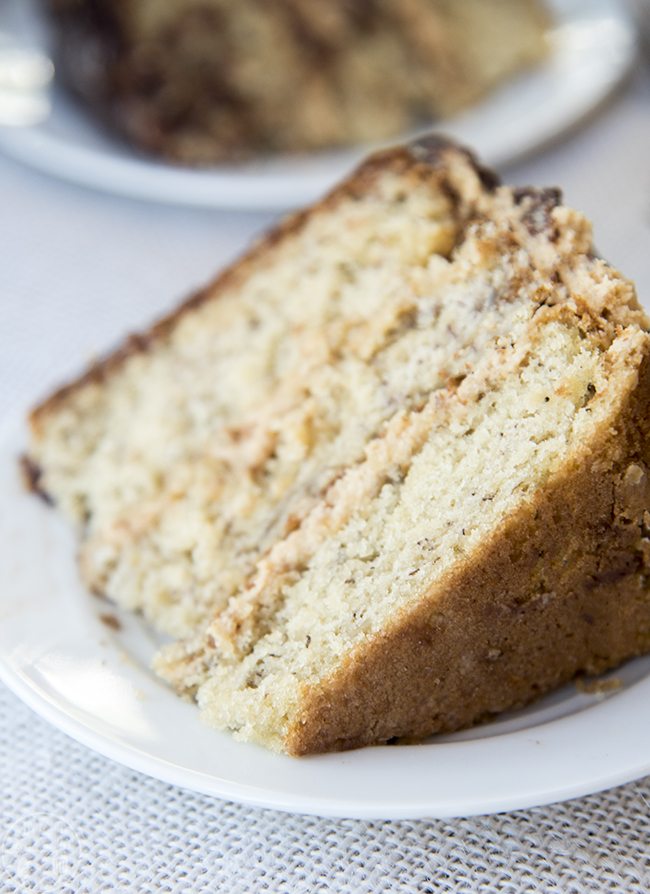 This banana cake is adapted from this recipe on Cookies and Cups. Although I can't compare much, I will say this is the best banana cake I've ever had. I decided to do a peanut butter frosting on top, and mostly because I'm really bad at decorating a Chocolate Ganache to cover most of my blemishes too. And let me tell you, the combo was amazing.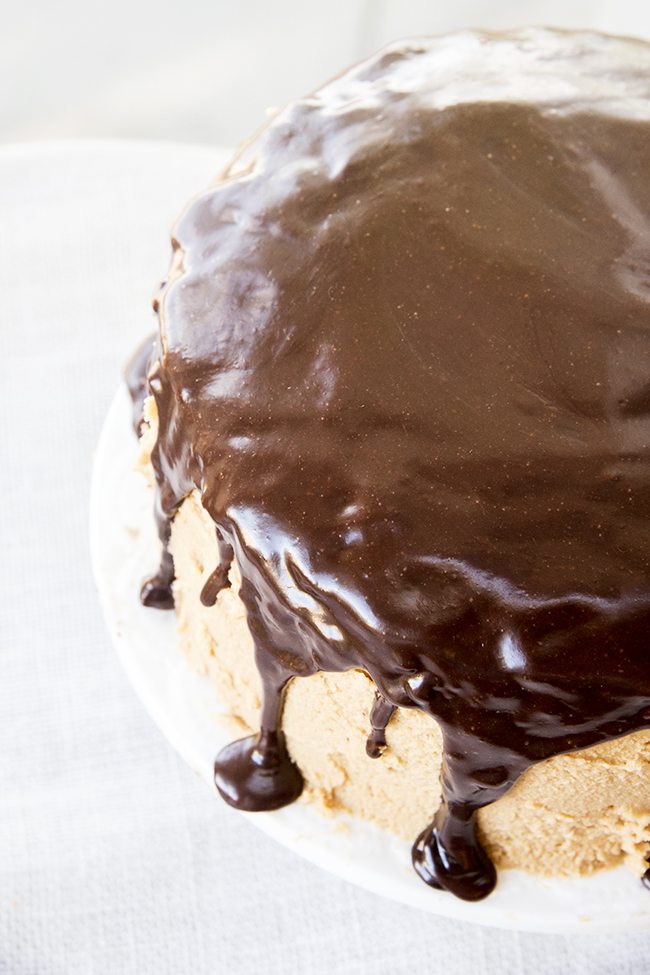 Everyone loved this cake, and some even went back for seconds (even with banana splits, hot dogs, chips, and fruit salad already in their bellies). The banana, peanut butter and chocolate combination is one of my favorites, and this cake was one of the best ways to have it!
Banana Cake with Peanut Butter Frosting and Chocolate Ganache
Ingredients
For the Banana Cake:
⅔ cup softened butter (1½ squares)
1 cup brown sugar
1 cup white sugar
3 large eggs
1 TBS vanilla extract
½ tsp salt
1½ tsp baking soda
3 cups flour
1½ cups buttermilk**
1½ cups mashed bananas (1½ to 3 ripe bananas)
For the Peanut Butter Frosting:
2 cups creamy peanut butter
¾ cups softened butter (1½ cubes)
4 cups powdered sugar
½ cup milk
1 tsp salt
1 tsp vanilla
For the Chocolate Ganache:
2 TBS sugar
6 TBS milk
2 TBS butter
6 oz chopped semi sweet baking chocolate bar
2 TBS corn syrup
Instructions
Preheat the oven to 325 degrees.
Coat 3 8 or 9 inch cake pans with nonstick spray and flour (9 in pans will be thinner, and can be cooked in 2 layers instead of 3 if preferred)
In a large bowl, beat together the butter, brown sugar and white sugar until light and creamy for about 2 minutes.
Add in the eggs and vanilla and mix in.
In another bowl, combine the salt, baking soda and flour.
Alternate adding the flour and the buttermilk into the mix, starting with the flour, milk, flour, milk, flour. Scrape the sides of the bowl as needed to incorporate everything.
Stir in the bananas until just fully mixed.
Divide the batter evenly between the pans. Bake for 30-40 minutes, rotating pans half way through, until a toothpick comes out clean.
Allow to cool for 20 minutes in the pans, before removing to a wire rack to cool completely.
For the Frosting:
In a large bowl combine the peanut butter and butter until smooth.
Mix in the powdered sugar, milk, salt and vanilla and whip for 2-3 minutes until the frosting is light and smooth. Add more milk or more powdered sugar to the frosting if needed to get a nice spreadable consistency.
Place one layer of cake on a stand, cover the top with peanut butter frosting. Repeat with remaining layers of cake.
Cover sides completely with frosting.
For the Chocolate Ganache:
Heat the sugar, milk, and butter in a small sauce pan over medium heat until the sugar is dissolved.
Put the chocolate pieces and corn syrup in a small bowl.
Pour the milk mixture over the top. Allow to sit for 2 minutes.
Whisk until smooth.
Allow to sit for about 15 minutes to thicken a little then drizzle evenly over the top of the cake to cover.
Notes
**You can make your own buttermilk with 1½ cups of milk and 2 TBS lemon juice combined in a bowl and set aside for a few minutes till milk curdles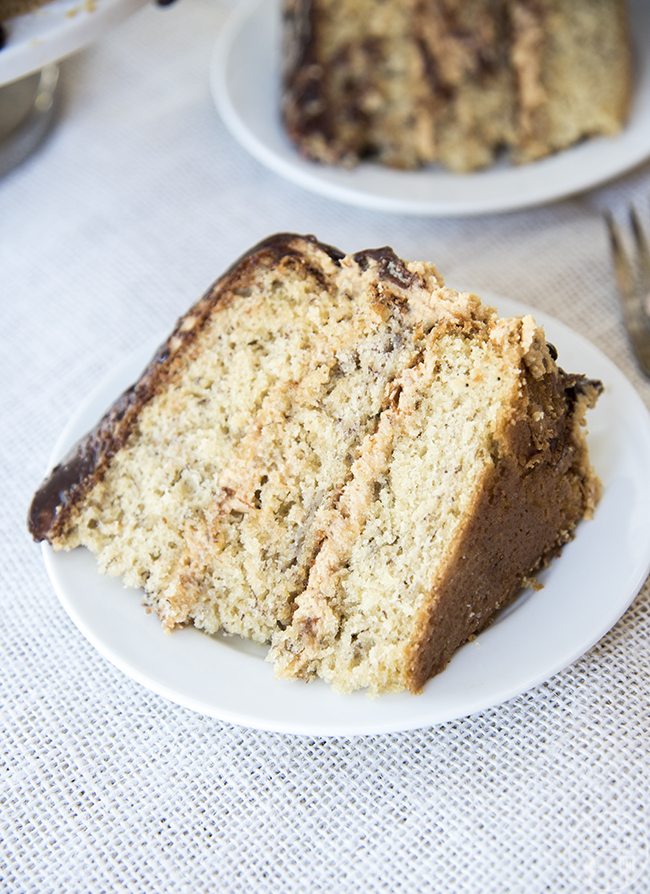 For more banana recipes, try these:
Cinnamon sugar crusted banana bread