Welcome to #cookieweek my little cookie monsters! Susan of The Girl In The Little Red Kitchen and Kim of Cravings of a Lunatic have joined together this week with 23 of their blog friends to present to you a week of cookie treats and that includes us! We have every type of cookie you can think of listed this week, including something for our furry friends! Now is the time to bookmark these recipes for the upcoming holidays and cookie swaps!  Make sure you also enter the giveaway with 4 fabulous prizes from KitchenAid, King Arthur Flour, OXO, Silpat and Zulka Pure Cane Sugar to help with all your cookie making needs!
We have an amazing  giveaway lined up this week thanks to our fabulous sponsors,KitchenAid, OXO, King Arthur Flour, Silpat and Zulka Pure Cane Sugar.  
Four lucky winners will win one of the following:
Prize #1: 1 (one) KitchenAid 9-Speed Hand Mixer plus 1 (one) 4lb bag of  Zulka Pure Cane Sugar
Prize #2: 1 (one) OXO gift set including the following:  1 (one) 3-in-1 Egg Separator, 1(one) Cookie Press, 1(one) Autumn Cookie Disk Set, 1(one) 3 piece Cookie Cutter Set, 1(one) Bowl Scraper, 1(one) 2 Cup Adjustable Measuring Cups
Prize #3: 1 (one) King Arthur Flour gift set including the following: 1(one) King Arthur Unbleached All Purpose Flour -5lb bag, 1(one) Snowflake Cookie Cutter Set, 1(one) King Arthur Flour Pure Vanilla Extract, 1(one) Sparkling Sugar Collection, 1(one) Semi-Sweet Chocolate Wafers – 16oz and 1(one) 4lb bag of Zulka Pure Cane Sugar
Prize #4: 1 (one) Silpat Halfsize Mat and 1(one) 4lb bag Zulka Pure Cane Sugar
This giveaway is open to US residents from November 11, 2013 through November 16, 2013 11:59pm EST and will be picked from random draw.  The winners will be notified via email and have 72 hours to respond, if not their prize is forfeited and another winner will be chosen.
How to Enter:
Mandatory Entry: Leave a comment with  your favorite cookie to bake during the holidays or for cookie swaps.
Many more ways to enter in the rafflecopter widget!
A little about our awesome sponsors: The iconic Kitchenaid stand mixer was born in 1919, from there stemmed an entire kitchen of  high-performance appliances -all created with the same attention to detail and quality. OXO's mission is dedicated to providing innovative consumer products that make everyday living easier. King Arthur Flour was founded in 1790, as America's oldest flour company they provided pure, high-quality flour to residents of the newly formed U.S., still going strong, they are the nation's premier baking resource. Silpat was founded in 1965 by M Guy Demarle in Northern France.  He was an experience baker seeing a better way to bake bread with forms using non-stick silicone coatings.  He invented the first non-stick baguete baking trays and a few  years later invented  and created the original Silpat. Zulka Pure Cane Sugar is a Non GMO Project Verified "Morena" sugar – a term used to described granulated sugars that do not undergo conventional refining processes.  Zulka is perfect for baking, it tastes better, is less processed and is a cup for cup replacement.
** KitchenAid, OXO, King Arthur Flour, Silpat and Zulka Pure Cane are providing the prizes free of charge.  All opinions stated are my own.
Now onto this delicious recipe. Today I am sharing a recipe to some delicious caramel apple cider cookies. The recipe was inspired from What's Cooking with Ruthie and adapted by me. I have also adapted the recipe based on a couple changes I made after I photographed the cookies (so my cookies are pretty flat but yours shouldn't be if you chill the dough).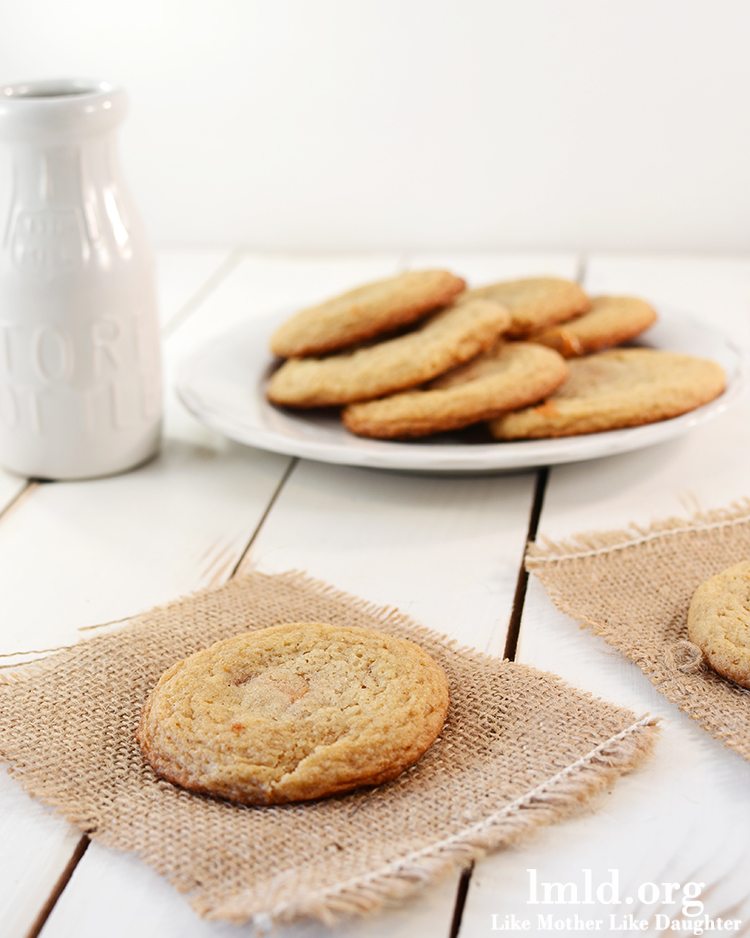 These cookies have a great cinnamon spice cider flavor with a little bit of apple flavor, plus with caramel in the middle making them like a combo of apple cider, caramel apples and those green caramel apple suckers.
Caramel Apple Cider Cookies
Ingredients
1 cup butter (2 sticks), softened
1 cup sugar
1 tsp vanilla
2 eggs
1 TBS apple juice concentrate, warmed
7 packets of Apple Cider Instant Drink from a 7.4 (10 packet) box
1 tsp baking soda
½ tsp baking powder
½ tsp cinnamon
3 cups and 2 TBS flour
14 oz caramels
Instructions
Combine sugar and butter in a large bowl. Cream together till well mixed.
Add in vanilla, eggs and apple juice concentrate and stir into the mixture.
Add baking soda, baking powder, cinnamon, flour and apple cider mix and fold into the batter.
Refrigerate mixture for about 30 minutes.
Preheat oven to 350 degrees. Unwrap all your caramels. Line a cookie sheet with parchment or a silpat liner.
Take about 1 TBS of cookie dough into your hand and flatten it.
Put a caramel in the middle of the dough and roll the dough into a ball around the caramel.
Place on prepared cookie sheet about 2 inches apart.
Bake for about 12 minutes until edges start to turn golden.
When cookies are done remove parchment or liner from pan and place on counter top.
Allow cookies to cool partially.
When cookies are a little harder remove from parchment paper. If caramel is still soft, just flip the cookies upside down in their spots.
Enjoy these fall cookies warm. (If they get cold zap them in the microwave for a few seconds before eating so the caramel is gooey again)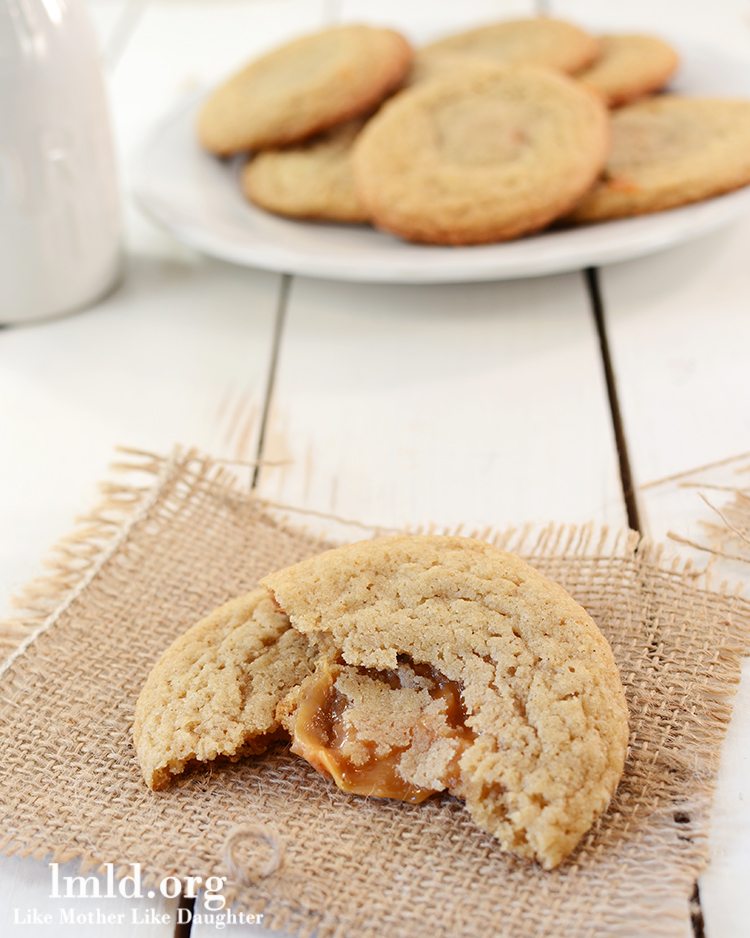 And now go ahead and enter our awesome Rafflecopter giveaway!
And for even more coookie week fun, here are 21 other delicious cookie recipes to help you with your holiday baking!