A delicious cereal bar with a gooey peanut butter marshmallow coating and full of chocolate chips for a delicious dessert or snack!
**This shop has been compensated by Collective Bias, Inc. and its advertiser. All opinions are mine alone. #AwakenYourTastebuds #CollectiveBias
These chocolate chip fluffernutter Cheerio Bars are ooey gooey marshmallow peanut butter bars stuffed full of chocolate chips too. A perfect treat the whole family will love!
Pin these Chocolate Chip Fluffernutter Cheerio Bars for Later.
Nate and I have been watching some of the old  Star Wars™ movies in preparation for the new movie that comes out next month! I am so excited, we've already bought our tickets! We planned it out that we have to watch one movie a week to be able to watch all 6 of the old movies, so we are on the 3rd one now.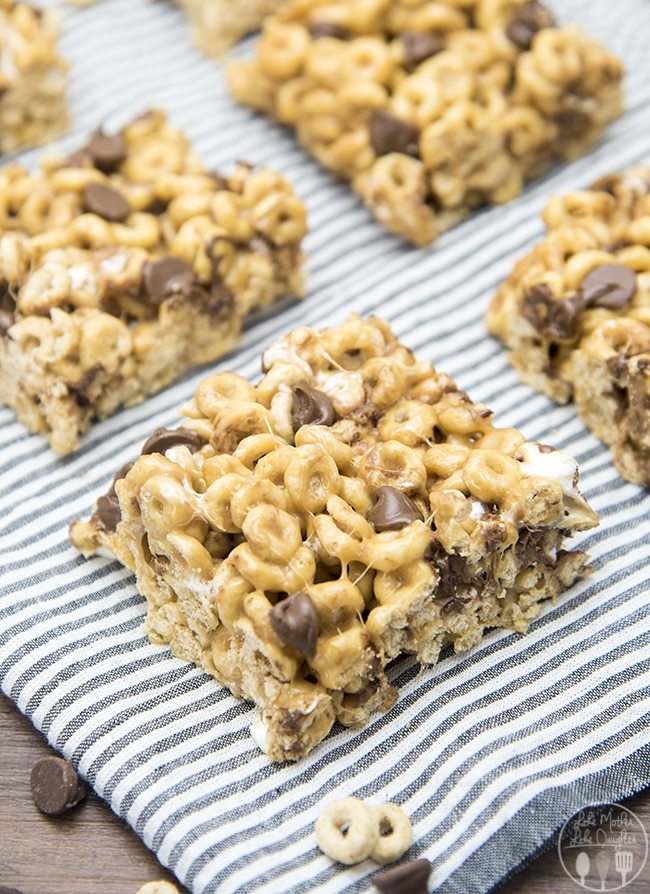 I grew up loving the old  Star Wars™ movies, so I hope that one day this is a tradition we will be able to pass along to Colby as well! He just needs to grow up a few years before it'll be his turn.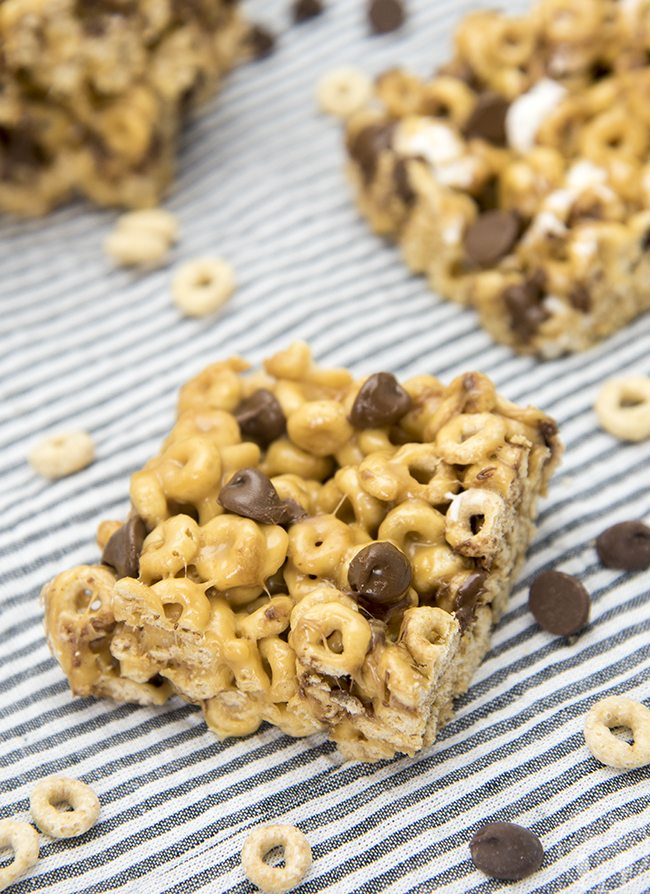 To celebrate the new movie coming out, General Mills has paired with  Star Wars™ to make their cereal boxes so much fun! I just knew I had to grab a couple boxes from Walmart so that we could snack on some  Star Wars™ Honey Nut Cheerios® while watching the movies. I also made these chocolate chip fluffernutter Cheerio bars which were the perfect treat for watching the movie this week. And we all loved them! (Plus it comes with a fun Star Wars™ toy!)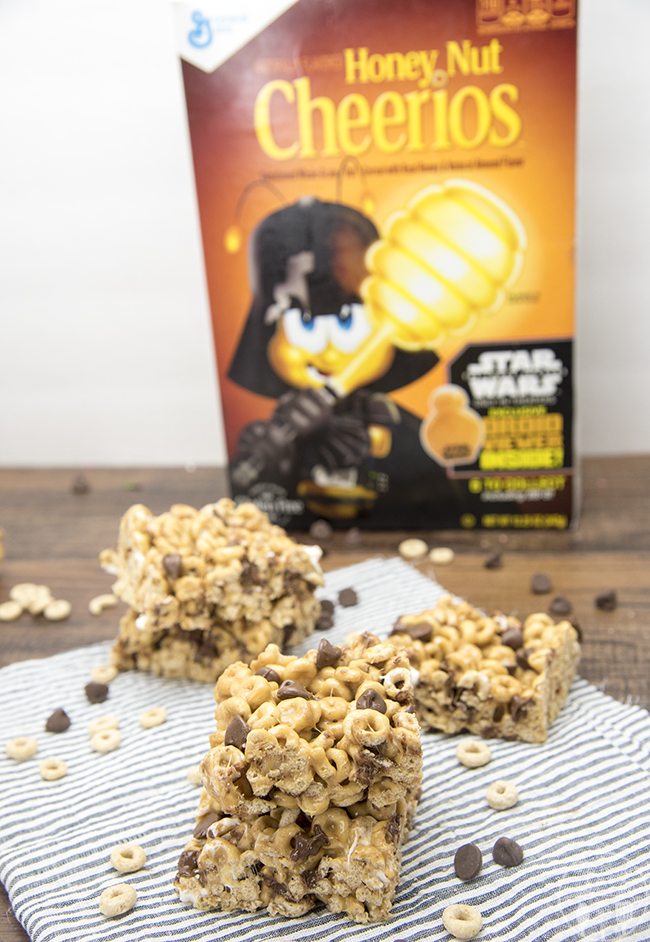 These cereal bars are made with Honey Nut Cheerios®, butter, marshmallows, peanut butter and chocolate chips.
You'll need to melt your butter, then add in your marshmallows till they melt, and then stir in your peanut butter till smooth. Fold your cheerios, and half of the chocolate chips in with the fluffernutter mixture and press into a 9×13 pan. Press the rest of the chocolate chips onto the top of the bars and allow to set. Slice up and serve!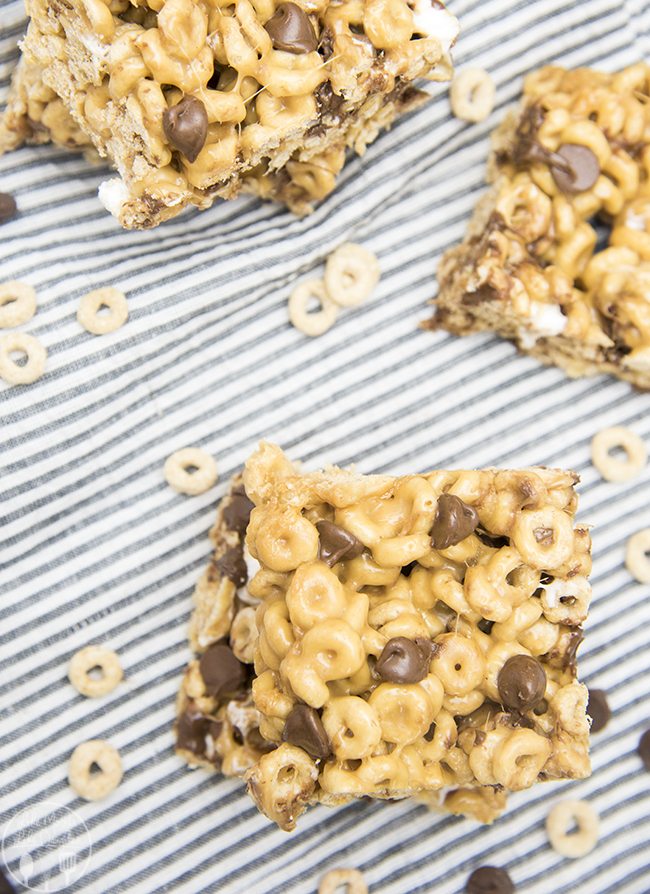 These cereal bars are perfectly marshmallowey, peanut buttery and chocolatey. Easy to make and oh so delicious!

Chocolate Chip Fluffernutter Cheerio Bars
Ingredients
2 TBS butter
1 10 oz bag mini marshmallows
½ cup peanut butter
5 cups Honey Nut Cheerios®
½ cup chocolate chips
Instructions
Melt your butter in a large sauce pan over medium heat.
Add in your marshmallows and stir till melted.
Mix in your peanut butter completely.
Stir in your Honey Nut Cheerios® until they are completely coated in mixture.
Fold in ¼ cup of your chocolate chips.
Press mixture into a 9x13 pan.
Press remaining chocolate chips on top of bars.
Allow to set.
Slice and serve.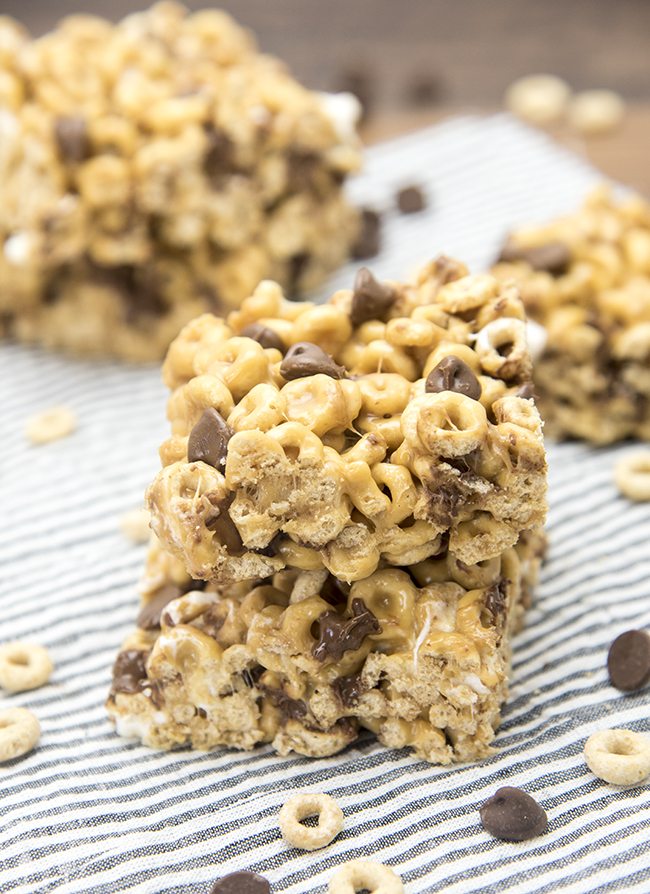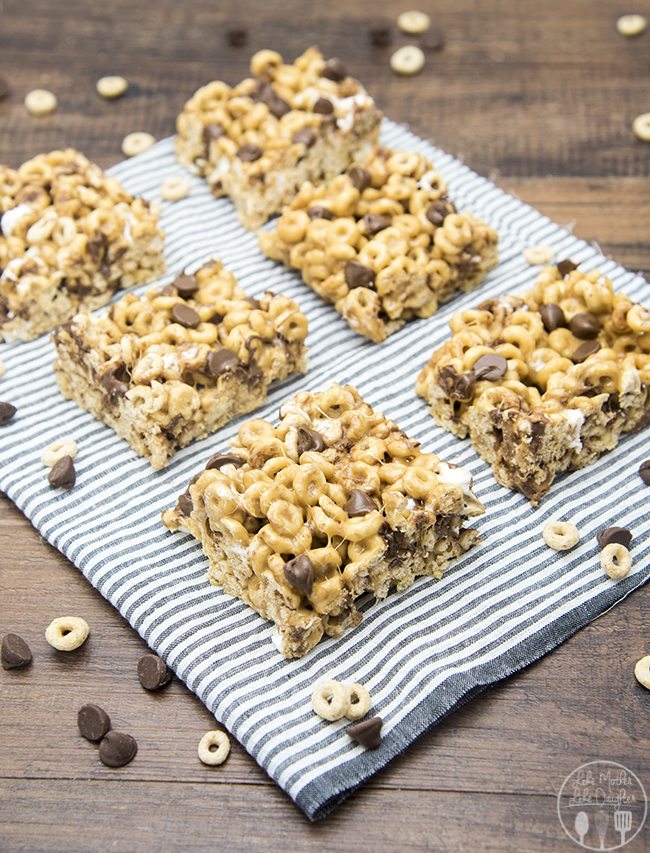 You can grab Star Wars™ Honey Nut Cheerios® and Star Wars™ Go-Gurt at your local Walmart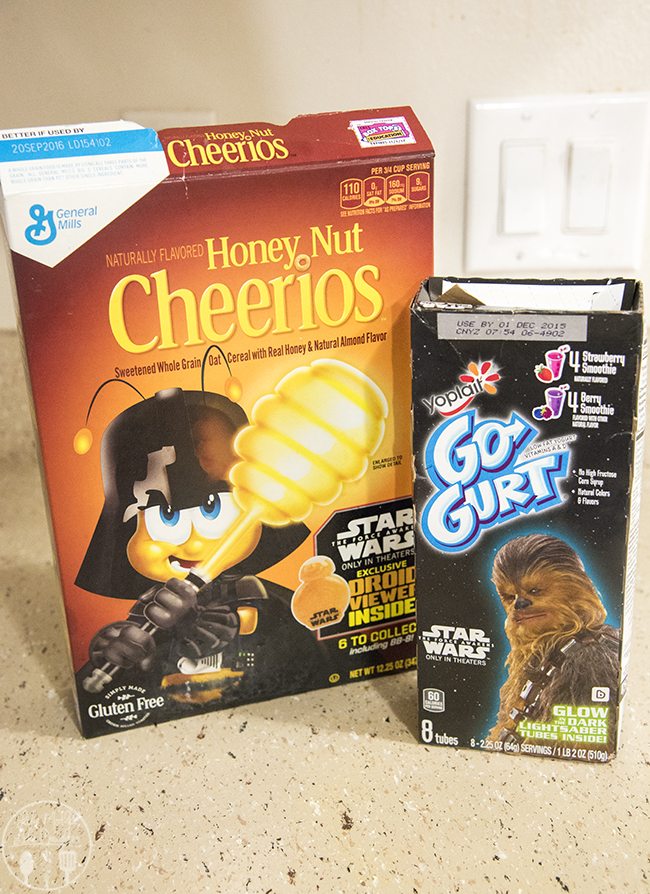 Are you excited for the new Star Wars™ movie?  How about the Star Wars™ Honey Nut Cheerios®? Tell me why in the comments!