This creamy chicken enchilada soup is packed full of flavors with black beans, shredded chicken, corn, diced tomatoes and more for a creamy and delicious, comforting bowl of soup that everyone will love!
Pin this Creamy Chicken Enchilada Soup for later!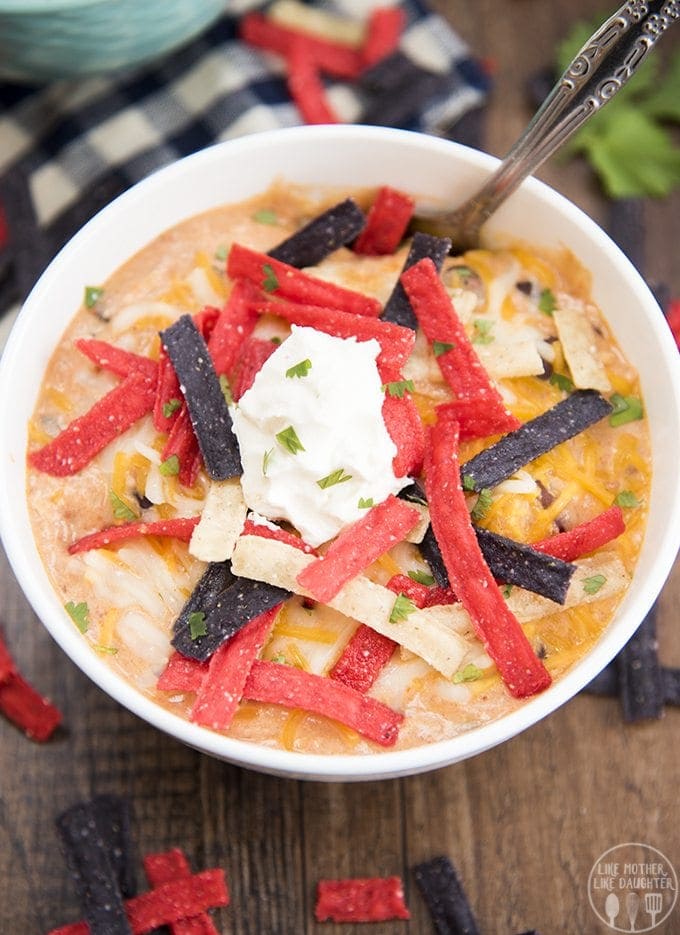 Our slow cooker chicken enchilada soup has quickly grown to be the most popular recipe on our blog. I totally get it though, because 1 its delicious 2 its so easy (I mean, you pretty much just dump everything into the slow cooker!). A few readers made suggestions of adding in some cream cheese to the mix, and I knew it was a genius idea, so I made this alternative creamy chicken enchilada soup and it is so delicious!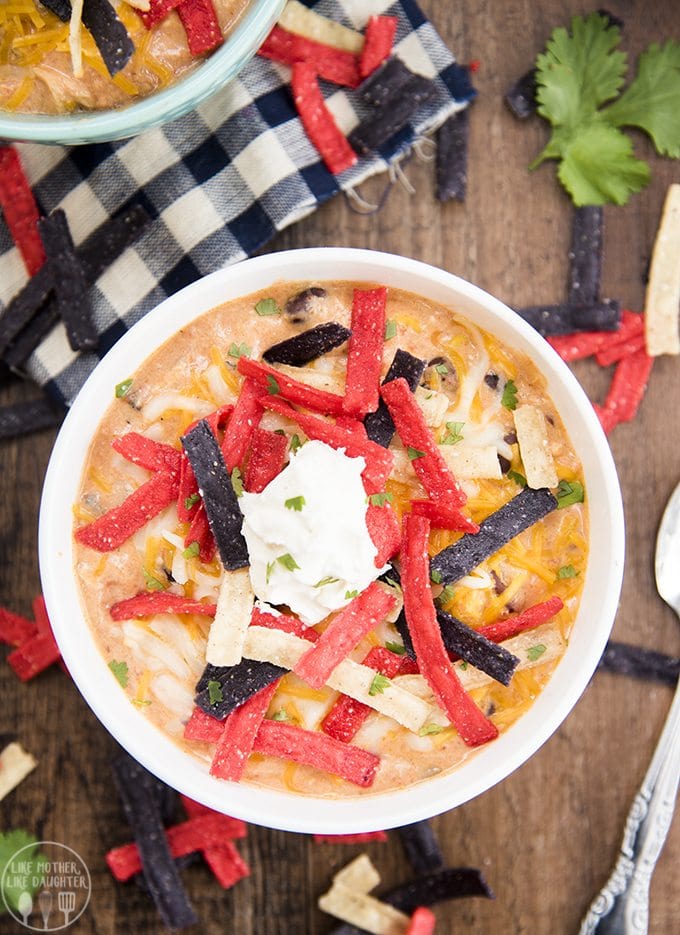 This soup is packed full of flavor with enchilada sauce, black beans, corn, diced green chiles and more yummy ingredients with hardly any work involved. Its made creamy with the addition of cream cheese and a little shredded cheese at the end and I promise you with those additions its even more tasty than the original. You can make this soup on the stove top, like I've done or in the slow cooker if you want to set it and forget it for a few hours (just make sure its on high when you add in the cheeses at the end so they can melt throughout).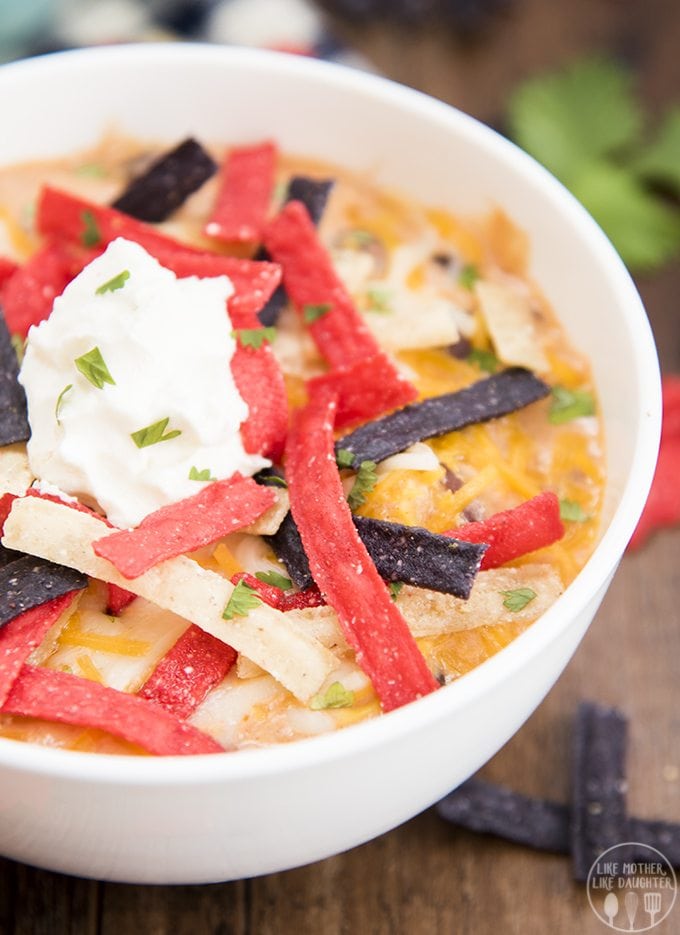 Now, to make the soup the best it can possibly be, its all about the toppings. My favorites are shredded cheddar cheese, sour cream and tortilla strips. The cheddar cheese and sour cream just melt into the soup making it even more cheesy and creamy than before, and the tortilla strips soften up a bit when added to the soup that they thicken it up some, or you can scoop it up with tortilla chips as you eat it, which is my other favorite. You can also add some chopped cilantro, and diced green onions to pack in a little more flavor.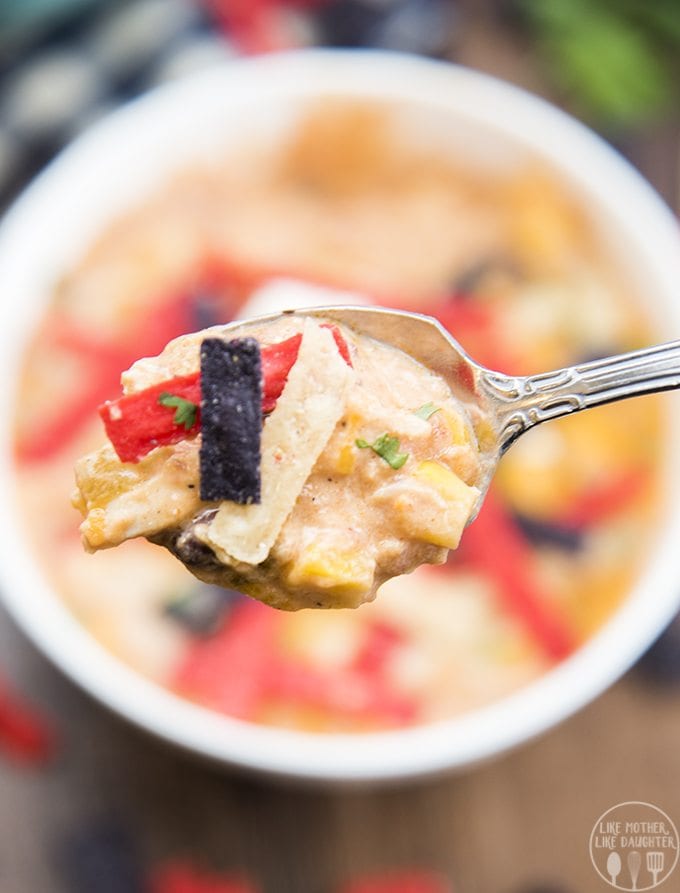 Creamy Chicken Enchilada Soup
Ingredients
For the Soup:
2-3 large chicken breasts, raw and thawed
1 10oz can red enchilada sauce
1 14oz can black beans, rinsed and drained
1 14oz can corn, drained
1 4oz can diced green chiles
1 14oz can diced tomatoes, with juices
2 cups chicken broth or stock (or about 1 14oz can)
1 TBS minced garlic
1 tsp salt
1 TBS taco seasoning
1 8oz block cream cheese
½ cup shredded mozzarella cheese
Toppings:
shredded mozzarella or cheddar cheese
cilantro
tortilla strips, or tortilla chips
avocado
diced green onion
Instructions
Pour all ingredients except the cream cheese and mozzarella into a large pot heated over medium high heat on the stove top.
Allow to cook for about 30 minutes, or until chicken is cooked through.
Remove chicken from pot and shred in a bowl using 2 forks. Return to pot.
Cut the cream cheese into small cubes and add them and the shredded mozzarella cheese to the pot.
Stir well until the cream cheese has melted completely into the soup.
Serve topped with sour cream, shredded cheese, tortilla strips, etc.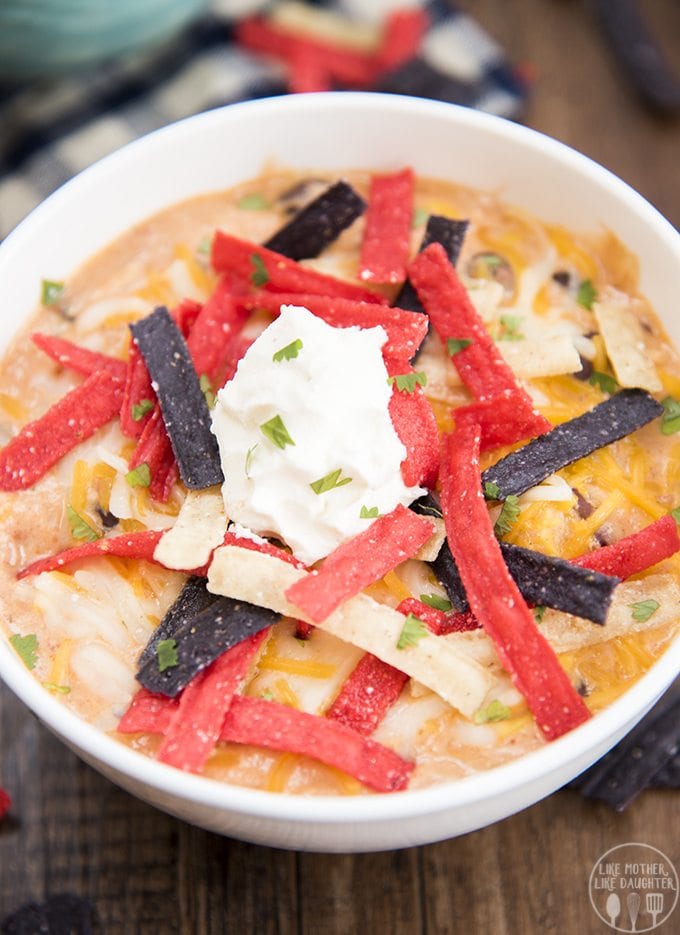 If you like this soup, you might also like these:
Slow Cooker Chicken Enchilada Soup