So you guys know how much I love boxed brownies right? Well I've been working on adding our own pictures to our "15 ways to Jazz Up Boxed Brownies" post and a new post with 15 MORE ways to Jazz Up Boxed Brownies and so I've been buying lots of brownie mixes, and trying out new things. Well one thing lead to another and I made some brownie cookies, which were delicious, by the way – like a yummy brownie in easy to eat cookie form. But I decided to make them even more delicious with a couple variations, and along came these mint brownie cookies!
They're simple brownie cookies that start with a brownie mix base, and a couple additional ingredients. And then topped with an amazing minty frosting. Yum right?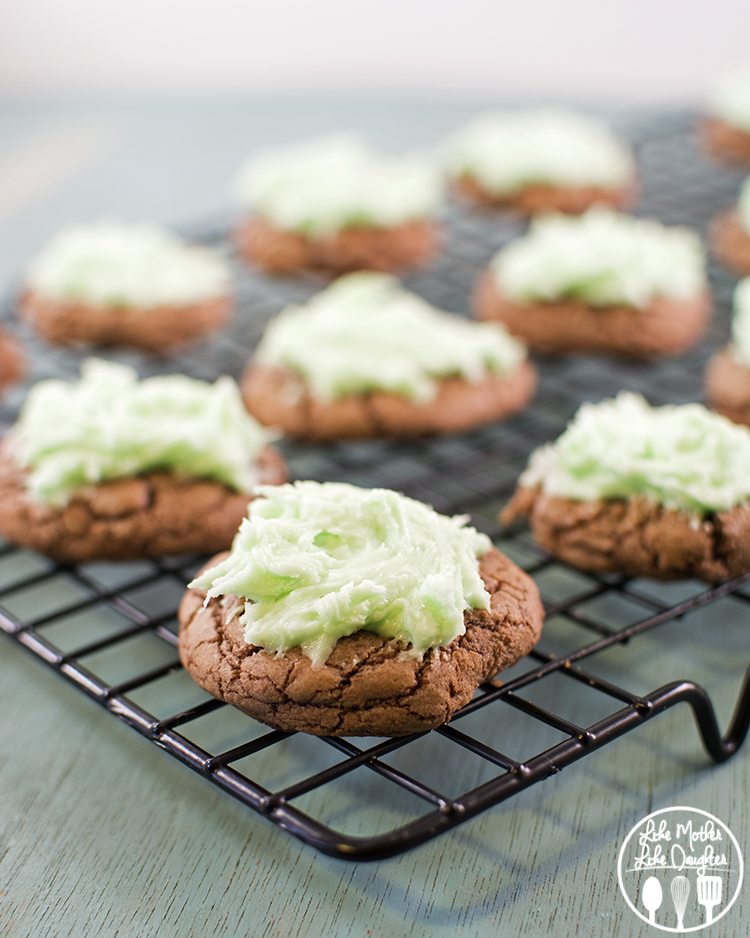 Mint Brownie Cookies
Ingredients
1 box brownie mix
4 oz softened cream cheese (1/2 block)
¼ cup softened butter (1/2 stick)
1 egg
For the Mint Frosting:
6 TBS softened butter (3/4 stick)
1½ cups powdered sugar
1-2 TBS half and half
¼ tsp peppermint extract
1 drop green food coloring
1 sprinkle of salt
Instructions
Preheat your oven to 350 degrees.
Combine your brownie mix, cream cheese, butter, and egg in a large mixing bowl. (Batter will be sticky)
Roll batter into balls about 1 and ½ TBS each.
Place each batter ball onto a lined baking sheet. Slightly press balls down to flatten.
Bake in oven for 12-14 minutes until tops are crinkly.
Let cookies cool for a couple minutes on pan before moving them to a cooling rack to cool completely.
Mix together all frosting ingredients in a medium sized bowl till combined.
Roughly frost the tops of each cookie.
Enjoy the delicious combination of chocolate and mint in these mint brownie cookies!
You might like these recipes too: