These no bake monster cookie bites are a delicious treat with the same great taste of monster cookies, with no flour, eggs, or white sugar. They're perfect for a quick snack when you need something sweet!
Pin these monster cookie granola bar bites for later!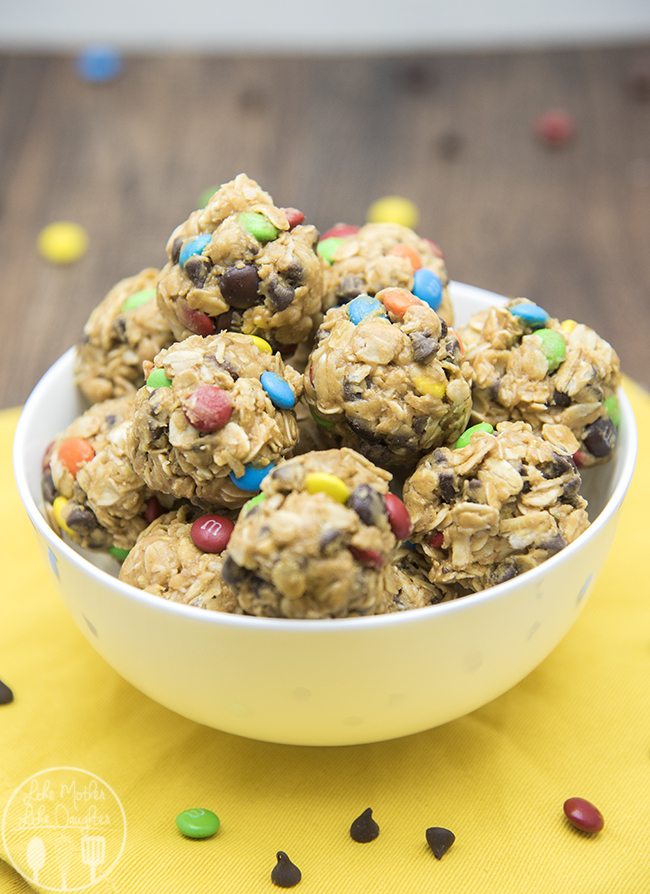 Its back to school season, and even though I don't have any kids (or a husband or me!) in school this year I'm still reminiscing my back to school times. When I was younger I always loved going to the store with my mom to buy new school supplies, new notebooks, folder and pencils. Everything was so fresh. Well, I'm starting a fresh start on something else – I'm finally exercising again! I know its not January, so it may be a weird time to make resolutions but with a 15 month old its finally time to work on getting my body back to being as healthy as I can be.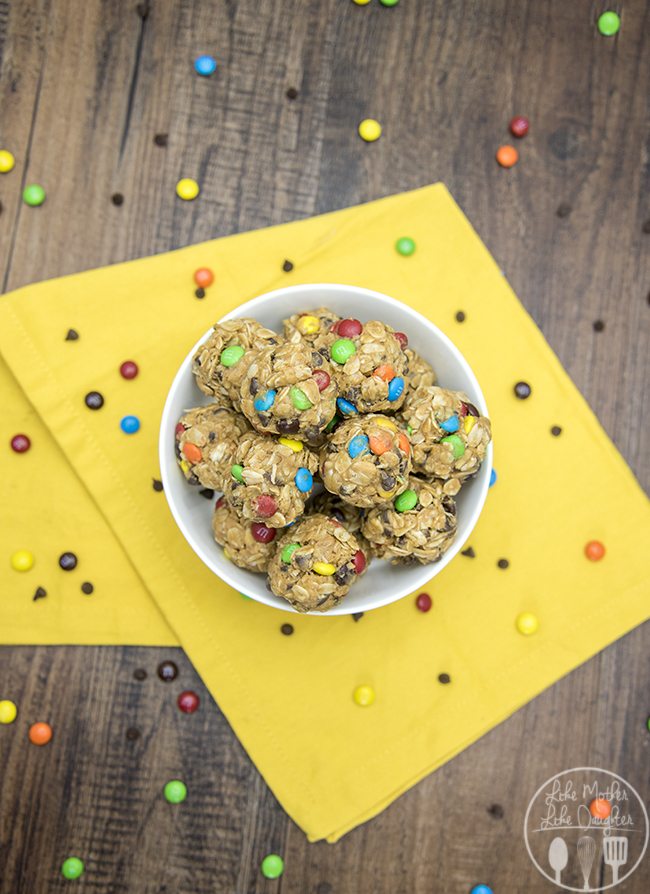 About a month before I got pregnant with Colby I ran a half marathon. When I got pregnant I pretty much stopped running and exercising completely and ate too much food and gained too much weight. Anyway, I had a healthy baby so I am grateful and blessed for that. Anyway, since he was born I've probably ran 4 or 5 times total. So yeah, its time to get back into it – and last week after Colby was asleep I got out and ran 1 mile! And today while he napped I ran 2 miles on our treadmill. Wahoo! My goal is to run twice a week, hopefully at least 1 or 2 miles at a time for now, and eventually longer and more often. Hope you'll help keep me accountable!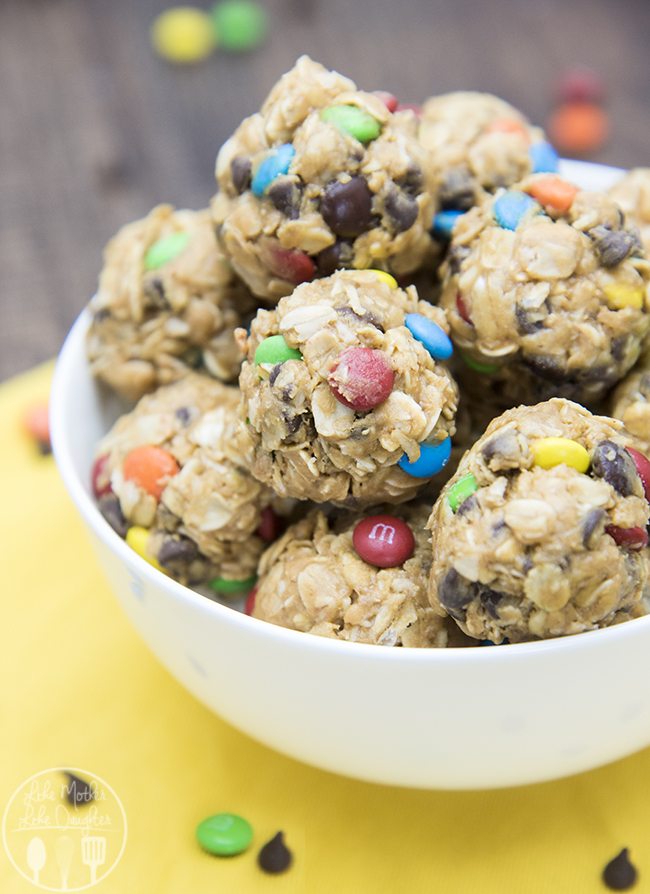 But back to the point of this post, these no bake monster cookie granola bar bites are the perfect after running snack. Now, I almost always am craving sweets, so these little monster cookie bites are the perfect solution. These cookie bites have no eggs, no flour and no white sugar so I at least feel like they're a little bit healthier than just grabbing a cookie or handful of chocolate chips.
I got the idea for these bites from my friend Maegan over at The Baker Mama, but altered my no bake granola bar bites for the recipe and they turned out great! They are so good, the trick is going to be controlling myself to just eat one or two when I have a sweet craving and need a little energy instead of 5 or 6.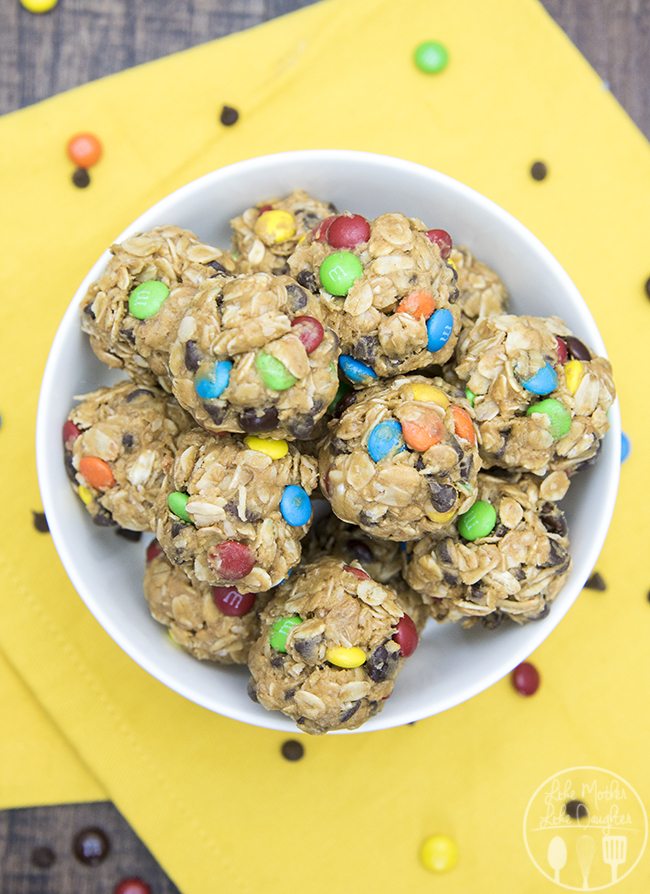 No Bake Monster Cookie Granola Bar Bites
Ingredients
1¼ cups old fashioned oats
½ cup creamy peanut butter
¼ cup honey
⅓ cup mini m&ms
⅓ cup mini chocolate chips
Instructions
Dump all your ingredients into a medium sized bowl.
Stir well for a few minutes until everything is combined and oats and chocolate pieces are coated with wet ingredients.
Roll mixture into small balls (about 1 - 1 and ½ inches in size) carefully. (Wash your hands occasionally to prevent mixture from sticking to them too much)
Place bites on a cookie sheet lined with parchment paper.
Allow to set in the fridge till solid.
Store in fridge in an airtight container or ziplock bag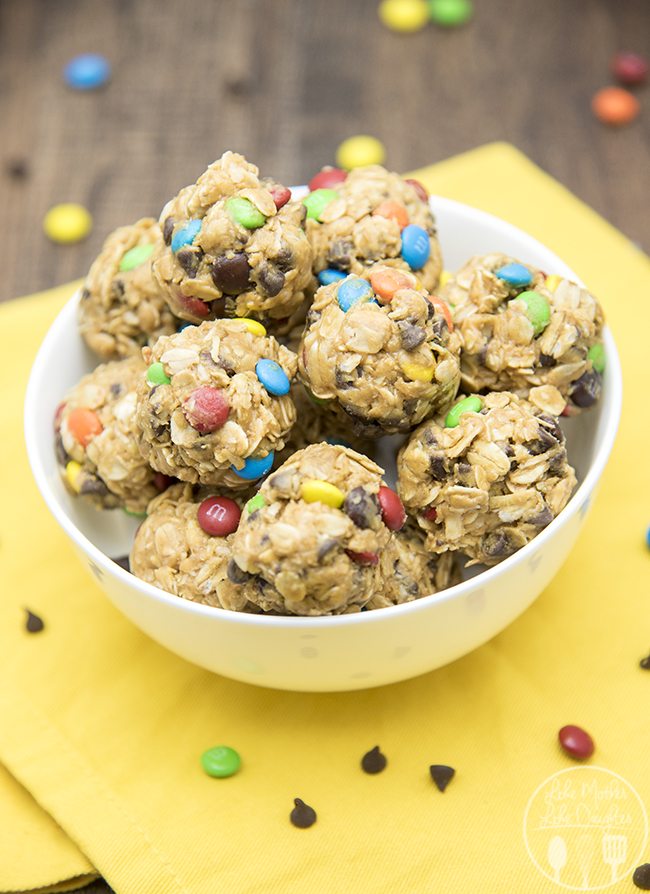 MAKE THESE AMAZING MONSTER COOKIE GRANOLA BITES WITH THESE GREAT KITCHEN TOOLS AND INGREDIENTS:
You might also like these other granola bar and bites recipes: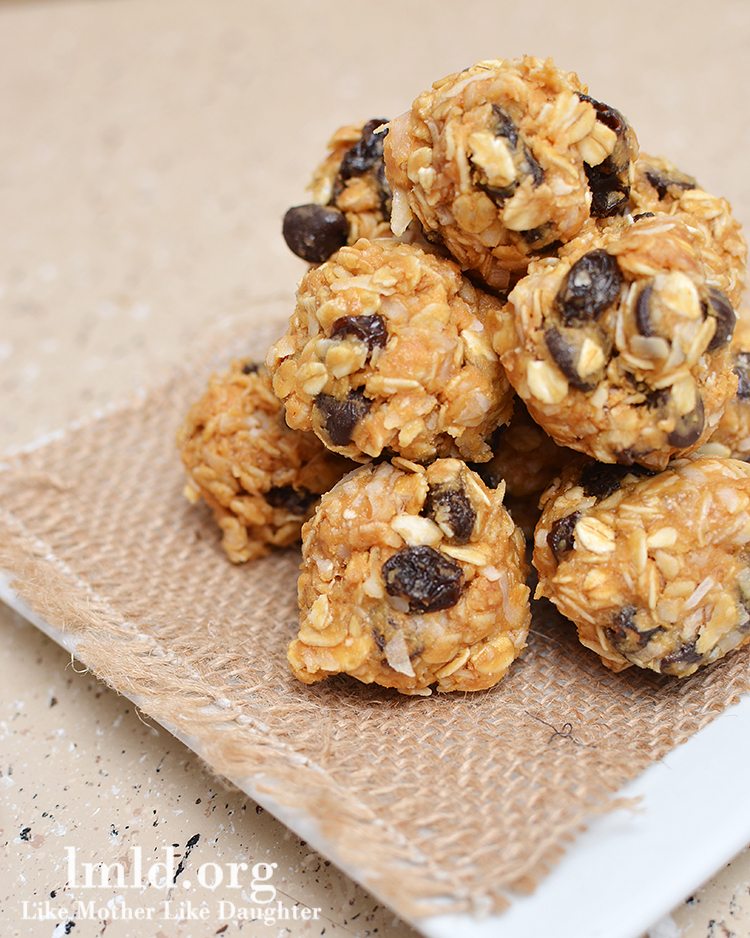 White Chocolate and Cranberry Granola Bars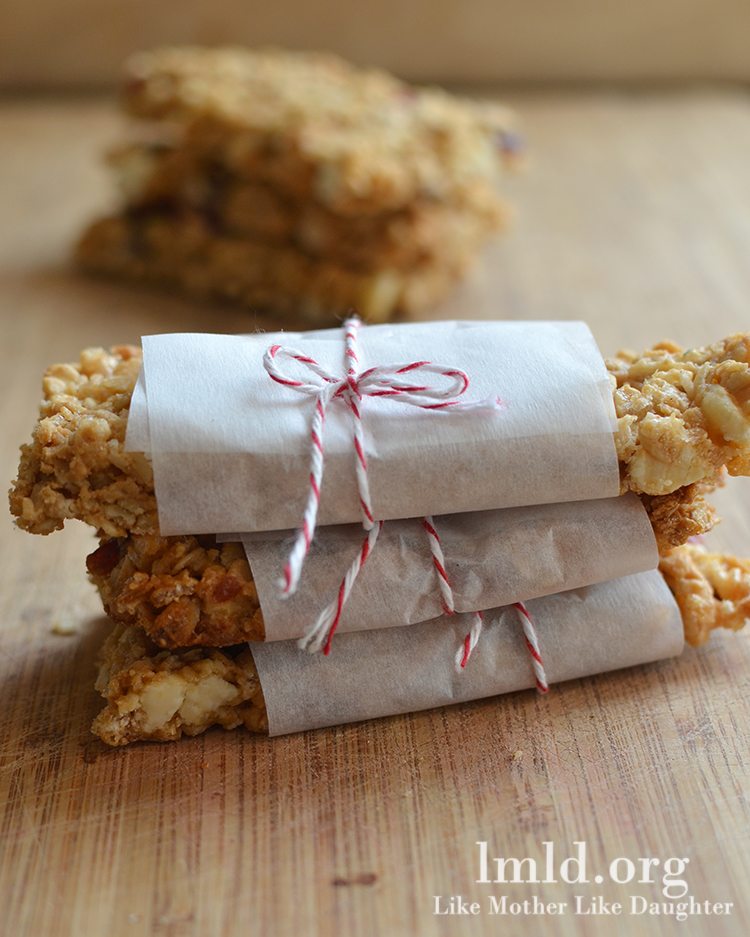 Peanut Butter and Honey Bunches of Oats Granola Bars