This no churn mint cookies and cream ice cream is a homemade ice cream that you can make without an ice cream maker for a fun twist on two favorite ice cream flavors! Creamy mint ice cream packed full of chocolate cookie chunks. 
Pin this mint cookies and cream ice cream for later!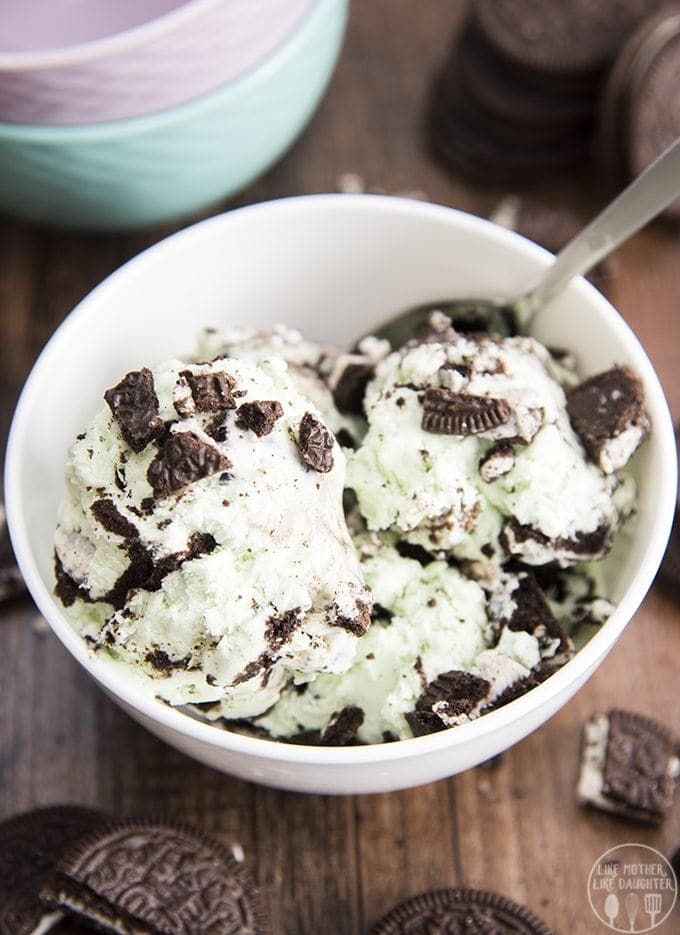 I can never pick a favorite ice cream flavor. I have like 10 that are probably on my favorite ice cream flavors list. You've got cookies and cream, cookie dough, peanut butter cup, strawberry cheesecake, salted caramel, mint chocolate chip, butter pecan… I could keep going here 😉
The point is, this mint cookies and cream ice cream combines two of my favorite, and dare I say, the best ice cream flavors there are with a little bit of mint ice cream, and chocolate cookie chunks throughout.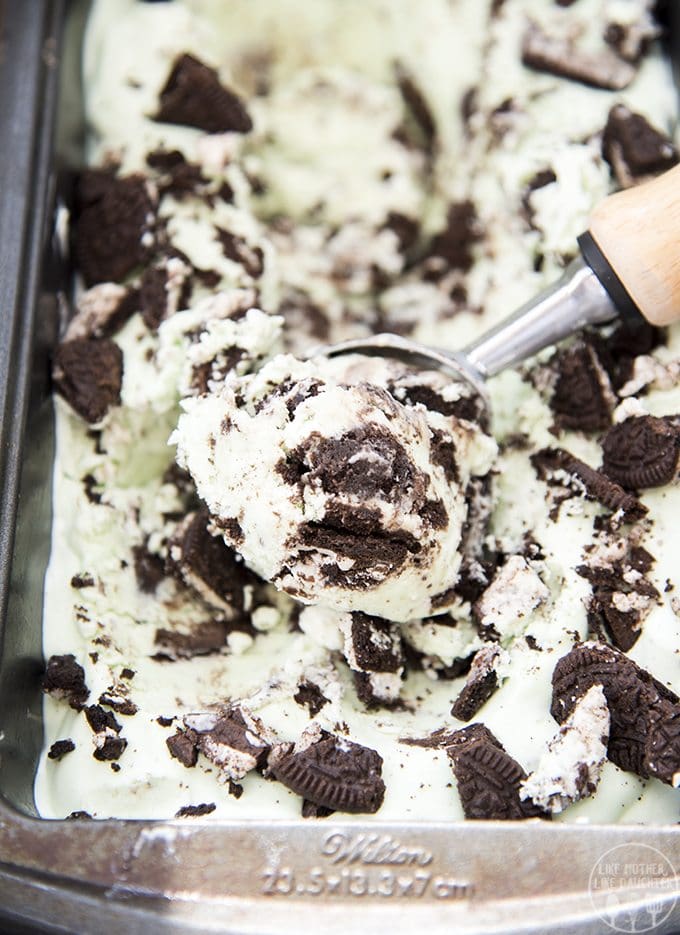 Plus, this ice cream is made without an ice cream maker, so you can have delicious and creamy homemade ice cream even if you don't have an ice cream maker. But you won't even miss it, this ice cream tastes just as good as any mint ice cream you'd get from the store!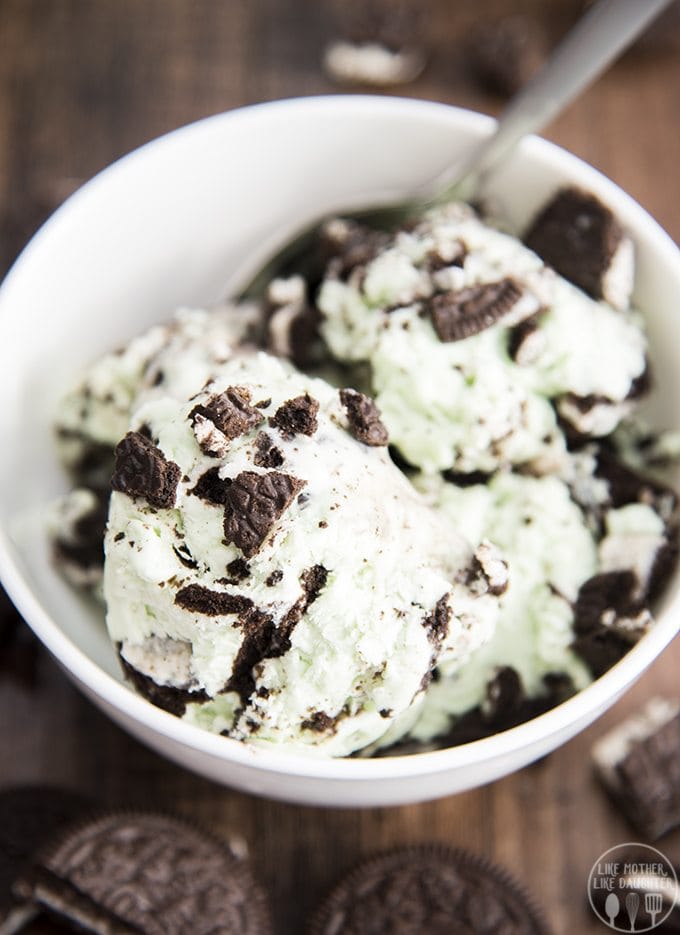 All you need to make this ice cream are a few pantry and fridge ingredients. I just barely altered my mint chocolate chip ice cream recipe for this one, since it was already so delicious.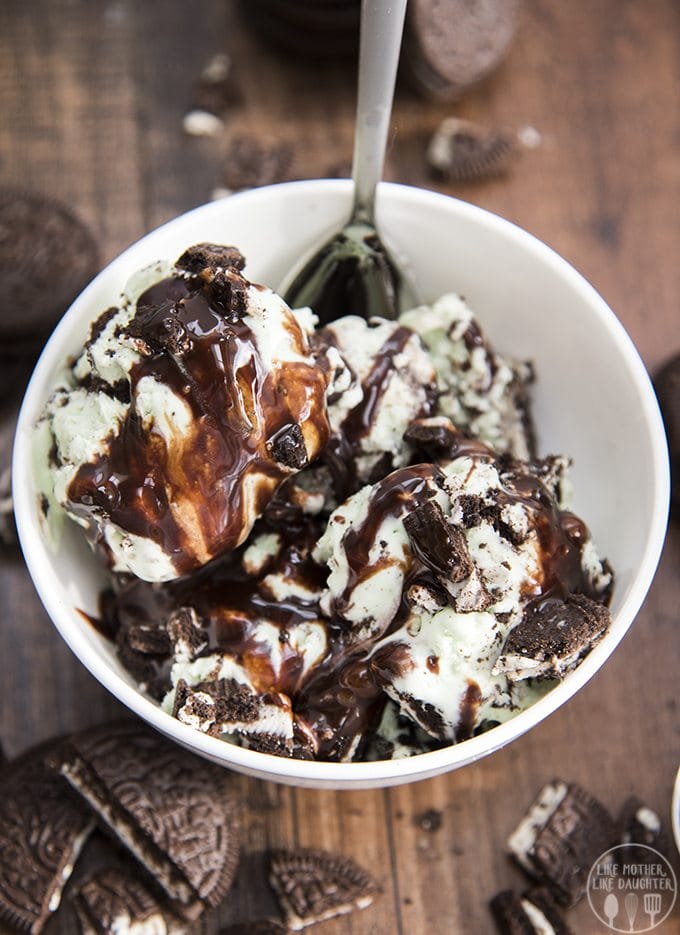 For this one, you'll need heavy whipping cream, sweetened condensed milk, peppermint extract, green food coloring (which is totally optional, you can leave it white if you want), and Oreo cookies. It takes just a few minutes of prep and then a few hours of waiting while your ice cream freezes and voila. Delicious homemade mint cookies and cream ice cream.
No Churn Mint Cookies and Cream Ice Cream
Ingredients
2 cups heavy cream
1 14oz can sweetened condensed milk
½ tsp peppermint extract
3 drops green food coloring
1½ cups chopped chocolate cream cookies
Instructions
In a large mixing bowl, whip your heavy cream over high speed until stiff peaks start to form.
In another bowl, combine your sweetened condensed milk, peppermint extract, and food coloring.
Scoop your whipped cream into your sweetened condensed milk mixture, and top with your chopped chocolate cookies.
Fold everything together till combined.
Pour mixture into a 3 QT pan (a bread pan works great) and cover tightly.
Place in the freezer for 6 hours, up to overnight, and scoop and serve.