Who can pass up this colorful, delectable vegetable rainbow pizza?  You have probably seen this rainbow pizza popping up all over pinterest, I did and could not resist making one.  I mean pizza has to be the best way to deliver your healthy veggies to your mouth and tummy. 

Pin this rainbow veggie pizza for later!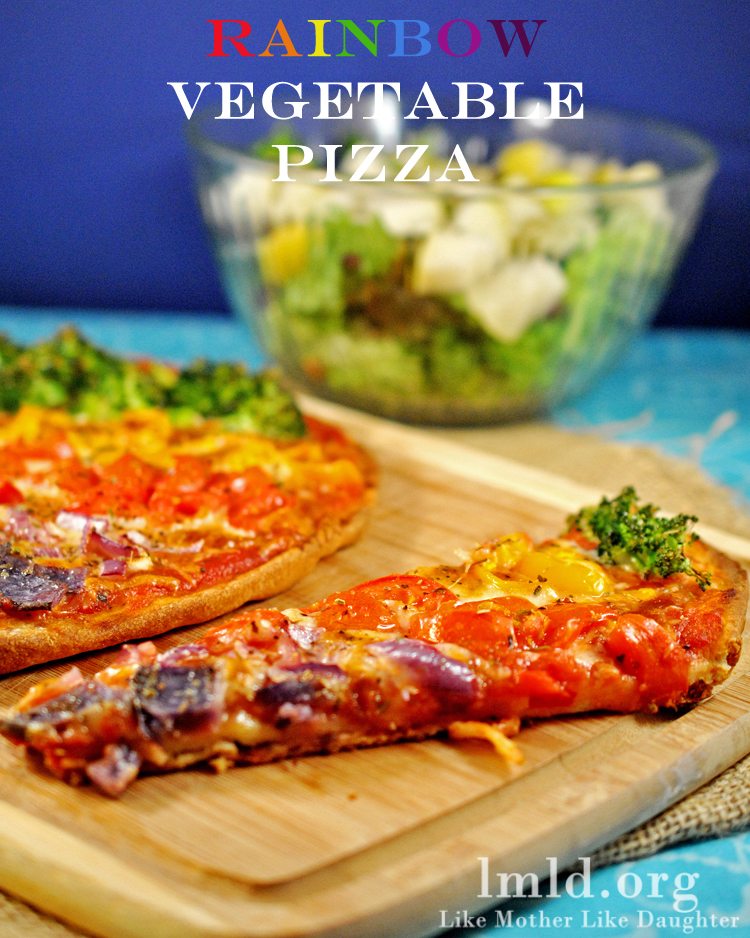 With a refrigerator full of vegetables and naan flatbread in my freezer, I was ready to prepare this easy meal.  Yes, you can freeze naan bread – the package I purchased had 4 and Craig and I can only eat 1 at a time, so freezing is perfect – and the flatbread thaws out quickly.  And if you are one of those super organized people who cut up their vegetables as soon as they bring them home from the market, this is easier than you can even imagine.  But if you are like me, then you will probably have to take a little time in preparing your veggies but minimum time.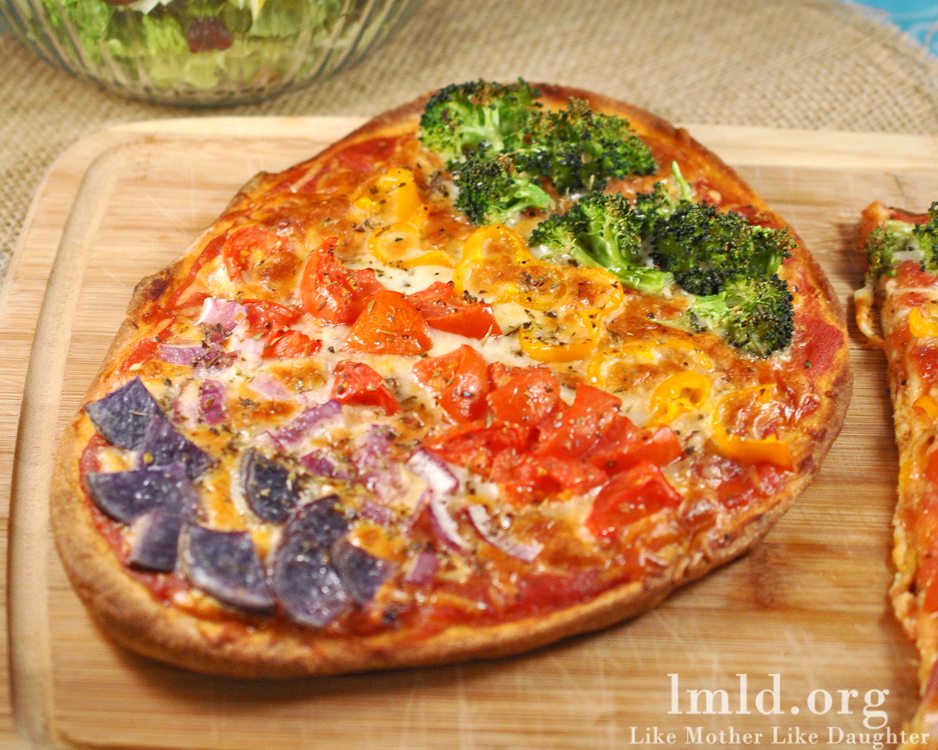 I prepared this with my own homemade sauce but feel free to use your favorite pizza sauce.
After making this rainbow pizza, I am pretty sure I could eat any pizza put before me because pizza is just downright GOOD! I originally saw this idea for a  recipe at Gimme Some Oven
Rainbow Pizza
Ingredients
2 naan flatbreads
1 - 8oz can tomato sauce
1 tsp dried oregano
2 tsp dried Italian seasonings (divided)
½ tsp garlic salt
1 tsp dried basil
1½ to 2 cups mozzarella cheese (grated)
¼ cup each:
purple potatoes (scrubbed and diced)
red onion (diced)
broccoli (cut bite size)
grape tomatoes (diced)
orange bell pepper (diced)
yellow bell pepper (diced)
Instructions
In a small saucepan pour your tomato sauce and add the oregano, basil, garlic salt, and half the Italian seasoning
Bring to a simmer over medium heat and then lower to low to keep warm
Preheat your oven to 425 degrees
Place your naan flatbread on a cookie sheet
Spread your warm pizza sauce all over both flatbreads
Sprinkle with the grated mozzarella
Place your vegetables in rows to present a rainbow look (see pictures)
Spray with a mist oil olive
Sprinkle the other 1 tsp of Italian seasoning over the top
Place in 425 degree oven and bake for 20 minutes until purple potatoes are done
Let cool for a few minutes before cutting and eating (baked tomatoes can easily burn your mouth)
Enjoy this delicious colorful and vegetarian pizza!