I know I've been sharing a few amazing no churn ice cream recipes with you guys lately, but this salted caramel pecan ice cream starts with a custard base and requires an ice cream maker instead, because its just so perfectly creamy and so delicious.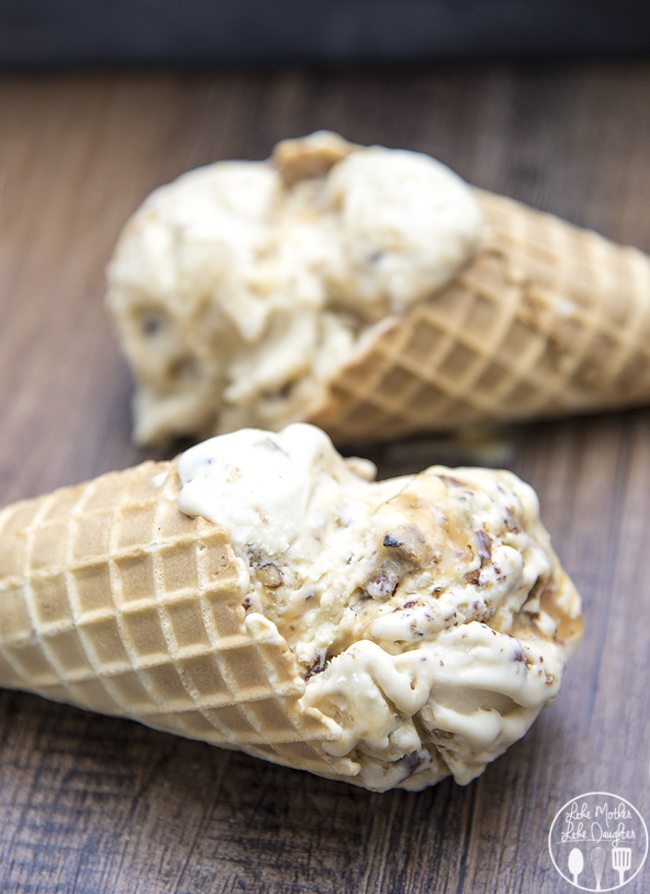 I found this recipe for salted caramel ice cream with fudge and toasted coconut from Taste and Tell and just knew I had to try my own version. Instead of fudge and coconut, I just stuck with a salted caramel ice cream, swirled with salted caramel and with chunks of toasted pecans throughout. I added a little vanilla to the ice cream base, and stuck with my own salted caramel sauce recipe.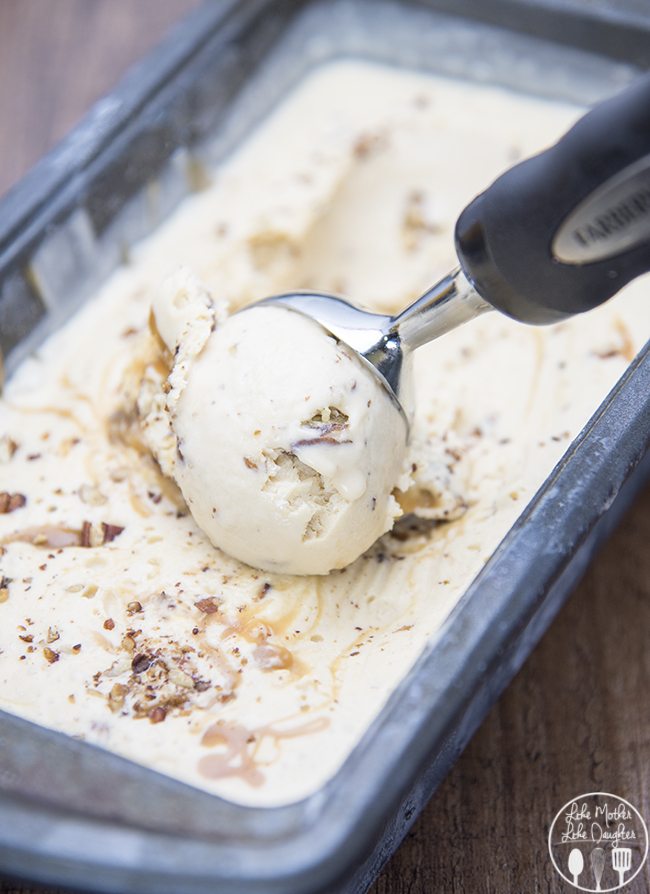 This may be my new favorite ice cream ever. And I'm so happy to share with you a giveaway for your very own ice cream maker so that you can make this ice cream at home too.
Actually we've got a giveaway for you AND a friend to win your own ice cream maker. It doesn't get better than that.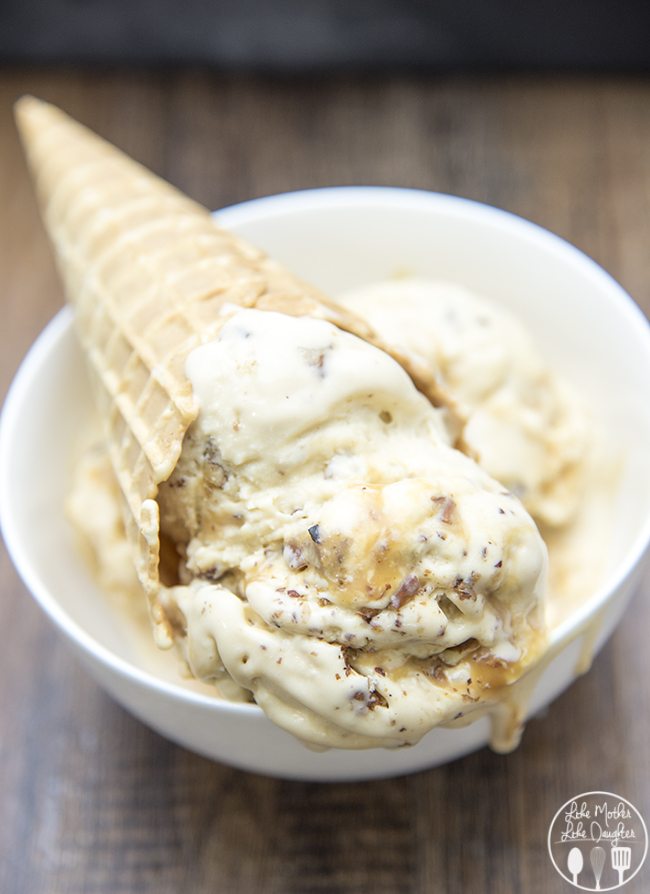 So this ice cream is perfectly caramely. The ice cream itself has caramel mixed into it to make it rich and caramel flavored, with swirls of caramel and with crunchy pecans through out. I just can't believe how delicious it turned out, really.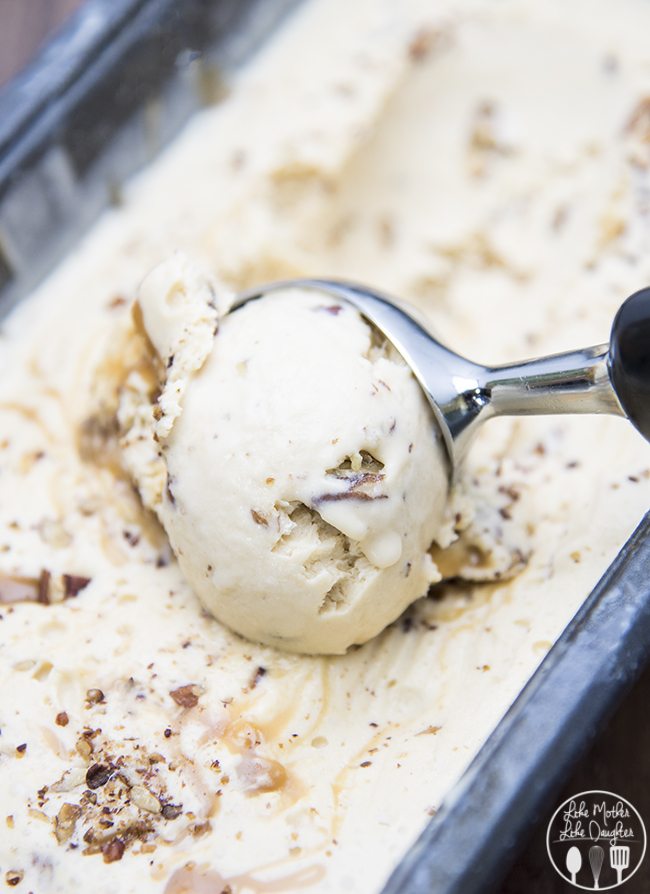 This post contains affiliate links.

Salted Caramel Pecan Ice Cream
Ingredients
For the Salted Caramel Sauce:
1 cup white sugar
6 TBS butter, softened and cut into 6 pieces
½ cup heavy cream
1 tsp salt
1 tsp vanilla
For the Custard:
2 cups heavy cream
1 cup whole milk
¾ cup sugar
⅛ tsp salt
1 tsp vanilla
5 egg yolks
For the Pecans:
Instructions
For the Salted Caramel Sauce:
Measure out all the ingredients for your salted caramel sauce and set them aside. Add your white sugar to a medium sauce pan and heat over medium high heat.
Stir constantly with a rubber spatula or wooden spoon. Sugar will form into little crumps and then eventually into an amber colored liquid. Keep stirring.
Once the sugar is melted add in your butter pieces. Stir them into the caramel until they are completely melted.
Slowly pour in your heavy cream. Allow the mixture to boil for 1 minute while stirring.
Remove from heat and pour in your salt and vanilla.
Divide your caramel into 2 and set half aside and put half in the fridge for later.
For the Custard:
In a large sauce pan, combine your heavy cream, milk, sugar, salt and vanilla. Heat over medium high until your mixture starts to bubble.
In a large bowl, whisk your egg yolks.
Slowly pour ½ cup of your cream mixture into your egg yolks while whisking vigorously. Pour another 1 cup of your cream mixture, ½ cup at a time while whisking the whole time.
Pour the egg mixture back into the sauce pan with the remaining cream mixture and continue to heat for about 5 minutes until the mixture is thickened a bit.
Pour back into the bowl and pour your set aside half of the caramel into the mixture and stir in completely.
Put bowl into an ice bath and allow to set for about 10 minutes, stirring occasionally.
Toast your pecans in a saute pan over medium heat for about 5 minutes, stirring the whole time.
Cover bowl and place it in the fridge for about 2 hours, up to overnight.
Once chilled, pour the mixture into your ice cream maker along with your pecans and allow to run according to manufactures instructions (about 30 minutes).
Pour about ⅓ of your custard into a 9x5 loaf pan. Drizzle a third of your caramel sauce. Repeat with another third of the ice cream, a third of the caramel sauce and then the last ice cream and the remaining caramel.
Cover and transfer to the freezer to freeze solid.
Things you might need for this recipe:
And now for the giveaway!!