Craig is our Costco shopper now days.  He started doing almost all the shopping about 15 months ago while I cared for my mom and the responsibility has stuck.  It is pretty easy for him because he passes about 4 Costcos on his drive home from work.  Did I tell you he drives 180 miles daily to work round trip? That adds up to a lot of mileage and a lot of gasoline.  Costco seems to be one of the favored gas stations because of the lower prices.  So on the "fill the gas tank days," he can also run into the store and pick us up some of our favorite snacks or milk or a Costco coupon special.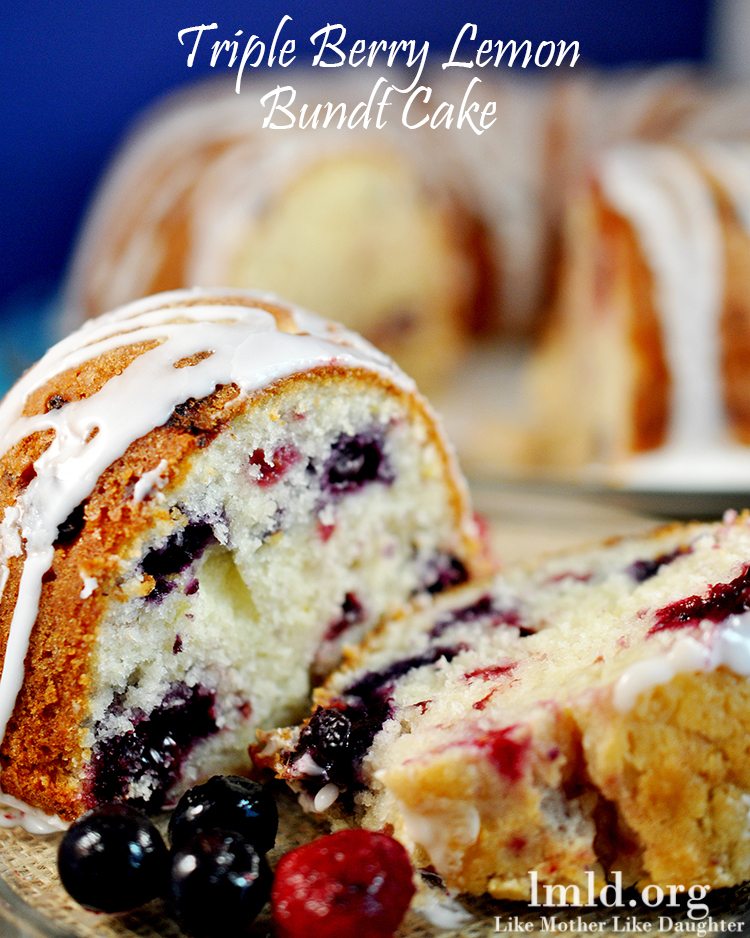 Most often I try to make a weekly or biweekly list, sometimes he will add to the list and this last time he picked up their frozen triple berries bag.  This is a great bag of frozen blackberries, raspberries, and blueberries that you can put into so many enticing recipes.  Already we have made smoothies (a favorite), berry syrup, and this triple berry lemon cake. I think you are going to thank me for this recipe, with all these sweet berries, tart lemon, and Greek yogurt combined, this makes for one very scrumptious bundt cake.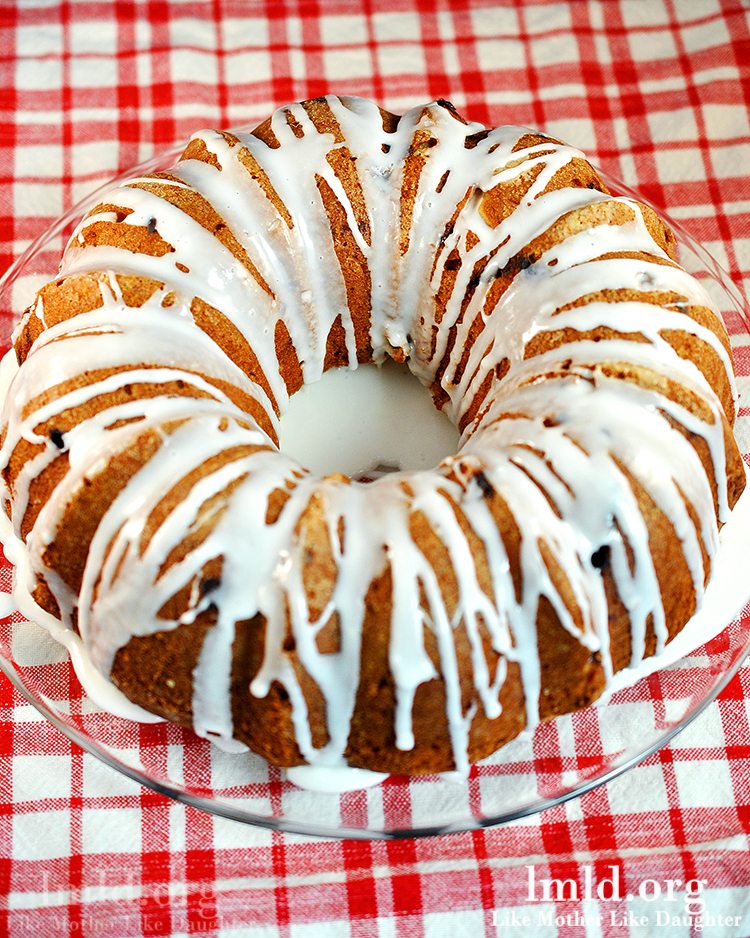 Monday night, our neighbors came over for a treat and a mini FHE (Family Home Evening) lesson.  I thought this triple berry lemon cake would be the perfect yummy dessert to share, and I was right.  The only problem was they did not eat all of it and Craig and I ended up devouring finishing it off ourselves.  The cake became moister and more delectable with each passing day.  So the lesson learned is you might choose to invite more friends over to share this cake with or just enjoy it all to yourself.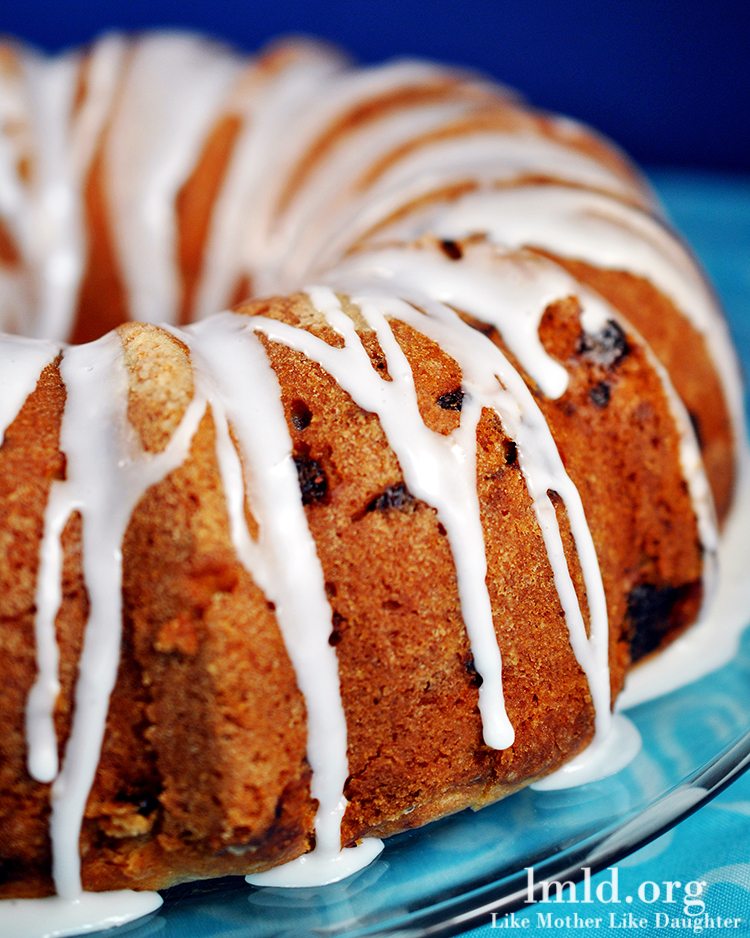 Well, let's get to the recipe shall we.
Triple Berry Lemon Cake
Ingredients
1 cup butter (softened - that is 2 sticks)
2 cups sugar
3 eggs
3 Tbs lemon juice (divided)
zest of 1 lemon
2½ cups all purpose flour
½ tsp baking soda
½ tsp salt
6 oz. plain Greek yogurt
1½ cups frozen triple berries (blackberries, raspberries, blueberries - do not thaw) (you can add up to 1 more cup of berries)
1 cup powdered sugar
1 to 2 Tbs milk (as needed for glaze)
Instructions
Preheat oven to 375 degrees
Grease/butter and flour a 10 inch bundt cake pan
In a medium bowl, put 2¼ cup flour, baking soda, salt, and the lemon zest. Combine.
In another medium bowl, cream together the softened butter and 2 cups of sugar until fluffy
To the butter and sugar mixture beat in 1 egg at a time
Stir in 1 TBS of lemon juice to the butter/sugar/egg mixture
Alternate adding the flour with the yogurt to the creamed mixture, stirring to combine in between each addition (don't over stir)
Toss the berries in the remaining ¼ cup of flour to coat
Gently stir the berries into the cake batter throughout (my batter was very thick)
Pour the cake batter into bundt cake pan and evenly spread throughout the pan
Reduce the oven temperature to 325 degrees, put the cake in and bake for 55 minutes or until a toothpick comes out clean
Cool in the pan about 20 minutes on a cooling rack
After 20 minutes remove cake from the pan (this may take running a butter knife around the edges) and let cool completely on the rack
To make lemon glaze, in a small bowl pour your powdered sugar, add 2 TBS lemon juice and stir - as needed add milk to thin the glaze
Once cake is completely cooled drizzle glaze over the top of it and let the glaze run down the sides
Enjoy the combination of sweet and tart in this delicious cake!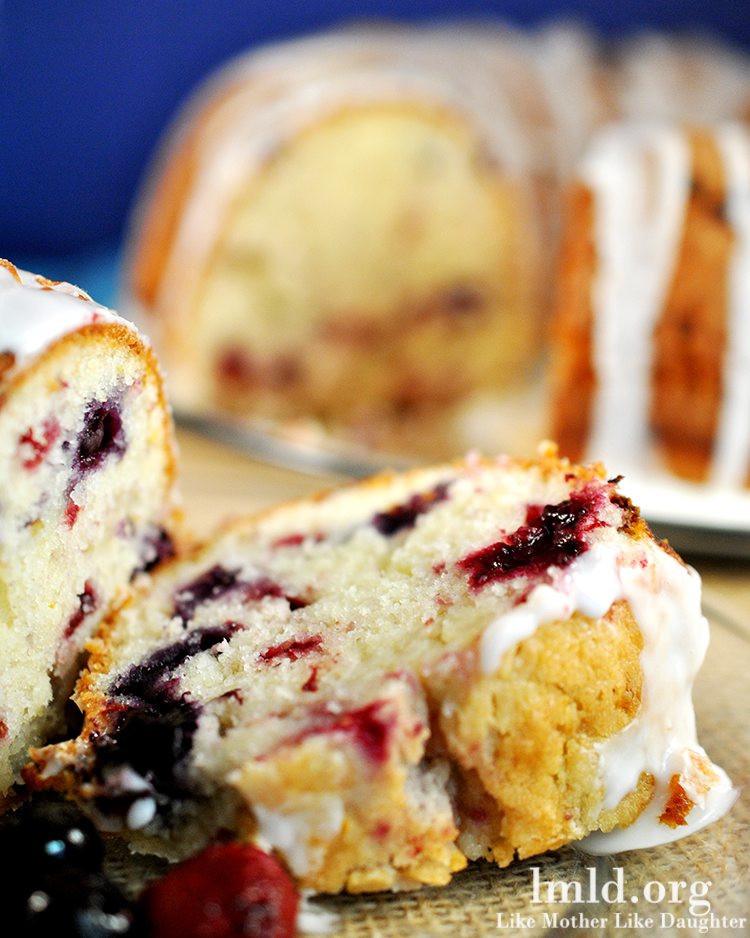 What do you enjoy berries in?