This simple white chicken chili can be cooked in the slow cooker or on the stove top. It is packed full of flavor with shredded chicken, corn, white beans, and more. Top it with tortilla strips, avocado, and cilantro!
Recipe Redo 10/28/15
I first heard of white chicken chili from a friends mom, several years back. This week when I needed to make a chili dish to share at a church event I decided to go back to this delicious white chicken chili recipe. It was as delicious as I remembered and I hope its not as long before I make it again.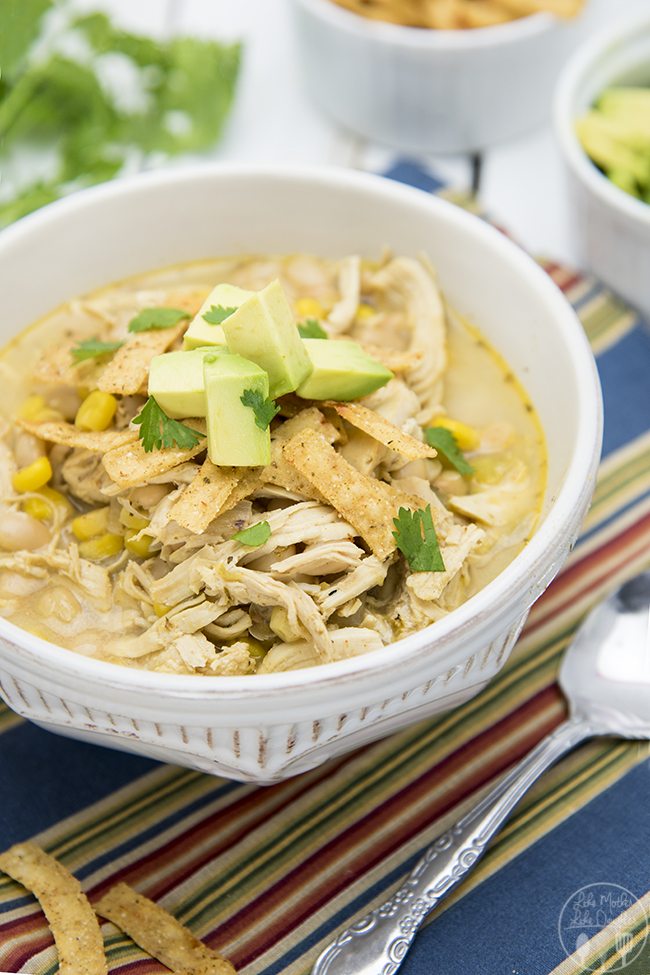 Nate and I both went straight for my chili at the church event because we knew it was delicious and didn't want to take our chances 😉 Plus with only 1/2 cup of cheese and 1/2 cup of sour cream (and I used fat free) mixed in we knew it wouldn't be too unhealthy either.
This white chicken chili is packed full of lots of flavor, and has a bit of a kick – but not too much (if you don't like spice though you can leave the cayenne pepper out, or cut the amount down.) This chili has no tomatoes to make it red, and its also made with white beans – so that's why its a white chili. It also has shredded chicken, corn, onion, diced chiles and chicken broth – along with the cheese and sour cream I mentioned before.
This soup can either be made on the stove top if you're in a hurry or in the slow cooker if you're heading out for the day. If you cook it on the stove you'll want to saute your onion and garlic before adding in the rest of your ingredients. You'll let it all simmer for 30 minutes, or longer if needed, then stir in your sour cream and cheese. You'll want your chicken to be precooked this way, so boil it up while you saute the onion, or I like to cook a bunch at the beginning of the week and then shred it and keep it in the fridge for the week for different recipes (tacos, bbq sandwiches, chicken and rice, salads, this soup, etc) or a rotisserie chicken would work great too.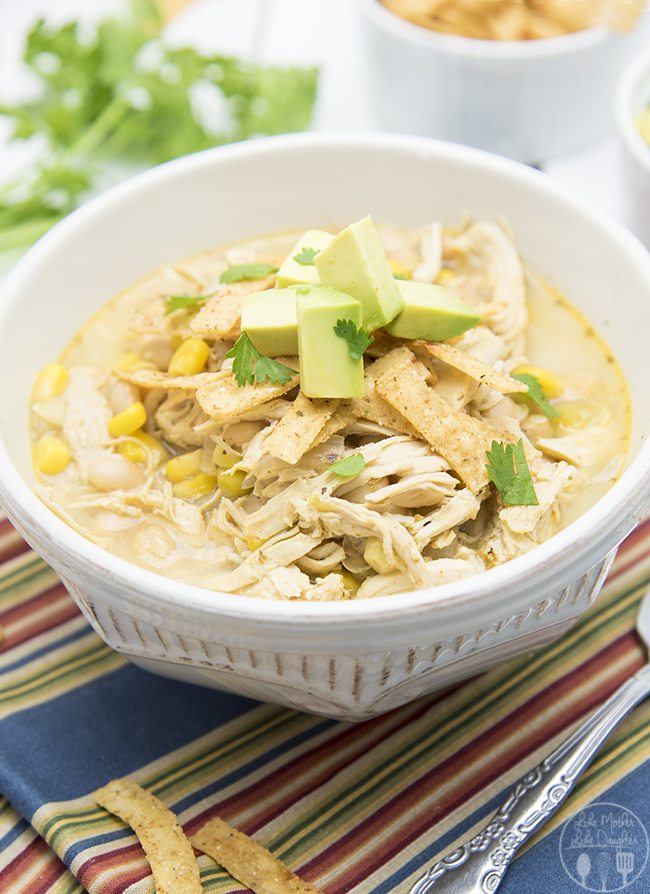 If you cook it in the slow cooker you can just toss all your ingredients in. After a few hours remove your chicken and shred it, put it back in and cook longer if needed or add in your dairies now and cook for about 30 more minutes.
This soup is great on its own, or delicious with your choice of toppings – I like it with crunchy tortilla strips on top especially, but its also good with extra cheese, sour cream, cilantro or avocado!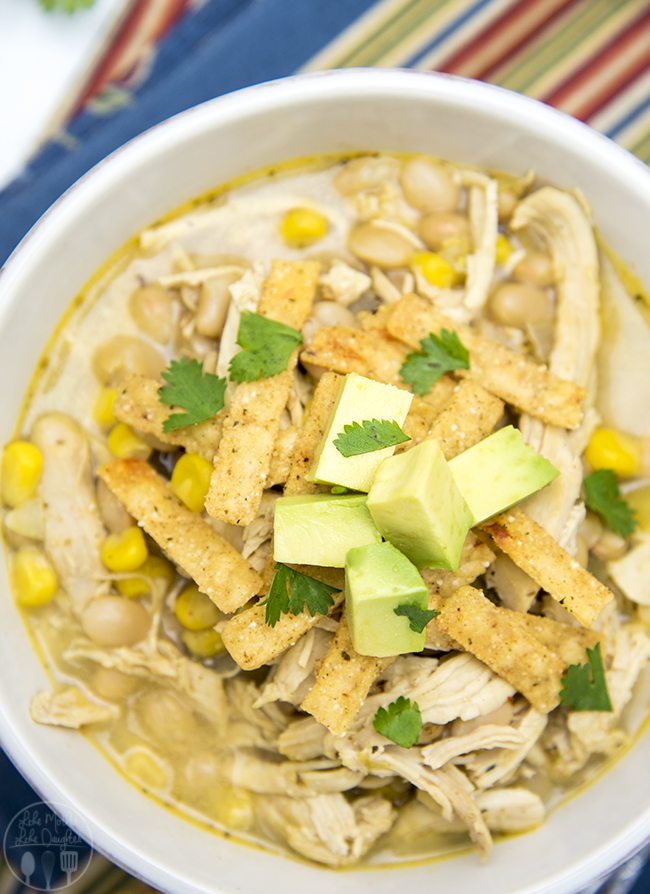 I got this recipe from my friend Claire's mom originally and have since adapted it to be my own.
White Chicken Chili
Ingredients
1 cup chopped onion
1 TBS minced garlic
4 cups shredded chicken (or 2-3 raw large chicken breasts)
6 cups chicken broth
2 cans white beans, drained and rinsed
7 oz can diced green chiles
1 can corn, drained
2 tsp cumin
1 tsp oregano
1½ tsp coriander
½ tsp cayenne pepper
1 tsp salt
½ cup sour cream
½ cup shredded cheese (I've used mozzarella or cheddar)
Optional Toppings:
cilantro
avocado
tortilla strips
shredded cheese
sour cream
Instructions
For the Stovetop:
Saute your onion and garlic for about 5 minutes with a little oil over medium heat, stirring occasionally.
Add in your shredded chicken, chicken broth, white beans, green chiles, corn, and spices. Allow to simmer for about 30 minutes.
Add in your sour cream and cheese and stir to combine. Simmer for another 10 minutes.
Serve with your choice of toppings.
For the Slow Cooker:
Put all ingredients; onion, garlic, raw chicken breasts, chicken broth, white beans, green chiles, corn and spices into your slow cooker. Stir together.
Cook on low for about 6-7 hours (or as long as you need to)
Remove chicken breasts from slow cooker and shred with 2 forks.
Return shredded chicken to slow cooker.
Stir in your sour cream and cheese.
Cook for another 30 minutes.
Serve with your choice of toppings.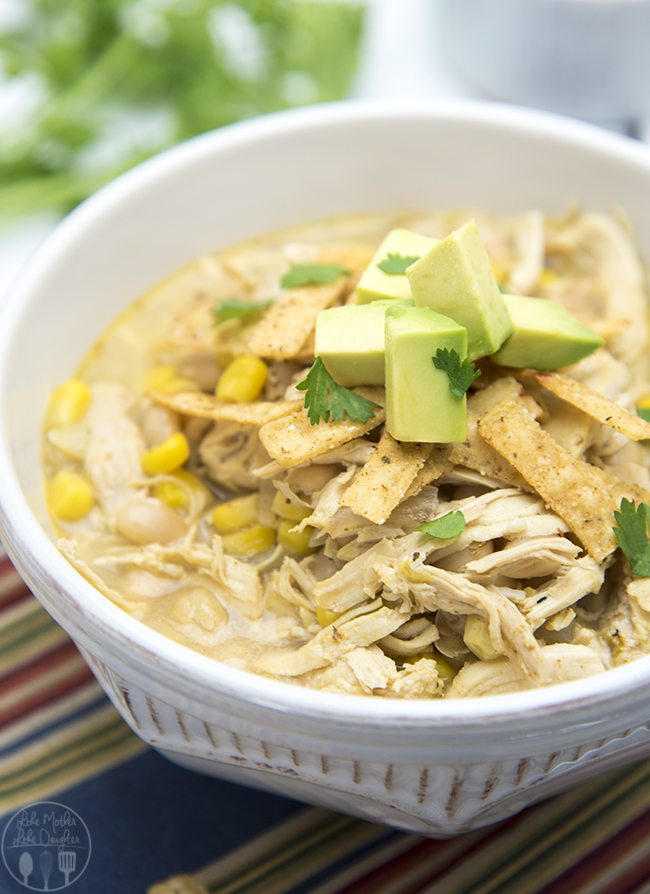 For more favorite chicken soup recipes, try these: