This simple fruit salad is loaded full of winter fruits, and is perfect for a holiday party or dinner side dish.

**This winter fruit salad is made are made using SPLENDA® Naturals as part of a sponsored post for Socialstars #SplendaSweeties #SweetSwaps #SplendaSavvies  All opinions are my own.
Pin this winter fruit salad for later!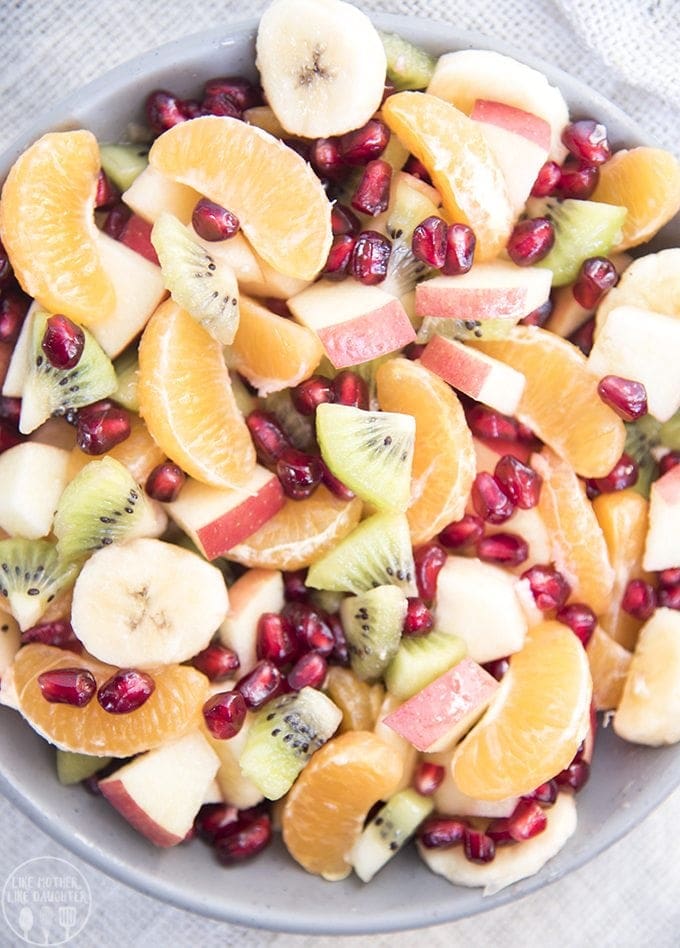 This fruit salad is packed full of 5 different winter ready fruits, with mandarin oranges, crisp apples, banana, crunchy pomegranate arils and kiwi.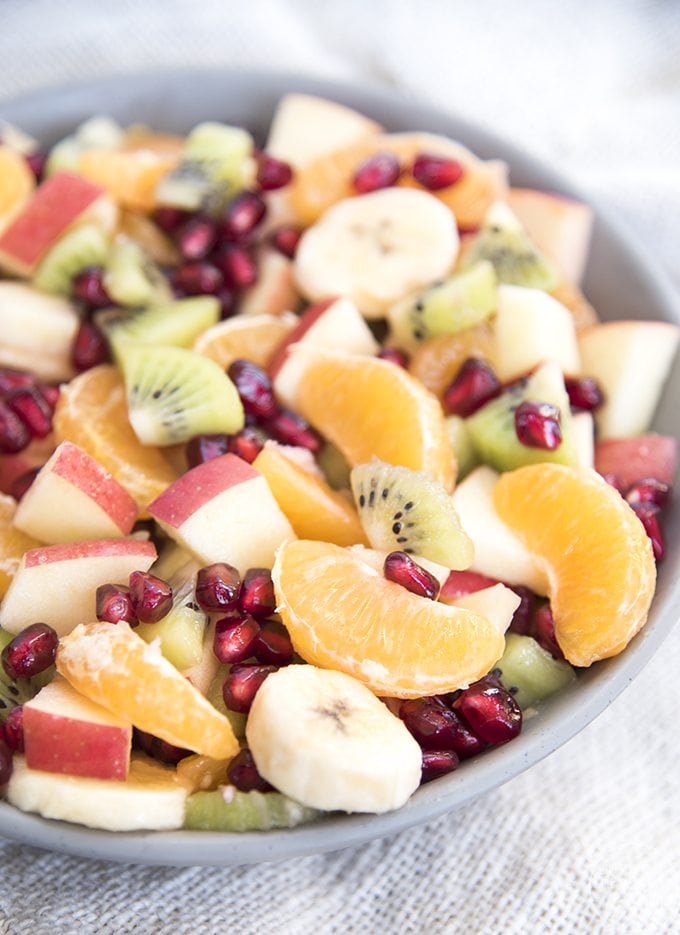 The combination of the different fruits is a perfect sweet and sour mixture, that you coat in a simple mixture of lime juice and SPLENDA® Naturals Stevia Sweetener to brighten up the flavors just a bit (and to keep your apples and bananas from turning brown 😉 )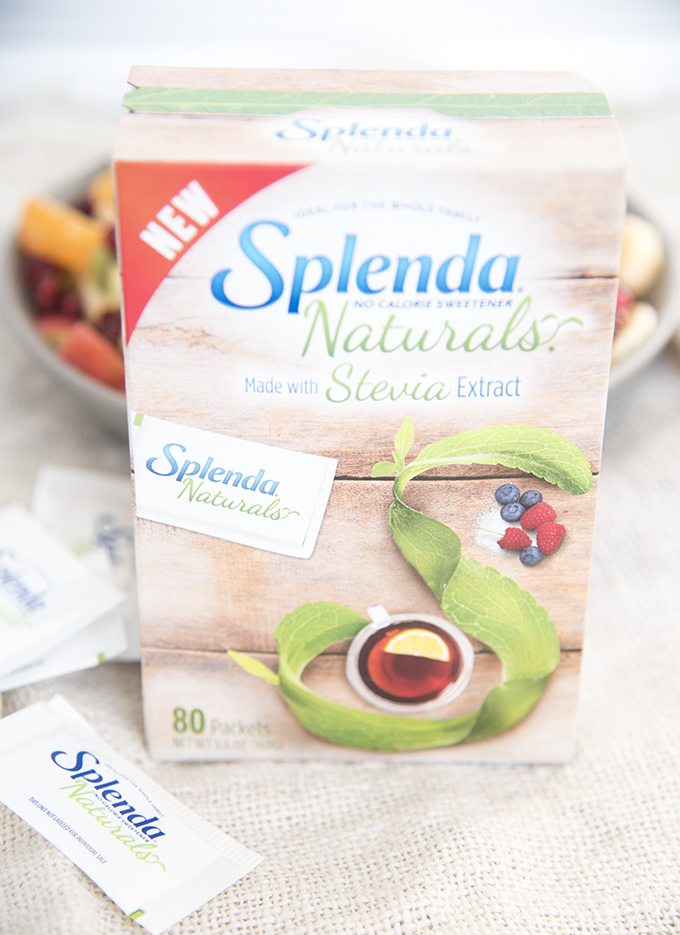 The textures of each of the fruits go so well together too, with the crunchy pomegranate seeds and apple pieces, juicy mandarin orange slices, and soft banana and kiwi pieces.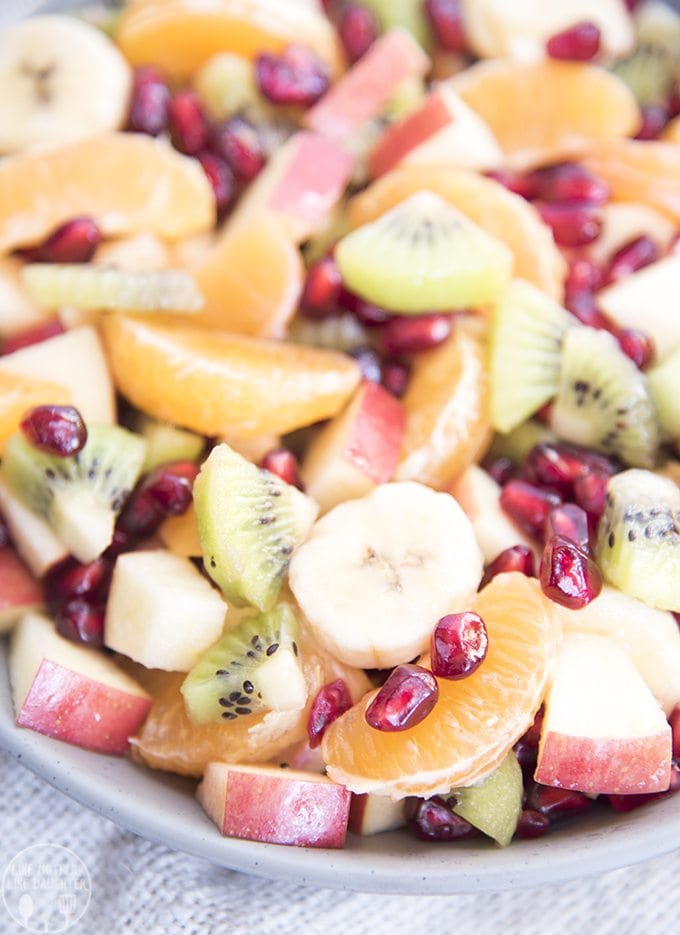 This side dish comes together fairly quickly (especially if you buy pomegranate seeds instead of a fresh pomegranate – because is anyone else still terrible at cutting those things open?) and is the perfect holiday side dish. Its great for dinner with your family, a lighter dish to take to, or serve at a party, or even Christmas or New Year's Day!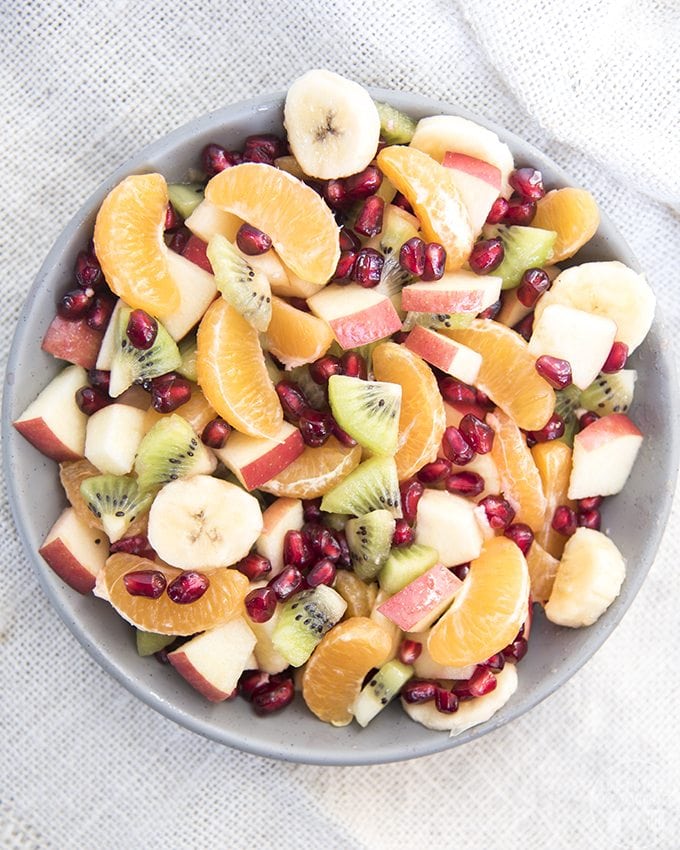 Winter Fruit Salad
Ingredients
1 pomegranate, seeded (about 1 to 1 and ½ cups of seeds)
3 large red apples, cored and sliced
5 kiwis, peeled and sliced
3 bananas peeled and sliced
6 mandarin oranges, peeled and separated
1-2 limes, juiced
6 packets SPLENDA® Naturals Stevia Sweetener
Instructions
Carefully mix together your pomegranate arils, apple pieces, kiwi pieces, banana slices, and orange pieces in a large bowl.
Mix together the lime juice and SPLENDA® Naturals Stevia Sweetener packets in a small bowl.
Pour lime mixture over the top of the fruit and toss.
Serve immediately.
SPLENDA® Naturals Stevia Sweetener is made with stevia extract, to avoid the bitter aftertaste that some artificial sweeteners have. It has no added flavors, colors, or preservatives, and only is made from non-GMO ingredients! Here are more recipe ideas using SPLENDA® Natural.