Does reading Tomato Squash Bisque peak your interest in this soup?  First off, did you know bisque means a creamy soup that is usually shellfish or vegetables.  This soup is a delicious combination of vegetables with fresh tomatoes, delicata squash (you can use butternut squash instead), basil, and heavy cream (thus the creaminess).
I started from scratch with my stewed tomatoes and my roasted squash because I had a very quiet, calm Sunday afternoon and the time.  If you are not so luckily or just want to make it easier on yourself, please do not hesitate to purchase precut and/or precooked butternut squash and a lovely can of Italian-style stewed tomatoes.
By using already prepared vegetables this Tomato Squash Bisque can be put together quite quickly for a weeknight dinner.  Add some fresh bread, a salad and you have a delicious healthy dinner.  I love the subtle flavors of the tomato, squash, and basil, I think you will too.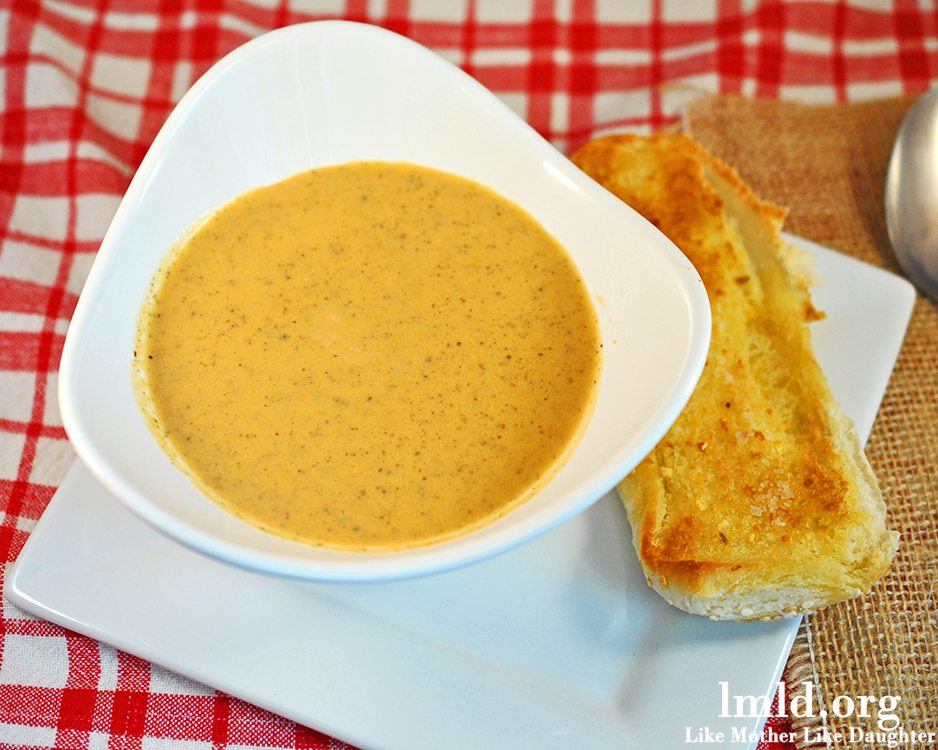 Italian Style Stewed tomatoes
Ingredients
5 to 6 large ripe tomatoes (peeled and chopped)
¼ cup chopped onions
1 garlic clove (minced)
1 Tbs dried parsley
¾ Tbs dried basil
½ Tbs oregano
½ Tbs Italian spices
Salt and pepper to taste
Instructions
Add all your ingredients in a small crock pot
Stir
Simmer on high for 3 hours (remove lid if necessary to let some of the liquid evaporate)
Roasted Squash
Ingredients
1 medium butternut or delicate squash
Instructions
Preheat oven to 350 degrees
Cut your squash in half long ways
Scoop out the seeds and pulp
Place your squash cut side down in a 9x13 pan
Add enough water to cover ¼ inch of your pan
Cover your squash with foil
Bake for 1 hour or until fork tender, adding 10 minutes at a time if needed
Let cool for 15 minutes and then scoop the meat of the squash to use in your soup (if you have more than 1½ cups freeze the leftovers for another time)
Tomato Squash Bisque
Ingredients
1½ cups cooked squash (recipe below or purchase prepared squash - either delicata or butternut)
1 Tbs butter
¼ cup finely diced onions
2 cloves garlic (minced)
1 can (14.5 oz) Italian-style stewed tomatoes (fresh made recipe below)
1 cup chicken broth (if you want to make this vegetarian use vegetable broth)
1 cup heavy cream
Optional - 1 tsp salt, 1 tsp dried basil
Instructions
Place your cooked squash in your blender
In a medium saucepan, melt 1 Tbs butter
Add your onion and garlic and saute until tender and translucent
Add your sauteed onion and garlic to the blender and pulse
Add your stewed tomatoes to the blender and process until smooth
Pour your mixture back into the saucepan and add your chicken broth, cream, and additional herbs as needed
Stir to combine
Warm throughout but do not bring to a boil (to avoid curdling the cream)
Serve immediately
Enjoy this delicious and creamy tomato and squash soup.
If you love tomato soup you will love this bisque and if you don't love tomato soup you will love this bisque.