This chocolate fudge brownie ice cream is rich chocolate ice cream, swirled with hot fudge, and stuffed full of brownie chunks throughout. Its the ultimate ice cream for chocolate lovers.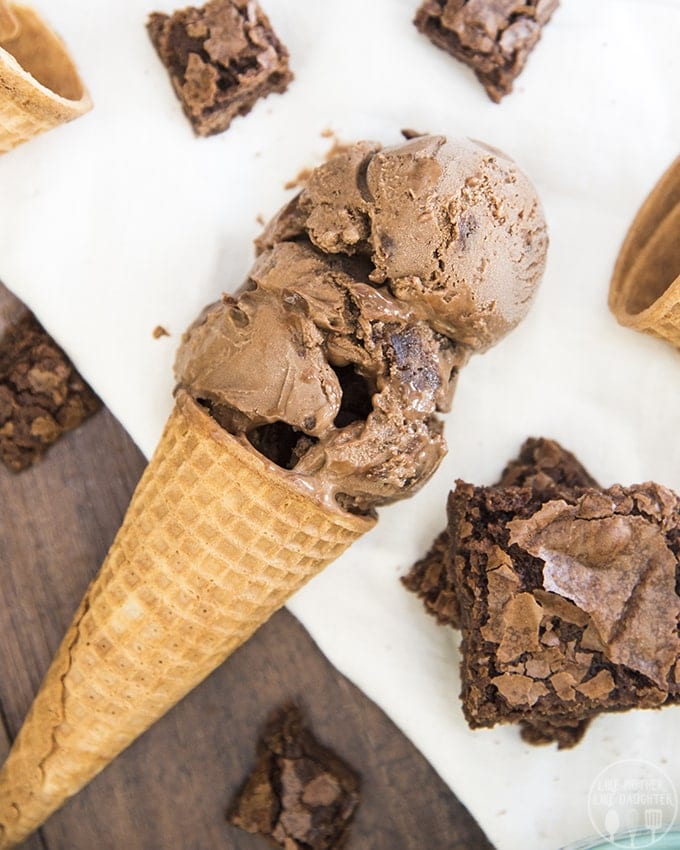 The chocolate flavors are deep and rich throughout with hot fudge swirls and moist, chewy, fudgy brownie pieces throughout too. This ice cream is the ultimate ice cream for chocolate lovers.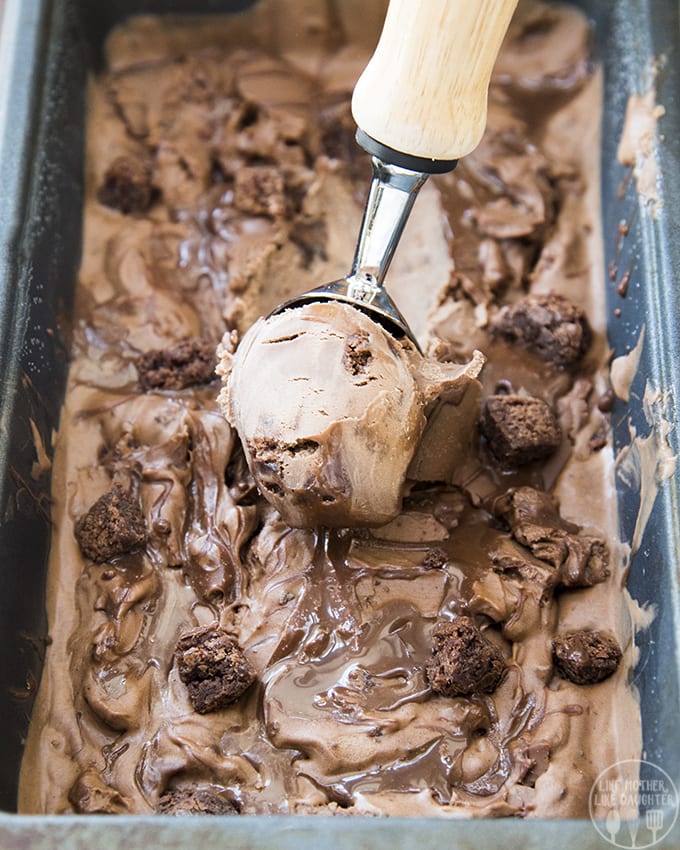 In my opinion, this ice cream tastes just like Ben and Jerry's Chocolate Fudge Brownie Ice Cream, if not a little better. The best thing about homemade ice cream is you can choose how many chunks you want to put it in it. This ice cream has 1 whole cup of chopped up brownie pieces, but I made mine a heaping cup because every time you come across a little fudgy brownie bite in the ice cream its like heaven.
To make this ice cream you need an ice cream maker. It makes it perfectly churned, silky smooth and delicious. But that means you'll need to plan for it a bit, you'll need to freeze your ice cream bowl about 12 hours or more ahead of time. Plus to enjoy it best, and to make it scoop-able like you might get from the store, you'll need to freeze for another 6 hours, up to overnight, but then about 24 hours later you'll have chocolate ice cream perfection!! I know its hard to wait, but I PROMISE its totally worth it.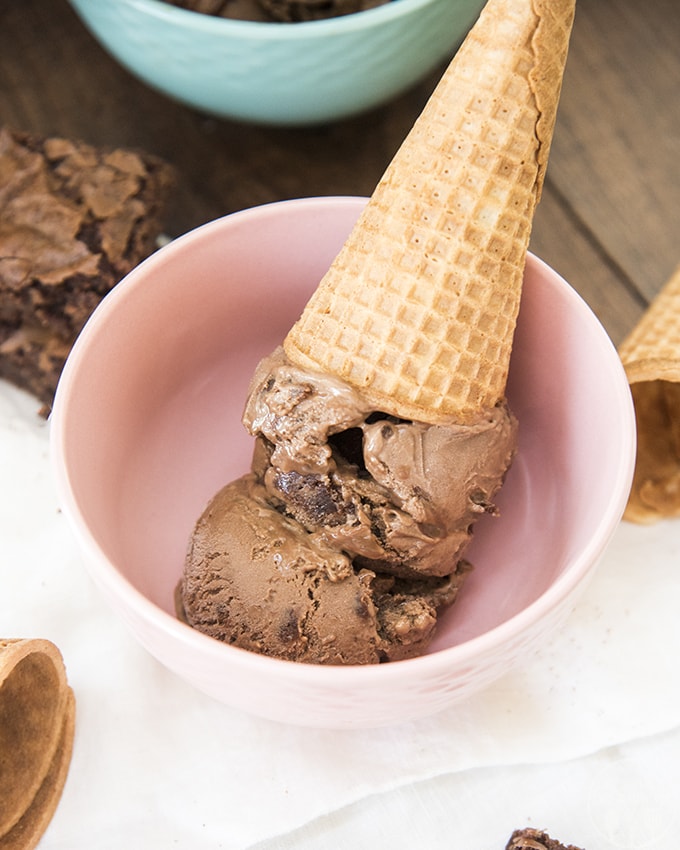 To make it even more chocolatey, serve this deliciousness on top of a hot brownie and drizzled with even more hot fudge, because you can never have too much chocolate, right?!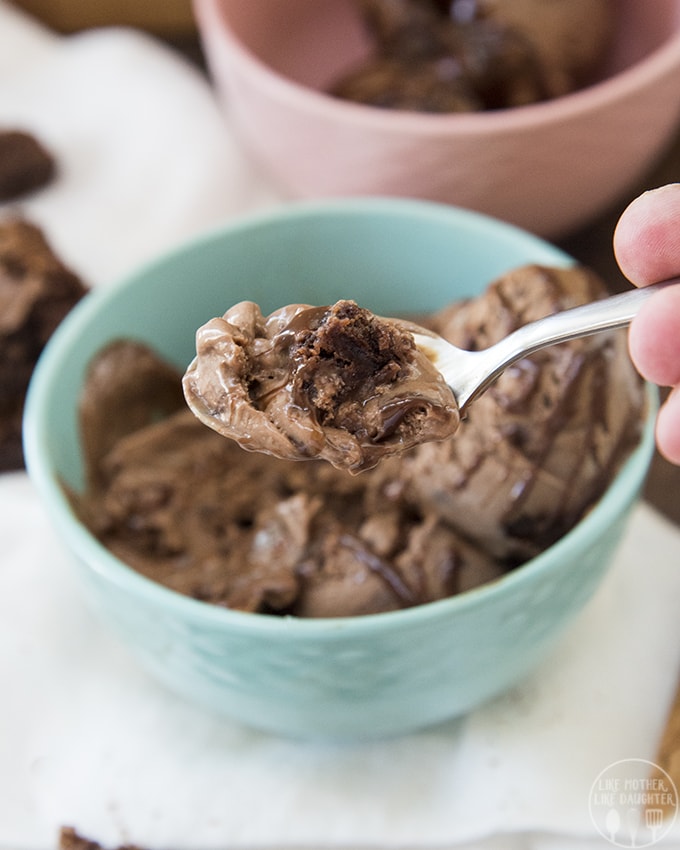 Chocolate Fudge Brownie Ice Cream
Ingredients
2 cups heavy cream
1 cup whole milk
¼ cup cocoa powder
¾ cup sugar
¼ tsp salt
4 oz semi sweet chocolate, chopped
5 egg yolks
½ tsp vanilla
1 cup chopped brownies
¼ cup hot fudge sauce
Instructions
In a large sauce pan, combine your heavy cream, milk, cocoa powder, sugar, and salt.
Heat over medium high until the mixture starts to bubble. And add in the semi sweet chocolate. Stir until smooth.
In a separate bowl, whisk the egg yolks.
Slowly pour ½ cup of the chocolate cream mixture into the egg yolks while whisking vigorously.
Pour another 1 cup of the chocolate cream mixture, ½ cup at a time, while whisking the whole time.
Pour the egg mixture back into the sauce pan and continue to heat for another 5 minutes, or until the mixture starts to thicken (coats the back of a spoon).
Pour back into the bowl.
Put bowl into an ice bath and allow to sit for about 10 minutes, stirring occasionally.
Cover the bowl and place it in the fridge for 30 minutes to 1 hour to chill.
Pour the mixture into a prepared ice cream maker, and allow to run according to manufactures instructions (about 25-30 minutes).
The last 5 minutes sprinkle in your brownie pieces.
Pour half of the ice cream into a 9x5in loaf pan and drizzle with half of the hot fudge and swirl throughout. Repeat with remaining ice cream and hot fudge.
Cover and transfer to the freezer to freeze for another 6 hours, up to overnight to freeze solid.
Notes
**Time does not include chill and freeze time.