I don't know why it is but when ever I think of Valentine's Day desserts, I always think of cherries.  To me cherries just means Valentine's Day.  Do you think it has something to do with President's Day so close and the story of George Washington chopping down a cherry tree? I know that the story is a fable to show the importance of being honest but I still associate cherries with Valentine's Day.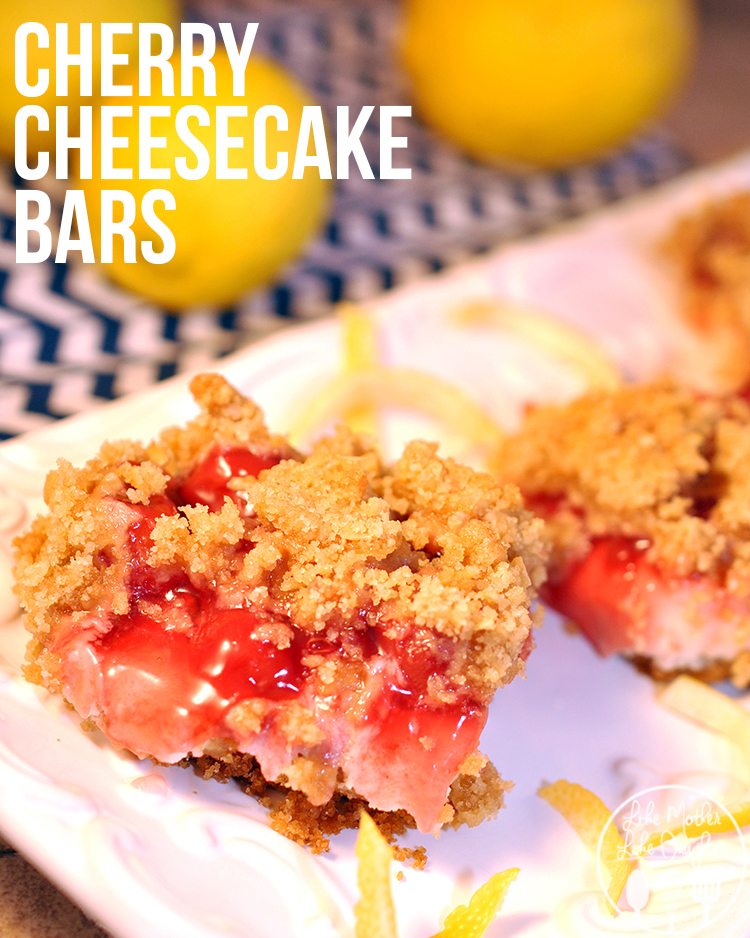 Maybe it is because cherries are red and Valentine hearts are red.  Maybe it is because I love cherries and Valentine's Day is all about love.  Or maybe it is because I love these cherry cheesecake bars.  I also associate cheesecake with Valentine's Day.  I know Valentine's Day is about flowers and chocolates and showing love to your husband or wife, boy or girlfriend, or significant other.  To me, one way of showing love is sharing a cheesecake with the person I love.  I love cheesecake, luckily for my waistline I only have it on special occasions.  Valentine's Day is a special occasion and it is about love and food!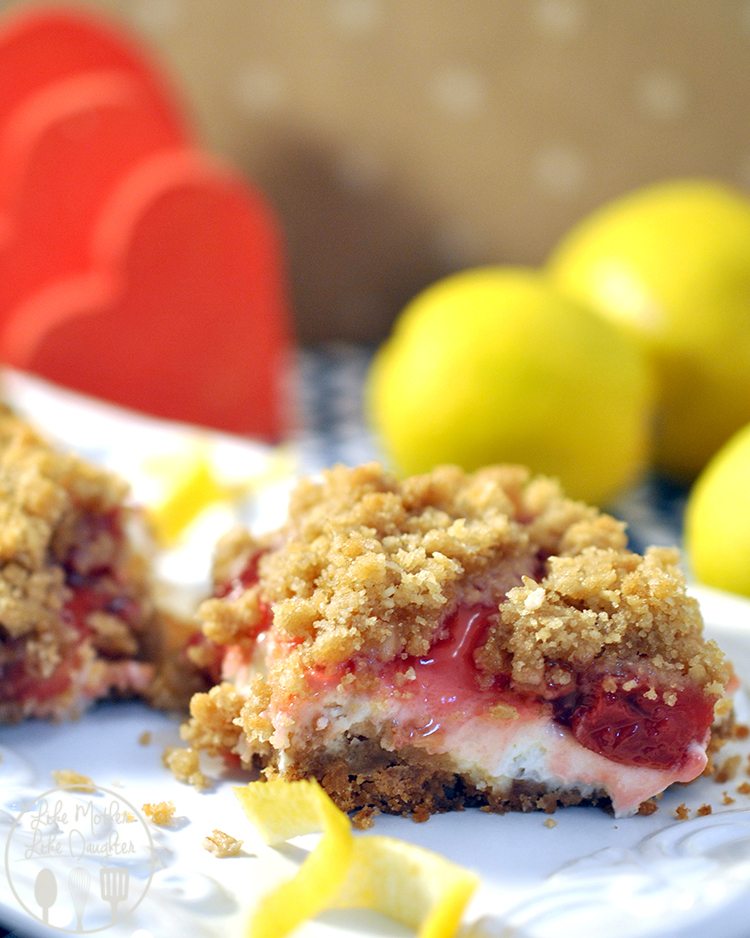 Ha ha, basically I also associate my favorite foods with Valentine's Day and one of my favorites is cherry cheesecake bars.  I love these bars with their crunchy graham cracker crust, lemony cheesecake, sweet cherries, and chewy streusel topping.  And Valentine's Day is really about love.  Whether it is love of food or people, enjoy it.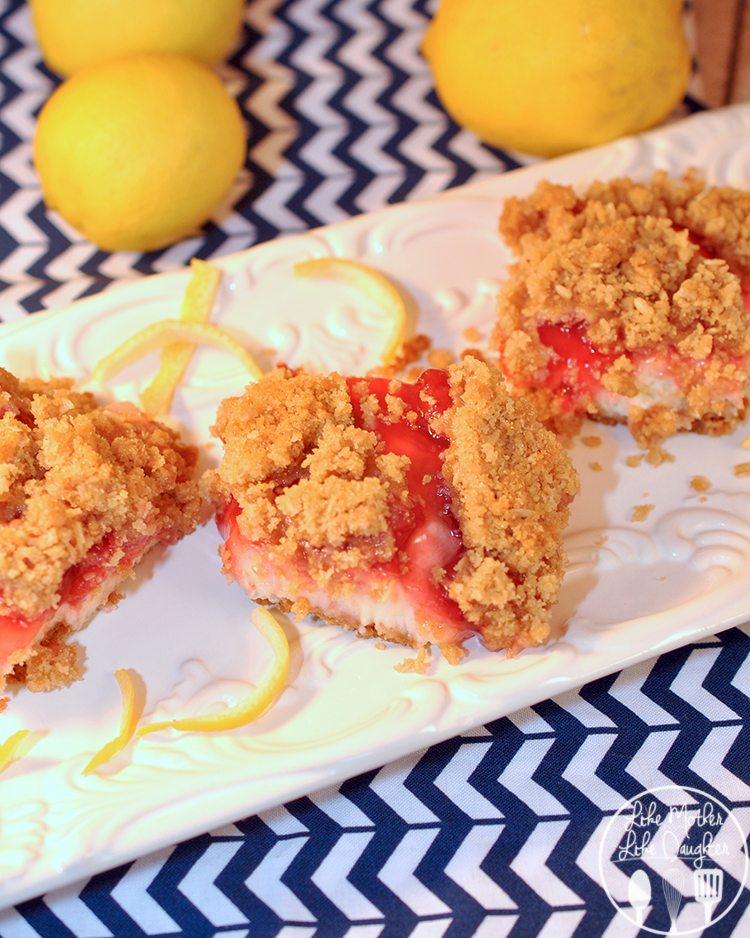 Cherry Cheesecake Bars
A sweet and tart cherry cheesecake bar with just the right amount of chew, crunchy crust and streusel topping.
Ingredients
16 graham cracker (32 squares)
½ cup butter (melted)
4 TBS white sugar
zest from 4 lemon (divided)
24 oz cream cheese (room temperature)
¾ cup white sugar
⅓ cup lemon juice
2 cans 21 oz pie cherries
1½ cup brown sugar
1 cup old-fashioned oats
1 cup flour
½ cup butter (room temperature)
Instructions
Preheat oven to 350 degrees
In a ziploc bag place all your graham crackers, seal
With a rolling pin, smash all the graham crackers to fine pieces
Pour the graham cracker crumbs into a large bowl
Add the 4 TBS sugar and stir in
Add the zest from 1 lemon and stir in
Pour the ½ cup of melted butter over the graham crackers and stir until completely mixed in
In a 9x13 pan pour all the graham crackers and spread to cover the bottom of the pan completely, patting down
Place in a 350 degree oven and bake for 10 minutes
In another large bowl, whip the cream cheese to light and fluffy
Add the ¾ cup white sugar and cream till smooth
Add the zest from 3 lemons and the lemon juice
Beat until the cream cheese, sugars, and juice are creamed together well
Spread over the top of the graham cracker crust
Spread the cherry pie filling over the cream cheese layer (you might choose to use only the sauce from 1½ can but use all the cherries from both cans)
In another medium to large bowl put your brown sugar, oats, and flour - mix together
Using your fingers or a fork add the softened ½ cup butter and combine with the brown sugar, oats, and flour until crumbly and well mixed in (hopefully crumbs to about pea size)
Spread the streusel topping all over the cherries
Bake in the 350 degree oven for 35 to 40 minutes until the streusel topping is golden brown and the cheesecake filling is mostly solid
Place on a cooling rack for 1 hour
Place in refrigerator to chill for 2 or more hours
Serve chilled
Enjoy these delicious cherry cheesecake bars while celebrating Valentine's day with your loved one!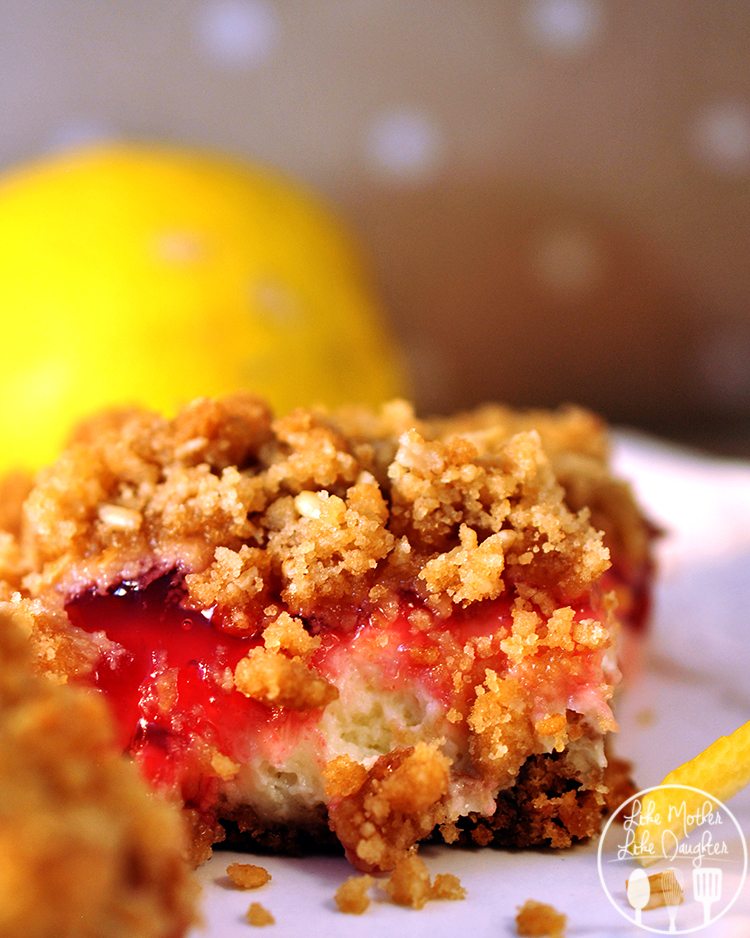 I hope you love these cherry cheesecake bars as much as I do but mostly I hope you can share them with someone you love. Happy Valentine's Day!