After I made that delicious berry salad that I shared a couple weeks ago I knew that I needed something else spectacular to share with you to use more of the delicious berries that I had left. We also had a plethora of lemons still from when I bought them to make this rosemary lemonade.  It's not like having extra berries and lemons is a bad thing, but fresh berries don't last too long and I didn't want to end up freezing them, so in came this cheesecake. Blueberry and lemon are often a great flavor combination because the tartness of the lemon goes well with the sweetness of the blueberry. But I also had boysenberries leftover, so I decided to add blueberries and boysenberries to this scrumptious cheesecake. If you only decide to buy one or the other I think both would make great choices on their own as well.
These cheesecake bars are some of the best I've ever had. The graham cracker crust and the streusel crumb add most of the sweetness to the bars, but of course there is a little sugar in the middle cheesecake layer as well. But the crust and crumb also add a splendid texture change that some cheesecakes last. Also, fresh berries on the top of this cheesecake is a genius idea. And of course like I said before, the sweet and sour combination of these bars is stupendous.
Yum, yum, yum, these bars have such a refreshing, unique flavor but they are really to die for.  I was inspired by Betty Crocker for this recipe.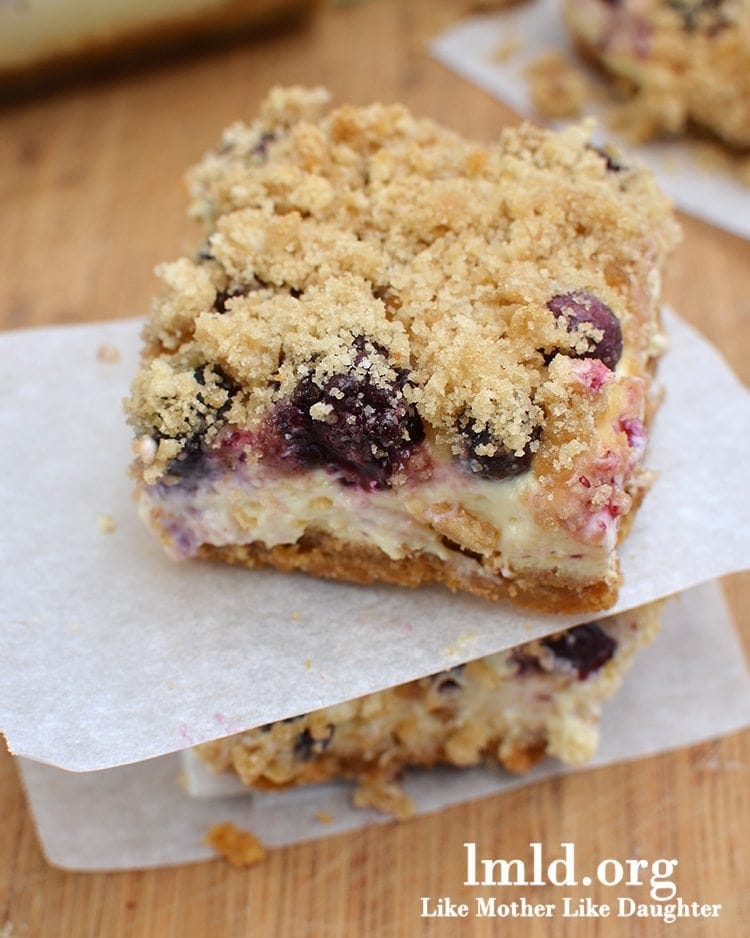 Blueberry and Boysenberry Lemon Cheesecake Bars
Ingredients
For The Graham Cracker Crust:
10 graham crackers (20 squares)
2 TBS sugar
rind from 1 lemon (about ½ TBS)
¼cup butter (1/2 stick), melted
For The Cheesecake Filling:
16 ounces cream cheese
½ cup sugar
rind grated from 3 lemons (About 1½ TBS)
¼ cup lemon juice
1 cup blueberries and boysenberries mixed
1 tsp flour
For the Streussel Topping:
1 cup brown sugar
¾ cup flour
¼ cup butter (1/2 stick)
Instructions
For the Graham Cracker Crust:
Preheat oven to 350 degrees.
Pulse graham crackers in a food processor until they make a fine crumb.
Add sugar and lemon rind to graham cracker crumbs and stir together.
Pour melted butter into the graham cracker crumb and stir well.
Press graham cracker crumb into a 9 inch square dish that has been sprayed with nonstick spray.
Bake for 10 minutes. Remove from oven and allow to cool partially.
For the Streussel Topping:
Combine the streussel ingredients in a medium sized bowl.
Mix together and press together with a fork until all ingredients are incorporated well and are crumbly.
Set aside till ready.
For the Cheesecake Filling:
Whip cream cheese for a couple of minutes until light and fluffy.
Add sugar and continue to stir to combined.
Add lemon rind and lemon juice and mix in completely.
Pour cheesecake filling over crust.
Coat blueberries and boysenberries in the 1 tsp of flour.
Pour blueberries and boysenberries over the top of your filling.
Top with streussel crumb topping.
Bake for 35-40 minutes until crumb is golden and cheesecake is mostly solid.
Allow to cool on cooling rack for 1 hour.
Put in fridge and allow to cool for 2 additional hours. Keep in fridge until serving.
Notes
Best if eaten within 2 or 3 days