** This shop has been compensated by Collective Bias, Inc. and its advertiser. All opinions are mine alone. #snacktalk #CollectiveBias
One of our favorite candies around here is REESE'S Peanut Butter Cups. There is nothing better than that delicious combination of chocolate and peanut butter. And there are so many great recipes that use REESE'S Peanut Butter Cups in them too – like these amazing REESE'S Peanut Butter Cookie Cups.
Pin these reeses peanut butter cookie cups for later!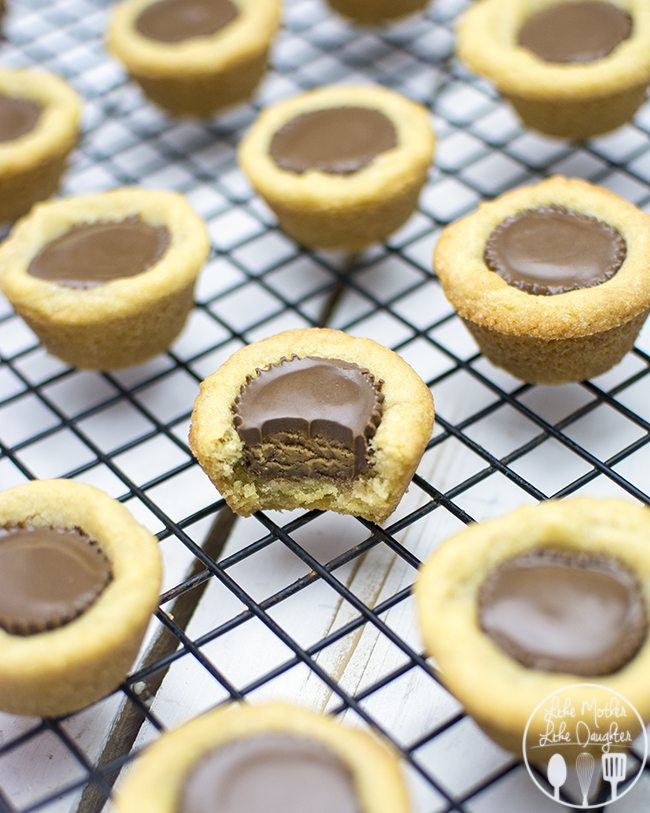 These peanut butter cookie cups are so simple to make with only 2 ingredients needed – REESE'S Miniatures and sugar cookie dough. If you're a little more ambitious you can definitely make your own sugar cookie dough, but other wise just heat to Walmart and grab a bag of Reese's Miniatures and a package of refridgerated cookie dough and you're set. You can also use peanut butter dough (I used the refrigerated for those too) and they're extra peanut buttery and SO good!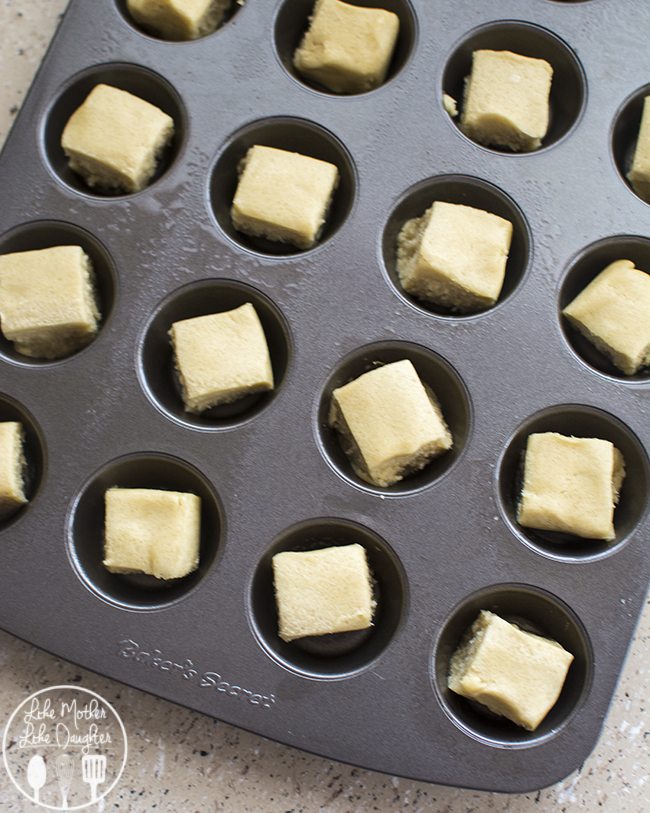 Then you'll break your dough into the squares and stick each square in a prepared mini muffin pan. Bake in your oven for about 13 minutes and while the cookie cups are baking unwrap your REESE'S Miniatures. You'll need 24 of them for 1 package of sugar cookie dough and 1 mini muffin pan, so you'll have a few extra in your bag that you can snack on while you're unwrapping them.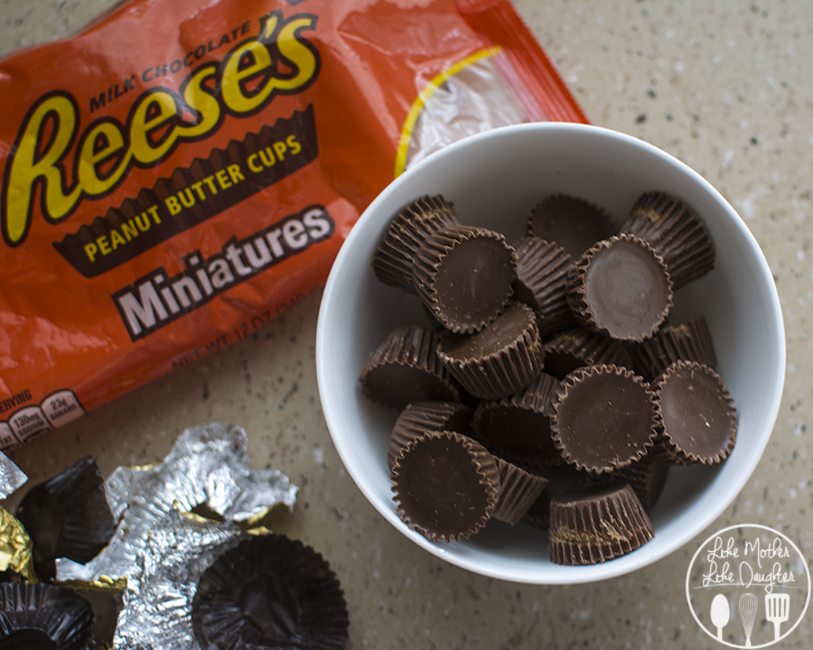 Then when your cookies come out, stick a REESE'S Miniature into the middle of each cookie cup and let them sit for a couple minutes.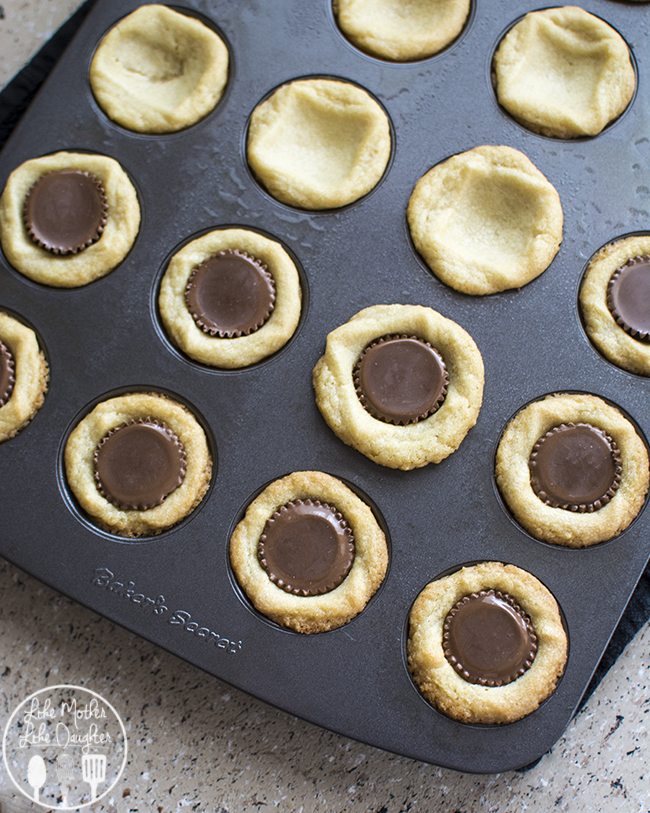 Once the dough is cooled down a little you can twist the cookie cups carefully out of the pan, then allow them to cool the rest of the way on your cooling rack until the chocolate has re solidified.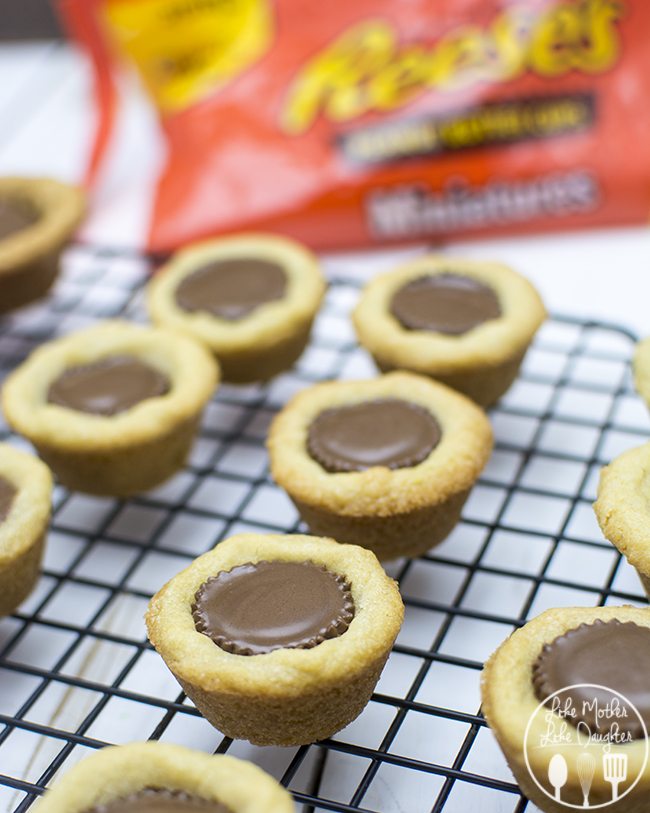 Then you're ready to snack on these delicious REESE'S Peanut Butter Cookie Cups. They're the perfect little snack-able cookie, and are great for watching your favorite college team play basketball, or just watching the big tournament!

REESE'S Peanut Butter Cookie Cups
Ingredients
1 16.5oz package refrigerated sugar cookie or peanut butter cookie dough
24 REESE'S Miniatures
Instructions
Preheat your oven to 325 degrees.
Grease a mini muffin pan with cooking spray.
Add 1 square (1 cookie worth) of cookie dough to each mini muffin spot.
Bake in oven for 12-13 minutes.
Unwrap REESE'S Miniatures while cookie cups are baking.
Press one REESE'S Miniature into each cookie cup.
Remove cookie cups from baking pan after a couple minutes and allow them to cool completely on a cooling rack.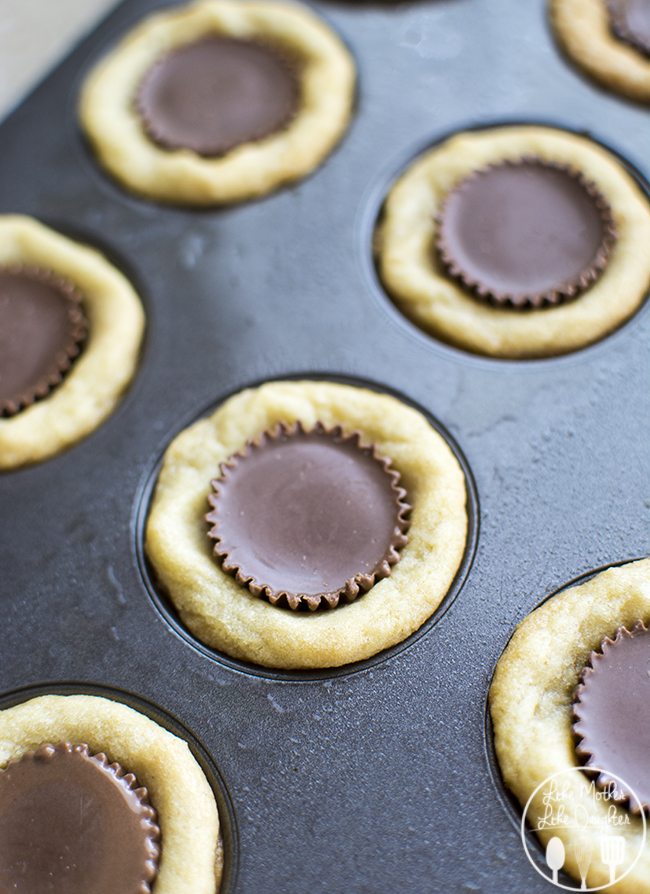 REESE'S is encouraging people to submit their best game time REESE'S recipes. Submit your recipe ideas to REESE'S Snack Talk and don't forget to head to Walmart to grab your favorite REESE'S products  for your perfect game day snack recipe! Don't forget to take a picture of your recipe and submit it on twitter or instagram and tag REESE'S on Twitter and use #SnackTalk and #ChallengeEntry.