One of our favorite places to "shop" is Costco. How is it that when you go to Costco with the plan to buy 1 thing, you end up buying way more than that and spending way too much money? Okay, in all honesty, since we started watching our budget and trying to save more we have been good about sticking to our lists. But seriously, Costco is magical in that way, always making you want to buy more than planned.
Since we have been better at sticking to our list we often go to Costco and end up leaving with only 1 or 2 things in hand. It would probably be smarter if we saved up those things and made a big trip to Costco, but its only about 8 minutes from our house, so its not that big of a deal. (Ps. The other day Nate literally said, our house is in such a good location, 8 minutes from the canyon and 8 minutes from Costco. Perfect.) But when we run out of paper towels, or dog food we just run to Costco to grab them.
Wouldn't it be nice if Costco had a 3 items or less line? The lines at Costco, especially if you go around 5 when work gets out or on the weekends, are atrocious. And people always have their carts stuffed full of enough food to feed a few dozen people. So wouldn't 1 line for those with less items move so quickly, and if you made it 3 items people couldn't try and sneak in there with more (like those people who go to the 10 items or less line with 20 items, what are they thinking?), cause 3 is such a small number.
Anyway, one thing that Costco sells that is delicious is spinach dip. You just toss it in the microwave for a couple minutes and then dip your favorite, bread, chip or cracker right in, and yum!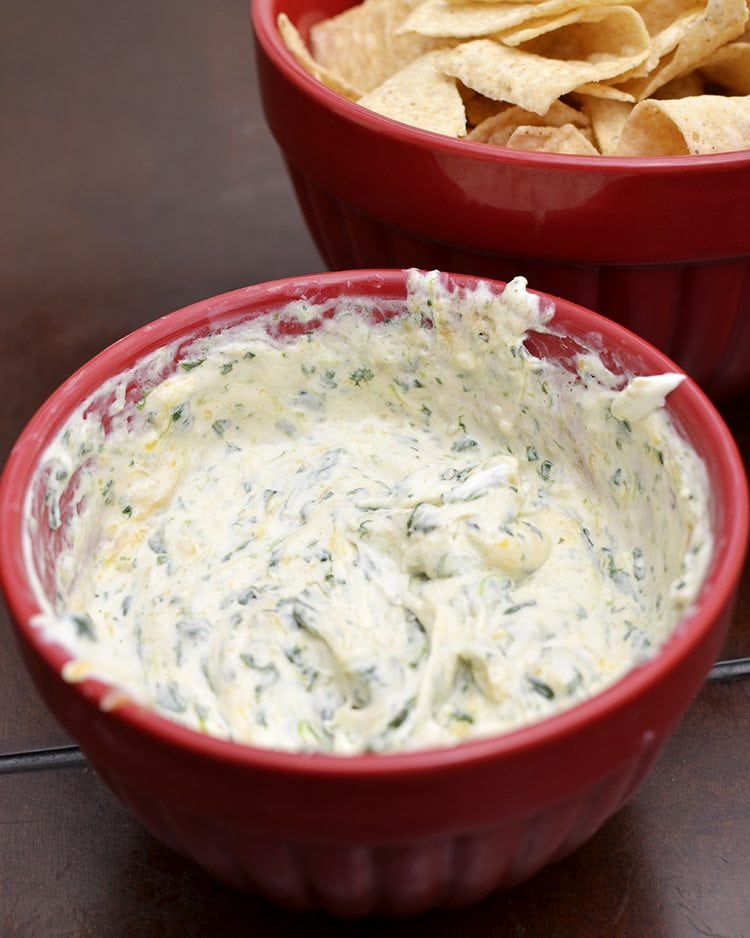 I'm not claiming this dip tastes the same as Costco's spinach dip, but it does taste amazing. And its really easy to make. Plus, I totally used low fat/fat free cream cheese (a combo because I had a little of both) and sour cream so this has to be at least a little healthier than the store bought version, right?
Spinach Dip
Ingredients
6 oz cream cheese
¾ cup spinach cooked (so probably about 1½ cups raw)
¼ cup parmesan cheese
¾ cup shredded cheddar jack cheese
2 TBS sour cream
½ TBS minced garlic
½ tsp salt
Instructions
Combine all ingredients in a medium sized bowl.
Stir together using a whisk or fork until combined.
Microwave for 3 minutes on half power.
Stir again.
Enjoy.