This is the best sweet potato casserole and the perfect addition to your Thanksgiving dinner! Its topped with caramelized pecans that add the perfect crunch taking it to the next level!
Pin this sweet potato casserole for later!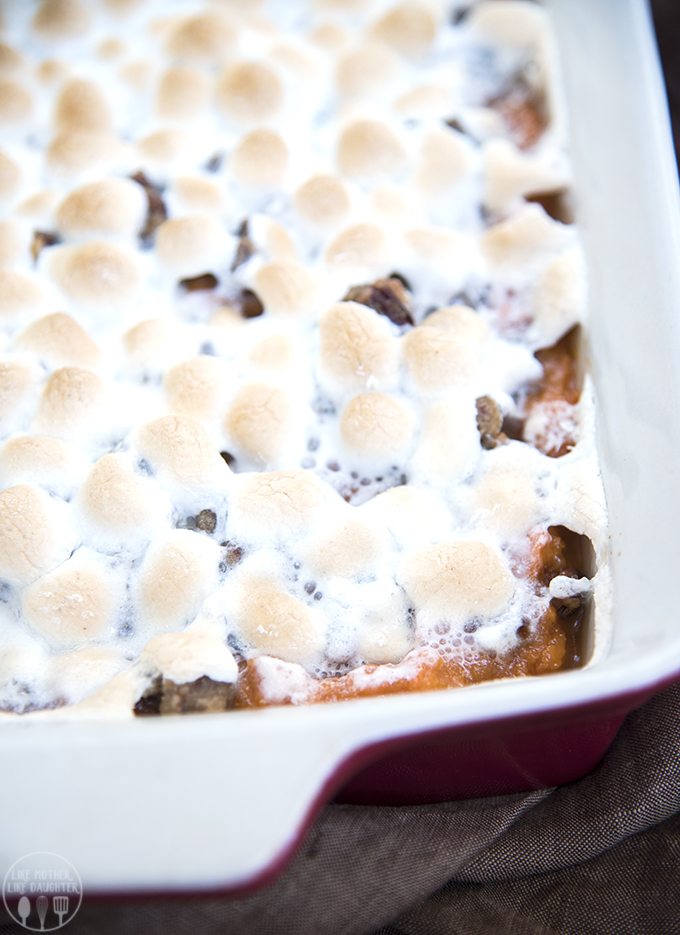 I'll be honest, I've never been a huge fan of sweet potatoes. It was always that side dish at Thanksgiving dinner that I felt obligated to take a little bit of, but only ate about one bite, or never took any at all. That is, until I found this sweet potato casserole recipe.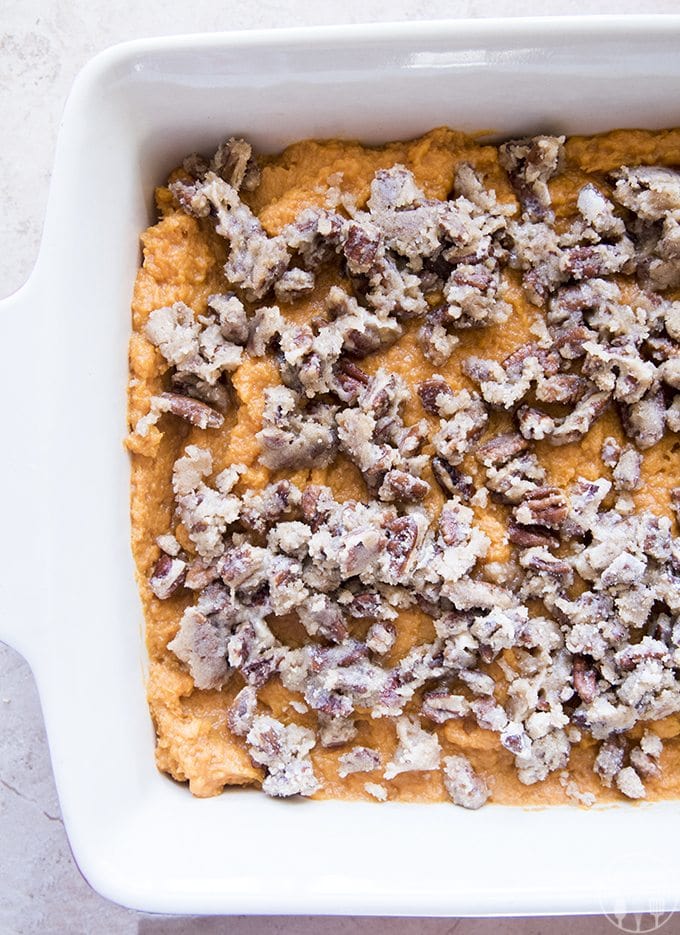 This is not exactly like a typical sweet potato casserole, but it has the same original sweet and salty flavors. But my favorite part about it is the carmelized pecan topping. The crunchy sweet pecans are the perfect topping to the mashed sweet potato mixture. With the gooey marshmallows on top, these are perfection. I mean, even my two year old likes them, and its a win when we can get him to eat any vegetables at all.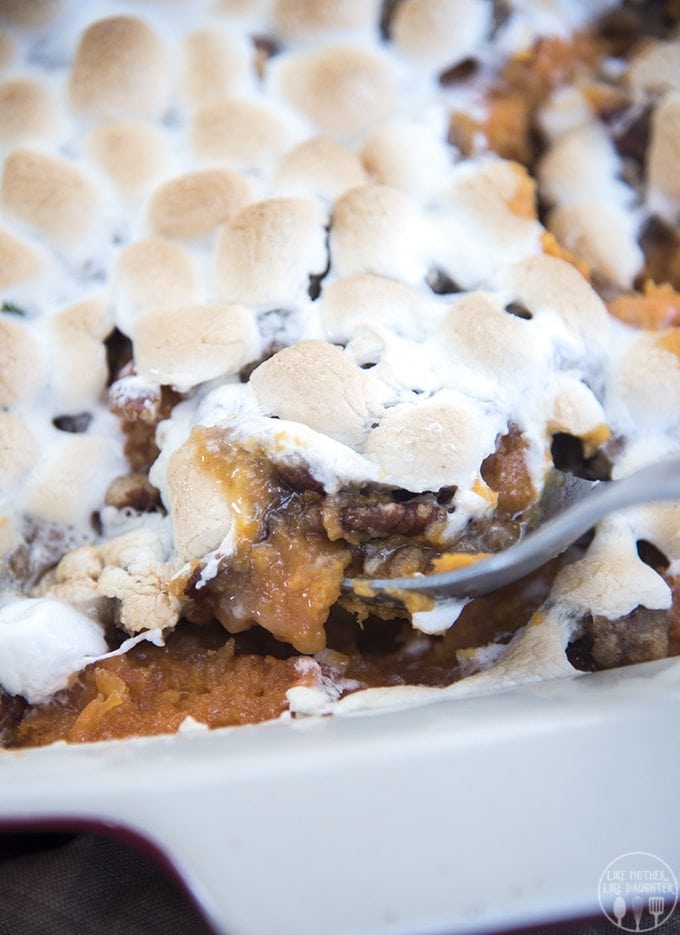 I first made this casserole last Thanksgiving, when we had a small gathering with my brothers family at their house for Thanksgiving dinner. I felt silly saying yes to making a side dish I never even ate at Thanksgiving dinner, but this dish changed my mind. And my brother who loves sweet potatoes at Thanksgiving said they were amazing too.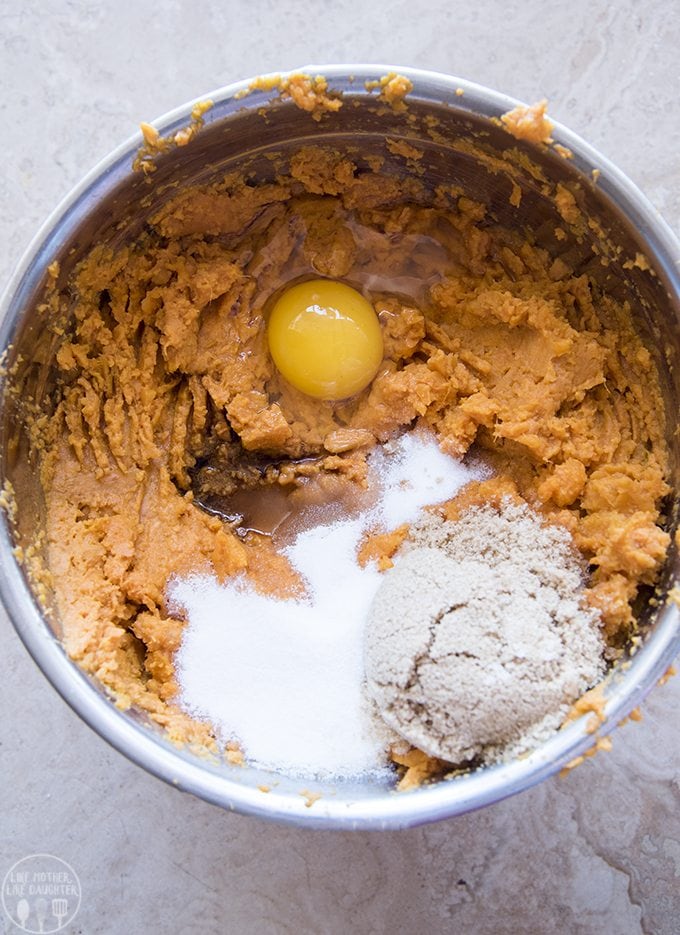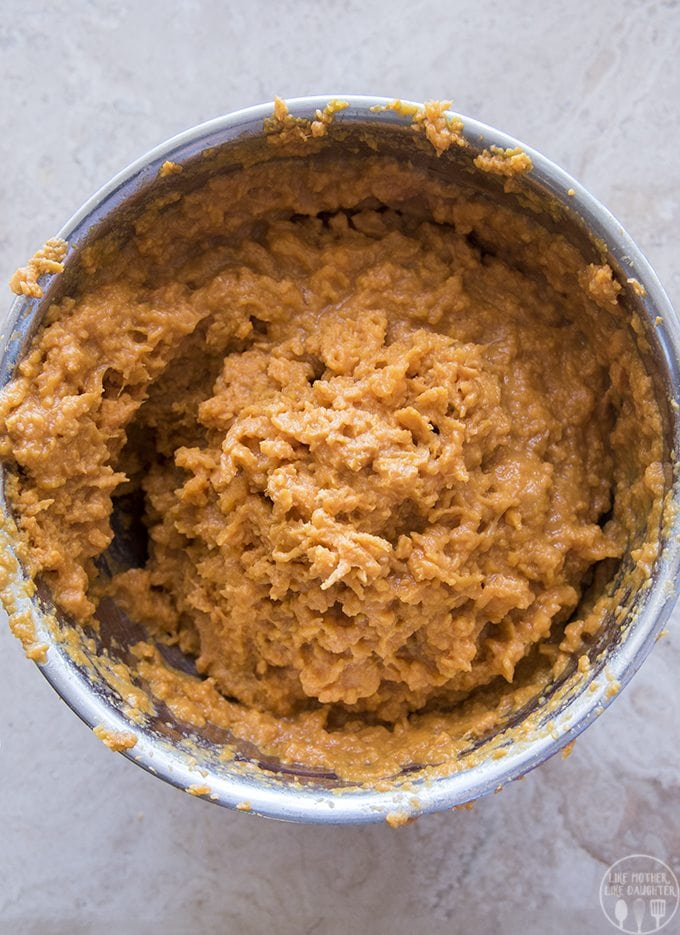 I just love coming together for Thanksgiving dinner with family, whether its a big group or a small one, and reminiscing all the things we have to be grateful for, while we eat a giant feast. I hope these sweet potatoes can join your families Thanksgiving celebration this year too!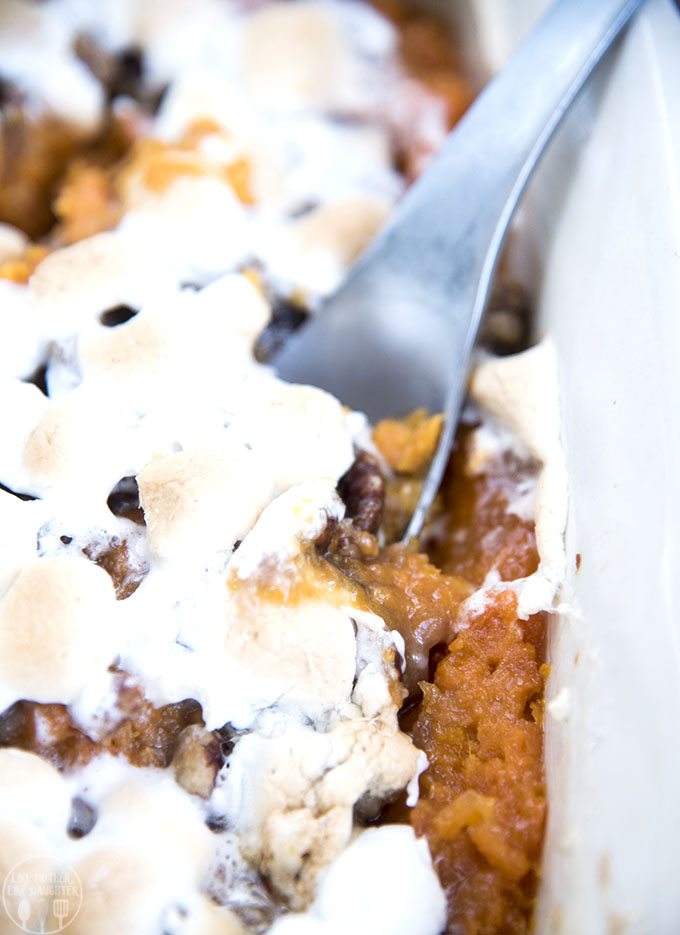 Sweet Potato Casserole
Ingredients
4 lbs sweet potatoes, peeled and cut into 2 inch cubes
1 egg
1 tsp salt
1 tsp vanilla
⅓ cup brown sugar
⅓ cup white sugar
½ cup melted butter
⅓ cup milk
For the Topping:
⅔ cup brown sugar
6 TBS flour
6 TBS melted butter
1½ cup chopped pecans
3-4 cups (about ½ package) mini marshmallows
Instructions
Boil sweet potatoes for about 20-25 minutes until they are soft (and can be pierced with a fork). Drain.
Preheat the oven to 375 degrees.
Mash sweet potatoes in a large bowl to desired consistency. (I like mine with a little texture, decide how smooth you want them)
Add in the egg, salt, vanilla, brown sugar, white sugar, melted butter and stir to combine.
Pour into a 9x13 in baking dish.
In a medium sized bowl, combine the brown sugar, flour, butter and chopped pecans and stir well.
Sprinkle mixture completely over the top of the sweet potatoes.
Bake uncovered for 20 minutes, or until the pecans are carmelized.
Spread marshmallows evenly over the top of the sweet potatoes.
Bake for another 3-5 minutes or until the marshmallows are puffy and golden brown.
Serve hot.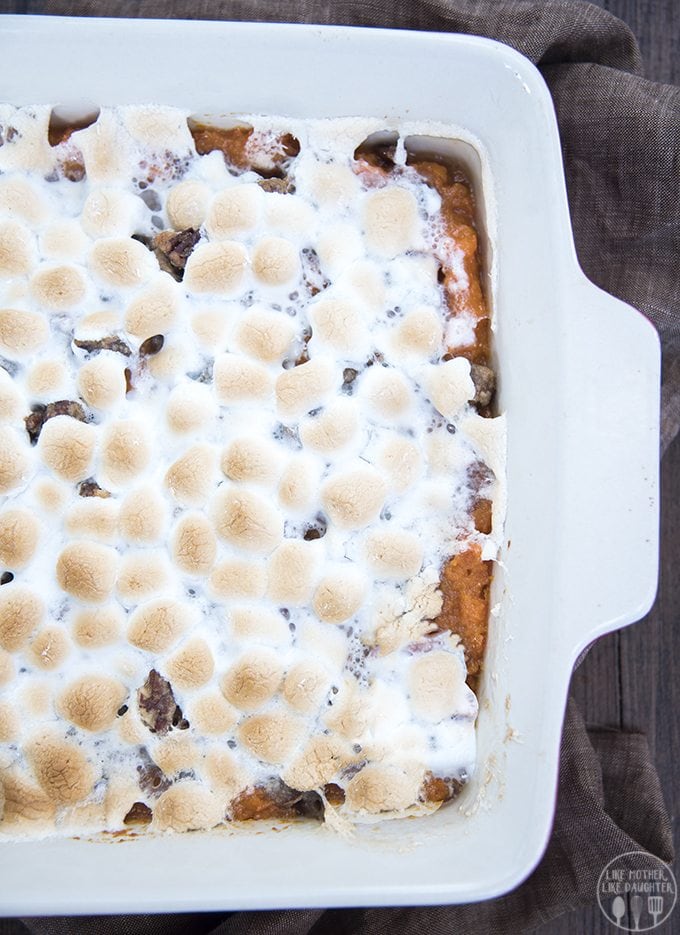 For more of my Thanksgiving favorites that I think you'll love too, try these: