These white chocolate dipped ginger cookies are a perfect Christmas cookie! They're soft ginger and molasses cookies with white chocolate and Christmas sprinkles!
Pin these White Chocolate Dipped Ginger Cookies for Later.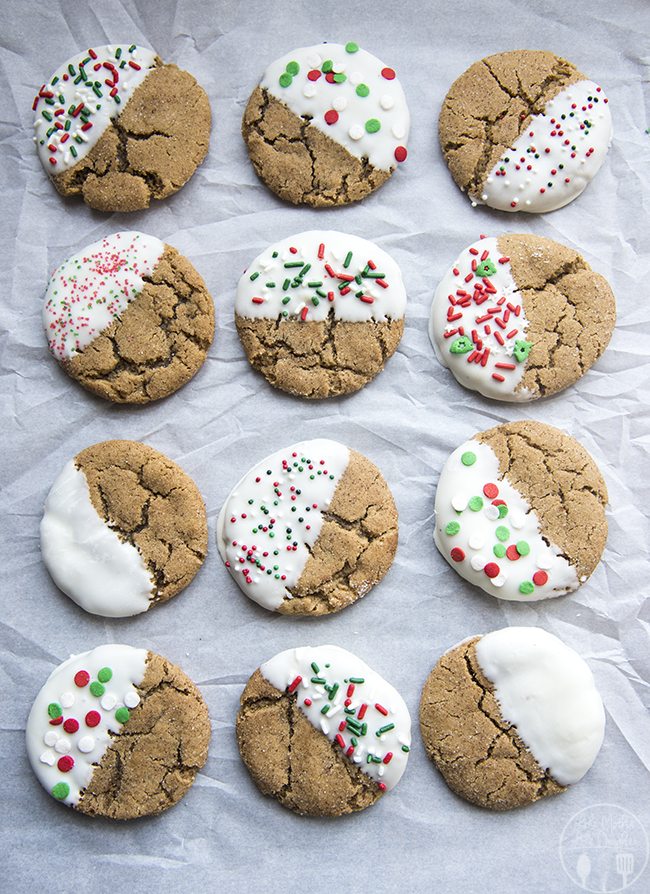 I always love the excuse to make and eat cookies, so this year I was happy to participate in the great food blogger cookie swap once again. This year I made some white chocolate dipped ginger cookies! These cookies are delicious and adorable (top them with the cutest red, white and green sprinkles to make them festive!)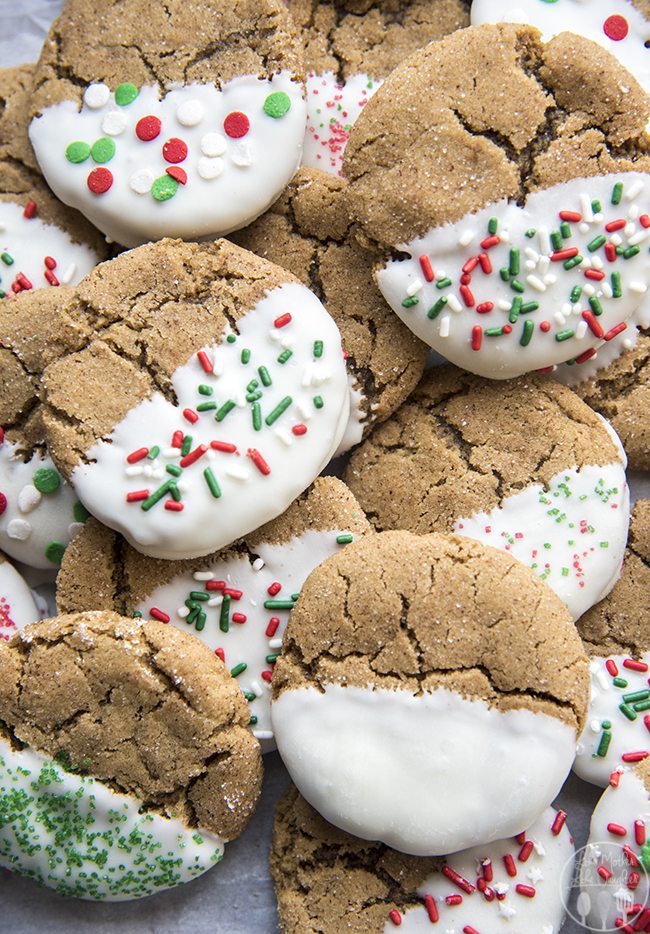 So the Great Food Blogger Cookie Swap works in that each person who participates makes 3 dozen cookies of one variety, send a dozen to 3 different bloggers across the country and receives a dozen cookies from 3 other bloggers in return.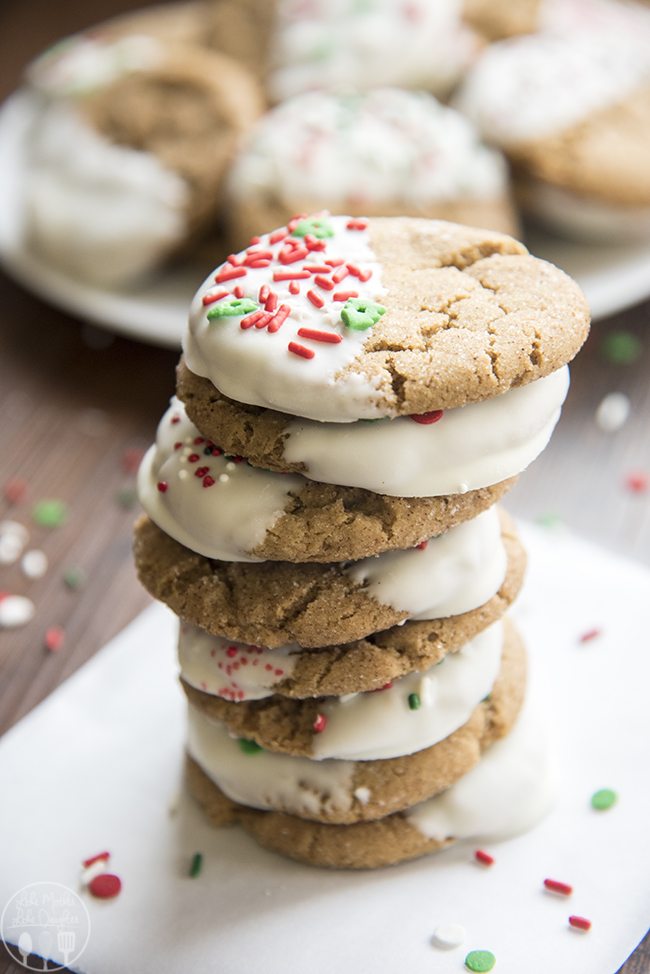 This year I got cookies from Turnips 2 Tangerines, Apron Warrior and ____! I sent my ginger cookies to Balancing Motherhood, Sugar and Satire and CopyKat Recipes!
These cookies are great for taking a plate to your neighbors, mailing to family or friends across the country, or serving a big plateful at a holiday party!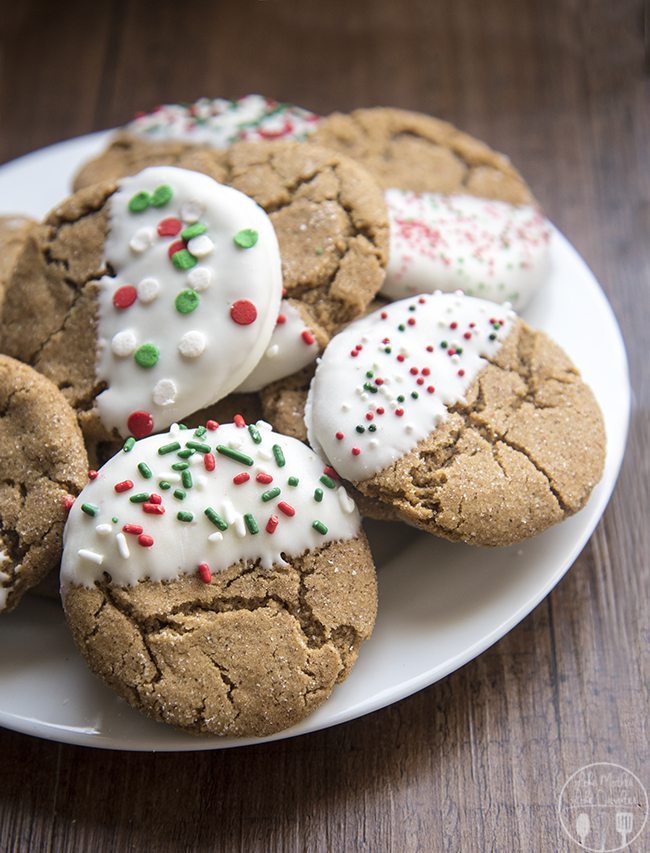 I used the same dough as I used in the gingerhalf of my gingerdoodle cookies. The dough makes about 2 1/2 dozen cookies. But is easily doubled if you need more cookies! This is a super easy cookie dough to make, you'll just need butter, white sugar, brown sugar, an egg, vanilla extract, molasses, cinnamon, cloves, nutmeg, ginger, salt, flour and baking soda. I know it sounds like a lot of ingredients, but most of them you probably have already at home! Then of course, you'll need white chocolate chips and sprinkles!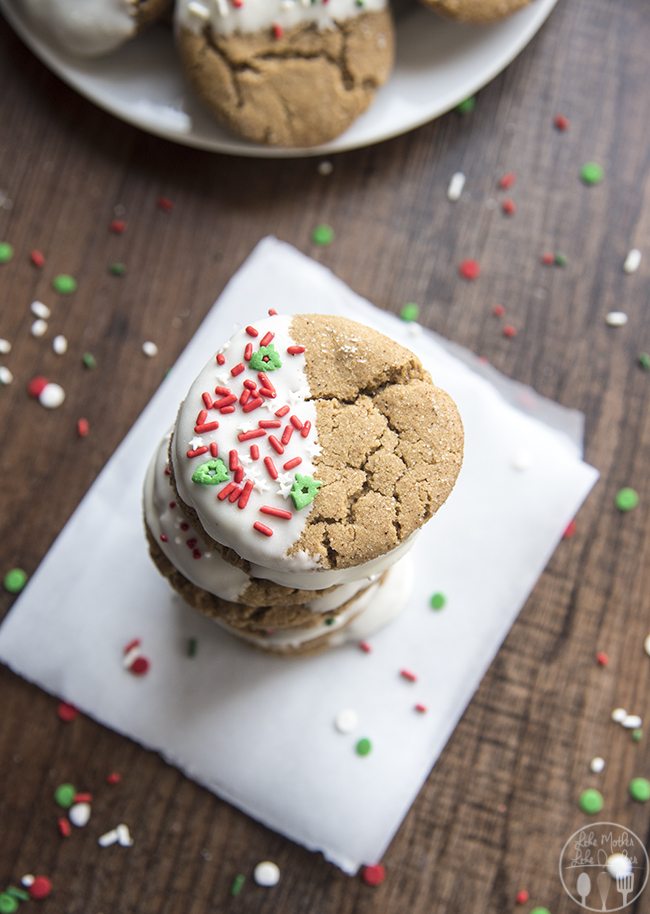 White Chocolate Dipped Ginger Cookies
Ingredients
½ cup softened butter
½ cup white sugar
½ cup brown sugar
1 egg
1 tsp vanilla extract
¼ cup molasses
½ tsp cinnamon
⅛ tsp ground cloves
⅛ tsp ground nutmeg
½ tsp ground ginger
½ tsp salt
2 cups flour
1 tsp baking soda
For the cinnamon sugar coating:
½ tsp cinnamon
3 TBS sugar
For the White Chocolate Dip:
1½ cups white chocolate
½ TBS coconut oil, optional
red, white and green sprinkles, optional.
Instructions
Preheat your oven to 350 degrees.
Cream together your butter and sugars until light and fluffy.
Stir in your egg, vanilla and molasses.
Stir together for about 2 minutes until it turns a light brown color.
Dump in remaining ingredients and mix together until just combined.
Mix together your cinnamon and sugar topping.
Scoop 1½ - 2 TBS of dough and roll into a ball.
Roll your dough ball into the cinnamon sugar mixture.
Place cookie dough onto a cookie sheet lined with parchment or a silicone liner.
Slightly flatten each cookie.
Bake for 8-9 minutes until cookies are nice and crinkly.
Remove from oven and allow cookies to cool for 2 minutes on cookie sheet before removing to a cooling rack to cool completely.
Put your white chocolate chips and coconut oil in a small bowl and microwave for 1 minute at 50% heat.
Stir. Microwave in additional 30 second increments (at half power) till smooth.
Dip each cookie half way into white chocolate.
Place on waxed paper or parchment paper.
Top with sprinkles, if desired.
Allow to set until chocolate is hardened completely.