As I said in my Strawberry Lemonade post I got an abundance of strawberries from Costco and needed to think of different ways to use them up. I have been wanting to make blueberry muffins for a while now, but with my extra strawberries I decided that strawberry muffins would be just as good or better than blueberry!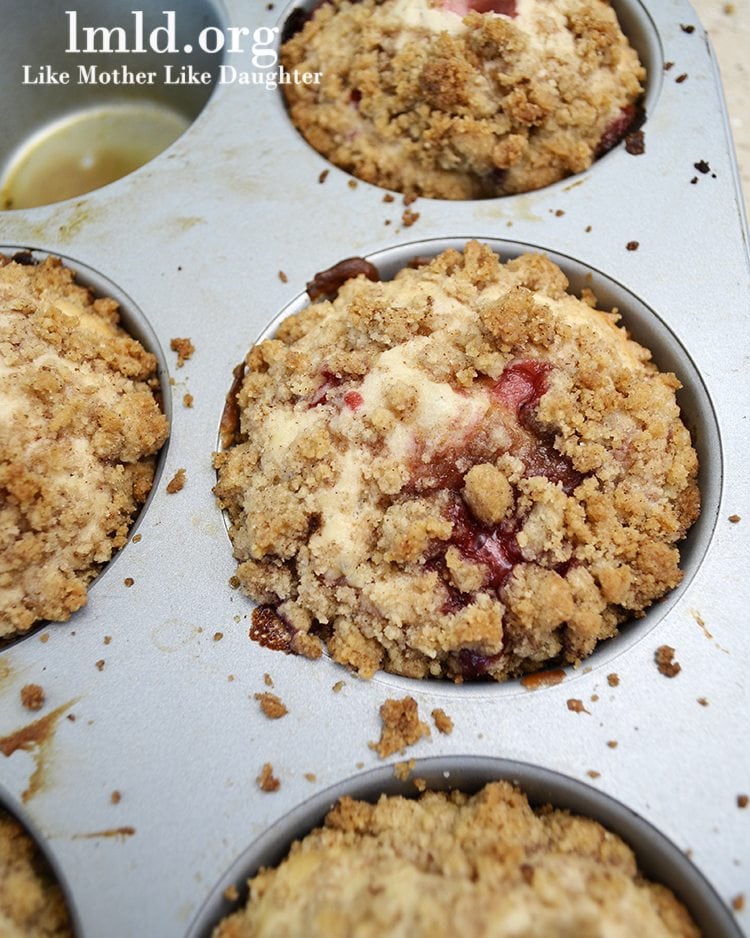 And I was right. These strawberry muffins turned out perfectly. The strawberries leave a little extra moistness in side of the muffin, since they are chopped up and don't have skins on each piece like the blueberries do, but its not too squishy. These muffins aren't extra sweet, but just the right amount of sweetness (I'm trying to get away with using a little less sugar in recipes and so far its working). But the crumb topping adds the needed sweetness. The crumb topping on these muffins is seriously divine. I could just scrape it off the top of the muffins and eat it plain – its that good!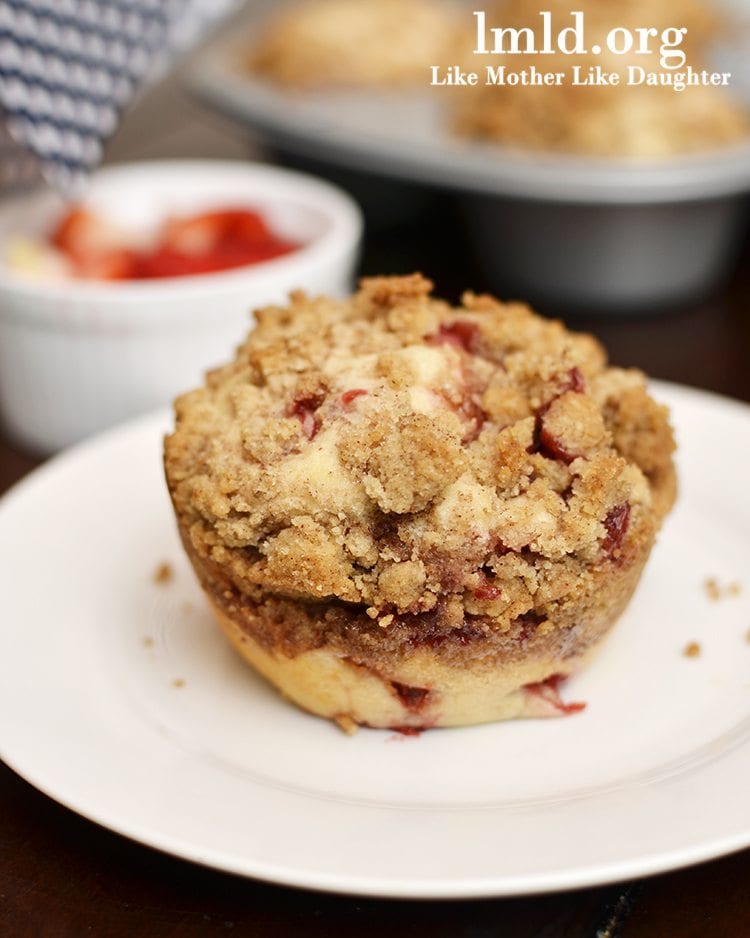 Adapted from this strawberry muffin recipe on Real Mom Kitchen.
Bakery Style Strawberry Muffins
Ingredients
1/2 cup (1 stick) butter, softened
3/4 cup sugar
2 eggs
1 tsp vanilla
2 tsp baking powder
1/2 tsp salt
2 cups flour
1/2 cup milk
2 cups strawberries, chopped

For the Crumb Topping:

1/4 cup butter, melted
1/3 cup brown sugar
1/3 cup white sugar
1 tsp cinnamon
1/2 cup flour
Directions
Preheat your oven to 375 degrees.
Combine the butter and sugar for your muffins in a large mixing bowl.
Mix in the eggs, one at a time, until combined.
Stir in the vanilla.
Combine the baking powder, salt and flour in a medium sized bowl.
Alternate adding the flour mixture and the milk until everything is incorporated and mixed well.
Mix in the strawberries.
Pour the batter into muffin tins evenly.
In a small bowl combine all the ingredients for the crumb topping until mixed well, using a fork.
Sprinkle the crumb evenly over the tops of the muffin batter.
Bake for about 16 minutes, until an inserted toothpick comes out clean. (If you are making large muffins bake them for about 23 minutes)
These are best eaten fresh or within 1 to 2 days because the crumb doesnt stay crisp.
http://lmld.org/2013/06/10/bakery-style-strawberry-muffins/
Enjoy.