This delicious and creamy blueberry smoothie is made with frozen blueberries, a fresh ripe banana, almond and coconut milk for a delicious morning go to smoothie.
Pin this blueberry smoothie for later.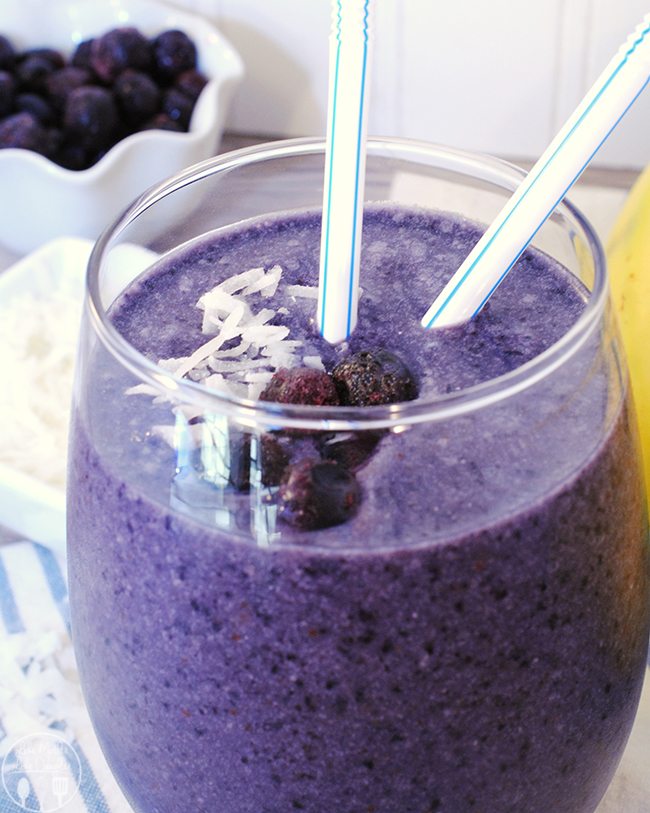 Are you feeling blue?  Well, let this blueberry smoothie brighten your morning with its refreshing antioxidant healthy goodness.
I love smoothies and I love creating new smoothies for you and I to try.  This blueberry smoothie with frozen blueberries, banana, almond and coconut milk was the latest creation.  It is the first time I have made a blueberry smoothie and I don't know why I haven't before.  It was really, really good and is definitely going on the breakfast rotation. Either a smoothie or yogurt are often my go to breakfast because I want something quick before heading out the door on my morning walk and I want something packed full of good things for me.
Smoothies are so easy to make.  I love how I can just throw everything into a blender or in my case, my magic bullet and whip it right together.  Pour into a glass and slurp it right down. Flavor combinations are fun.  I made this blueberry smoothie with a cup of frozen blueberries, one fresh ripe banana, one cup of almond milk, and one-fourth cup of coconut milk topped it with fresh blueberries and some shredded coconut for fun.  Craig and I really enjoyed it, although some of Craig's blueberries sank and he said, "I couldn't sip them up with the straw" – so they were a bit of a surprise for him. Ha ha!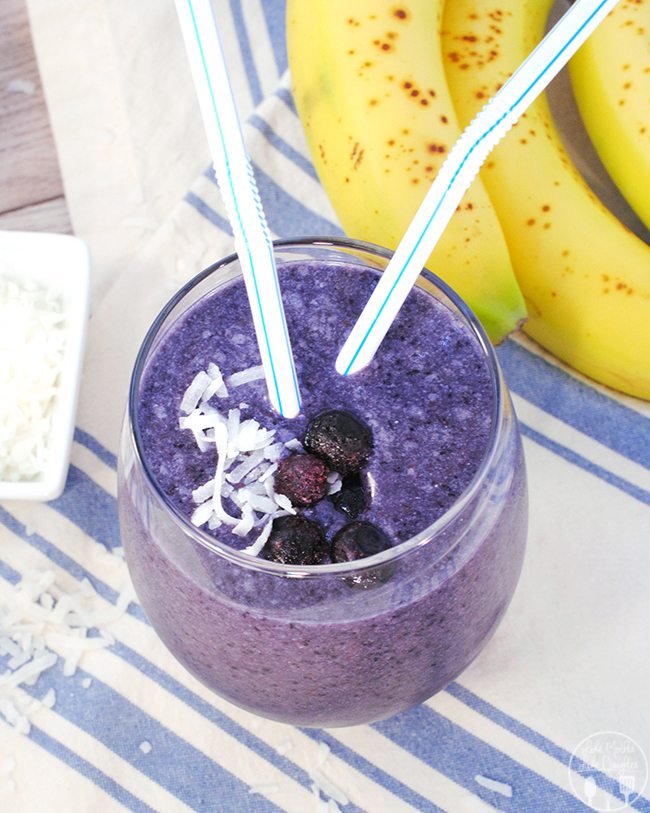 So let this blueberry smoothie chase this morning blues away and let's get blending.
Blueberry Smoothie
A refreshing smoothie full of blueberries, banana, almond and coconut milk, totally vegan too.
Ingredients
1 cup frozen blueberries
1 medium to large ripe banana
1 cup almond milk
¼ cup coconut milk
fresh blueberries - optional
shredded coconut flakes - optional
Instructions
Place the frozen blueberries, banana, and milks into a blender
Blend until all mixed together
Pour into 2 cups
Top with fresh blueberries and shredded coconut - optional
What is your favorite smoothie?