Chicken alfredo stuffed shells are stuffed full of ricotta and shredded chicken all covered in creamy alfredo sauce and cheese! Such a delicious dinner or lunch!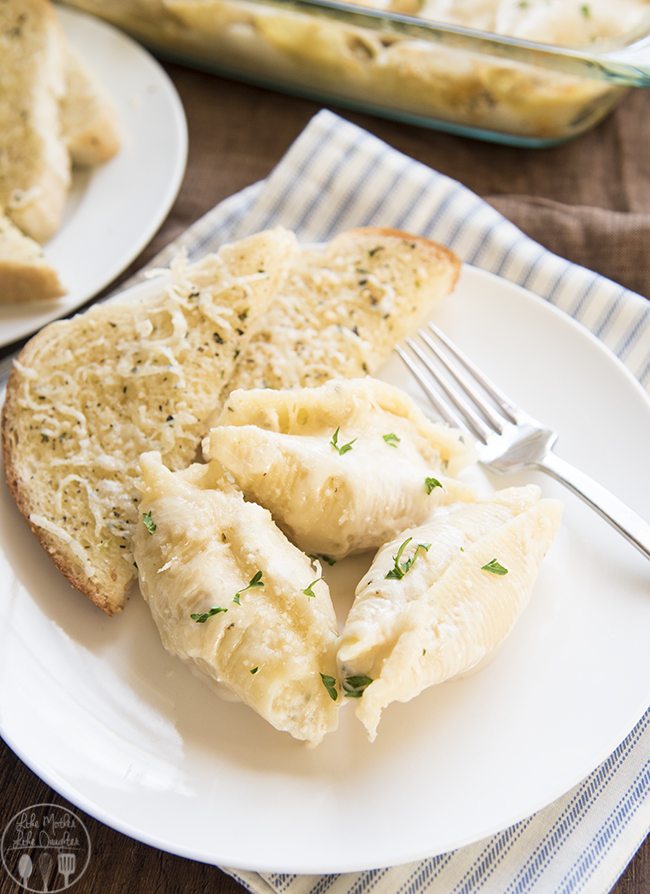 This week I decided to combine two of my favorite meals – chicken alfredo and stuffed shells. These chicken alfredo stuffed shells are one of my new favorite dinners because they are easy and so delicious!
Pin these chicken alfredo stuffed shells for later!
I slightly altered my chicken alfredo lasagna roll ups recipe to make this chicken alfredo stuffed shells recipe, because lets be honest, I love pasta in all forms these stuffed shells included. I don't care if its fettucine, stuffed shells, lasagna, orzo or penne, I am a noodle lover and thankfully Nate and Colby are too. In fact noodles are one of the few meals I know that Colby will always eat, so I'm often whipping up a quick batch of noodles for lunch, or making a bigger batch on Mondays for the rest of the week. Then I'll usually just use some leftover or store bought pasta sauce from the fridge and Colby and I are happy campers.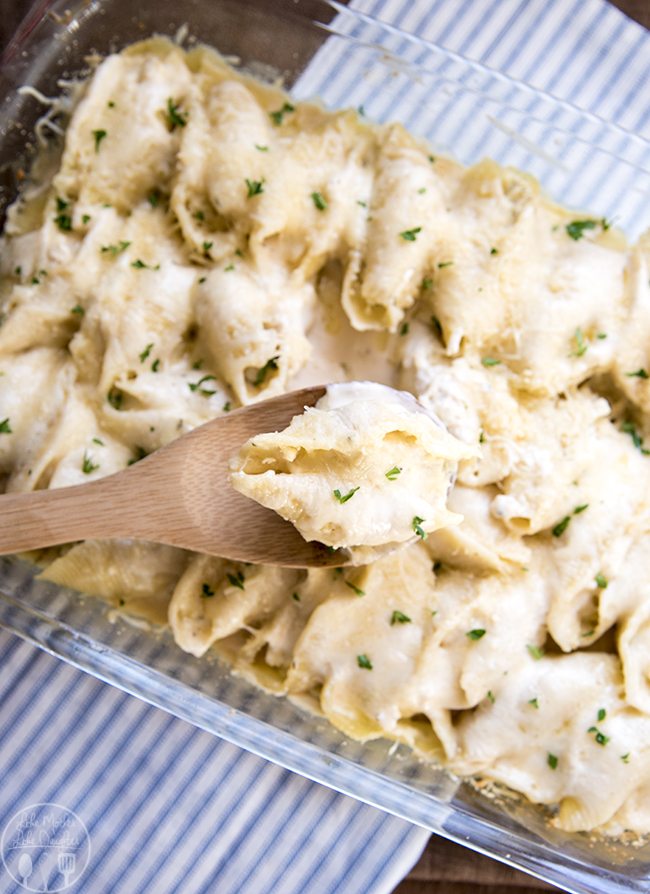 **This is a sponsored conversation written by me on behalf of Bertolli®. The opinions and text are all mine. #BertolliTuscanTour
For these stuffed shells I used Bertolli's ® Alfredo Sauce which was perfect for making sure that our dinner was done in a jiffy! I had dinner ready to eat by the time Colby woke up from his afternoon nap and right when Nate got home from work. It was perfect timing!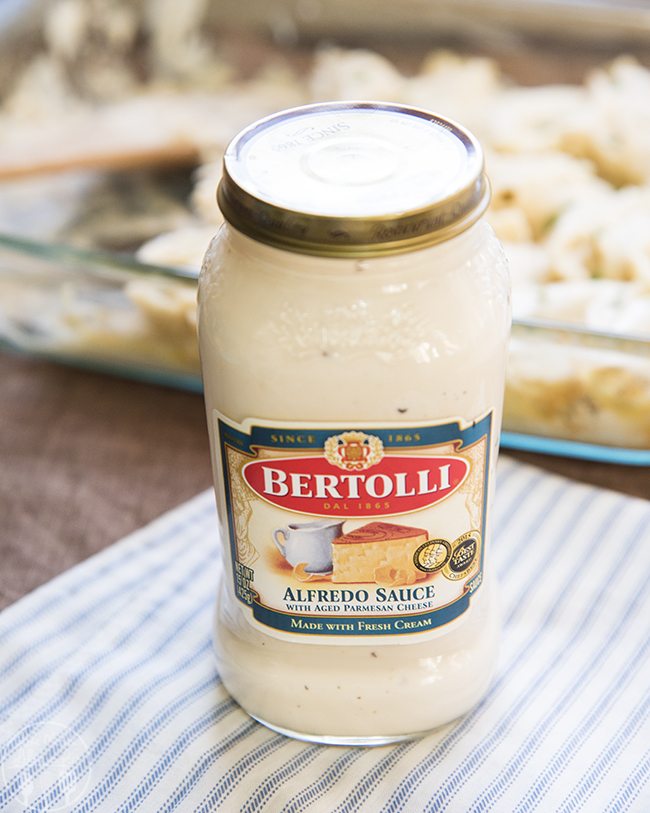 After dinner we enjoyed a cool nice evening at the park. We took our dogs with us too. (Yes, plural – we got a new puppy about 3 weeks ago and she is adorable!) The dogs loved chasing each other, chasing the ball and chasing Colby and we all just enjoyed our time together.
These stuffed shells are so delicious full of a ricotta, parmesan cheese and chicken mixture.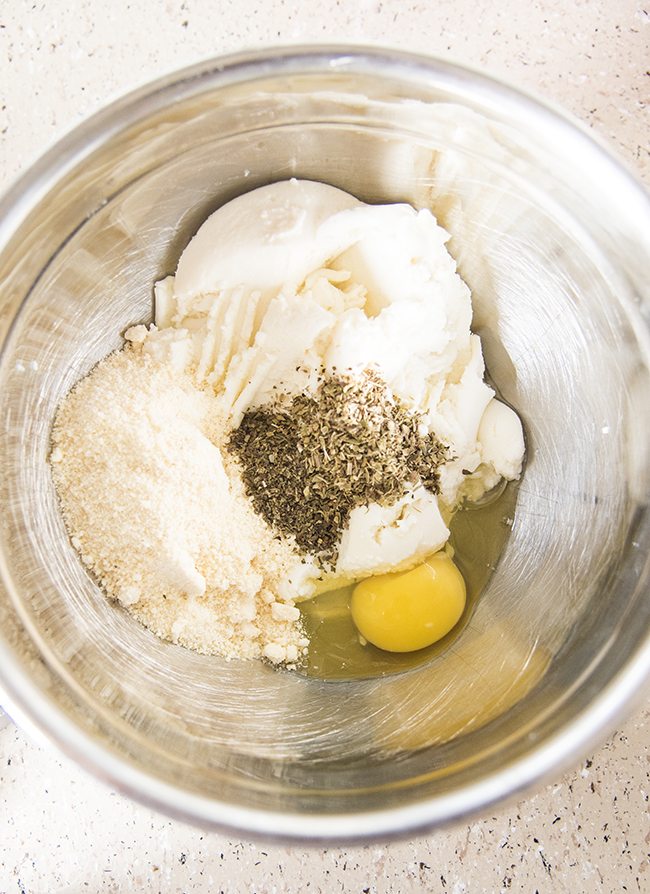 Spread a layer of Alfredo sauce into your baking pan, then stuff your cheese chicken mixture into your shells and stuff them into your pan. Top with more Alfredo sauce and cheese and bake on up.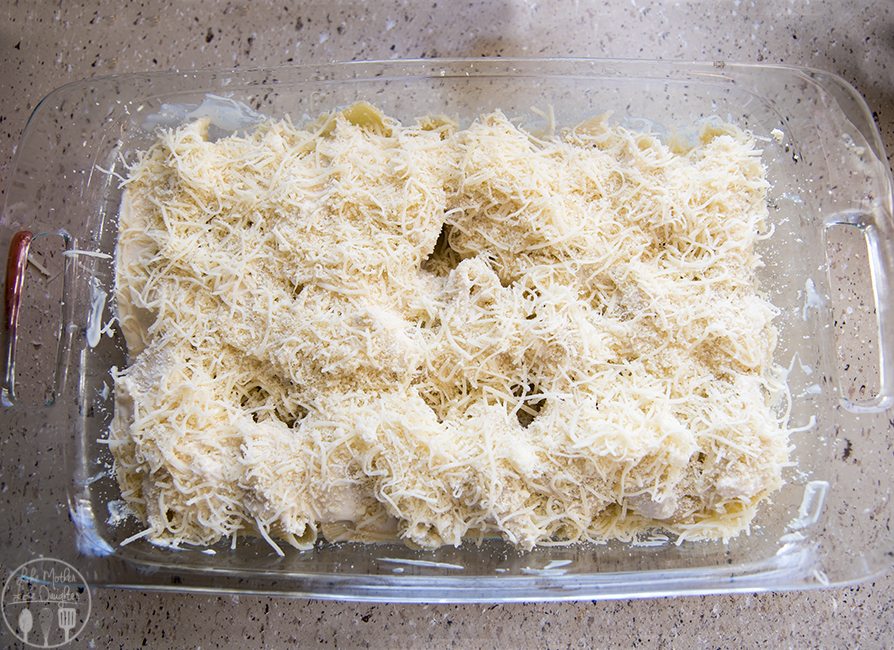 I used about 25 shells, which didn't quite fit nicely into my pan so I had to stuff a few in between others to use up all my filling. I love freezing some of the shells up (either splitting it and freezing half) or baking it all and freezing leftovers (after we enjoy them for a few lunches later in the week.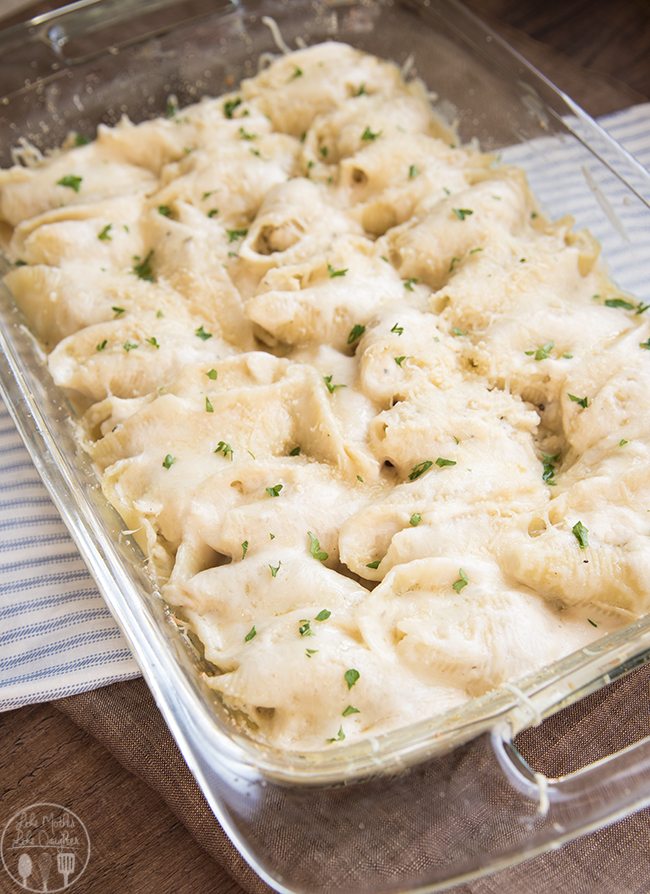 We served the shells with some quick and easy garlic bread and it was such a delicious meal that the whole family just loved!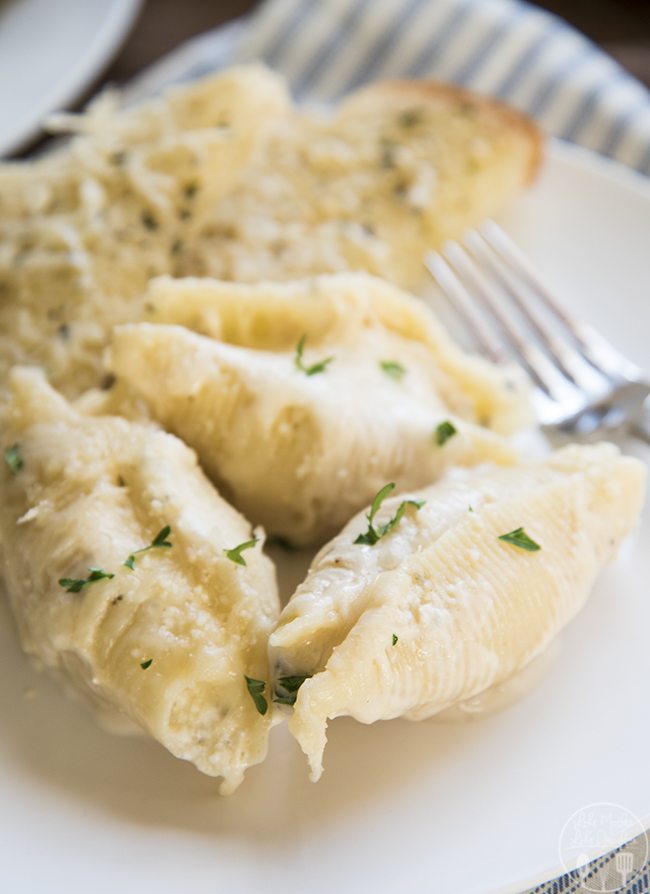 Chicken Alfredo Stuffed Shells
Ingredients
15 oz ricotta cheese
1 egg
1 tsp basil
1 tsp oregano
¾ cup parmesan cheese, divided
2 cups shredded chicken (seasoned with a little salt and pepper)
1 15oz jar Bertolli ® Alfredo Sauce
1 cup shredded mozzarella cheese
Instructions
Preheat your oven to 350 degrees.
Bring a pot of water to boil and cook your large shell noodles according to package directions.
In a large bowl mix together the ricotta cheese, egg, basil, oregano, and ½ cup Parmesan cheese.
Stir in your shredded chicken.
Spread about ¾ cup of Alfredo sauce into the bottom of a 9x13 pan.
Put about 2 TBS of cheese mixture into the middle of each shell and place into your Alfredo sauce in your pan.
Spread remaining Alfredo sauce over the top of your noodles.
Top noodles with mozzarella cheese and remaining ¼ cup Parmesan cheese.
Cover pan with foil and bake for 20 minutes.
Remove foil and bake for an additional 10 minutes until cheese on top is melted.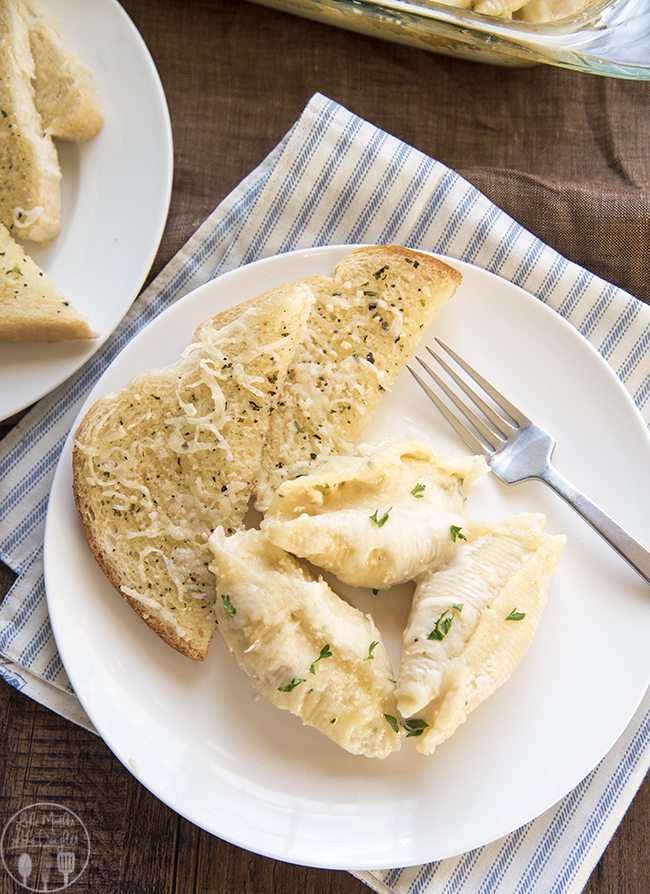 Thanks to Bertolli® Pasta Sauces I have more time to enjoy with family instead of slaving in the kitchen! I grabbed Bertolli® Alfredo Sauce from Sam's Club because of its delicious flavor and high quality. Bertolli ® Sauces are Tuscan inspired and Bertolli ® is celebrating 150 years of authentic Tuscan taste!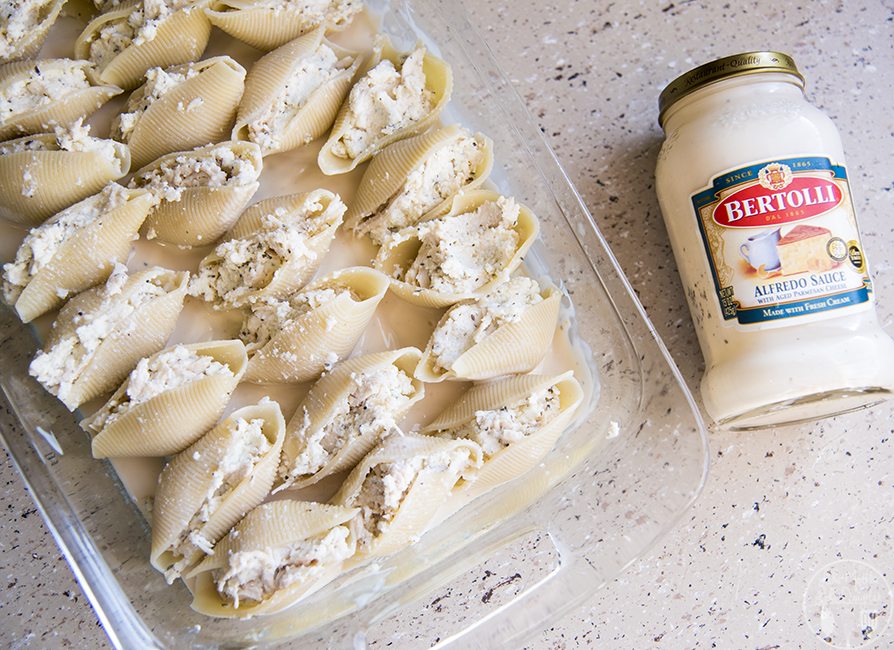 Visit Bertolli ® on Pinterest for more delicious recipes using Bertolli ® Sauces!
This is a sponsored conversation written by me on behalf of Bertolli®. The opinions and text are all mine.
For other alfredo sauce favorites, try these:
The BEST  homemade Alfredo Sauce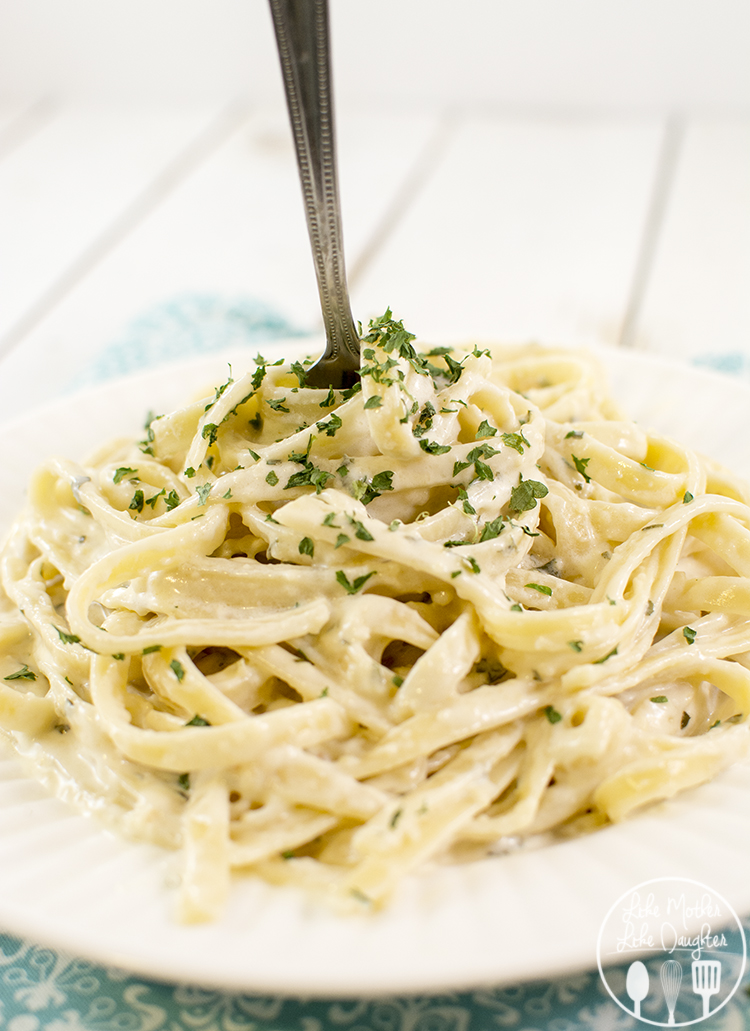 Chicken Alfredo Lasagna Roll Ups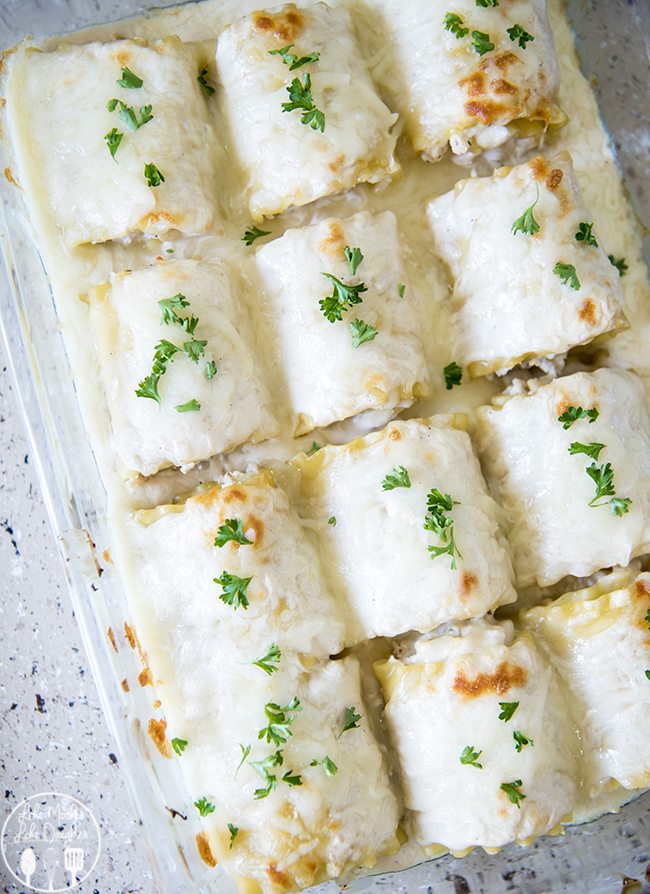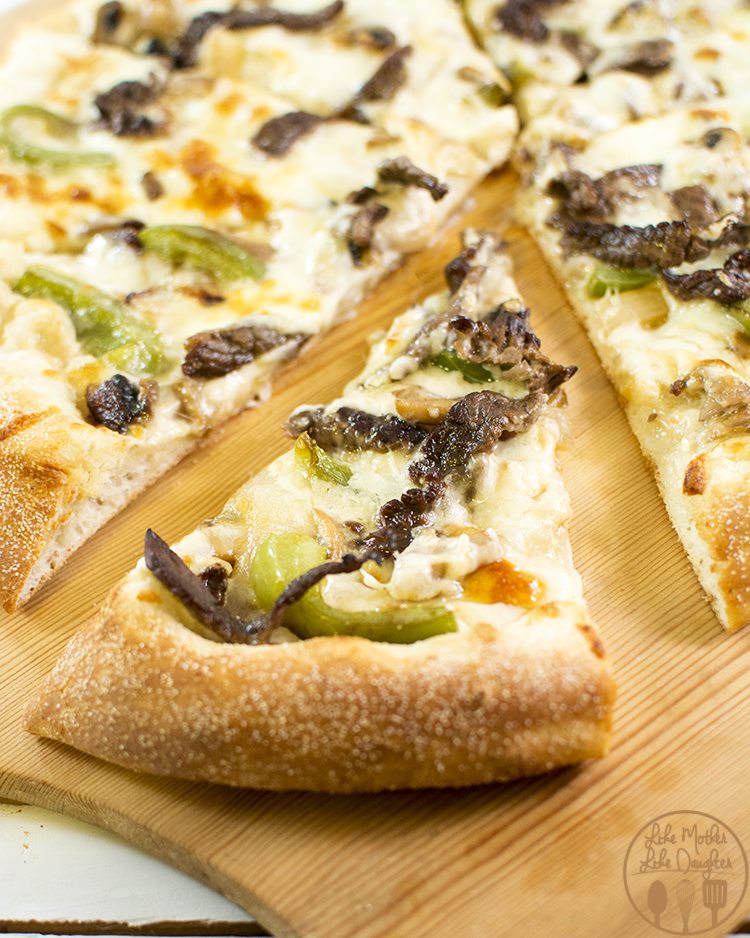 Chicken and Spinach Alfredo Pizza