A delicious rich mint chocolate poke cake, that starts with a cake mix filled with a minty hot fudge caramel mixture and topped with a minty whipped cream and chopped mint chocolate candies! Its an amazing mint chocolate dessert for a crowd!
Pin this mint chocolate poke cake for later.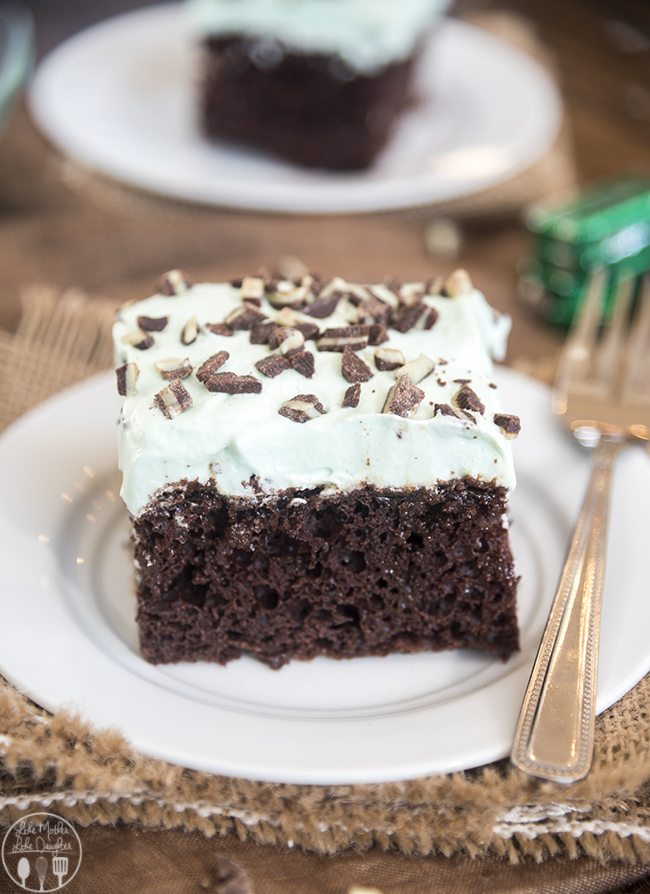 Happy March! March is such a great month, it means St. Patrick's Day, the first day of Spring, Easter this year, and  my brother and my husband's birthdays too! This mint chocolate poke cake would be great to celebrate any of them, but especially St. Patrick's Day since it always makes me think of mint, with the green color.
This poke cake is as easy to make as the rest, and is similar to a better than anything cake, but with mint extract throughout the cake and the cool whip. The cake starts with a chocolate cake mix, poked and covered in a hot fudge and sweetened condensed milk mixture, flavored with a little mint extract. Then covered in a minty green cool whip topping and chopped up Andes mint candies.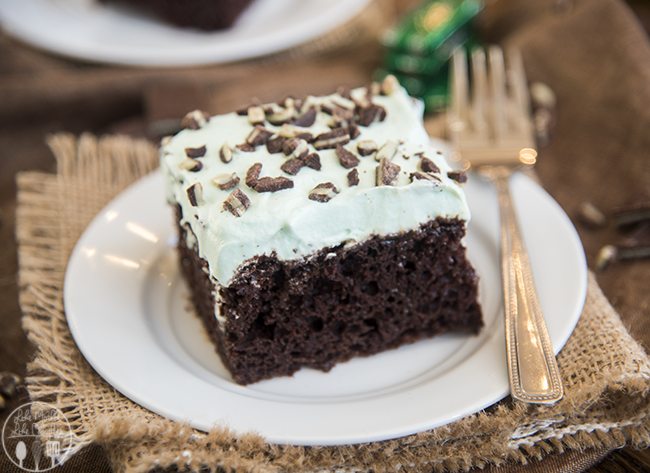 Its perfect for a crowd because the recipe makes a 9×13 pan worth of cake, which can be cut up into 15 to about 21 pieces, depending on how big you make them. That makes this cake perfect for a birthday, or for a St. Patrick's Day party, or its great for an after dinner dessert too.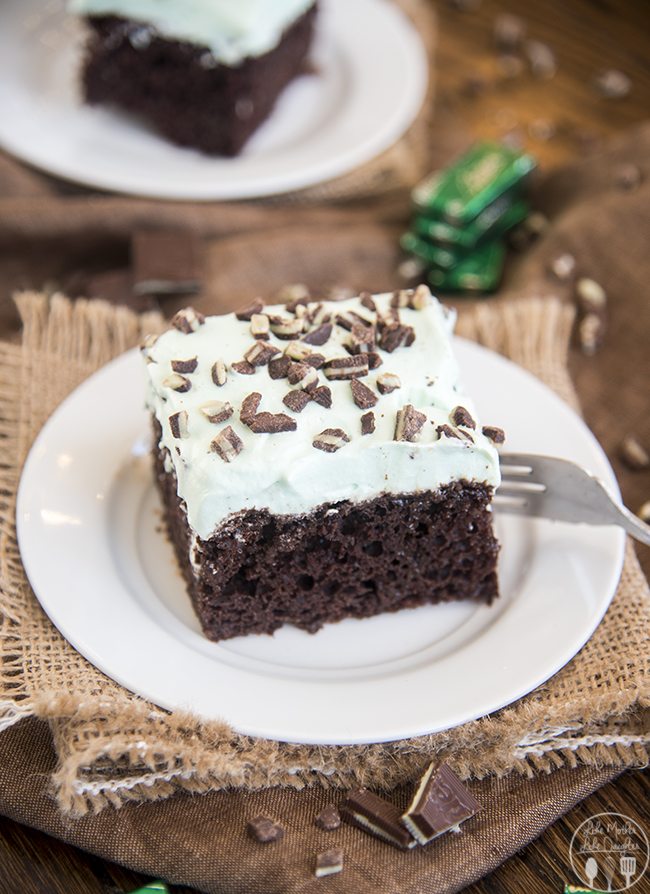 Its perfectly minty, chocolatey, moist and so rich!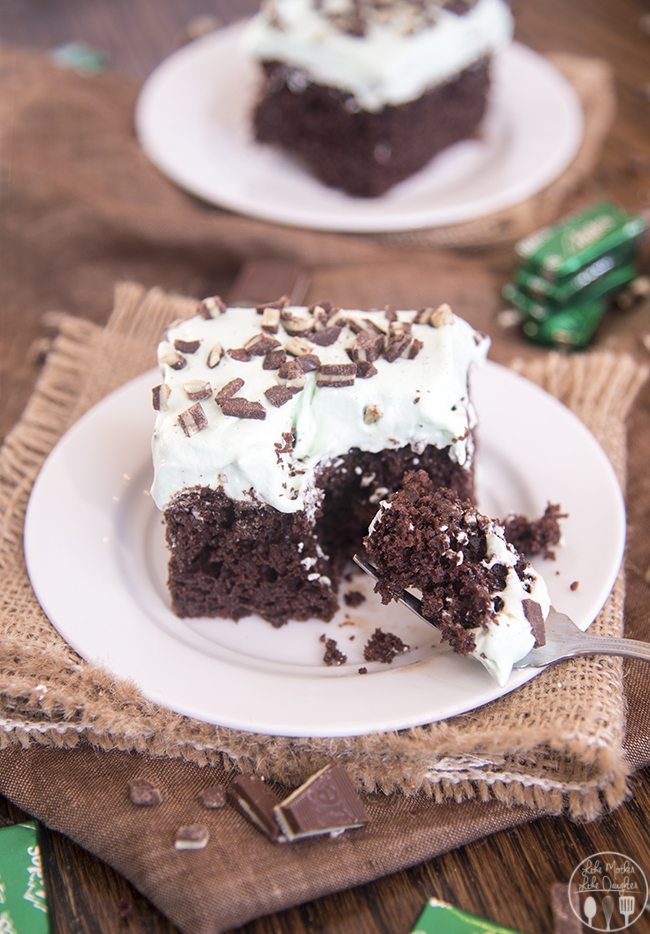 Mint Chocolate Poke Cake
Ingredients
1 chocolate cake mix (and eggs, oil/butter, water called for on the box)
1 11 oz jar hot fudge (about 1 cup)
1 14 oz can sweetened condensed milk (about 1 cup)
1 tsp mint extract, divided
1 8oz container cool whip
3-4 drops green food coloring
⅔ cup chopped andes mints/andes mint chips
Instructions
Preheat your oven to 350 degrees.
Prepare your cake mix and bake according to box instructions in a 9x13 pan.
Allow to cool for 5 minutes.
Use the bottom of a wooden spoon, a knife, or a fork to poke holes int the cake.
Combine your hot fudge, sweetened condensed milk and ½ tsp mint extract in a small bowl.
Pour hot fudge mixture over cake and spread over the top to completely cover the cake.
Cover cake and place it in the fridge and chill for an hour.
Fold together the cool whip, remaining mint extract and food coloring.
Spread the cool whip over the top of the cake.
Sprinkle the mint chip pieces over the top and chill for an additional 2-4 hours (or longer)
Cut and serve.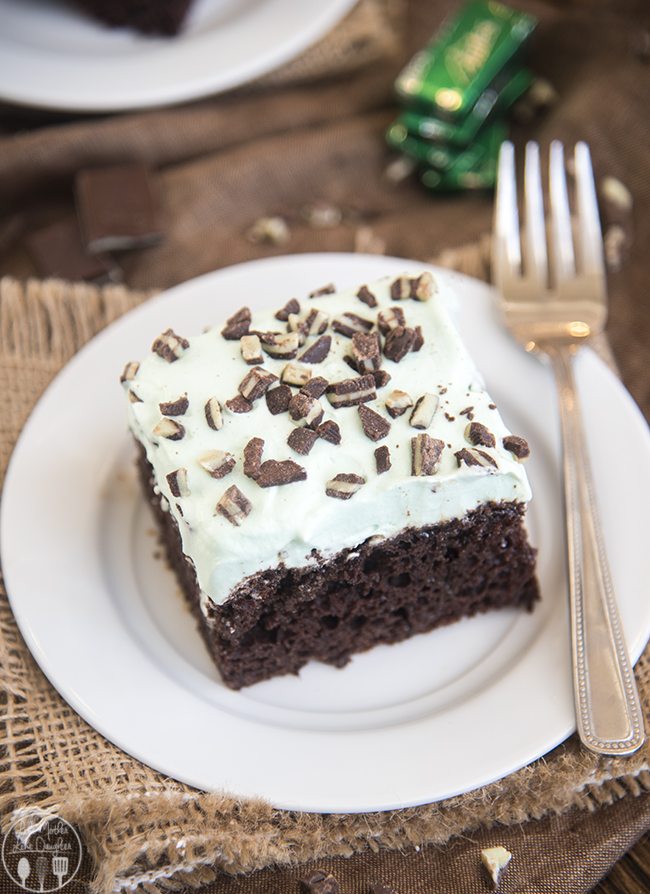 MAKE THIS AMAZING MINT CHOCOLATE POKE CAKE WITH THESE GREAT KITCHEN TOOLS AND INGREDIENTS:
For more mint chocolate goodness, try these:
No Churn Mint Chocolate Chip Ice Cream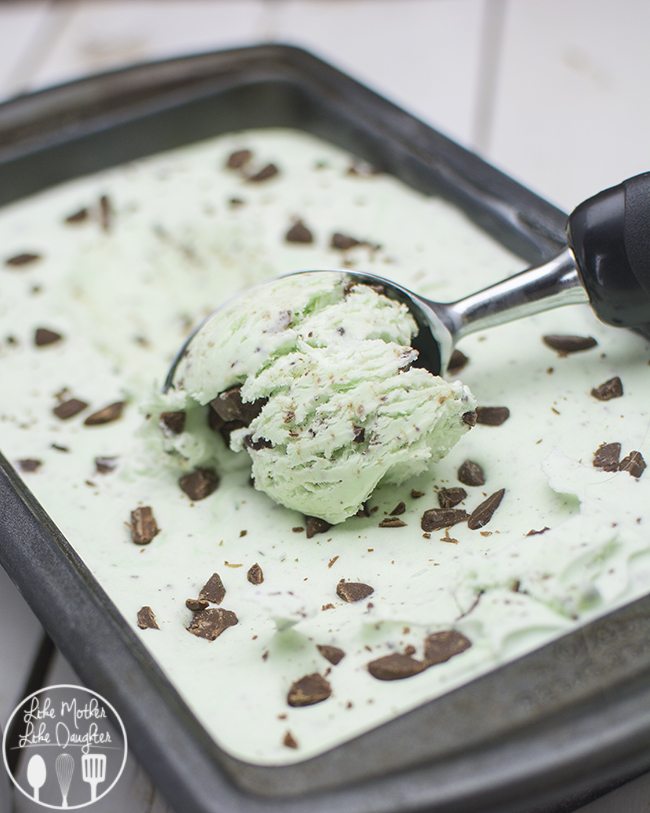 Mint Chocolate Chip Ice Cream Pie