Tomorrow, along with being Easter is actually National Caramel Day. So that means we have a caramel recipe to share with you and this salted caramel sauce is amazing. I'm not even joking this is one you definitely need to make – whether you make it to drizzle on top of ice cream, to go in your brownies, or just to eat by the spoonful – it really is that good.
Pin this salted caramel sauce for later!
I got this salted caramel sauce recipe from Sally's Baking Addiction and just changed it a teeny bit by adding in some vanilla extract. Because who doesn't love a slight vanilla undertone in their caramel?
Now, I was a little intimidated by this recipe, but it is totally easy to make. Just make sure the heat on your stove top isn't too high so that your sugar or caramel doesn't burn and you'll be good to go! And even if you're a little nervous, I promise the end result is totally worth it. I had to restrain myself from not just eating the whole cupful by the spoonful.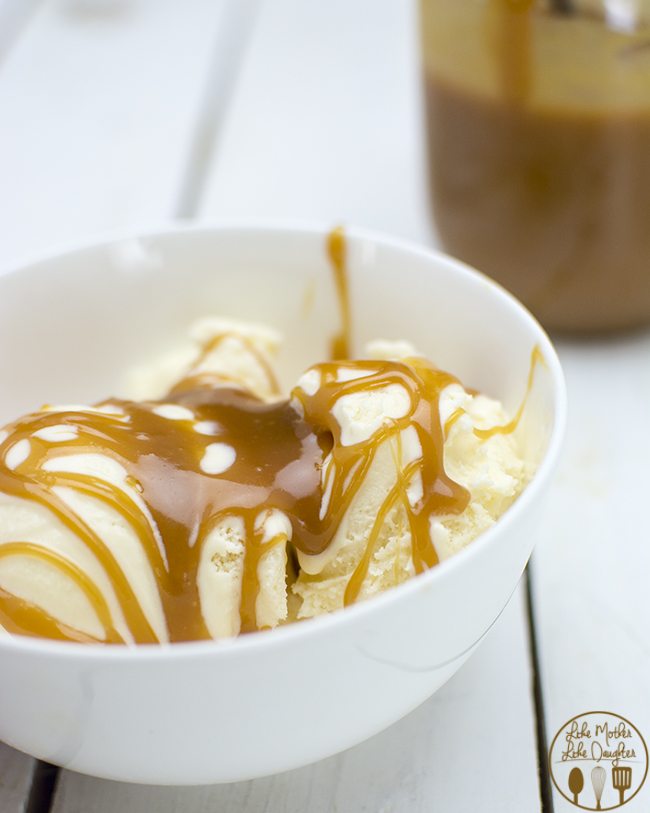 Salted Caramel Sauce
Ingredients
1 cup white sugar
6 TBS butter, softened and cut into 6 pieces
½ cup heavy cream
1 tsp salt
1 tsp vanilla
Instructions
Measure out all your ingredients and set them aside, so that you are ready to use them when you need them.
Add your white sugar to a medium sized sauce pan and heat over medium heat on your stove top.
Stir constantly with a rubber spatula or wooden spoon. Sugar will form into little clumps and then will eventually melt into an amber colored liquid. Keep stirring.
Once the sugar is completely melted, add in your butter pieces. Stir the butter into the caramel, until its completely melted, about 2 minutes.
Very slowly, while stirring, pour in your heavy cream. It will steam a little, and may splatter a little so be careful. Allow the mixture to boil for about 1 minute.
Remove from heat and pour in your salt and vanilla.
Pour into a glass jar and allow to cool completely before using, or placing in the refrigerator to serve later. Keep covered in the fridge for up to 2 weeks.
Warm the caramel for about 30 seconds in the microwave and stir, when ready to use.
Enjoy this sweet and salty caramel sauce over ice cream, brownies, or in your favorite recipe!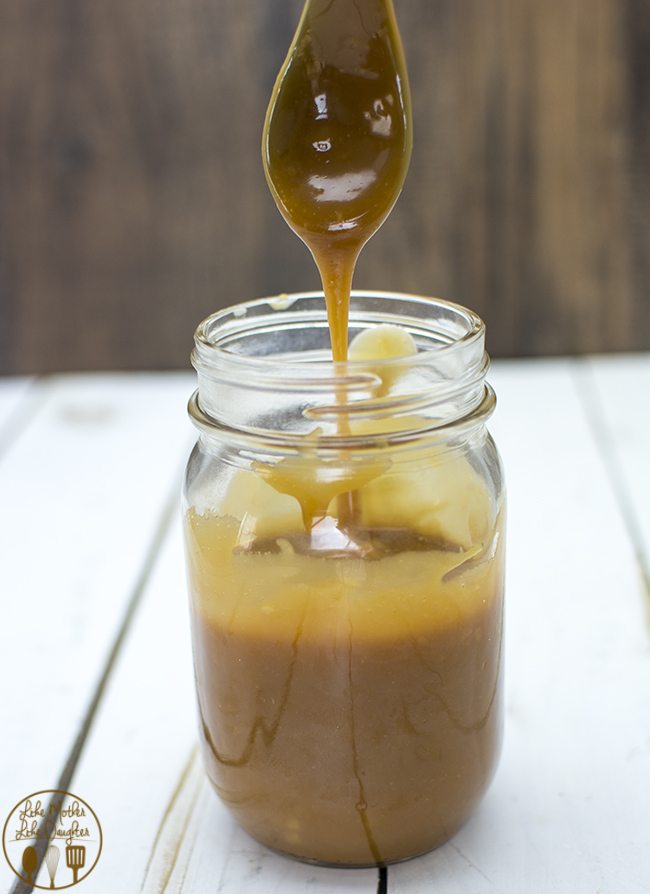 Here are 10 more amazing caramel recipes:
Lightened up coconut caramel ice cream pie on Happy Food Healthy Life
Salted caramel cheesecake on Ashlee Marie
Crunchy coconut caramel popcorn on Jamie Cooks It Up
Microwave caramel sauce on Real Mom Kitchen
Caramel pecan pastry on Summer Scraps
Frozen caramel crunch torte on Creations by Kara
Carmelitas on Cupcake Diaries
Nutty salted caramel coconut ice cream  on Tried and Tasty
Homemade snickers bars on Butter With a Side of Bread
And if you like this amazing caramel sauce, you might like these other caramel desserts too:
Caramel Chocolate Oatmeal Cookie Bars